How Agencies Can Manage the Incoming Threats from Outside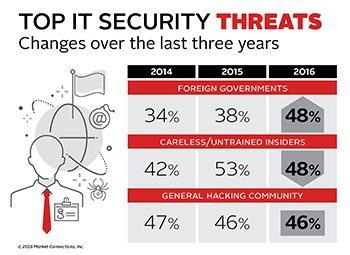 CLICK ON ICON TO SEE PROJECT COMPONENT
For the last three years, SolarWinds has commissioned Market Connections to conduct an annual survey to determine the cybersecurity threats that most impact federal agencies. The study looks at what respondents perceive as the biggest threats their agencies face, the consequences of breaches, where respondents feel their agencies are vulnerable and the challenges they face in securing their agencies against cyber threats.
In the first two years of the study, internal threats emerged as the most pressing cyber threat in federal agencies. In the most recent study, a new trend has emerged: agencies are feeling increasingly vulnerable to outside threats. While agencies feel positive about how they have addressed the challenges of unintended internal threats, now they are turning their attention toward external threats from a host of sources, including foreign governments, hacktivists and terrorists.
Fill out the form below to download the research report, infographics and whitepaper.
How Agencies Can Manage the Incoming Threats from Outside

YOU WILL LEARN:
How the perception of the top three cybersecurity threats has changed year over year
The top consequences of security breaches as perceived by federal IT decision-makers
How tools like Security Information and Event Management (SIEM) can impact threat detection