Date: Wednesday, October 17
Time: 2-3 PM (EDT)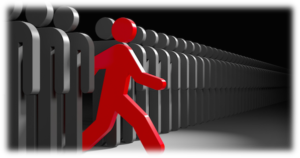 With the federal contracting market exceeding half a trillion dollars yearly, and additional potential revenue from other public-sector markets including state and local, K-12 and higher education, companies (large and small) are trying their best to position themselves to take advantage of opportunities and establish themselves with potential customers. However, as these markets have matured, millions of marketing and advertising dollars have been invested and companies are finding it harder and harder to clearly differentiate their products and services in this over-saturated public-sector market.
Market Connections and Boscobel Marketing Communications have been reviewing the online materials, positioning and taglines of some of the top federal government contractors. This recent evaluation revealed that many companies sound, and even look, the same. Leveraging analysis from the Market Connections research team, president Aaron Heffron will review how the top government contractors have (or have not) differentiated themselves in the federal cyber security market. Boscobel CEO, Joyce Bosc will present an analysis of top 100 contractor taglines, highlighting similarities, and differences, and the challenges marketers are facing as they try to present new and old brands in the market.
Please join us to see how your company stacks up against your competitors and to hear best practices in ensuring that you are putting the best foot forward into the lucrative public-sector market.
Speakers:
Aaron Heffron – President, Market Connections
Joyce Bosc – CEO, Boscobel Marketing Communications
Fill out the form to download the webinar.
For more information, contact:
Mari Canizales Coache
Marketing Manager
Market Connections, Inc.
703-378-2025
Date: Wednesday, May 9, 2018
Time: 2-2:30 PM (EDT)
With the passing of the 2018 Bi-partisan Budget Act, increasing the defense funding cap, how can your organization take advantage of the budget influx and maximize opportunities over the next 16 months? What are the priorities of defense IT decision-makers? Will current on-hold projects move forward or does this influx provide new opportunities to develop in key focus areas?
Join Aaron Heffron, President of Market Connections and defense agency expert, Ray Bjorklund, President of Birchgrove Consulting as they discuss implications and recommendations based on the results from our recent 2018 Defense Budget PulsePoll™.
Presenters:
Aaron Heffron – President, Market Connections
Ray Bjorklund – President, Birchgrove Consulting
Date: February 22, 2017
Time: 11 AM – 12 PM EST
A majority of public sector and government contractor HR and recruiting professionals are struggling to recruit and retain top talent. A recent survey by Market Connections and Monster Government Solutions uncovered that roughly half of HR professionals and hiring managers find a shortage of qualified candidates a top challenge. Meanwhile only one quarter are satisfied with their organization's retention practices and only one-third are satisfied with hiring management technology.
What other barriers and challenges in recruiting and retaining talent were identified? What resources, tools and messaging are organizations using to attract and keep them?
Join Market Connections and Monster Government Solutions as we shed light on the ongoing challenges with government and government contractor hiring and retention. We will share findings from our latest study to help your organization develop and improve the right strategies and best practices to recruit and retain the best candidates.
Learn About:
Unique challenges this government community face in finding and hiring top talent
Useful recruitment and retaining resources, tools, best practices, and strategies
Importance of branding and perceptions to attracting the right candidates
What employees want from an ideal workplace
Top barriers to attaining and retaining essential staff
Presenters:
Laurie Morrow – Vice President, Research Services, Market Connections
Susan Fallon Brown – Vice President, Global Strategy and Business Development, Monster Government Solutions
In partnership with: