Dynatrace

Projects
CLICK ON ICON TO SEE PROJECT COMPONENT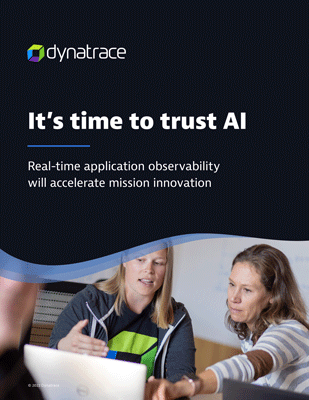 Real-time application observability will accelerate mission innovation
Many Federal agencies are focusing on IT modernization to keep pace with the changing mission requirements and citizen demands. But one of the biggest modernization challenges program managers and mission owners face is time spent chasing problems rather than moving the mission forward. As a result, many agencies are looking to AI as the solution. AI solutions can automate manually intensive troubleshooting and get missions back on track quickly. But despite these clear benefits, agencies are still not embracing these solutions.
Recent research surveyed Department of Defense (DoD) and Civilian agency IT mission leaders about the extent to which federal technologists and
managers are aware of and have the need for application management services, their current efforts to incorporate new tools and techniques into their agencies, and their general attitudes toward using AI.