SolarWinds

Projects
CLICK ON ICON TO SEE PROJECT COMPONENT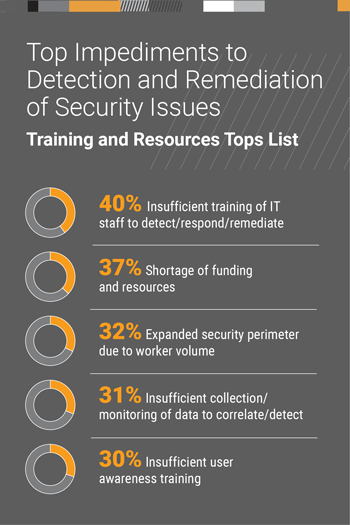 In the two years since we last conducted the SolarWinds Public Sector Cybersecurity Survey Report everything about how we live and work has shifted—and with those shifts, public sector priorities and concerns around cybersecurity have also changed.
SolarWinds knows better than many how threats have evolved, and as a result has learned lessons that are shaping the evolution of cybersecurity in the public sector.
In this seventh edition of the study, we clearly see how the industry is changing. Once again, SolarWinds, in partnership with Market Connections, looked at where and how cybersecurity threats most impact federal and state and local governments and education (SLED) agencies.
The study also examined familiarity with the Executive Order on Improving the Nation's Cybersecurity and the perceived impact of its objectives, organizational use of a zero-trust approach and Principle of Least Privilege (PoLP) to IT, and teleworking before COVID-19, currently, and in the future.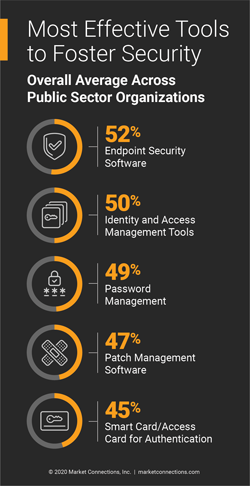 For the last six years, SolarWinds, in partnership with market research firm Market Connections, has kept a pulse on where and how cybersecurity threats most impact federal agencies. This year, state and local government and education (SLED) were added to identify similarities and differences across segments.
The SolarWinds Cybersecurity Study examines what agencies perceive as the biggest sources of threats, as well as the consequences of breaches, obstacles to achieving security, and where organizations feel vulnerable. We also ask how program maturity and compliance requirements impact cyber initiatives and explore what organizations can do to secure IT environments.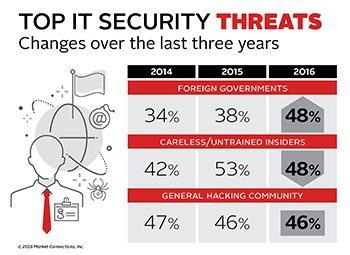 For the last three years, SolarWinds has commissioned Market Connections to conduct an annual survey to determine the cybersecurity threats that most impact federal agencies. The study looks at what respondents perceive as the biggest threats their agencies face, the consequences of breaches, where respondents feel their agencies are vulnerable and the challenges they face in securing their agencies against cyber threats.
In the first two years of the study, internal threats emerged as the most pressing cyber threat in federal agencies. In the most recent study, a new trend has emerged: agencies are feeling increasingly vulnerable to outside threats. While agencies feel positive about how they have addressed the challenges of unintended internal threats, now they are turning their attention toward external threats from a host of sources, including foreign governments, hacktivists and terrorists.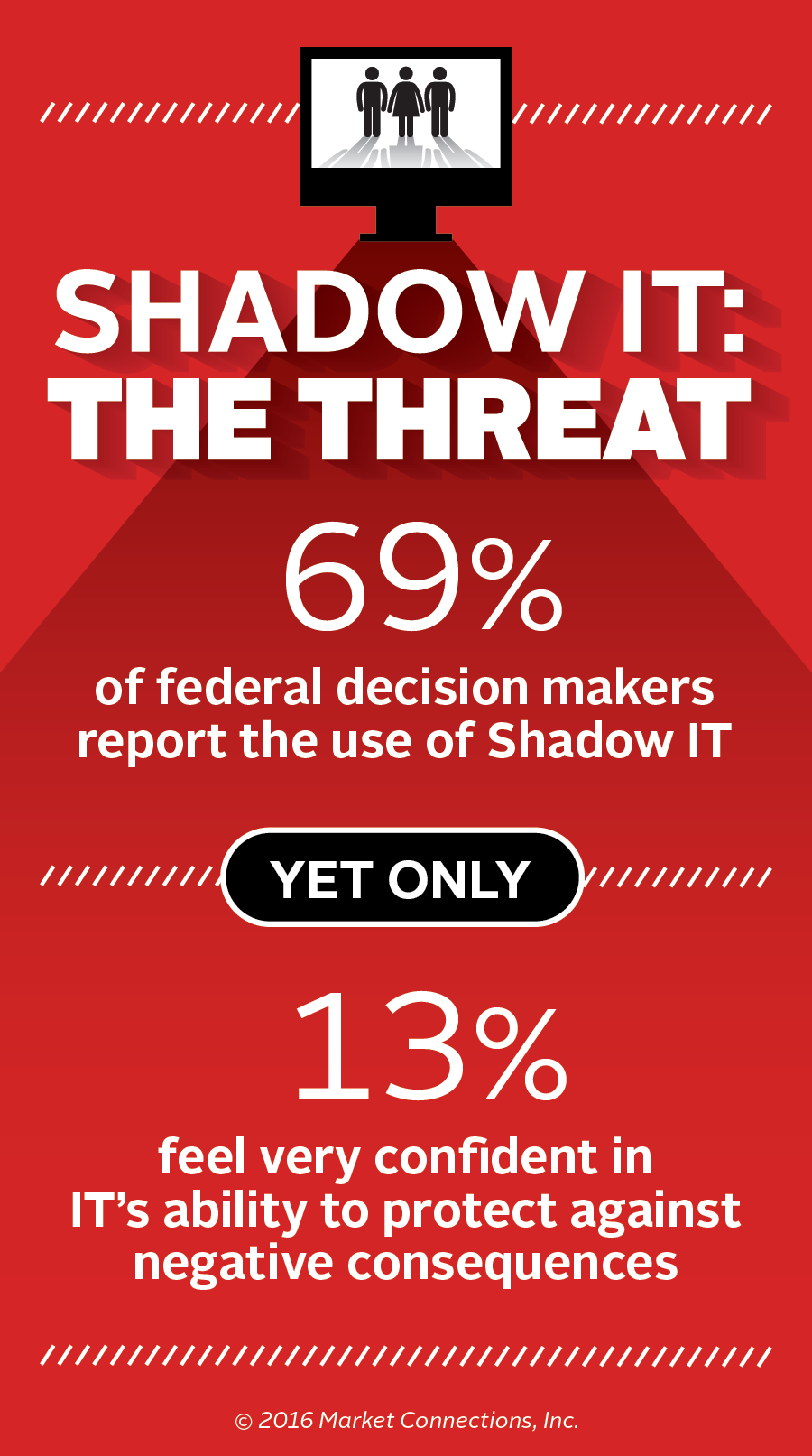 Shadow IT, Mobile, Shared Services
Take Control of your Agency's IT
To find more efficient ways to deliver IT services, many federal program offices are looking beyond what their internal IT department provides through Shadow IT and mobile technology. At the same time, IT departments are streamlining resources by using IT shared services. While each offers benefits, such as faster development times, easier access, and increased efficiency, adopting these technology trends presents challenges to agency IT departments.
IT professionals feel they have less control over how technology is being used due to Shadow IT and mobile technology use. It make them less confident in the security of the agency's data and ability of their network to run efficiently. SolarWinds commissioned Market Connections to learn to what extent these technologies are being used at federal agencies and the resulting challenges faced by their IT departments.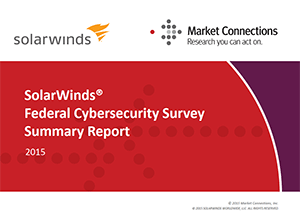 The constant focus on malicious attacks from outsiders has prompted increased investment in preventing breaches. However, federal cybersecurity managers know that the greatest threats are actually people on the inside; and this threat is the most difficult to manage.
Following up on a 2014 study, SolarWinds commissioned Market Connections to uncover challenges federal agencies face in addressing cybersecurity threats; gauge confidence in preventing those threats; and measure changes in concern and investment to combat different types of threats.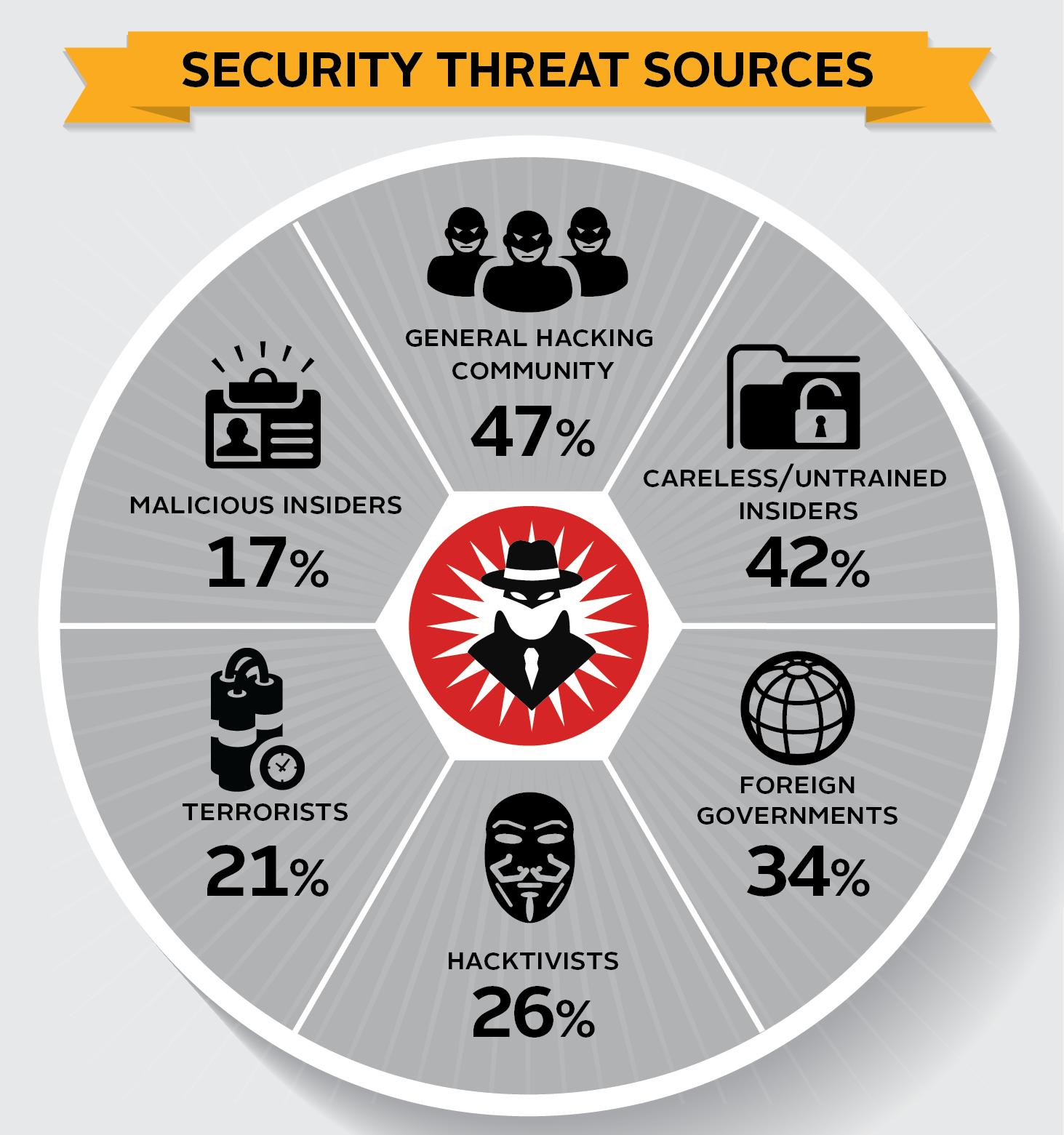 SolarWinds, a leading provider of powerful and affordable IT management software, commissioned Market Connections to conduct a cybersecurity study that revealed malicious insider and outsider threats affecting federal agencies, even though they feel cybersecurity-ready.
SolarWinds has used this research and associated report, white paper and infographics for some advanced thought leadership marketing strategies that include publicity, social media promotions, webinars, speaking engagements and demand generation.
The study found that many agencies are still confronted by threats from careless and untrained insiders, and are tasked with mastering IT security despite organizational and budget challenges.
SolarWinds generated significant exposure, more than 500 leads and an award for this strategic thought leadership promotion:
Press coverage – 21 articles in key online and print trade media
More than 1,250 views of the research report on Slideshare
More than 1,200 views of the infographics on Slideshare and LinkedIn
Overall Best in Show award at the June 2014 AFCEA Cyber Conference Solutions Trail for a presentation leveraging the research and insights