2020 Government Procurement Review
Challenges, Priorities, and Opportunities for Increased Efficiency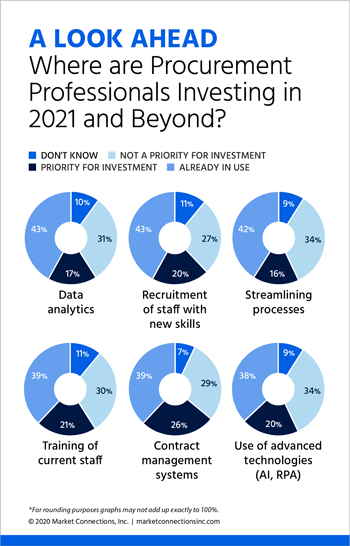 CLICK ON ICON TO SEE PROJECT COMPONENT
Over the past several years, federal procurement has been undergoing a significant shift. Contracts are becoming increasingly complex. The procurement workforce is aging, yet active recruiting remains low. And several new acquisition reform initiatives have been issued in an effort to streamline processes and deliver increased visibility into acquisitions. Those in government procurement and procurement adjacent roles had been managing and adapting to these changes well—and then in March 2020, a global pandemic hit. Virtually overnight, procurement teams were forced to shift to a maximum telework environment and ramp up support for emergency requirements.
But once the initial COVID-19 response was complete, where did that leave procurement professionals in moving forward with other priorities? Akima, an Alaska Native Corporation (ANC), partnered with market research firm Market Connections to explore the specific challenges procurement professionals faced in 2020, as well as uncover their top opportunities and priorities for FY2021.
Fill out the form below to download the white paper and infographics.
YOU WILL LEARN:
What are federal procurement's top challenges in 2020?
What are the top obstacles caused by COVID-19?
What are federal procurement professionals investing in 2021?
How are they working with 8(a)s and Alaska Native Corporations?