Complex IT Environments Make Cybersecurity More Difficult for Federal, State, Local, and Education Organizations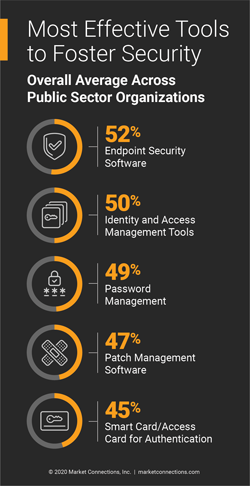 CLICK ON ICON TO SEE PROJECT COMPONENT
For the last six years, SolarWinds, in partnership with market research firm Market Connections, has kept a pulse on where and how cybersecurity threats most impact federal agencies. This year, state and local government and education (SLED) were added to identify similarities and differences across segments.
The SolarWinds Cybersecurity Study examines what agencies perceive as the biggest sources of threats, as well as the consequences of breaches, obstacles to achieving security, and where organizations feel vulnerable. We also ask how program maturity and compliance requirements impact cyber initiatives and explore what organizations can do to secure IT environments.
Fill out the form below to download the infographics and whitepaper.
YOU WILL LEARN:
Differences in top security threats among federal, state and local, and education organizations
How public sector organizations measure success in detecting
What tools are found to be most effective to foster security
Top obstacles for maintaining and improving IT security by organization type