External Threats Now Lead Cybersecurity Concerns in an Evolving Landscapes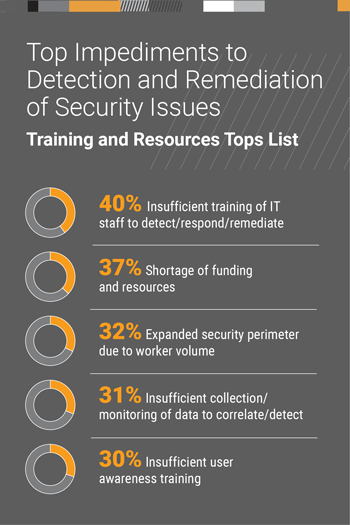 CLICK ON ICON TO SEE PROJECT COMPONENT
In the two years since we last conducted the SolarWinds Public Sector Cybersecurity Survey Report everything about how we live and work has shifted—and with those shifts, public sector priorities and concerns around cybersecurity have also changed.
SolarWinds knows better than many how threats have evolved, and as a result has learned lessons that are shaping the evolution of cybersecurity in the public sector.
In this seventh edition of the study, we clearly see how the industry is changing. Once again, SolarWinds, in partnership with Market Connections, looked at where and how cybersecurity threats most impact federal and state and local governments and education (SLED) agencies.
The study also examined familiarity with the Executive Order on Improving the Nation's Cybersecurity and the perceived impact of its objectives, organizational use of a zero-trust approach and Principle of Least Privilege (PoLP) to IT, and teleworking before COVID-19, currently, and in the future.
Fill out the form below to download the whitepaper and infographics.
YOU WILL LEARN:
What do organizations perceive as the biggest sources of threats and consequences of breaches?
What obstacles are they facing to achieve security?
Where do organizations feel vulnerable?
How does the Executive Order impact organization objectives and priorities?