NEXT GENERATION INFORMATION MANAGEMENT:
Is the Government Constructing a Solid Foundation?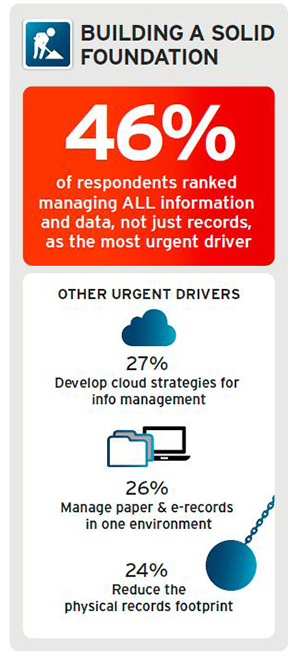 CLICK ON ICON TO SEE PROJECT COMPONENT
As agency priorities change, so does the field of Federal Information Management — today it goes beyond records management to encompass data analytics, digital storage and archiving, cloud strategies and managing the risks associated with all of these things.
Based on a 2015 study Iron Mountain sponsored with the Association for Information and Image Management (AIIM) that surveyed industry professionals in the commercial sector about the evolution of information management, Iron Mountain commissioned Market Connections, Inc. to answer these questions for the federal government. The study looked at agency priorities regarding records management, the expectations organizations have of their information professionals over the next three to five years and how respondents see themselves in relation to these growing expectations.
Fill out the form below to download the whitepaper, report, and infographics.
YOU WILL LEARN:
Federal employees' top drivers for next generation information management
What types of skills are most in demand for information management
Top areas for improvement