2021 Content Marketing Review: Reaching the Public Sector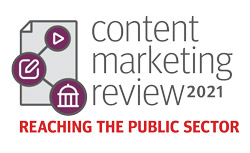 CLICK ON ICON TO SEE PROJECT COMPONENT
PURCHASE REPORT & ON-DEMAND VIDEO
ABOUT THE STUDY:
Blogs, white papers, videos, podcasts or reports: public sector decision-makers turn to thought-leading sources like these to inform their buying decisions, learn about new technologies, and gauge vendors. As marketers trying to reach these niche audiences, it's important for us to know what types of marketing assets they find most useful and influential, what type of information it should contain, and where they go to find it.
Market Connections polled government decision-makers at federal, state and local agencies and with K-12 and higher education institutions around the country to answer these questions with the 2021 Content Marketing Review: Reaching the Public Sector.
Market Connections presents the results of our latest study of the public sector. The report and video provide a review of key findings followed by a panel of public sector experts who will provide further insights, share their best practices and discuss what these results mean for marketers trying to reach FED and SLED audiences.
NEW THIS YEAR:
What are best practices for reaching the K-12 and HIGHER EDUCATION audiences?
How do public sector decision-makers prefer to receive information since the onset of COVID-19?
How often should public sector marketers refresh their content to ensure relevancy?
PRESENTER:
Aaron Heffron, President, Market Connections, Inc. 
PANEL SESSION I – CONTENT CREATORS
Moderated by Lou Anne Brossman, Founder & CEO, Government Marketing University

PANELISTS:
Matt Donovan, Senior Vice President, Merritt Group
Chris Parente, Founder, StoryTech Consulting
PANEL SESSION II – PUBLIC SECTOR MARKETERS
Moderated by Aaron Heffron
PANELISTS:
Monica Mayk, Senior Team Lead, Public Sector Marketing, Verizon Business
Betsy Morrow, Marketing, Education, Amazon Web Services
Preston Smith, US SLED West Marketing Manager, CISCO
SPONSORS