Other Research and PulsePolls™
Projects
CLICK ON ICON TO SEE PROJECT COMPONENT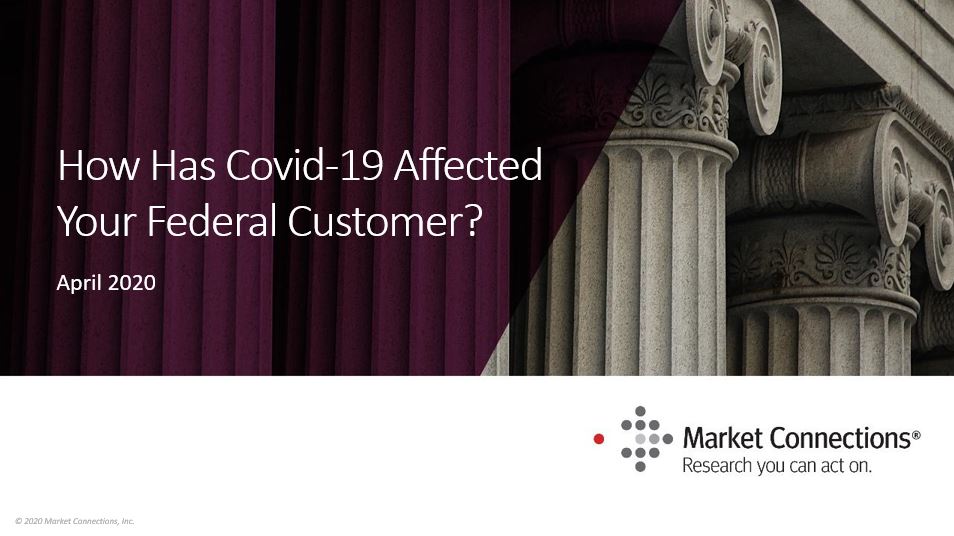 Results from 2020 Ongoing Covid-19 PulsePolls™
Beginning in March 2020, Market Connections began fielding ongoing surveys of federal decision-makers, asking how COVID-19 has affected them, their agency and their work environment; how it may impact work-related activities and priorities; and how contractors have, and can, continue to support them. See the latest results to gain better insights on how it may affect your short- and mid-range planning. Results will be updated on an ongoing basis.
Results from the 2019 Partial Federal Shutdown PulsePoll™
The longest recorded partial federal shutdown to-date is having a major impact on both federal employees and the contractors who serve them. From concerns over funding and ability to meet project goals and timelines to the impact on future recruitment and retainment of a strong workforce, it is no surprise three-quarters of respondents are more concerned with this shutdown than those of the past. Market Connections conducted a PulsePoll™ to gauge how the 2018-2019 shutdown is, or will be affecting the work of federal employees and the contractors who work beside them day-to-day.
Results from 2018 Defense Budget PulsePoll™
In February, the Bi-Partisan Budget Act of 2018 (BBA) passed, lifting caps on spending and paved the way for significant increases in discretionary spending across defense and civilian agencies. With the passing of BBA 2018, the defense discretionary funding cap was increased by $80 billion in FY2018 and $85 billion in FY 2019, allowing for current on-hold projects to move forward and for the development of new opportunities in key focus areas. A recent PulsePoll™ from Market Connections reveals where defense agency technology leaders feel funds will be prioritized, and how soon they expect these funds will make an impact.
Results from Government Recruitment Study
A majority of public sector and government contractor HR and recruiting professionals are struggling to recruit and retain top talent. A recent survey by Market Connections and Monster Government Solutions uncovered that roughly half of HR professionals and hiring managers find a shortage of qualified candidates a top challenge. Meanwhile only one quarter are satisfied with their organization's retention practices and only one-third are satisfied with hiring management technology.
What other barriers and challenges in recruiting and retaining talent were identified? What resources, tools and messaging are organizations using to attract and keep them?
This study sheds light on the ongoing challenges with government and government contractor hiring and retention and will help your organization develop and improve the right strategies and best practices to recruit and retain the best candidates.
In 2017, Market Connections conducted a federal events study to gain a better understanding of how and why federal IT decision-makers are attending live events. For years, the Federal Media & Marketing Study has tracked the rise and fall of attendance levels at live events and webinars without explanation. This prompted Market Connections to develop a deeper study specifically focused on live event preferences. The objective was to gain a better understanding about why and how federal IT professionals made their decision on whether or not to attend events. Factors included in the study were event format, size, location, length and content.
In 2013, Market Connections conducted a Federal Mobility PulsePoll™ to gauge how critical mobile devices were to federal employees and how it affected their productivity. To follow up on the original study, in 2016 Market Connections polled 200 federal decision-makers who use mobile devices for work-related tasks. The objectives in repeating the PulsePoll™ were to view trends in mobile use for work-related tasks; follow up on how mobile devices affect productivity; and to delve deeper into the type of work-related content and media federal decision-makers are viewing on their devices outside of traditional business hours.