Other Research and PulsePolls™
Projects
CLICK ON ICON TO SEE PROJECT COMPONENT
Results from 2018 Defense Budget PulsePoll™
In February, the Bi-Partisan Budget Act of 2018 (BBA) passed, lifting caps on spending and paved the way for significant increases in discretionary spending across defense and civilian agencies. With the passing of BBA 2018, the defense discretionary funding cap was increased by $80 billion in FY2018 and $85 billion in FY 2019, allowing for current on-hold projects to move forward and for the development of new opportunities in key focus areas. A recent PulsePoll™ from Market Connections reveals where defense agency technology leaders feel funds will be prioritized, and how soon they expect these funds will make an impact.
Results from Government Recruitment Study
A majority of public sector and government contractor HR and recruiting professionals are struggling to recruit and retain top talent. A recent survey by Market Connections and Monster Government Solutions uncovered that roughly half of HR professionals and hiring managers find a shortage of qualified candidates a top challenge. Meanwhile only one quarter are satisfied with their organization's retention practices and only one-third are satisfied with hiring management technology.
What other barriers and challenges in recruiting and retaining talent were identified? What resources, tools and messaging are organizations using to attract and keep them?
This study sheds light on the ongoing challenges with government and government contractor hiring and retention and will help your organization develop and improve the right strategies and best practices to recruit and retain the best candidates.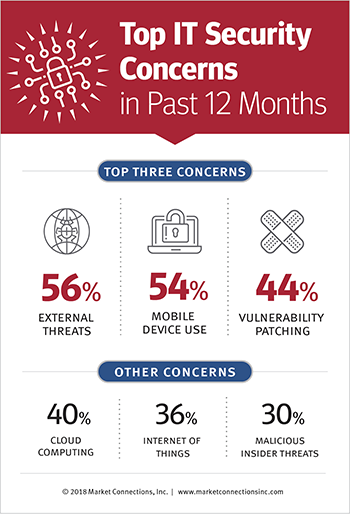 The Status of Federal Agencies Security Postures
The recent Presidential Executive Order Strengthening the Cybersecurity of Federal Networks and Critical Infrastructure states "known but unmitigated vulnerabilities are among the highest cybersecurity risks faced by executive departments and agencies." It calls for increased focus on securing IT and data, including protecting IT and data from unauthorized access and cyber threats; being aware of potential threats; being able to detect security events; and being able to respond and recover. However, cybersecurity risk management has been a long-term priority for federal agencies, even before the White House issued this Executive Order. The question is, in an age of increased cybersecurity threats and federal mandates, how have agency security postures changed over the last year? Unisys commissioned government research firm Market Connections to find out.
In 2017, Market Connections conducted a federal events study to gain a better understanding of how and why federal IT decision-makers are attending live events. For years, the Federal Media & Marketing Study has tracked the rise and fall of attendance levels at live events and webinars without explanation. This prompted Market Connections to develop a deeper study specifically focused on live event preferences. The objective was to gain a better understanding about why and how federal IT professionals made their decision on whether or not to attend events. Factors included in the study were event format, size, location, length and content.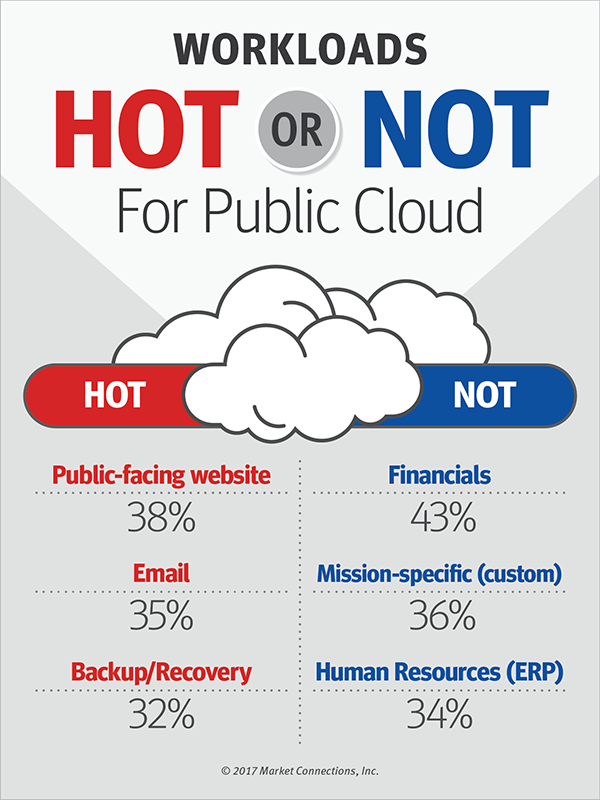 Emerging Trends in the U.S. Federal Government
Almost seven years ago, the White House issued its 25-point Implementation Plan to reform federal IT that mandated federal agencies "evaluate safe, secure, cloud computing options before making any new IT investments." The U.S. federal government seems poised to enter a new era of cloud computing after the last seven years of trial and error yielded important lessons learned and repeatable best practices. What about cloud is working or not working? Are federal agencies fully realizing the promised cost savings? How pervasive is cloud adoption? What workloads are agencies putting into the cloud? Nutanix commissioned Market Connections to survey a representative audience of federal IT managers and leaders to find the answers to these questions.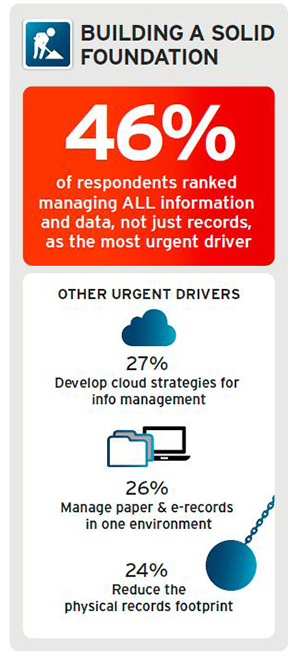 Is the Government Constructing a Solid Foundation?
As agency priorities change, so does the field of Federal Information Management — today it goes beyond records management to encompass data analytics, digital storage and archiving, cloud strategies and managing the risks associated with all of these things.
Based on a 2015 study Iron Mountain sponsored with the Association for Information and Image Management (AIIM) that surveyed industry professionals in the commercial sector about the evolution of information management, Iron Mountain commissioned Market Connections, Inc. to answer these questions for the federal government. The study looked at agency priorities regarding records management, the expectations organizations have of their information professionals over the next three to five years and how respondents see themselves in relation to these growing expectations.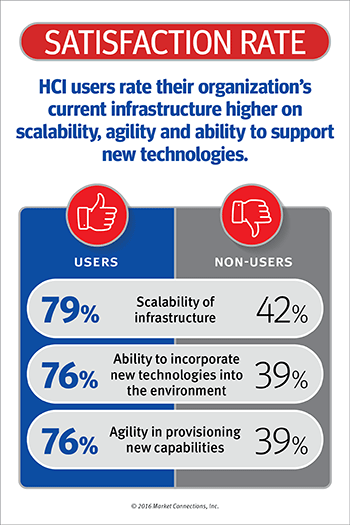 An Effective and Efficient Path to Federal IT Modernization
The cost of maintaining and refreshing legacy hardware-centric infrastructure is responsible for soaking up a majority of IT budgets. Federal agencies can often do little more than maintain the status quo on Administration priorities such as cybersecurity, data center consolidation and cloud computing. While IT managers are fully aware that legacy systems are expensive, brittle, inefficient, time consuming to maintain and an obstacle to successfully addressing Administration priorities, many are unsure or unaware of the options. A solution to these challenges may be transitioning from legacy architectures to Hyperconverged Infrastructure (HCI).
To help IT managers grappling with the challenges of modernizing their network and wondering if HCI makes sense for their agency, Nutanix commissioned Market Connections to determine the degree to which federal IT managers are using HCI and the impact using (or not using) it has on the pressing needs and challenges agencies face.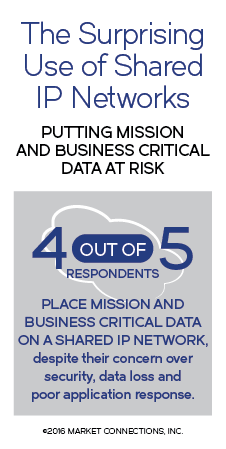 Trends, Risks and Benefits
The growth of global IT data center traffic is increasing pressure on the network to deliver data reliably and efficiently. How organizations transport, store, manage and protect their data is more critical than ever. In the past, organizations have used SAN storage for mission-critical data and IP storage for noncritical workloads. However, because IP storage solutions are perceived as less expensive and easy to implement and manage, many commercial companies are now using IP storage for all types of data.
Brocade commissioned Market Connections to see if the federal market mirrors this trend and to uncover the concerns and pain points of managing storage and storage networks.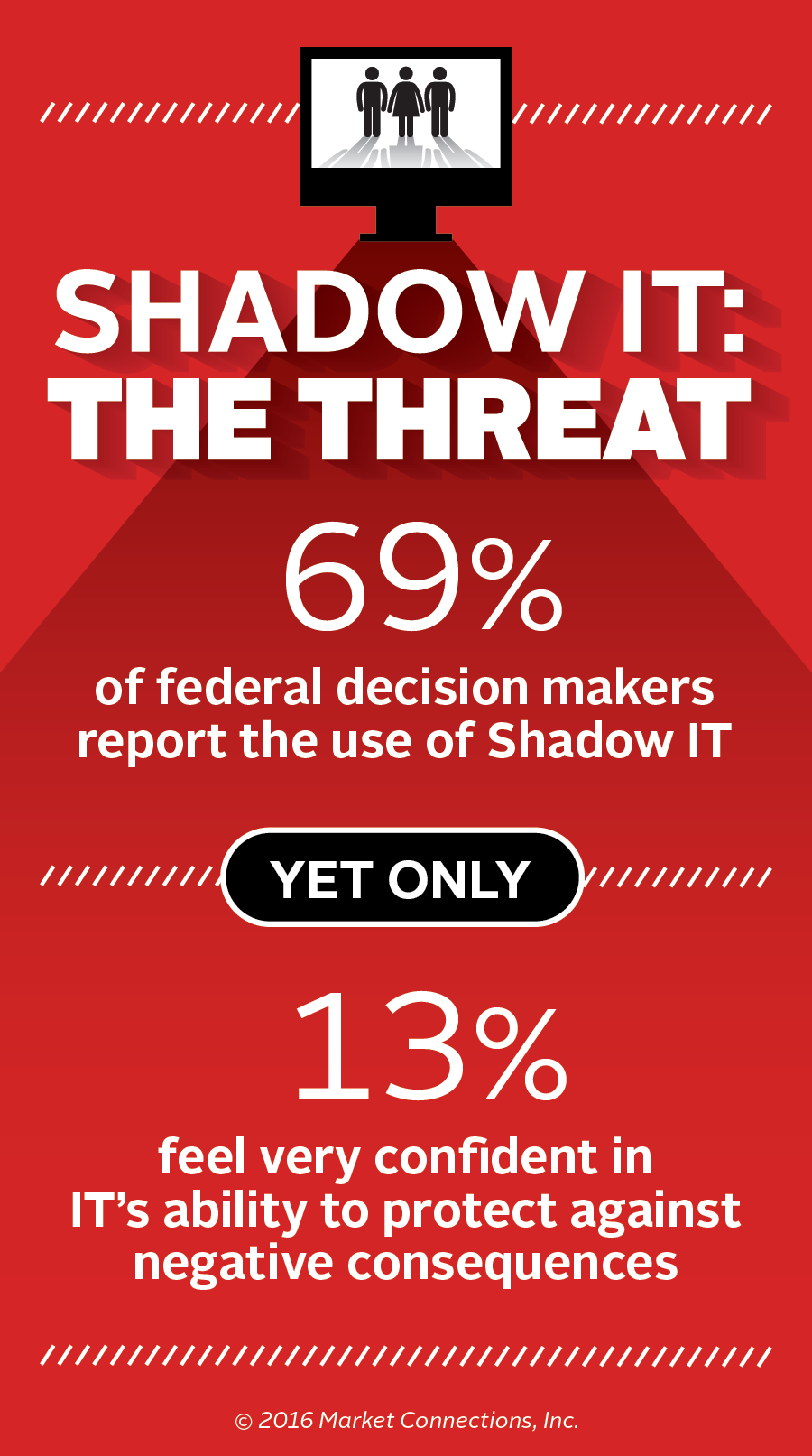 Shadow IT, Mobile, Shared Services
Take Control of your Agency's IT
To find more efficient ways to deliver IT services, many federal program offices are looking beyond what their internal IT department provides through Shadow IT and mobile technology. At the same time, IT departments are streamlining resources by using IT shared services. While each offers benefits, such as faster development times, easier access, and increased efficiency, adopting these technology trends presents challenges to agency IT departments.
IT professionals feel they have less control over how technology is being used due to Shadow IT and mobile technology use. It make them less confident in the security of the agency's data and ability of their network to run efficiently. SolarWinds commissioned Market Connections to learn to what extent these technologies are being used at federal agencies and the resulting challenges faced by their IT departments.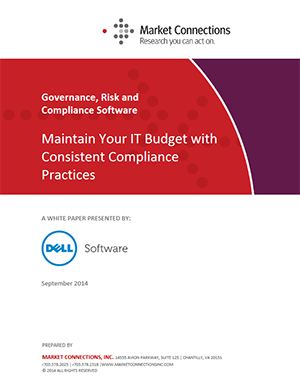 Maintain State & Local IT Budget with Consistent Compliance Practices
State and local agency IT departments are stretched thin even as they work diligently to address three key operational challenges: compliance requirements and federal mandates, increased cyber threats and increasingly shrinking budgets. Given these challenges, it's common for routine maintenance tasks to slip.
Dell Software commissioned Market Connections to poll state and local IT workers on awareness of, and attitudes toward, the use of GRC software in state and local government agencies, especially the features they deem most critical when selecting a tool.