Content Marketing: The Importance of Websites and SEO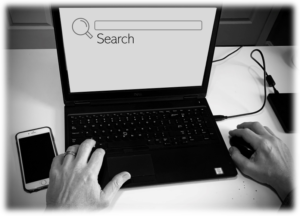 Your website is still among the best ways to deliver content to your customers. Who says? Nearly 70% of federal IT decision-makers, according to Market Connections polling (Source: Content Marketing Review: Federal & Beyond). However, you still need to drive traffic, and search engines are the traffic cops. Are you investing in making your public-sector website easily navigable and optimized to be found? Search engine optimization (SEO) makes a difference.
Why Should SEO Matter to Government Marketers?
Eight out of ten federal IT decision-makers use search engines like Google to find what they're looking for (Source: Content Marketing Review: Federal & Beyond). You can't expect public sector decision-makers to just know about your company and enter your company name verbatim into their browser of choice. Is your company's site popping up on the first page of results? Do you know the words and phrases associated with the product or services you offer? To ensure your audience can find you, marketers must find the push and pull balance.
In our own efforts to reach the federal workforce, we have experienced first-hand the trend of the past 2-3 years: spam filters have become even more rigid in allowing vendor emails to get through to agency email addresses, and agencies are strengthening ad blockers or even blocking sites altogether. B2G marketers can not only rely on traditional push methods (email, social media, digital advertising), but also maximize pull methods (earned and sponsored content articles, speaking engagements, SEO) to ensure they are and remain top of mind for agencies and driving website traffic.
SEO Must-Know: Google's Algorithm Changes Are Coming…
As the most-frequented search engine, there's no avoiding that we must pay attention to how Google ranks our websites. Co-founder of Ocean 5 Strategies, Kris Brinker, recently shared information about Google's upcoming algorithm change, Core Web Vitals. Set to launch in the next couple of months, the change in algorithm will focus on website user experience including load time, interactivity and visual stability. Your website will not only have to be mobile-friendly, but mobile-first (and secure) to maximize its position according to Google's new algorithm.
Read Ocean5 Strategies blog post with more details.
While the user experience will play an increased role in how Google ranks your website, you can't ignore what your website contains for those who actually get there!
Search Engine-Friendly AND Content-Rich
As Kris puts it, "Don't neglect the importance of great content." She continues, "Your content helps you build relationships and earn trust. Gone are the days that past performance and accuracy of language in a bid were the keys to winning the contract award. Today, B2G companies must compete to attract customers to their brand by providing compelling, quality, educational materials, thought leadership, and high visibility of capabilities that can be found online."
According to Brinker, Google is also putting importance on quality content. According to her article, Google drops a big hint:
"While all of the components of page experience are important, we will prioritize pages with the best information overall, even if some aspects of page experience are subpar. A good page experience doesn't override having great, relevant content. [Emphasis added]"
What Is Relevant Content to Government IT Decision-Makers?
Over the years, Market Connections has studied public sector audiences to provide government marketers insights on what content they prefer, what it should contain, how they prefer to receive it, and where they go to find it.
To hear results from this year's Content Marketing Review: Reaching the Public Sector, a study of the federal, state & local, and education markets, register for our virtual event on Thursday, May 20 at 2 PM (ET).