Custom Content: A Closer Look
What is custom content and why does it need to be part of your 2023 marketing plan?
by Susan Rose, Senior Director of Insights and Content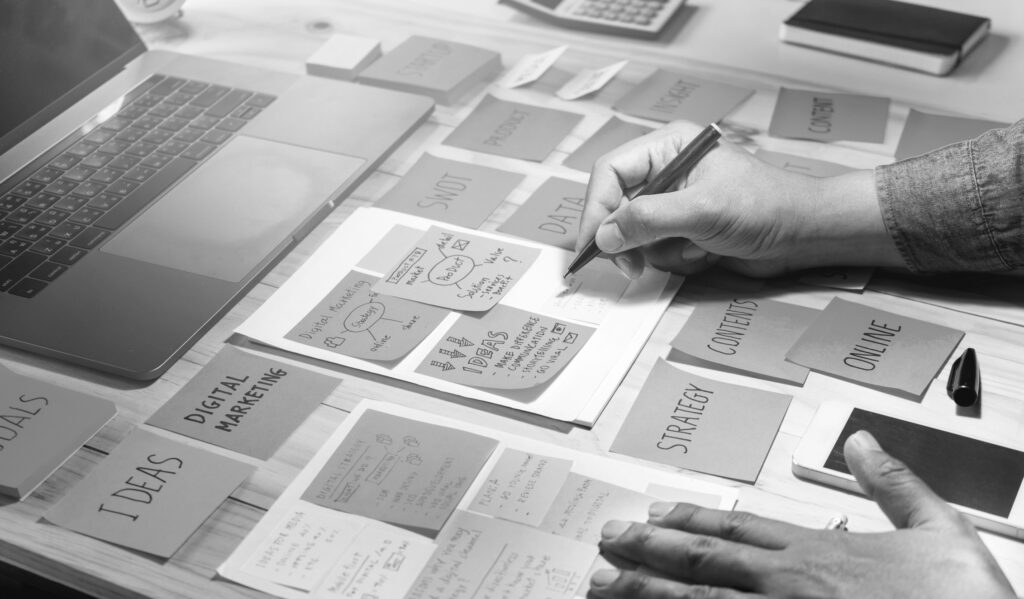 As part of a company that produces every type of content, we find "content" means different things to different people, and some new definition pops up every single day. This can make determining the right content mix to meet your business goals a bit of a challenge.
At GovExec, we talk about editorial content, sales content, and custom content. All types of content are an important part of a marketing strategy. Deciding which one to use in any given situation depends on what your expectations and needs are.
Fortunately, we have some research to help you figure that one out as you start working on your 2023 marketing plan. But first, what is custom content?
What custom content is NOT
It is important to know what it is NOT before diving into what it is. Custom content is neither editorial nor sales content.
Editorial content is designed to inform or entertain. It is what we call "newsworthy" because it tends to be about something happening in the moment, like coverage of a vote in Congress or the war in Ukraine. Editorial content is about what is happening on the ground.
Sales content, on the other hand, is created for the explicit purpose of generating sales. That means it will talk about how a specific product or a specific service is going to work for a public sector agency: what it's going to do and why the client needs to purchase it. It will not be a broader discussion about the technology; it's going to be about something very tangible.
Since that seems like the majority of content you see daily, what is custom content then?
What Custom Content is
Custom content is the practice of marketing via content a business funds or sponsors. Editorial content does not have any sponsor and sales content is all sponsor.
When a company underwrites a custom content piece, we work with them to determine the topic and what the audience needs to know or learn. Custom content is relevant and valuable to the audience, and as such helps build trust.
In general, custom content will be based on research. We will dig into studies and reports, or look at industry wide trends. The result will be an unbiased story about what the data means. This content relies on the knowledge of subject matter experts as well as reputable research sources.
Custom content includes native articles, research reports, webinars, podcasts, and videos. When you see something on our GovExec properties that says "sponsored by," that means it is custom content and a company paid to create it. They helped determine the topic and the educational focus. They have NOT determined what we say because if the research doesn't back up a specific point of view, we are not going to publish it. Our reputation is on the line. Custom content simply means the company had some influence in topic and direction, and therefore the piece is not pure editorial.
Why do you need to add Custom Content to your 2023 marketing plan?
Custom content is about building that trusted adviser relationship that your team wants to have with your public sector customers. Everything we do is geared toward that.
Why is this so important?
Glad you asked.
Market Connections conducts a variety of studies that look at public sector marketing and trends. Data from our three most recent studies come to the same conclusion: custom content resonates with your audience.
That is ultimately why you need to use it.
In the Market Connections Content Marketing Review, we asked public sector decision makers what kind of content they find most valuable overall. What this data shows is that the public sector values a range of content types.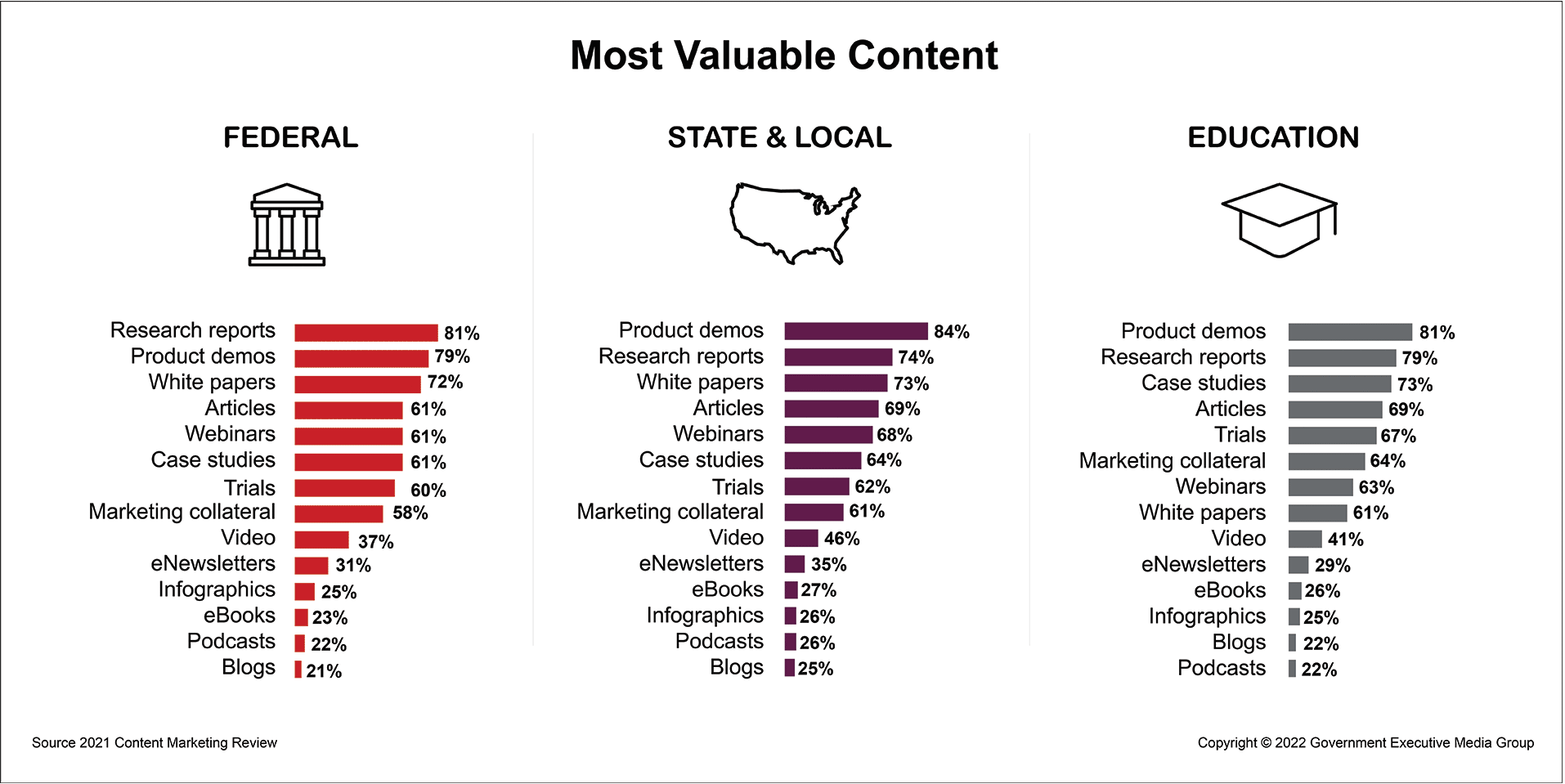 When we remove editorial and sales content from the mix, you'll see that custom content types are valuable to the audience—particularly fed and sled audiences.
A little background: We chose 14 different content types because these are all part of the public sector marketing mix.
The figure shows that overall, the public sector audience finds all of them valuable, and therefore are all a really good part of your content mix. Remember that.
But what this also shows is that when you remove editorial and sales content from the mix (which is what we've covered up) is that of the 14 content types, 10 are custom content.
Research Reports are highly regarded as valuable content, followed by white papers, and articles. Does that mean you need to spend all of your budget on research? Not necessarily. It depends on your budget and your annual goals. And while your audience really likes reports and white papers, you'll notice that webinars still have a very high percentage of value to the audience.
What does a custom content mix look like in action?
That's a great question that only you can answer based on your marketing budget, initiatives, and company goals. This figure of the buyer's journey illustrates where various types of content have impact along the journey. It's important to address the audience at the various stages of the journey.
We suggest a mix of ebooks, webinars, articles, video, podcast, white papers, and so on–really anything from the list in the figure.
What we definitely suggest is getting the most out of the content you create. Repurpose, repurpose, repurpose.
Say you commission some custom research, you can get a research report, a white paper, a few articles, a webinar, a podcast, and more out of it. That will give you the most bang for your marketing dollar.
Need some help? Contact your GovExec sales rep to discuss a program to fit your needs. Or, contact me–I love talking content strategy! (srose@govexec.com)