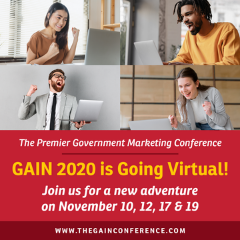 Brought to you by Market Connections' strategic partner, Government Marketing University, GAIN 2020 is the premier government marketing conference where you will learn along with the brightest minds in the government marketing community. This year's conference will be virtual over the course of four days in November with two-hour segments each day focused on the four core areas: Grow, Accelerate, Innovate and Network. (GAIN!)
Each day you will hear from dynamic speakers followed by keynote commentary brought to you by senior government marketers, a government CIO, CISO and program manager will be in the virtual house along with a stellar line up of experts delivering insightful training workshops and more!
Attendees will be provided with tools, insights and inspiration needed to take their 2021 government marketing to the next level via an online environment that can be accessed anywhere.
Schedule
GROW
Tuesday, November 10th
10:00 a.m. thru 12:00 noon EST
ACCELERATE
Thursday, November 12th
1:00 p.m. thru 3:00 p.m. EST
INNOVATE
Tuesday, November 17th
10:00 a.m. thru 12:30 p.m. EST (GAINER Awards)
NETWORK
Thursday, November 19th
1:00 p.m. thru 3:00 p.m. EST