2018 Federal Government Contractor Study
In a recent blog post, we shared the top challenges faced by federal marketing and business development professionals as seen in the 2018 Federal Government Contractor Study.
While it is nice to know the challenges we all are facing, what you REALLY want to know is:
How are your competitors spending their marketing dollars?
Is their spending the same as yours?
What about next year?
You don't want to miss the next big thing, and you certainly want to know where your efforts are going, so that you can go head-to-head with your primary competitors.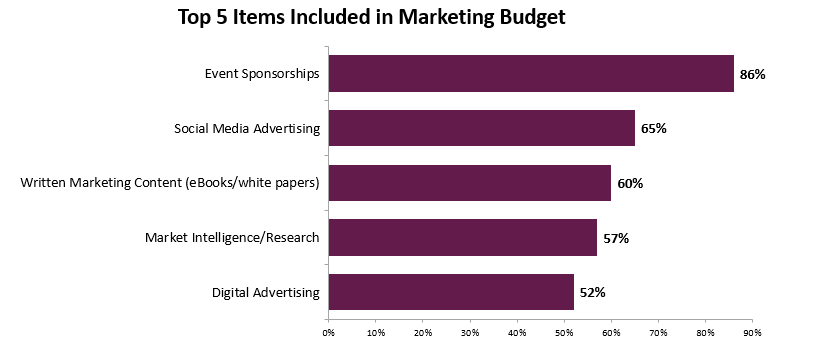 Being present is still a key to winning. Almost 9 out of 10 survey respondents stated that event sponsorships are included in their marketing budget. As we have seen in other studies (Federal Media & Marketing Study and Federal Content Marketing Review), event participation is on the rise among federal decision-makers. Contractors are seizing the opportunity to get in front of their audience by sponsoring and being present at events where they can have face-to-face transactions with potential clients and customers.
While event sponsorships outranked other items by a large margin (at least half or more of respondents also listed social media advertising, written marketing content, market intelligence and research and digital advertising), it has not peaked. One-third of respondents said they would increase their marketing budget spend on event sponsorships in the future.
What will be increasing even more? Where will the competition be greater in the upcoming years? The answer is: digital advertising. Atop the list with more than half of respondents stating they will be increasing their marketing spend, digital advertising will likely see big jumps (and increased competition for real estate) in the upcoming years. Market intelligence/research (yay!), podcasts, video marketing and radio/TV advertising are among those with the strongest growth looking ahead…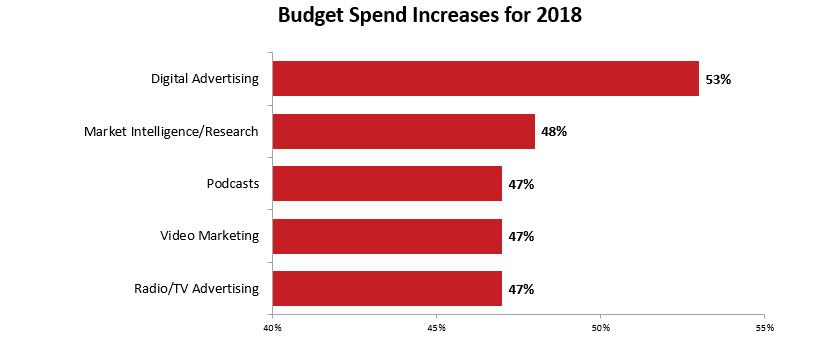 Upon further review, we saw some key differences in who specifically will be increasing their spending in certain areas. Those contractors with lower than average win rates on new opportunities are more likely to be increasing their market intelligence/research efforts. "It's not surprising. Few things hurt worse than NOT winning or bringing in a new client," says Aaron Heffron, president at Market Connections. "The one thing that hurts more is not really knowing why. Sometimes only an outside eye can see the reasons clearly."
How Can You Ensure Contract Wins?
Thinking about these findings even more, when it comes to ensuring contract wins, a few key questions contractors need to ask themselves are:
Was what you were promising in your bid credible to the audience?
Did you have a specific strategy to communicate your strengths that were specific to the agency, or were you using the same messages and methods you always have been?
In a crowded market, were you telling the prospect what they needed to hear, or what you thought they wanted to hear? Do you know the difference?
Was this customer most influenced by price, value, key personnel, past performance, or reputation (or something else)?
Did you even have a chance? How happy was the customer with the existing provider?
These, among others, are important questions to not only ask post mortem, but BEFORE you even start. More than 18 months before a contract is up for bid, the most successful contractors are building a plan customized to the customer, planning a marketing strategy that incorporates events, digital and other personalized means, and building a clear, concise value proposition. As you can see, competition for placement at events and digital visibility is going to be at a premium, so it's essential you start planning now.
The Federal Government Contractor Study conducted by Market Connections, in partnership with Professional Services Council and Merritt Group, surveyed BD and marketing professionals focused in the federal marketplace to understand their top challenges and best practices.
New pursuit and capture research
New pursuit and capture research helps anticipate and understand the needs and goals of a target market, providing contractors with fact-based insights to inform a more effective capture strategy. It can help identify which opportunities contractors are most likely to win, the win themes for their capture strategy and perceptions of their organization and the competition.
Customer satisfaction research
In addition to winning new business, in an environment with shrinking budgets, it is key to also win those contracts up for recompete. Customer satisfaction research has helped clients save key accounts that would have otherwise been lost due to unidentified customer issues and brewing dissatisfaction. Clients also use this research to ensure satisfaction on strategic government contracts, thereby increasing their chances of winning when the contract comes up for renewal.
Earlier this summer, Market Connections in partnership with Professional Services Council and Merritt Group conducted our biennial 2018 Federal Government Contractor Study. In order to stay alert to the biggest issues our government contractor clients may be facing, we conduct this study to answer what federal marketing and business development (BD) professionals are currently wrestling with in the marketplace.
Year after year, we take into account how respondent answers vary based on what role they play within their company. While, as a group, both business development and marketing departments find similar areas challenging, when you compare the two, responses differ.
What were their top challenges in 2018? While both groups listed the government procurement cycle, a challenge that falls outside of their control, most challenges listed by each group can be addressed with thoughtful collaboration (and maybe a little outside assistance).

Being Different Is Hard to Do
In a crowded and competitive vendor market, it's hard to stand out. Both those working in marketing and BD raised the challenge of differentiation to the top of their list. But if you look at the data more closely, the survey found that respondents with lower win rates found "differentiation beyond price" more challenging than those with higher win rates.
What does this mean for contractors who want to make sure they stand out?
"The data shows that it's key to differentiate yourself beyond price. While you may think you are the best-looking penguin around, to many, you're just another bird in a tuxedo," says Aaron Heffron, Market Connections' president. "Price is just one factor on which you can set yourself apart. However, you need to highlight other attributes that make you the best choice of the flock. The problem is, many contractors cannot clearly communicate what it is that sets them apart."
Understanding What Sets You Apart
Market Connections performs research that compares our clients' offerings and business functions against those of their direct AND indirect competitors. We also identify the PERCEPTIONS of you and your competitors that get you on, or off, the short list. The result is a competitive edge that is sharpened with real market feedback rather than guess work and assumptions. This research provides our clients:
Comprehensive profiles of competitors
Comparisons of their and competitors' current contracts, offerings, pricing, customer base, positioning, and market strategies
Perceived differentiators between them and competitors
Their market share relative to competitors
Learn more about Market Connections Competitive Profiling research and how it can support your marketing and BD strategies.
See other key findings in our latest report: 2018 Federal Government Contractor Study: Best BD & Marketing Practices of Winning Contractors, in collaboration with Professional Services Council and Merritt Group.