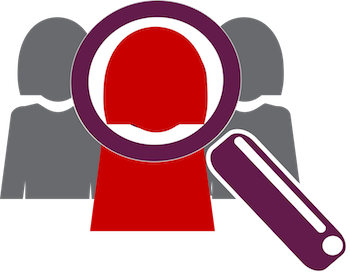 How can the government attract the best and brightest? It starts with good branding demonstrating why the agency is the place to work. The need is especially high now as many government employees are nearing retirement. How can the government appeal to young talent?
Recruitment branding helps attract young talent and keeps them engaged.
The private sector has excelled at recruitment branding for years. Industry leaders are not only innovative with product development, but have also created the type of brand that inspires people, making them sought-after employers that attract and retain the right talent.
Yet, despite its importance, and the model private industry has shown, experts say government agencies miss the mark when it comes to developing the right recruitment branding to entice talented young professionals.
There are, however, some agencies leading the pack when it comes to creating a brand that resonates with potential employees.
It starts with research.
One civilian agency demonstrated how to make a mark and attract highly skilled talent. In a two-phased study to aid in branding the agency for employees, the agency first conducted focus groups with junior and senior business majors at universities across the country. Through these focus groups, the agency honed in on what would make the agency an attractive employer. One tactic the study used to strengthen the agency's brand among students was showing them agency collateral and using their input to change the agency's branding.
During the initial stage of the research, the agency discovered a surprise: student awareness of the agency was very low with college students. However, the students found the agency's core brand attributes to be appealing. The agency discovered through student feedback the ability to travel, the organization's solid benefits, and the strong work-life balance were ideal employer attributes in the eyes of prospective, young employees.
The second part of the study was a telephone survey of college placement officers and career center professionals. The purpose was to measure awareness of agency among college placement officers, as well as gather data to inform the development of recruitment messaging and collateral.
The result was the agency had the tools to not only raise awareness of the agency, but understand exactly what good prospective employees valued in an employer. With their newfound knowledge, they developed a plan that helped attract the talent the agency needed.
Government agencies can take a page from the agency's playbook and use research as the foundation for building an employer brand that truly resonates. By refreshing their research, they can appeal to the next generation of government leaders we need.
So, to answer the question of whether agency recruitment branding really matters, the answer is YES.
Learn How Recruitment Branding Research Can Help You
Our next webinar, Best Practices: Using Research to Recruit and Retain the Right Talent for Your Company, is coming up on Thurs, October 12, 2017 11:00 AM – 11:45 AM EDT
Join Market Connections' Vice President Laurie Morrow as she shares how using this type of research can help you understand how top candidates perceive your company and your competitors, what their key needs and wants are for an ideal workplace, as well as barriers to attaining and retaining staff. Learn how this research can help your HR team develop and improve the right strategies to recruit and retain the best candidates for your market.
Our best practices webinar on using capture research to position for the win is tomorrow! As a preview, we thought we'd share three tips we collected over the years that have helped our clients win government contracts…
1. Be laser focused on specific agencies
We hear time and again companies are being more selective not only about the contracts they bid on, but about the agencies they work with. Part of the reason comes down to building relationships; people work with people they know and trust. It is also about knowing which agencies most need your unique services. This focus means you'll have a better chance of winning.
2. Team up
The 2016 Federal Government Contractor Study showed that winning contractors are using teaming agreements to win contracts. They do that for one very specific reason: it makes them more competitive. By pooling expertise among a group of partners, the overall bid is more competitive and each company can focus on their core strengths. It's a win for everyone.
3. Highlight your commercial experience
More and more, agencies are looking to the private sector for inspiration. They want to use the same innovative technologies, and they want to know what kind of experience you have in that arena. The recent Federal Content Marketing Review showed that agencies are very interested in commercial experience.
Finally, a bonus tip: don't give up. Winning contractors do not have perfect win rates. They do put in the legwork to understand what the customer wants so they can create a competitive bid and that improves win rates. Part of that legwork is capture research, which leads us to tomorrow…
Webinar: Using Research to Position Your Company for Contract Wins
Market Connections Executive Vice President, Aaron Heffron, will share tips for using capture research to position your company for the win, or to help make a no-bid decision. It's not too late to register.
Date: Wednesday, June 28, 2017
Time: 11:30 AM – 12:00 PM EDT
Cost: Free
The long government procurement process is a challenge in marketing to the federal government. The 2016 Federal Government Contractor Study showed several ways federal contractors are responding to this and other marketing challenges to remain competitive. One of those tactics is thought leadership.
Last week, we posted a link to research Edelman and LinkedIn conducted showing the real impact quality thought leadership has on winning business. Those results are consistent with what the Government Contractor Survey showed: Three quarters of respondents (75 percent) rated thought leadership materials as the most effective marketing tools. Senior executives agree—87 percent cite thought leadership materials as effective. Speaking at large industry-wide tradeshows and conferences (71 percent) and hosting their own events (66 percent) also rank high on the list of effective marketing activities. And companies with higher new pursuit win rates grade themselves significantly better on demonstrating thought leadership and subject matter expertise (61 percent) than companies with lower new pursuit win rates (38 percent).
"We do not have budget problems in the federal government, but we do have an issue of leaders who need to implement change. To sell that change, you must be positioned as a thought leader and provide insights and solutions they may not know about," said Anthony Robbins, Vice President of Global Defense at AT&T.
Webinar: Using Research to Position Your Company for Contract Wins
Great thought leadership alone won't help contractors win the business. The study also showed contractors are being more selective about what they bid on. Capture research is a great tool for informing that decision. By letting contractors probe the customer needs and perceptions, they can create win themes that resonate… or determine the best decision is no-bid.
Join Market Connections Executive Vice President, Aaron Heffron, as he shares tips for using capture research to position your company for the win, or to help make a no-bid decision. Register for the webinar today.
Date: Wednesday, June 28, 2017
Time: 11:30 AM – 12:00 PM EDT
Cost: Free
As contractors enter the "busy season" for proposal development, gaining any edge possible for winning new business (or retaining existing contracts) is critical. On June 28, Market Connections' Executive Vice President, Aaron Heffron, will lead Market Connections' webinar, Best Practices: Using Research to Position Your Company for Contract Wins. We spoke with Aaron about why this proposal season is different than those in the past and what contractors can do to prepare.
MC: What spurred your decision to host a best practices webinar on capture research?
Aaron: Contractors have traditionally spent this time of year fine-tuning win themes as they prepare for proposal season; this is particularly true after a change in administration. But I think we can all agree this year feels different. This administration has brought a very different perspective to the procurement process and government in general.
With a great level of uncertainty and change in executive leadership, understanding what agencies are going to need and want from the contracts coming up for competition is more important than ever. As we come into the last quarter of the fiscal year, everybody must be well-equipped and have as much information as possible to be competitive.
MC: Given all this change and uncertainty, what do you think is of greatest value in doing capture research?
Aaron: In our experience, the greatest value is identifying one or two overarching themes embedded within an agency. Identifying these themes help our clients connect to the challenges the agency is facing. As they bid on contracts they can develop a very specific message tailored to those challenges. For example, there may be greater focus on new technologies, cost-effectiveness or innovation at that agency than there was in the past. Without doing research, a contractor wouldn't necessarily know an agency's priorities. Proposals that speak to those themes will naturally rise to the top immediately.
MC: Why do a capture research project rather than talking to the agency directly?
Aaron: Using independent third-party —a researcher with no vested interest in the outcome — can get contractors feedback they are not necessarily going to get from their normal business development process. We have found agencies are more guarded in talking to government contractors than they are to a neutral third-party. This is especially true for incumbents coming up on re-competes — it's amazing what they will tell us, as opposed to the people they sit next to day after day.
MC: Any additional insights to share?
Aaron: Definitely. Being surprised in the bidding process never leads to anything good. Period.
What we are doing with capture research is figuring out the best way to minimize the element of surprise. While there will always be something you don't know, we want to help our clients best position themselves based on what the agency prioritizes by giving them as much information we can garner from the agency itself. We are trying to make the capture process efficient as possible so you can focus on the solution, rather than having to worry about the best way to position it.
Webinar: Using Research to Position Your Company for Contract Wins
Get ready for proposal season by joining Aaron as he shares more tips for how to prepare for this unique proposal season. Register for the webinar today.
Date: Wednesday, June 28, 2017
Time: 11:30 AM – 12:00 PM EDT
Cost: Free
As one government contractor considered entering the cybersecurity space, they realized in order to be successful, they needed to approach their capture strategies differently than other markets; that meant conducting capture research. They knew not only would the research give them actionable insights about market perception, the information would play a key role in developing the right offerings to meet government needs and budgets.
"Without understanding the customer's problem set and challenges, it is impossible to develop the right solutions that meet their needs," the company President said.
She noticed many competitors seemed to develop their cybersecurity solutions and then search for a problem to address. Using capture research, her company could do the opposite: they determined the problem first, then developed a way to meet those needs. "By starting with requirements rather than the solution we feel we have much more effective mission support-based solutions."
Capture research provided a competitive edge by uncovering the needs and defining mission success, and the company entered a new market with services their target customers wanted and needed. Today, they have a robust cybersecurity practice.
Using Research to Position Your Company for Contract Wins
Want to learn more? Attend our next Best Practices Webinar on using research to position your company for contract wins with Market Connections Executive Vice President, Aaron Heffron.
Date: Wednesday, June 28, 2017
Time: 11:30 AM – 12:00 PM EDT
Cost: Free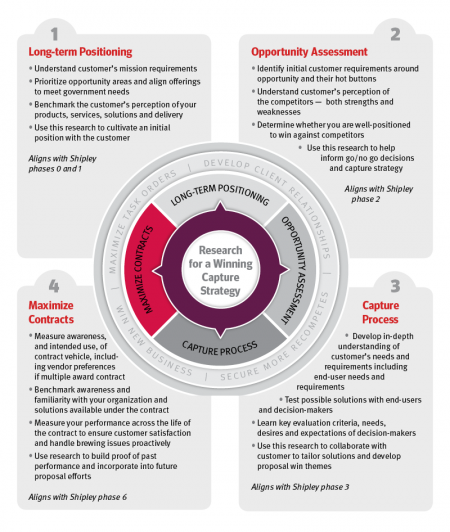 To increase win rates and retain existing customers, contractors need know when and how to engage effectively with government customers and prospects throughout the lifecycle of the acquisition and the contract.
This infographic illustrates how New Pursuit and Capture Research aligns with the Shipley Associates business development lifecycle, a model that has helped organizations gain competitive advantage for more than 40 years.
Specifically, for the capture process, a needs and requirements study can help you fully understand the new contract requirements, as well as who the incumbents, competitors, and potential partners are. In-depth interviews with the source selection committee and other decision-makers and influencers before the procurement goes into RFP can tell you about expectations and requirements, and how well positioned you are to win the business. This is the time to test possible solutions with decision-makers and end-users, and use the intelligence to help shape the procurement.
The actionable insights you gain can help you determine how qualified you are for the opportunity, how you are perceived in the marketplace and how you stack up against the competition. It will give you the information you need to position effectively, mitigate weaknesses, and fend off the competition.
The best way to counter uncertainty in the marketplace is with targeted knowledge that will help you win more new business and recompetes, and keep your business development and capture operations running efficiently and effectively.
Using Research to Position Your Company for Contract Wins
Want to learn more? Attend our next Best Practices Webinar on using research to position your company for contract wins with Market Connections Executive Vice President, Aaron Heffron.
Date: Wednesday, June 28, 2017
Time: 11:30 AM – 12:00 PM EDT
Cost: Free