Best Practices: Using Research to Position Your Company For Contract Wins from Market Connections, Inc. on Vimeo.
Every person who competes for contracts understands the value of information: information about what the customer needs and wants, including information about competitors. For government contractors, there is a range of sources to gather this information. As the table below shows, all the sources have value as well as limitations.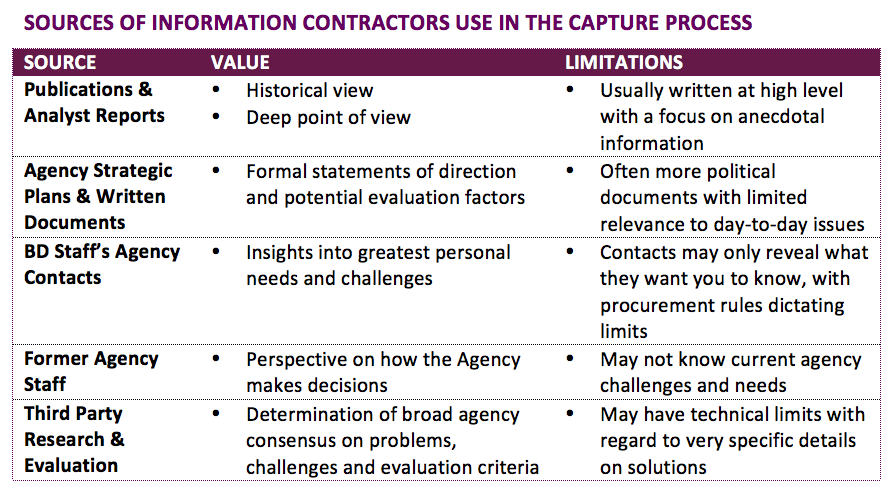 As a market research firm, we feel capture research is important to add into the data gathering mix. Recently, our Executive Vice President, Aaron Heffron, shared the importance of capture research to help contractors learn exactly what they need to know to position their company for the win.
The crux is that capture research clearly answers these questions:
Does our target audience know who we are?
What do they know us for?
Is our messaging aligned with what they deem important?
How do we stack up to our competitors?
Capture research can unveil how you are perceived by the agency in comparison to competitors/incumbents, understand key features and characteristics important to your customer, and provide key insight for developing winning themes and messages needed for your proposal.
Watch the recording of Aaron's webinar to learn more. And check out some other resources that provide insight on winning government contracts.
Download our White Paper: Best Practices of Winning Contractors
https://marketconnectionsinc.com/best-practices-winning-government-contractors/
Join the Conversation: FedPulse LinkedIn Group
https://www.linkedin.com/groups/8572167
Download our Best Practice webinars:
https://marketconnectionsinc.com/webinars
The long government procurement process is a challenge in marketing to the federal government. The 2016 Federal Government Contractor Study showed several ways federal contractors are responding to this and other marketing challenges to remain competitive. One of those tactics is thought leadership.
Last week, we posted a link to research Edelman and LinkedIn conducted showing the real impact quality thought leadership has on winning business. Those results are consistent with what the Government Contractor Survey showed: Three quarters of respondents (75 percent) rated thought leadership materials as the most effective marketing tools. Senior executives agree—87 percent cite thought leadership materials as effective. Speaking at large industry-wide tradeshows and conferences (71 percent) and hosting their own events (66 percent) also rank high on the list of effective marketing activities. And companies with higher new pursuit win rates grade themselves significantly better on demonstrating thought leadership and subject matter expertise (61 percent) than companies with lower new pursuit win rates (38 percent).
"We do not have budget problems in the federal government, but we do have an issue of leaders who need to implement change. To sell that change, you must be positioned as a thought leader and provide insights and solutions they may not know about," said Anthony Robbins, Vice President of Global Defense at AT&T.
Webinar: Using Research to Position Your Company for Contract Wins
Great thought leadership alone won't help contractors win the business. The study also showed contractors are being more selective about what they bid on. Capture research is a great tool for informing that decision. By letting contractors probe the customer needs and perceptions, they can create win themes that resonate… or determine the best decision is no-bid.
Join Market Connections Executive Vice President, Aaron Heffron, as he shares tips for using capture research to position your company for the win, or to help make a no-bid decision. Register for the webinar today.
Date: Wednesday, June 28, 2017
Time: 11:30 AM – 12:00 PM EDT
Cost: Free
As one government contractor considered entering the cybersecurity space, they realized in order to be successful, they needed to approach their capture strategies differently than other markets; that meant conducting capture research. They knew not only would the research give them actionable insights about market perception, the information would play a key role in developing the right offerings to meet government needs and budgets.
"Without understanding the customer's problem set and challenges, it is impossible to develop the right solutions that meet their needs," the company President said.
She noticed many competitors seemed to develop their cybersecurity solutions and then search for a problem to address. Using capture research, her company could do the opposite: they determined the problem first, then developed a way to meet those needs. "By starting with requirements rather than the solution we feel we have much more effective mission support-based solutions."
Capture research provided a competitive edge by uncovering the needs and defining mission success, and the company entered a new market with services their target customers wanted and needed. Today, they have a robust cybersecurity practice.
Using Research to Position Your Company for Contract Wins
Want to learn more? Attend our next Best Practices Webinar on using research to position your company for contract wins with Market Connections Executive Vice President, Aaron Heffron.
Date: Wednesday, June 28, 2017
Time: 11:30 AM – 12:00 PM EDT
Cost: Free