Signed into law in February, the Bipartisan Budget Act of 2018 is a two-year agreement that raises the spending caps for both defense and non-defense in FY2018 and FY2019. The increase has been cause for great expectation and speculation in a government contractor community eager for a return to the days of strong and sustained growth. However, not everyone shares that rosy view, with a minority of skeptics wondering, despite the fanfare, if spending will grow at healthy levels, if at all.
As is often the case where large sums of promised spending collide with congressional scrutiny, the answer may lie in the middle. Over the next 18 months we anticipate room for cautious optimism, and forecast a noticeable growth in IT services, even over the next three years. We also expect some growth in manufacturing overall, though not nearly to the level anticipated for some of the defense hardware manufacturers. Should spending increase in the next year and a half, there is likely to be intense competition among contractors to defend their existing contracts and/or work aggressively to grow their own piece of the pie.
But regardless of how narrowly or widely the spigots open – and we'll discuss the likely winners below – a recent survey by Market Connections reveals that eighty percent of Defense IT decision makers believe they will see spending increases within the next 18 months. If that's the case, contractors should be preparing now. 
The Current Situation and Outlook Is Generally Positive, Though Some Skeptics are Wary
The expected influx is certainly welcome news to the nearly four in five Defense IT decision-makers that report their projects are on hold. But at the same time, while two-thirds feel that proposed spending increases will move their projects forward, there is still some skepticism in the market, with one in five not quite sure that this will be the case.
Spending on Cyber Will Continue to Grow  
If spending does occur, most believe—not surprisingly – that it will focus on cyber security and the modernization of equipment and networks. The other focus of investment will be in people, including the staffing and training of individuals ranging from civilian personnel within DoD to active duty troops. And IT straddles both approaches, where we believe a portion of funds is likely to go to technology, and to the people that create that technology and the users that rely on it in the field.
The Spending Increases Are Likely to Be Felt – or Perhaps Not Felt – Within the Next 18 Months
Four in five believe they will feel the impact of the budget increase within the next 18 months. But while there is room for cautious optimism, two key factors must be considered: first, the realities of the funding process; and second, the limited proportion of funds that are contractor-addressable. The contractor-addressable market refers to money available to pay government contractors for existing and new work. We used the calculation as an analysis tool to gauge the scope of the spending increase.
Regarding the realities of programmatics, budgeting and funding, Ray Bjorklund, president of Birchgrove Consulting, notes that the budget deal is only a two-year agreement to raise the caps on spending in discretionary civilian and discretionary defense. And while there may be some impetus to move forward with some programs as the spending caps are raised, a reality is that the budget is determined annually and must go through the entire appropriations process. Moreover, as we come up on the midterm elections, there may be different ways that the appropriators in Congress will look at this. The final step occurs when the executive branch decides the apportionment once the appropriations are granted/enacted by Congress.
The second factor, that of contract addressability, hits very close to home: even though the budget agreement involves a great deal of discretionary and mandatory money, Bjorklund believes only 23% of that share – which covers civilian as well as defense business, is likely to go to contractors. And that proportion does not generally change much over time, influx or not. A share of this 23% depends less on contractor size than on the type of contractor, and a wide variety of contractor types may compete for those dollars, in general including transport, professional services, pure R&D, medical services, and pharmaceuticals.
To an extent, the technology and services areas may be better off than other types of firm– here too there is room for cautious optimism. But it also depends on how proactive the contractors are in leveraging existing opportunities or creating their own. For IT/defense IT, if the contractor has new cybersecurity solutions whether for intel purposes or for better back-office functionality, DoD will want to hear about it. Nevertheless, agencies are going to rely heavily on existing contracts due to the quick turnaround pressure of the spending deadlines.
"Things don't happen overnight." Ray Bjorklund
Undoubtedly, a lot is going on in the IT arena, such as looking for ways to provide solutions that address the DoD's unfilled expectations. This pent-up need alone signals some room for growth. But while there is some reason for cheer on the IT front, the influx is not likely to be a windfall. What is apparent, however, is that IT services will experience stronger growth in the near term among IT services firms, ahead of IT products firms.
IT products growth forecast: modest in the near and longer term.

2-3% growth over the next three years
1-2% growth in years four and five
IT services growth forecast: robust, but tapering off in the long term.

Very healthy 5-8% growth over next three years, a level not seen in a long time
1-2% growth in years four and five 
Plan an 18-Month Proactive Strategy
And so, bearing in mind the types of firms more likely to be winners, and the projected level of growth for that category in the coming years, the question then becomes how contractors can best position themselves to get the most out of the influx. First and foremost, this calls for an 18-month planning window, beginning now.
To start, invest in BD and marketing, and be proactive not only to expand, but also to defend existing contracts. In addition, look for areas where competitors are not performing as well and compete in that space. This is especially true in what may end up being a rather flat market in the longer term, leading some contractors to focus on grabbing market share away from their competitors. Or, you may consider partnering arrangements with other contractors to grab a new slice of the pie. To create your own competitive advantage, consider the following three-pronged strategy to recognize the environment in which you're competing, and shape it to your purposes.
All Hands on Deck!You have 18 months… or do you have only five? The clock is ticking, because funding will have an impact sooner rather than later. We know that 2018 opportunities are out there, and to seize those openings, leverage your internal and external sources to identify government needs and challenges. There is no time to waste, or wait. The results of the midterm elections could affect spending in FY2019, therefore, front-load your investments to maximize 2018 commitments, including advertising, events and targeting, and be cautious in your projections for 2019. It is critical to have identified your primary targets and gather as much information on their needs and preferences as possible.
Only Three Months to Spend for an Entire YearIt's time also to help your friendly neighborhood procurement official. With only three months left in FY18, COs will be working overtime to make sure they meet procurement requirements, while also contracting more dollars. Understanding that they will be under stress, the time is ripe to communicate to them about how you can help. The normal sales cycle will be compressed, so making sure you are delivering the necessary content will be critical. White papers and third-party studies are great as tools to scope out their need; but for proven technologies, product demos and trials may be the most critical in the coming months because they have the greatest impact late in the decision process. Market Connections' Federal Content Marketing Review is a useful resource for the types of content federal decision makers seek during each stage of the procurement process.
Be Where They LiveFocus on projects helping agencies with cybersecurity, modernization and personnel development. The government has both technical and personnel needs, and this opens the door for contractors to highlight ways to help with both. Many companies will be looking to make a splash, so it is imperative to make sure your messaging and outreach campaigns are living where your targets live. This means it is key to understand where your targets are going for information. What websites are they visiting? What publications are they reading? What events are they attending? Make sure you're visible where they are. Utilize resources like the Market Connections' Federal Media and Marketing Study and Federal Events Study to help you differentiate by agency or need.
Ultimately, proactivity is the key. The IT service contractors that start without delay to map out and implement a BD and communications plan with their government targets will be in a far better position to realize more of the gains.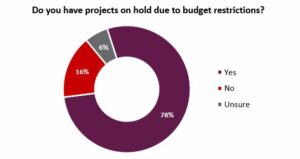 In February, the Bi-Partisan Budget Act of 2018 (BBA) passed, lifting caps on spending and paved the way for significant increases in discretionary spending across defense and civilian agencies. With the passing of BBA 2018, the defense discretionary funding cap was increased by $80 billion in FY2018 and $85 billion in FY 2019. What does this budget infusion mean for defense agency decision-makers and procurement officers? How should government contractors serving this industry prepare? To find out, Market Connections conducted a PulsePoll™ of federal defense agency technology leaders to find out.
DOD is ready to move technology projects forward. Currently, eight out of ten respondents have programs and projects on hold because of budget related issues. With the current continuing resolution set to expire on March 23rd, and the BBA passing, many believe relief is in sight. Almost two-thirds believe that the budget increases that have been projected for FY18 and FY19 will reinvigorate efforts that have been on hold.
Spending will start this year and continue to grow in FY2019. Knowing that there can often be a long lag time from funding approval to implementation, Market Connections asked, how soon those working in DOD agencies felt budget increases would begin to have an impact. Overwhelmingly, respondents believed that new federal dollars will make an impact in the next 18 months. Nearly one-quarter believe the impact will be felt immediately (within this fiscal year) and another 57 percent who believe the monies will begin making an impact in FY2019.
DOD to spend to modernize hardware and systems, but more important improve their cyber-defense capabilities. Nearly two thirds of respondents placed cyber security in the top five of their spending priorities. "In this day and age, it is not surprising that cybersecurity tops the list of those types of projects that will get first attention" says Aaron Heffron, president of Market Connections, "We hear from our clients every day that federal agencies are asking for assistance in securing their networks and systems."
Modernization was another key focus area, with replacement of old hardware (56 percent) and overall network modernization (43 percent) listed as areas where new budget dollars will have the greatest impact. Current staff may get some relief with the influx of dollars through training and staff augmentation. Nearly half of respondents reported that they will allocate new dollars to staff training and one-third will be spending to hire new civilian personnel.
Contractors need to plan now to help guide the planning and acquisition process. New contracts and projects will launch at a rapid pace, and program officers and procurement officials will be scrambling to pull together the best solutions in a tight time frame.
"With the continuing resolution deadline quickly approaching, and the new fiscal year right around the corner, now is the time to provide defense agencies with the type of information and content they need to help them make good, and fast, decisions," recommends Heffron. "Based on our past research, product demos, case studies, research reports and white papers will be critical in providing relevant information quickly. Highlights of your cybersecurity and modernization solutions should be as up-to-date as possible."
See full results from the Defense Budget PulsePoll™.
For more information on most valued content during the federal procurement process, visit: http://federalcontentmarketing.com/
Dave Glantz, Director Research Services, Market Connections, Inc.
On Oct. 9, the Project on Government Oversight (POGO) blog posted an infographic and blog entry that they say "fight[s] against the myth of Pentagon spending as a job creator." The post asserts that, based on historic data, sequestration cuts to Pentagon spending will not cause widespread job losses. The historic data they cite show a 3% reduction in the contracting workforce among the top 5 defense contractors from 2006-2011, a period in which those same contractors saw a 10% increase in contract dollars.
I take issue with the logic of the infographic's argument.
That last five-year period (2006-2011) saw defense spending that covered a great many contracts, a lot of them associated with two major wars, including the longest war in US history (Afghanistan). Going forward, the next five-year period is likely to see fewer (planned) wars (we hope) and thus fewer, less expensive contracts.
Also, it stands to reason that over that very active five-year period of defense spending, the defense contractors themselves were able to identify efficiencies along the way that allowed them to complete their contracts with fewer personnel – I would imagine this to be the case for the longer term and more mature contracts especially.  In other words, like other industries, the contractors were able to raise more productivity per worker over time, and thus were able to shed some workers as playershad.com and when they saw fit.
But sequestration is supposed to hit contractors more suddenly, with immediate and indiscriminate program/budget cuts, with no advance notice of what exactly is to be cut or by how much. In many instances my guess is the contractor will not have the luxury of time to shed workers when and as they choose, and still remain profitable.  They may instead need to make that decision up-front, given the unpredictability of the environment and the conceivably reduced scope of any new programs that are approved or survive.
I don't want to automatically take the side of the defense contractors, because even without sequestration they would have been aware (as we all are) that the winding down of two wars and a fiscally strapped federal government would lead to less business. Nor do I feel the Pentagon in particular is or should be seen as a Job Creator, because its budget (and consequent freedom to issue contracts) is authorized by Congress.
It is true that if the Pentagon suddenly reduces contracts by ten percent, then that action cannot help but be the impetus for job losses to the firms that supply the Pentagon with products and services. Indeed, the prospect of a big and sudden cut to budgets in ANY industry is likely to lead to equally immediate job losses. That's very different from industry's shedding jobs due to productivity gains over the course of many contracts from 2006-2011, an era of unprecedented defense spending.
At the same time, I don't think it's fair to label the Pentagon as a Job Destroyer. Like the contractors, the Pentagon is also looking for efficiencies over time, and it is only reasonable to expect (as the contractors do) that more can be built by fewer hands.  From that standpoint, it really isn't in the interests of the Pentagon to encourage more hiring in the first place if fewer hands can do the work.
If anything, the label of Job Destroyer belongs to Congress for fashioning that 10% reduction as a massive, sudden and ill-conceived action that prevents the Pentagon itself from allocating funds as it sees fit to maximize the cost efficiencies of the programs it runs, and to cut programs it doesn't need.