Last week, Market Connections and Merritt Group released the results of the 2017 Federal Content Marketing Study. Along with the results presentation, a panel of content marketing experts shared their thoughts about what the study showed. The FCMR panelists were: Dan Horowitz from LinkedIn, Dante Ricci from SAP, Pamela Merritt from Accenture and Jessica Outer from IBM. Here are a few key takeaways from the panel. To sum up: study your data.
Key Takeaways from the panel:
The panelists agreed that what people say they do is not always aligned with what do. There are many reasons, but two possible scenarios are:
It may not feel professional to say they found a piece of content on Facebook, or that they clicked on a banner ad.
They may not remember they found their way to the product demo on your website via a blog, banner ad, or social media post.
Therefore, everyone advocates using a mix of channels, but monitor the data because that will tell you what your customers are doing.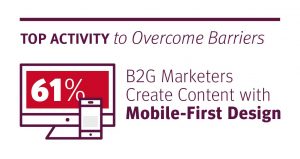 Dan: The study shows most federal decision makers are accessing content from mobile devices. Dan suggests posting the native content on a social platform that is designed to be mobile first, then cross post to your company blog/website. A platform like LinkedIn is good for written content and Spotify or Pandora are great for digital audio.
Pamela: Always monitor your data because it tells you quickly what your customers are doing and how they are interacting with your content. Experiment with different content types and channels, then let the data tell you if it's working.
Dante: While federal decision makers rate blogs lower, the fact is a high-quality blog will get views, and those blogs lead to other content your audience is interested in. For quality thought leadership, scale down on the volume and focus on the quality. And build in enough lead time into the content plan to do that.
Jessica: SEM strategies that include paid advertising are important, in part because they lead to data that tells you what your customers are consuming. The investment pays off because it quickly shows what people are interested in. And don't be afraid to use social channels you don't personally know well, like SnapChat. Find someone on your team who does know and put them on it. IBM has tapped into a whole new set of consumers by embracing different social channels.
What are federal decision makers looking for in content from you? Download your report today to find out.