When it comes to reaching public sector audiences there are a number of things to try, a number of avenues to venture down, and a number of platforms to spread your message on. If you're reading this, you're already aware of that.
Yet, with the plethora of information sources at our fingertips, it can be hard to narrow down the specific data needed to begin formulating marketing plans and strategies. That is why the Market Connections research team created a study specifically for the individuals and teams Marketing for the Public Sector (M4PS).
Part one of the study launched in October 2022 and provides insight into media engagement habits. Part two, slated to launch in June 2023, will get more specific, diving into the procurement and buying processes, current outlook regarding participation in in-person/virtual events, as well as media/content format preferences.
Overview
We surveyed more than 1,000 people working in the federal and state/local government about their media engagement habits. We asked them about:
Top concerns for the next year
How much trust do they have in the information they get from certain sources
How much time is spent on an average workday accessing certain media
Top digital sites for getting news/information
Confidence in news sources
Social media usage
Top sites for streaming
Data/information on podcast listenership
Included are key insights, observations and takeaways from analysts – as well as specific data on the DMV market (D.C. Maryland, and Virginia region.) Whether you are interested in a broad awareness campaign, or a more focused agency-based marketing effort, our aim with part one of the M4PS report is to provide you with trusted data, ultimately serving as launching point for your future planning endeavors.
What is important to your audience
Figuring out what's important to your audiences is key. It allows you to make decisions with a wider lens or narrow down and go niche if necessary.
By arming yourself with both parts of this report you will be able to further strategically position yourself exactly where you want to be in the public sector market. Since all goals are different and there is no one-size-fits-all approach to planning, we started here by anticipating your needs, so you can in turn begin to anticipate the needs of your audiences.
The media engagement report is available now.
And keep an eye and ear out for M4PS part two, coming in June 2023.
---
Have questions? Want more information? Please reach out to info@marketconnectionsinc.com.
By Susan Rose, Senior Director of Insights & Content
Now that we're in Q1, content strategies are a big component of planning out the work my team is doing. I noticed that one of the key pieces of a content strategy that I don't typically see in the plan is how long the various pieces of content will last. Considering how much work we need our content to do for us, this seems important.
Let's be real: marketing content, in general, is not breaking news. There may be news events that logically tie into the content, but the meat of the content itself typically lasts longer than a few days.
How much longer? That's the question.
In fact, it's a question we asked in the Content Marketing Review. The study reaches decision makers across the public sector, and these questions focused specifically on content they rely on during the buying phase of the journey.
The shelf life of public sector content.
We asked respondents how long they use different content types: more or less than six months. Overall, written content types that provide unbiased information are most likely to have a shelf life over six months—case studies, eBooks, white papers, and research reports.
This is good news for those who have incorporated case studies, eBooks, white papers, and research reports into the content plan as they tend to require a larger investment in both time and budget. We've seen clients use these pieces for a year or longer. In fact, we use data from our own marketing research studies on average for two years (not all data stays relevant that long, but some does).
Videos, podcast, blogs, and webinars are also an important part of the content mix, although they have a shorter shelf life overall. Even still, there are plenty of people who hang onto that content for some time.
What content should you invest in?
Knowing that the content will be useful for some time, which pieces are best to invest in? Engagement is a key indicator of value, so we asked how much time respondents spent with each content type during the buying process in the previous year.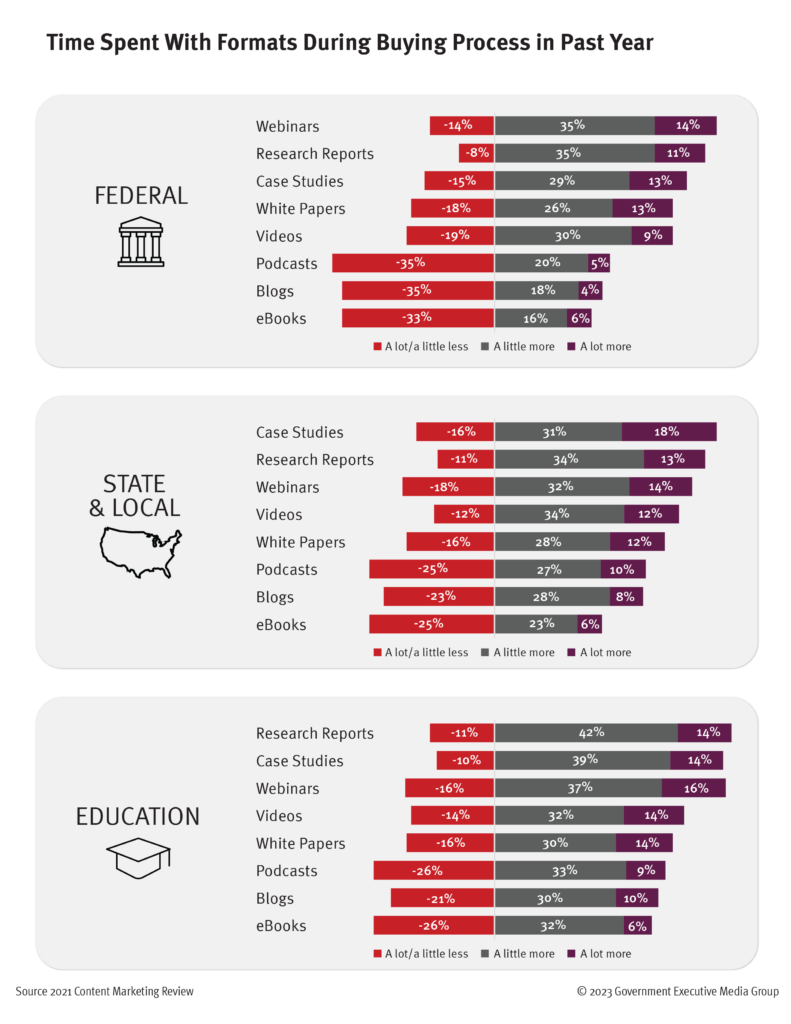 For all audiences, research reports, webinars, and case studies are the top content during the buying process. Podcasts, eBooks, and blogs are the least used. This doesn't mean they aren't important, just that they won't factor as much into the buying process.
What this means for your content strategy
This data drives home the point that different types of content are best at different stages of the buyer's journey.
Building awareness? A great blog or webinar will start establishing trust in the brand.
Making the case for a sale? Bring in the research and case studies—the buyers need examples and data to make decisions.
If you need more data on what buyer's want during their buyer journey, check out our Federal IT Buyer's Journey study. While it focuses on federal IT, the information is useful across the public sector.
By Elizabeth Armet, Senior Director, Research Strategy
Qualitative research is ideally suited to gain a deeper understanding of the opinions, motivations, frustrations, and priorities of your target audience. There are numerous ways to achieve this level of understanding, primarily through focus groups and in-depth interviews (IDIs). Both methods can be highly effective at uncovering and unlocking valuable insights.
Focus groups
Using a predetermined set of questions that allow ample room to dive into previously uncharted yet relevant issues, a professional moderator encourages and manages an open discussion and the cross-pollination of ideas among the participants. While the size of the group can vary, most groups include 6-10 participants. The group may be conducted either in-person at a professional focus group facility or at other venues such as at a conference or convention; or else online. The number of groups depends on the audience type and the goal of the research; but in general, two groups are better than one. The second group serves as a confirmation (or dissension) of the first group's findings and also provides the opportunity to delve into any additional issues or ideas that unexpectedly came up during the first group.
In-depth interviews (IDIS)
In-depth interviews are one-on-one discussions conducted by phone or an online platform such as Zoom or Google Meet. Like focus groups, they also follow a predetermined yet flexible guide and may last anywhere from 20-60 minutes. The total number of IDIs may vary, and depends on the audience type, with 10-15 interviews per segment as a reasonable amount. IDIs are a great tool when targeting a very specific decision-maker or executive that is harder to reach. The one-on-one format of IDIs is also well suited to topics of a sensitive nature, or when the participant seeks to avoid sharing information with a possible competitor.
Which method do you choose?
Typically, the specific circumstances of your research project will dictate whether focus groups, in-depth interviews, or perhaps even a combination, is most appropriate.
Focus groups are recommended for the following situations:
Eliciting deeply held opinions and beliefs
Obtaining detailed information from a small and potentially diverse group of individuals
Evaluating a concept, message or ad
Assessing a product or service
On the other hand, IDIs are recommended over focus groups in the following situations:
The research requires the input of decision-makers from competing firms (who are often unwilling to talk openly in front of one another).
The target audience is comprised of very high-level and/or extremely busy professionals, such as corporate executives or medical specialists, and may be unwilling to travel to a research facility at a specific time.
The discussion topics are sensitive or personal in nature.
It is important that you and your research firm weigh each option carefully when determining the most effective qualitative method for your particular needs. Indeed, some studies may benefit by utilizing both approaches, based on the nature of the target audience. Market Connections works together with our clients to create the best strategy to get the answers they need with qualitative research.
By David Hutchins, Industry Analyst
Overview
In a previous article, I outlined the most crucial innovations for the Defense Department over the next 10 years. This article takes a deeper dive into the importance of robotics and autonomous systems for the future of the US military. No longer a concept of science fiction, robotics and autonomous systems are already changing military operations. Recent examples of conflict in Nagorno-Karabakh and Ukraine have demonstrated just how pivotal these advanced systems can be. In contemporary conflict, drone swarms gather battlefield intelligence and overwhelm an enemy en masse with deadly speed and precision, loitering munitions target enemies beyond the line of sight, and autonomous systems patrol designated routes in place of manned systems or personnel.
These systems are also advancing military capabilities outside of conflict zones. The US military is using robotics to reduce physical workload and risk for military personnel and using the advanced speed and precision of autonomous systems to replace human operators for a variety of mission sets from analyzing data to piloting vessels. Below are just some examples of how different branches of the US military are using, or plan to use, robotics and autonomous systems to enhance capabilities.
Army
The Army is equipping soldiers with new Black Hornet drones that will simultaneously enhance reconnaissance capabilities and stealth. These palm-sized personal reconnaissance drones are used by dismounted soldiers to boost situational awareness on the battlefield. The pocket-sized UAV weighs roughly 1.16 oz (33g), has a flight endurance of 25 minutes, and has a range of 1.24 miles (2 kilometers). The Black Hornet can be launched in under 2 minutes and generates minimal noise making it ideal for stealth operations. Operated by a lightweight, body-mounted control system, the Black Hornet can hover or fly designated routes while capturing still images and live videos.
Air Force
The Air Force is partnering with defense firms to develop next-generation unmanned aerial vehicles (UAVs). The AI-enabled UAVs would serve as "autonomous wingmen" that can be equipped with missiles, radars, sensors, or other tools depending on the mission need. More recently referred to as collaborative combat aircraft (CCA), these AI-enabled UAVs could act as decoys or scouts, jam enemy signals, or even conduct their own strikes. Skyborg — the Air Force Research Laboratory's artificial intelligence wingman program — has already developed several prototypes, including the XQ-58A Valkyrie.
Navy
The Navy is testing an autonomous submarine that could soon patrol waters in place of manned ships. The Orca Extra Large Unmanned Undersea Vehicle (XLUUV) measures 51 feet in length, can dive 11,000 feet, has a range of 6,500 nautical miles, and can operate autonomously for months at a time The Orca's modular payload system allows it to take on different payloads to support different missions. If equipped with sonar payloads, for example, the Orca could detect enemy submarines and send location data to allied ships or aircraft. U.S. Naval Institute News reports that Orca will be capable of mine countermeasures, anti-submarine warfare, anti-surface warfare, and strike missions.
USMC
The Marine Corps Warfighting Laboratory is leveraging AI and automation to provide Marines with next-generation technology. For example, the Expeditionary Modular Autonomous Vehicle (EMAV) will enhance the mobility of Marines on and off the battlefield. The EMAV is a tracked unmanned ground platform with a flat top that can carry over 7,000 pounds and can be outfitted with sensors, communications equipment, or weapons. The EMAV can autonomously carry heavy equipment or transport casualties and also provide cover during combat. Historically, it would several Marines to carry an injured squadmate to safety, but the EMAV can autonomously transport the wounded Marine to an aid station. The platforms are designed to operate in complex, congested terrain, navigating around debris. If equipped with a weapons system, the EMAV can also be used to engage the enemy.
Conclusion:
There are many more examples of robotics or autonomous systems that are changing how the US military operates. Far too many to list in this here. These examples simply highlight the possibilities on the horizon. While the time it will take to realize some of these advancements is yet to be determined, I can confidently assert that autonomous systems and robotics represent the future of warfare. 
Questions? Please reach out to David on LinkedIn, or e-mail at dhutchins@govexec.com