thought leadership content
By David Hutchins, Industry Analyst
Overview
In a previous article, I outlined the most crucial innovations for the Defense Department over the next 10 years. This article takes a deeper dive into the importance of robotics and autonomous systems for the future of the US military. No longer a concept of science fiction, robotics and autonomous systems are already changing military operations. Recent examples of conflict in Nagorno-Karabakh and Ukraine have demonstrated just how pivotal these advanced systems can be. In contemporary conflict, drone swarms gather battlefield intelligence and overwhelm an enemy en masse with deadly speed and precision, loitering munitions target enemies beyond the line of sight, and autonomous systems patrol designated routes in place of manned systems or personnel.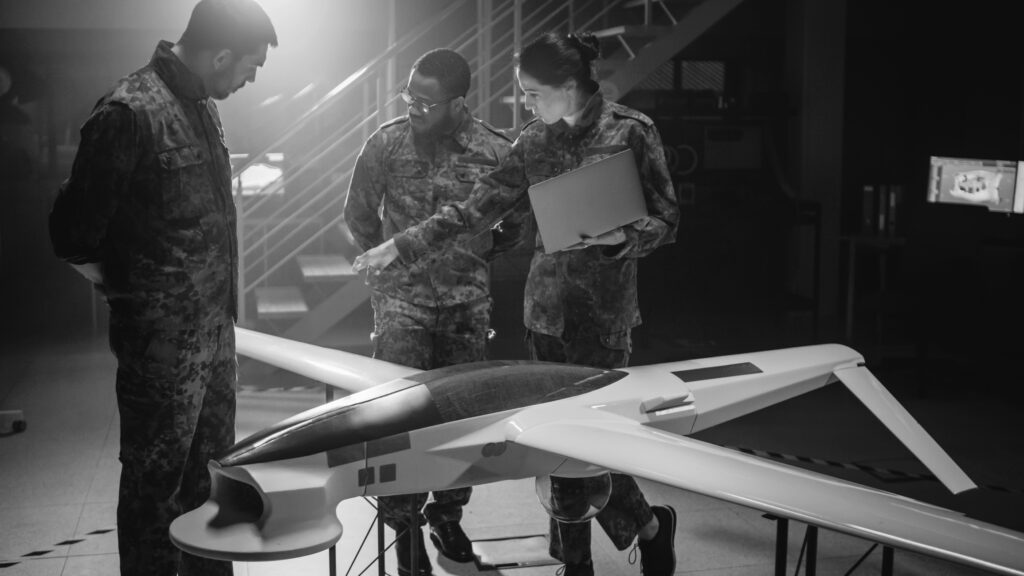 These systems are also advancing military capabilities outside of conflict zones. The US military is using robotics to reduce physical workload and risk for military personnel and using the advanced speed and precision of autonomous systems to replace human operators for a variety of mission sets from analyzing data to piloting vessels. Below are just some examples of how different branches of the US military are using, or plan to use, robotics and autonomous systems to enhance capabilities.
Army
The Army is equipping soldiers with new Black Hornet drones that will simultaneously enhance reconnaissance capabilities and stealth. These palm-sized personal reconnaissance drones are used by dismounted soldiers to boost situational awareness on the battlefield. The pocket-sized UAV weighs roughly 1.16 oz (33g), has a flight endurance of 25 minutes, and has a range of 1.24 miles (2 kilometers). The Black Hornet can be launched in under 2 minutes and generates minimal noise making it ideal for stealth operations. Operated by a lightweight, body-mounted control system, the Black Hornet can hover or fly designated routes while capturing still images and live videos.
Air Force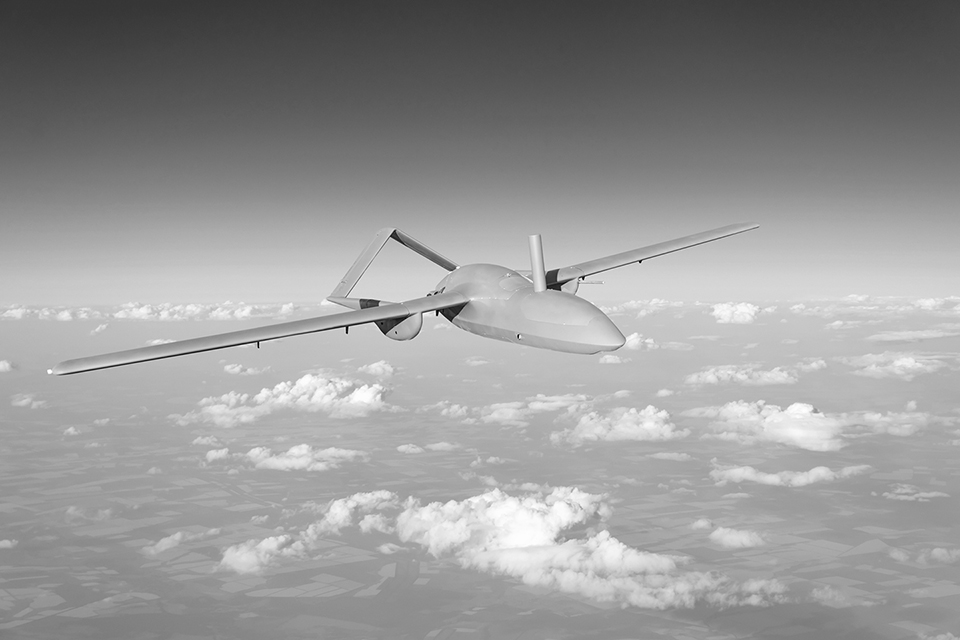 The Air Force is partnering with defense firms to develop next-generation unmanned aerial vehicles (UAVs). The AI-enabled UAVs would serve as "autonomous wingmen" that can be equipped with missiles, radars, sensors, or other tools depending on the mission need. More recently referred to as collaborative combat aircraft (CCA), these AI-enabled UAVs could act as decoys or scouts, jam enemy signals, or even conduct their own strikes. Skyborg — the Air Force Research Laboratory's artificial intelligence wingman program — has already developed several prototypes, including the XQ-58A Valkyrie.
Navy
The Navy is testing an autonomous submarine that could soon patrol waters in place of manned ships. The Orca Extra Large Unmanned Undersea Vehicle (XLUUV) measures 51 feet in length, can dive 11,000 feet, has a range of 6,500 nautical miles, and can operate autonomously for months at a time The Orca's modular payload system allows it to take on different payloads to support different missions. If equipped with sonar payloads, for example, the Orca could detect enemy submarines and send location data to allied ships or aircraft. U.S. Naval Institute News reports that Orca will be capable of mine countermeasures, anti-submarine warfare, anti-surface warfare, and strike missions.
USMC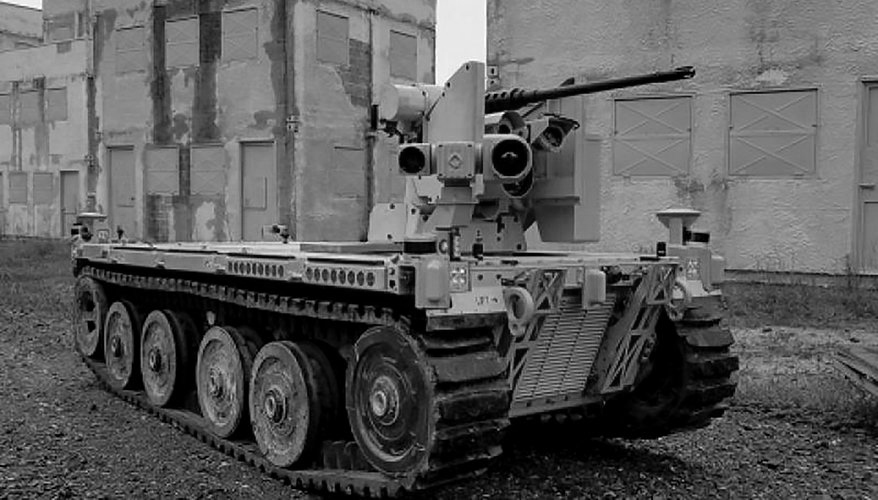 The Marine Corps Warfighting Laboratory is leveraging AI and automation to provide Marines with next-generation technology. For example, the Expeditionary Modular Autonomous Vehicle (EMAV) will enhance the mobility of Marines on and off the battlefield. The EMAV is a tracked unmanned ground platform with a flat top that can carry over 7,000 pounds and can be outfitted with sensors, communications equipment, or weapons. The EMAV can autonomously carry heavy equipment or transport casualties and also provide cover during combat. Historically, it would several Marines to carry an injured squadmate to safety, but the EMAV can autonomously transport the wounded Marine to an aid station. The platforms are designed to operate in complex, congested terrain, navigating around debris. If equipped with a weapons system, the EMAV can also be used to engage the enemy.
Conclusion:
There are many more examples of robotics or autonomous systems that are changing how the US military operates. Far too many to list in this here. These examples simply highlight the possibilities on the horizon. While the time it will take to realize some of these advancements is yet to be determined, I can confidently assert that autonomous systems and robotics represent the future of warfare.
Other notes:
Fully autonomous systems, however, represent the future of military robotics, operating independently of any human interaction. 
While fully autonomous weapon systems raise several ethical concerns, the DoD is convinced of their necessity for future military operations. 
the US Army uses robots to aid Explosive Ordnance Disposal (EOD) Soldiers and limit their risk when diffusing improvised explosive devices (IEDs). 
'robot dogs' to guard military bases
The Air Force is testing new technology that could soon enable transport aircraft to be flown autonomously. New software can reportedly take off, steer, maintain course, and land a C-130J Super Hercules, even in turbulence and harsh weather conditions. This integration of autonomous pilot technology helps offset a shortage of pilots experienced by both the military and private industry. While the technology won't detect obstacles such as birds in the sky or cars on a runway, it is a notable step toward eventual automation.
Questions? Please reach out to David on LinkedIn, or e-mail at dhutchins@govexec.com
Government technology influencers and buyers need content that will help them make informed decisions and often seek information from third-party experts such as professional associations and industry vendors to help educate them.
Market Connections' recent Content Marketing Review Study highlights the value of thought leadership content for government audiences in establishing your company as an expert and leader in the field. According to the study, public sector buyers of products, services and other emerging technologies prefer research reports, white papers and case studies to help them make informed decisions. To help them, this content should include detailed information such as data and research, examples of past performance and product specifications. If done right, one in five respondents indicated they incorporate vendor content into their RFI or RFP, the holy grail for companies competing for government contracts.
The savviest B2G marketing and sales teams commission primary research to help them better understand their target audience. Drilling down into the unique challenges and barriers buyers face, the goals they are trying to achieve, and how they define success helps shape messages, market strategy and RFP responses. The data and research gathered can also be a key component of marketing content, thereby educating their customer and becoming a perceived valued partner all at once.
When incorporated into a multi-faceted marketing campaign, B2G marketers can see a strong return on investment (ROI) from their research-based thought leadership content. From becoming known as the industry experts in one area (SolarWinds) to increasing sales (Iron Mountain), thought leadership has a real, measurable impact.
How can you create content that educates and resonates?
Best Practices for Developing and Leveraging Research-Based Thought Leadership Content:
Think about your unique services and solutions. Focus on the big picture, don't limit yourself to a single project, RFP or recompete.
Assemble an internal, cross-functional team (PR, sales, and subject matter experts) to create a research effort that meets your marketing, PR, lead generation and sales objectives.
Hone in on their needs and challenges (because those are what your offerings are going to address).
Think about dissemination. What is the best way to connect the valuable information to your target audience?
Don't limit your outreach to one platform. Leverage your content across marketing channels.
Want to learn more? Join our upcoming webinar, "Does Thought Leadership Still Matter to Government Audiences?" on Thursday, July 25 from 2-3 PM EDT. Register here.