While it may not be in our "wheel" (or in this case, "wing") house, at Market Connections, we like to acknowledge innovative new technology and design across multiple fields. Which is why the announcement from Boeing definitely made the list of top innovations to be noted in 2019.
Earlier this month, Boeing unveiled their Transonic Truss-Based Wing (TTBW), an extremely thin, folding wing, with a wingspan of 170 feet, made possible by a truss that supports its weight. This innovative design allows aircraft to fly more efficiently at higher altitudes.
Partnering with the National Aeronautics and Space Administration (NASA) for nearly 10 years, together they have been studying the concept as part of the Subsonic Ultra Green Aircraft Research (SUGAR) program, which focuses on innovative concepts that reduce noise and emissions while enhancing performance. While still in its conceptual phase, extensive wind tunnel testing was conducted at NASA Ames Research Center, where engineers have been able to obtain an increased top speed from a planned Mach 0.70-0.75 to Mach 0.80.
In their announcement, Boeing said of the design, "By adjusting the wing sweep angle, the truss can carry lift more efficiently. The end result was a more integrated design that significantly improved vehicle performance."
We look forward to seeing how this concept may be integrated into commercial plane design moving forward to increase comfort, speed and efficiency for travel.
Northrop Grumman is looking up, both figuratively and literally, in 2017 as they announced their plans to acquire rocket and satellite company Orbital ATK for $9.2 billion. Certainly Northrop Grumman looks forward to continued corporate growth, but Wes Bush, chairman, chief executive officer and president of Northrop Grumman also sees the value to the customer increasing with this merger, stating in the corporate announcement, "Through our combination, customers will benefit from expanded capabilities, accelerated innovation and greater competition in critical global security domains."
Through the years, Market Connections has supported Northrop Grumman's efforts by helping the company stay abreast of the perceptions and needs of the customer with custom market research. Keeping a finger on the pulse of the marketplace allows companies to fully understand customer needs and market perceptions.
During this pivotal period, perceptions can be reality and it is important that Northrop Grumman, and similar players in the federal government market, ensure that the message they communicate, the products and services they develop, and the personnel on the ground (and in the sky) meet the expectations of their end customer. While bigger can mean better, managing the customer experience during the transition will be the key to the success of this acquisition. If done well, the sky is the limit.
After a year-long beta testing phase, Amazon Web Services (AWS) has officially launched Amazon Inspire, a database of educational and classroom resources to all schools (and teachers) — just in time for the new school year. Amazon Inspire is the latest in a suite of Amazon offerings for the education community. In this offering, teachers and schools can upload and access unlimited educational and classroom resources.
The company's ultimate goal is for every teacher in every subject to benefit from a collective experience and knowledge of their peers.
Inspire is hosted on AWS, which is a platform more than 5,000 educational customers use for cloud storage. The site provides students and educators with access to free content, training, and collaboration portals.
Additionally, through the company's grant-based AWS Educate program, institutions can get free access to AWS services.
For the company's commitment to education, and developing tools to facilitate teaching and learning, Amazon Web Services has earned a Market Connections Top Innovator commendation.
For the fourth consecutive year, Forbes added CoStar Group, Inc. to the Forbes World's Most Innovative Growth Companies list. This honor highlights the company's continued dedication to revolutionizing commercial real estate and multifamily industries by providing innovative software and solutions.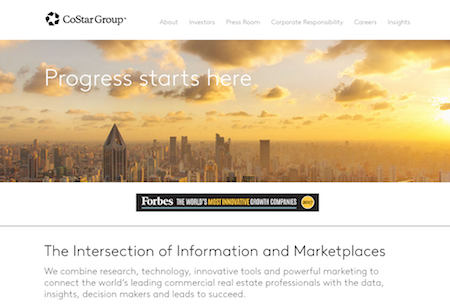 "We remain steadfast in our commitment to unlocking new opportunities for businesses and consumers alike with our research intelligence and marketplace solutions," said CoStar Group Founder and Chief Executive Officer Andrew Florance. "The role we play at the center of the $17 trillion dollar real estate industry is profound and requires constant innovation to stay ahead and continue to bring value to our clients."
In an average month, 25 million people visit CoStar Group's family of websites to lease, buy or analyze office, industrial, retail or farm properties – or to find their next home on Apartments.com. The CoStar research team collects, investigates, and analyzes the in-depth market data necessary to help clients make the best decisions and drive connections between millions of properties and the thousands of companies that need those properties to grow their businesses. In 2016, 83% of all commercial real estate transactions involved a CoStar subscriber, and an estimated four million people found their rental homes on Apartments.com.
Additionally this year, CoStar was named to the Forbes Fast Tech 25 list, which recognizes technology companies with the highest three-year sales averages. The 2017 list has CoStar placed at number 16, with 29% average sales growth for the past three years.
Forbes produces the World's Most Innovative Growth Companies list annually using a proprietary formula in collaboration with Credit Suisse, providing something completely unique in the world of innovation celebration by using the wisdom of the crowd. The innovation premium method relies on investors' ability to identify firms they expect to be innovative now and in the future, analyzing the difference between their market capitalization and the net present value of cash flows from existing businesses. To qualify for consideration, companies must have seven years of public financial data and a market capitalization under $10 billion.
The entire Market Connections team congratulates CoStar Group on this honor and much deserved recognition.
Read the press release in its entirety.
What if enterprises had a standard for measuring the spectrum of mobile risk that provided visibility into the prevalence of threats, software vulnerabilities, and behaviors & configurations? Well, now they do. In May, Lookout unveiled the Mobile Risk Matrix, a framework illustrating the array of mobile risks across app, device, network, and web & content vectors, to help enterprises accurately identify, assess, and secure their mobile workforce. Within the framework, Lookout provides new insights on the prevalence of enterprise mobile risks pulled from the Lookout Security Cloud, a massive data set of mobile code from existing enterprise and personal customers.
The growing adoption of mobile in the enterprise has allowed for increased flexibility and productivity. However, it also brings a new set of risks to desktop-level security specific to this evolving endpoint. Lookout designed the spectrum of mobile risk to help enterprise CISOs understand and prioritize the security concerns they must address on mobile devices.
As companies across the globe continue adopting mobile to increase productivity, Lookout is constantly innovating to provide customers with the most comprehensive security solution available. With the release of this framework, Lookout Mobile Endpoint Security customers are able to:
Understand application interactions with social media.
Gain insight into secure and insecure data handling.
Increase visibility into out-of-date OS and configuration risks.
Enhance risk remediation capabilities via integrations with enterprise solutions.
For continuing to address risk in an evolving arena, Lookout has earned a Market Connections Top Innovator commendation.
Rubrik is a start up; an extremely successful start up. The company makes data backup and recovery software, and is competing with industry giants like EMC and Veritas.
According to the article "$100M Startup Winning In $50B Industry At Expense Of EMC And Veritas?" in Forbes, the Palo Alto-based company is growing so fast that in the six quarters since it began selling its product, its private market value has soared to $1.3 billion. The company is doing this by wining customers from enormous incumbents in a $50 billion market. Read the full Forbes article for the author's take on why huge companies would choose to move over to a start up, when so many of them fail
According to Bloomberg Technology (where we found the video above), Rubrik says its software can run directly on cloud products from Amazon.com Inc. and Microsoft Corp. That means customers of those services can use Rubrik to catalog and back up their data. Rubrik can provide back ups to both data stored on-prem and in the cloud.
For taking the data back up industry by storm, Rubrik has earned a Top Innovator commendation.