WEBINAR: Hiring & Retiring: Insights from the Federal Media & Marketing Study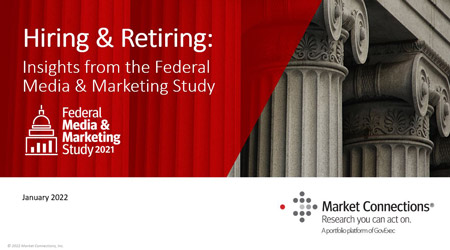 Date: Thursday, January 20
Time: 2:00 PM (ET)
Cost: Free
Current events have changed the way the federal government works. Telework, among other factors, may be affecting how federal employees make employment decisions and how agencies plan to create or fill new jobs. Will new hires expect the same level of telework that is currently being offered? Were those who were considering retirement extend their tenure? Are employees more likely to be looking for opportunities inside or outside the government? What are they considering for next steps and how do agencies plan to fill and promote job vacancies left by those who may be moving on?
Based on results from special questions asked during the latest Federal Media & Marketing Study, Executive Vice President Aaron Heffron will share answers to questions around staffing, recruitment and retirement of federal employees at civilian and defense agencies in this complimentary webinar.
Presenter:

Aaron Heffron – Executive Vice President, Market Connections Inc.
Panelists:

Anna Mann  – Senior Vice President, Talent & Culture, GovExec

Christina Maruna – Government & Advocacy Senior Account Executive, LinkedIn
Fill out the form to download the presentation and video recording.
For more information, contact:
Mari Canizales Coache
Marketing Manager
Market Connections, Inc.
703-378-2025