Cybersecurity Threat Prevention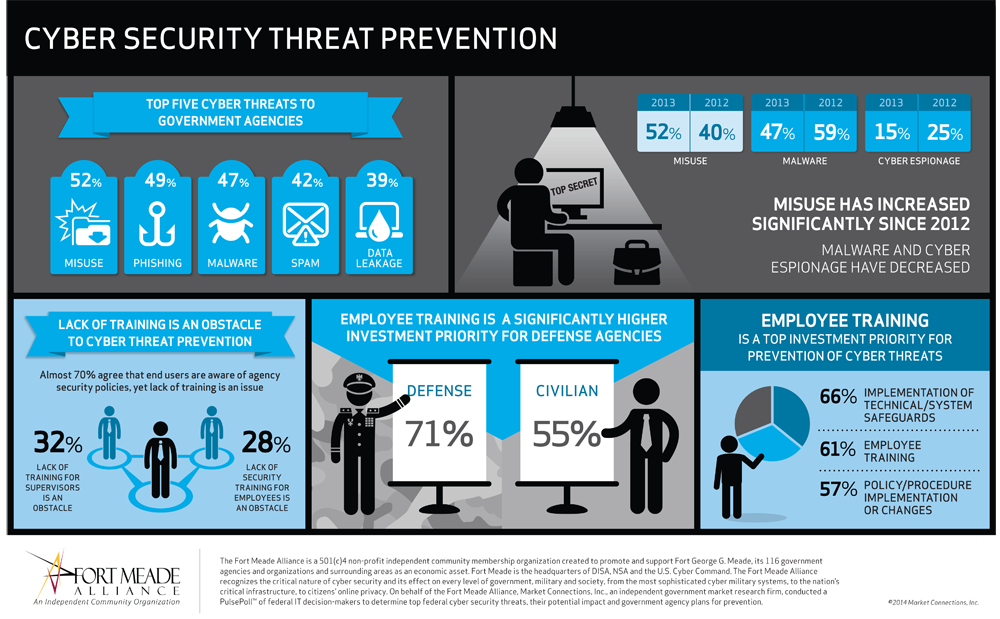 CLICK ON ICON TO SEE PROJECT COMPONENT

Cybersecurity PulsePoll™ Identifies Training as Top Priority for Government
A Market Connections PulsePoll™ of government IT professionals, conducted on behalf of Fort Meade Alliance, finds that training to prevent cyber security threats is an investment priority for more than 60 percent of federal civilian and defense/military organizations. The research found that:
Almost 70 percent of government IT decision-makers agree that end users are aware of agency security policies, yet lack of training is considered an obstacle to preventing cyber threats by about one-third of survey respondents.
Employee training is among the top investment priorities for prevention of insider threats
Employee training is a significantly higher investment priority for defense agencies, compared with their civilian counterparts
"Cyber security awareness training can help solve many of the challenges we face with protecting information technology assets, and our government's most sensitive information and mission-critical systems," said Deon Viergutz, president of Ft. Meade Alliance and director of cyber operations for Lockheed Martin Information Systems & Global Solutions.
"Through educational programs developed by our institutions of higher learning and through E.A.R.N., and other workforce training programs offered by the state of Maryland, current and future generations of cyber warriors are being prepared for careers in the industry," said Jeffrey Wells, executive director of cyber development in the Maryland Department of Business and Economic Development. "With input from the government, this survey reinforces the need for education and training to evolve to meet the ever-growing demand for qualified workers in the field."
The poll measured awareness and attitudes about a wide range of cyber security topics, including threats, challenges to insider threat prevention and investment priorities for prevention of insider threats. Survey results reflect respondents from federal civilian and defense/military agencies.
Fill out the form below to download the infographics.
Cybersecurity Threat Prevention

YOU WILL LEARN:
Top cyber threats to government agencies
To what extent do government IT professionals believe end users are aware of security policies
How do defense agencies prioritize employee training versus civilian agencies?