Federal Government Contractor Study 2016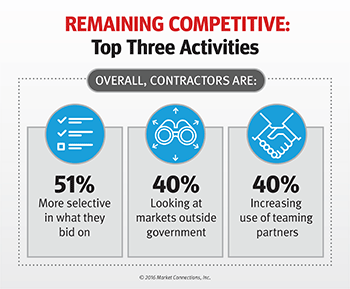 CLICK ON ICON TO SEE PROJECT COMPONENT
This national study of federal government contractors focuses on top challenges and best practices of contractors with higher win rates, including the most effective marketing and business development activities, strategies to remain competitive and expected changes in budgets, staffing and new business strategies. Market Connections and Salesforce partnered to design the online survey of 200 federal government contractors, fielded in May 2016.
OBJECTIVES:
Identify best practices of winning government contractors
Identify challenges of marketing and business development professionals
Determine actions to remain competitive in the current federal government market
Measure effectiveness of marketing materials, activities and tools
Quantify changes in personnel, budgets, tools, teaming and communications among government contractors
Fill out the form below to download the overview.
Fill out the form below to download the overview and infographics.
Federal Government Contractor Study 2016

YOU WILL LEARN:
Top challenges faced by business development and marketing professionals in the federal space
Top strategies for remaining competitive in the federal environment despite budget restrictions, LPTA and increasing regulations
Most effective marketing, business development and capture activities and tools