Homepage Research Section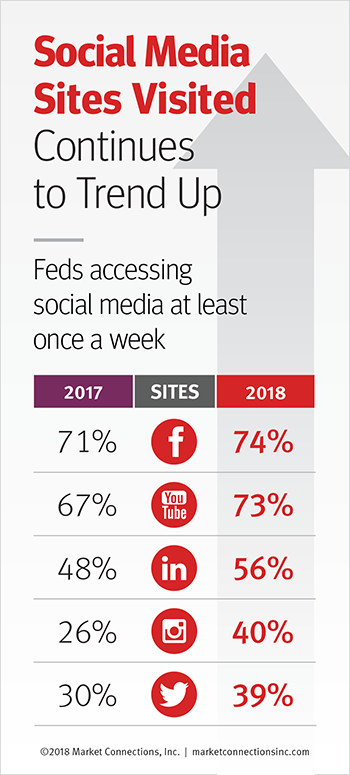 In our 10th year, federal marketers continue to have a reliable and affordable data source for honing and perfecting strategic marketing campaigns. Market Connections' Federal Media and Marketing Study helps federal marketers reach the right senior decision-makers at civilian and defense agencies by providing key information about their media usage across print, broadcast, social and digital sources. Combining this with demographics including: job function, location, purchase area and more, marketers have the ability to slice and dice the data and map each to specific media habits, allowing them to target specific audiences.
The survey represents the views of nearly 3,000 federal workers in a variety of position. Whether you are interested in a broad awareness campaign, or a more focused agency-based marketing effort, data from the study can provide you key insights about the media and marketing habits of this tough-to-reach federal market audience.
WHAT TO EXPECT
Job Function and Purchase Responsibility – More than 25 different job functions and areas of purchase, by product and service
Media Usage – 60+ publications, 100+ websites and mobile sites; 10+ social sites; differences inside vs. outside the Beltway
Trusted Content – To what extent do decision makers trust news and information from different media sources?
Time Spent Accessing Content – How much time do government employees spend accessing content online, watching TV, listening to the radio and reading e-newsletters?
NEW IN 2018
Confidence in News Reported by Media Sources – How confident are federal employees in the news reported by media sources?
Work-related Advertising – Are federal employees seeing and clicking on work-related advertising seen in both their work and personal spaces?
Expected Budgets – How do federal decision-makers feel their program budget will change in FY19?
Smart Device Usage – With the growing number of smart devices, how fast are decision-makers adopting this new technology?
PURCHASE a subscription!
Our NEW & IMPROVED Federal Media & Marketing dashboard allows you to cross-tabulate survey results to create your own customized data views, such as job title and product purchases; or job title and web site visits or publication readership.
NOTE: You are purchasing a subscription to a dynamic online data set, not a PDF report. You will receive a user guide in the form of a PDF, and a representative from Market Connections will contact you within 48 hours with your username and password to access the online tool.
AGENCIES: Please contact us for special pricing available for unlimited client usage.
LEARN MORE ABOUT THE DASHBOARD, WATCH AN ONLINE DEMO, PREVIEW THE DASHBOARD'S CAPABILITIES AND SUBSCRIBE! 
How can this study help with your strategic marketing?
Know exactly who to target and how to reach them
Understand how federal government decision makers acquire products and services
Improve marketing by aligning the survey findings with your specific information needs
Why is this study so unique?
Results are incorporated into a dynamic web-based reporting tool allows you to cross-tabulate survey results to create your own customized data views, such as job title and product purchases; or job title and web site visits or publication readership
Survey results combines demographic, job function, and purchasing data with actual media usage
Results cover over 25 product and services areas, from weapons systems and IT to human resources and travel
For More Information:
Email or call Mari Canizales Coache at 703-378-2025.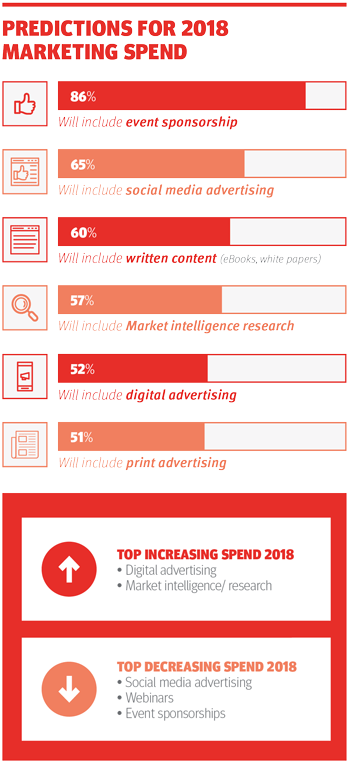 Best BD and Marketing Practices of Winning Contractors
In partnership with Merritt Group and Professional Services Council, this national study of federal government contractors focuses on top challenges and best practices of marketing and business development professionals. The study addresses the most effective activities, tools and strategies to remain competitive; the organization, reporting structure and collaboration of BD and marketing departments within an organization; and how contractors are targeting and responding to RFPs with a focus on those contractors with higher win rates. The online survey of 200 federal government contractors was fielded in May 2018.
OBJECTIVES:
Identify best practices of winning government contractors
Identify challenges of marketing and business development professionals
Determine actions to remain competitive in the current federal government market
Measure effectiveness of marketing materials, activities and tools
Quantify changes in budgets and activities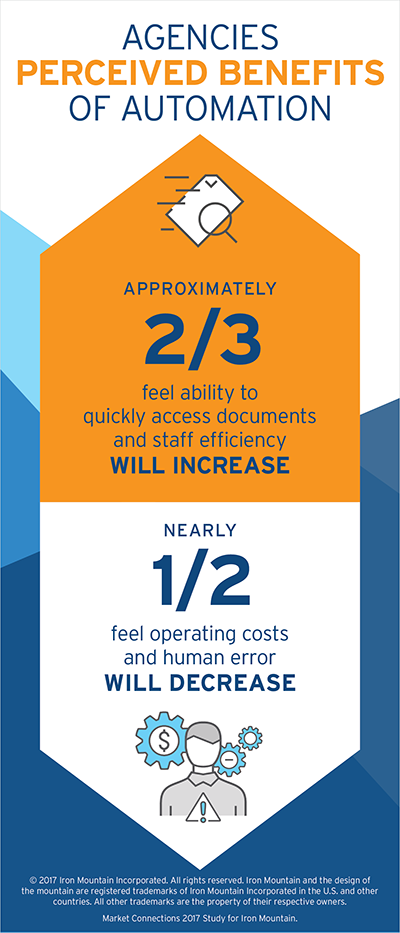 Information management programs need to be compliant with a variety of federal records regulations. With changes and mandates happening in government around records management, information needs to be kept secure and reliable, yet accessible to your end customers.
Workflow automation can make it easier to locate records, have staff operate efficiently, decrease operating costs while helping agencies meet these mandates. What are agency pain points? What are the benefits and challenges of a shared service model for workflow automation?  Iron Mountain commissioned Market Connections to find out.
Results from 2018 Defense Budget PulsePoll™
In February, the Bi-Partisan Budget Act of 2018 (BBA) passed, lifting caps on spending and paved the way for significant increases in discretionary spending across defense and civilian agencies. With the passing of BBA 2018, the defense discretionary funding cap was increased by $80 billion in FY2018 and $85 billion in FY 2019, allowing for current on-hold projects to move forward and for the development of new opportunities in key focus areas. A recent PulsePoll™ from Market Connections reveals where defense agency technology leaders feel funds will be prioritized, and how soon they expect these funds will make an impact.
Results from Government Recruitment Study
A majority of public sector and government contractor HR and recruiting professionals are struggling to recruit and retain top talent. A recent survey by Market Connections and Monster Government Solutions uncovered that roughly half of HR professionals and hiring managers find a shortage of qualified candidates a top challenge. Meanwhile only one quarter are satisfied with their organization's retention practices and only one-third are satisfied with hiring management technology.
What other barriers and challenges in recruiting and retaining talent were identified? What resources, tools and messaging are organizations using to attract and keep them?
This study sheds light on the ongoing challenges with government and government contractor hiring and retention and will help your organization develop and improve the right strategies and best practices to recruit and retain the best candidates.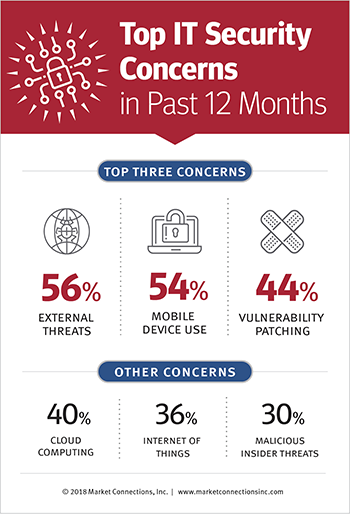 The Status of Federal Agencies Security Postures
The recent Presidential Executive Order Strengthening the Cybersecurity of Federal Networks and Critical Infrastructure states "known but unmitigated vulnerabilities are among the highest cybersecurity risks faced by executive departments and agencies." It calls for increased focus on securing IT and data, including protecting IT and data from unauthorized access and cyber threats; being aware of potential threats; being able to detect security events; and being able to respond and recover. However, cybersecurity risk management has been a long-term priority for federal agencies, even before the White House issued this Executive Order. The question is, in an age of increased cybersecurity threats and federal mandates, how have agency security postures changed over the last year? Unisys commissioned government research firm Market Connections to find out.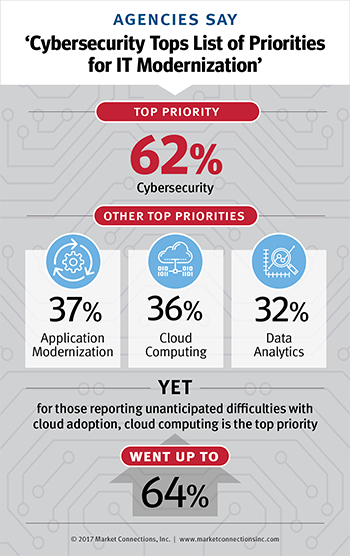 How Agencies Can Achieve Straight A's
As federal agencies strive to improve the citizen experience, IT modernization is a key priority, with security around cloud computing and identity management at the forefront. Yet with the focus on security, are agencies making equal progress in the process and technology factors that lead to success? This survey asked, among other things, about agency modernization priorities and how the respondents rate their agency against those priorities. The resulting self-ratings paint a clear picture of where agencies feel comfortable with their efforts, and opportunities for improvement.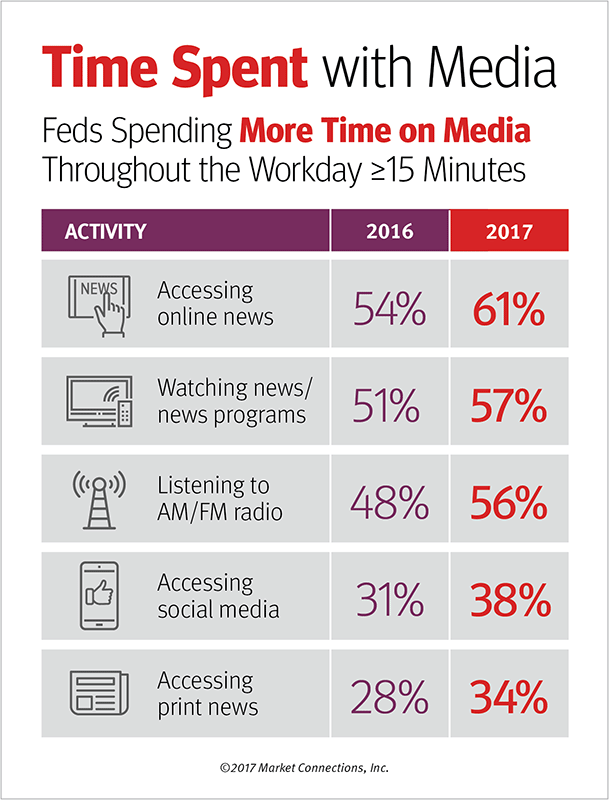 The 9th annual study combines actual media usage of mid- to senior-level federal decision-makers with their demographics, job function and purchasing habits. Survey responses from more than 3,000 decision-makers highlight their media usage spanning print, broadcast, social, mobile and online.
NEW IN 2017
Fake News – Do federal employees feel fake news has impacted the credibility of media publications?
Teleworking – How often are federal employees teleworking and how does it impact media habits?
Tenure and Retirement – Does the looming retirement wave impact how we should be marketing to federal decision makers?
Commuting – What are the media habits of commuters inside the beltway?
In 2017, Market Connections conducted a federal events study to gain a better understanding of how and why federal IT decision-makers are attending live events. For years, the Federal Media & Marketing Study has tracked the rise and fall of attendance levels at live events and webinars without explanation. This prompted Market Connections to develop a deeper study specifically focused on live event preferences. The objective was to gain a better understanding about why and how federal IT professionals made their decision on whether or not to attend events. Factors included in the study were event format, size, location, length and content.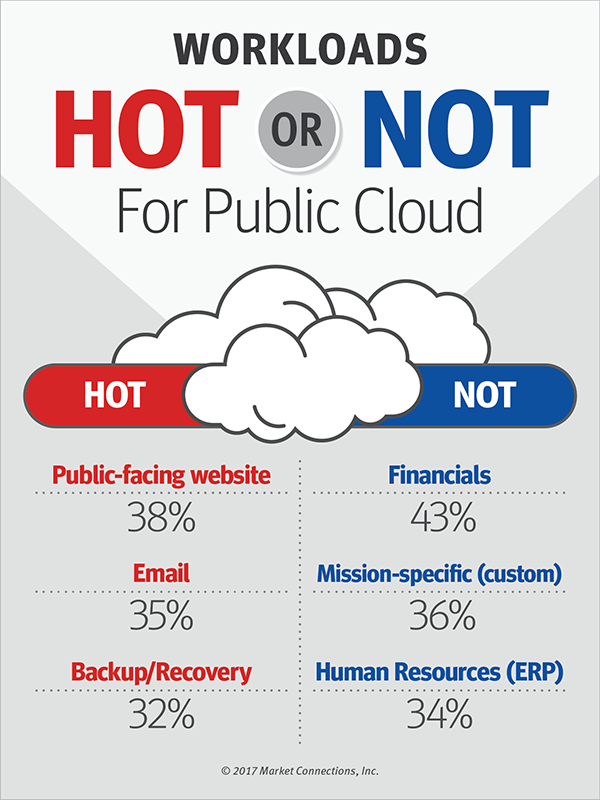 Emerging Trends in the U.S. Federal Government
Almost seven years ago, the White House issued its 25-point Implementation Plan to reform federal IT that mandated federal agencies "evaluate safe, secure, cloud computing options before making any new IT investments." The U.S. federal government seems poised to enter a new era of cloud computing after the last seven years of trial and error yielded important lessons learned and repeatable best practices. What about cloud is working or not working? Are federal agencies fully realizing the promised cost savings? How pervasive is cloud adoption? What workloads are agencies putting into the cloud? Nutanix commissioned Market Connections to survey a representative audience of federal IT managers and leaders to find the answers to these questions.