Federal Media & Marketing Study 2019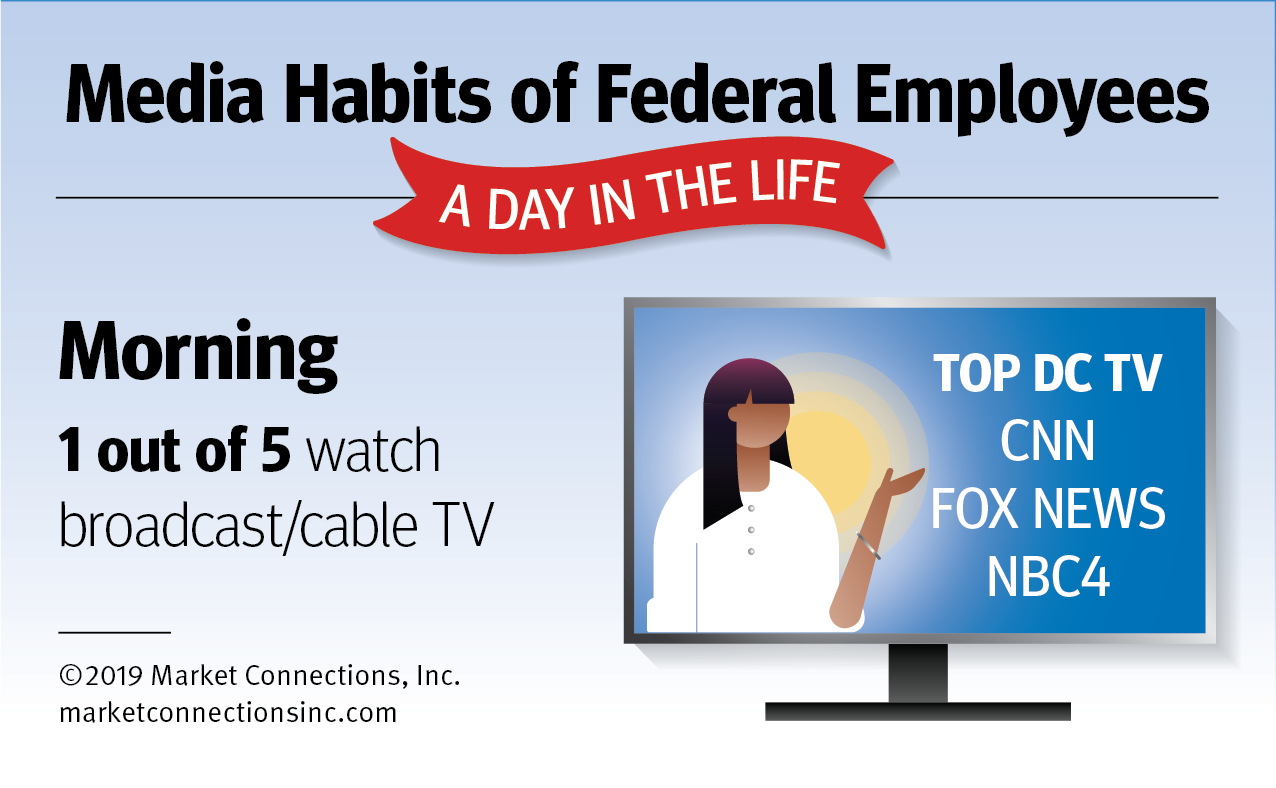 CLICK ON ICON TO SEE PROJECT COMPONENT
In its 11th year, the Federal Media & Marketing Study continues to empower marketers to hone and perfect their strategic marketing campaigns with valuable and reliable data directly from their federal customers. The survey provides key information about the federal audience's media usage across print, broadcast, social and digital sources. Combining this data with demographics including: job function, location, purchase area and more, marketers have the ability to slice and dice the data and map each to specific media habits, allowing them to target specific audiences.
The survey represents the views of thousands of federal workers in a variety of positions. Whether you are interested in a broad awareness campaign, or a more focused agency-based marketing effort, data from the study can provide you key insights about the media and marketing habits of this tough-to-reach federal market audience.
WHAT TO EXPECT
Job Function and Purchase Responsibility – More than 25 different job functions and areas of purchase, by product and service
Media Usage – 60+ publications, 100+ websites and mobile sites; 10+ social sites; differences inside vs. outside the Beltway
Trusted Content -To what extent do decision makers trust news and information from different media sources?
Time Spent Accessing Content – How much time do government employees spend accessing content online, watching TV, listening to the radio and reading e-newsletters?
NEW IN 2019
Beyond Business: Expanded Demographics & Personal Decisions – Marketing to federal employees, means marketing to them as people. What does that look like? What are their personal priorities? Challenges, hopes and dreams? How can this help shape your messaging to them as an individual in addition to their profession?
Media Habits of Federal Employees: A Day in the Life – What media sources are federal employees accessing during different parts of their day?
Diving Deeper into Webinar & Event Attendance – Will the time of day impact whether they attend? How likely are they to attend and how likely are they to attend in the evening or on weekends?
Additional Marketing Tactics – Mobile applications, outdoor advertising and sponsorship: should contractors explore these ways of getting in front of federal audiences?
PURCHASE THE OVERVIEW!
Overview results from the 2019 Federal Media & Marketing Study highlights high-level results from our comprehensive study surveying thousands of federal respondents at defense and civilian agencies, inside and outside the Beltway about their use of digital, social, mobile, print and broadcast media. This PDF report provides high-level results of the top digital and print publications, social media sites, radio and TV within the DC metro area. In addition, new data around daily habits will be provided giving readers a glimpse into the "day in the life of" of federal decision-makers.
NEED MORE? SUBSCRIBE TO THE DASHBOARD!
The Federal Media & Marketing dashboard allows you to cross-tabulate survey results to create your own customized data views, such as job title and product purchases; or job title and web site visits or publication readership.

NOTE: You are purchasing a subscription to a dynamic online data set, not a PDF report. You will receive a user guide in the form of a PDF, and a representative from Market Connections will contact you within 48 hours with your username and password to access the online tool.
AGENCIES: Please contact us for special pricing available for unlimited client usage.
ON A BUDGET? CHECK OUT OUR AUDIENCE-BASED CANNED REPORTS
Market Connections now offers federal marketers a quick and easy way to get agency specific data to assist with their account-based marketing needs.
Whether you are targeting DoD as a whole,  focusing just on the Army, or looking to reach IT professionals, new single audience-based canned reports derived from years of Market Connections' study data can provide the background you need to make smart decisions. For only $495, choose from our library of most-requested, ready-made breakouts to provide what you need to know for media buying, advertising and overall strategy decisions for a specific audience.
For More Information:
Email or call Mari Canizales Coache at 703-378-2025.
Fill out the form below to download the overview and infographics.