Governance, Risk & Compliance:
Maintain State & Local IT Budget with Consistent Compliance Practices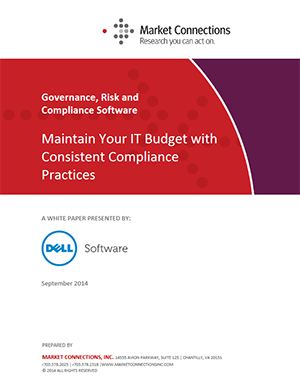 CLICK ON ICON TO SEE PROJECT COMPONENT
State and local agency IT departments are stretched thin even as they work diligently to address three key operational challenges: compliance requirements and federal mandates, increased cyber threats and increasingly shrinking budgets. Given these challenges, it's common for routine maintenance tasks to slip.
Dell Software commissioned Market Connections to poll state and local IT workers on awareness of, and attitudes toward, the use of GRC software in state and local government agencies, especially the features they deem most critical when selecting a tool.
Fill out the form below to download the research report, white paper and infographics.
Governance, Risk & Compliance:
Maintain State & Local IT Budget with Consistent Compliance Practices
YOU WILL LEARN:
How state and local IT professionals rate their organization when it comes to evidence of appropriate controls
Top state and local IT compliance and governance concerns
What state and local IT professionals feel are important attributes of governance, risk and compliance solutions