Where Will We Land? Le Chatelier's Principle Applied to Federal Marketing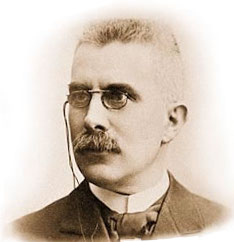 In the late 1800s French chemist Henry Louis Le Chatelier described a system of shocks and counter-shocks that eventually settles into an equilibrium at a level that is neither where it started nor where it might eventually go. This idea, that any stable system encountering external forces pushing back and forth to establish a new level of normal, can easily describe the world in which we all now have to make business decisions. While 2021 will not be like 2020, it won't be like the stable environment of 2019 either. It will likely be somewhere in between, but who really knows where?
As public sector marketers, we have had to reconsider some tried and true ways to reach and interact with our target audiences. Large tradeshows and meeting with your customers in-office or at lunch are unpredictable or uncertain, replaced, for now with virtual events and video conferencing.
Government customers are racing to make heavy investments into technology and supply chain as they wrestle with the need to respond to the crisis and create safe work environments that respond to the pushes and pulls of a variety of shocks to their systems. Vendors and suppliers have a unique opportunity to educate and support their customers in a broad variety of ways, challenging budgets, workflows and internal capabilities.
Revisiting Your Post-Quarantine Marketing Strategy
As Le Chatelier's principle dictates, as federal marketers we must continue to fine-tune strategies in a world that is not in as much upheaval as last year, but we must be wary of reverting to the way things were done before. New opportunities abound, but as we have learned from past sailors who began to sail off the maps of old, there may be dragons ahead!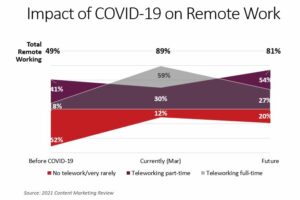 Federal employees will continue to work from home. With eight in ten federal employees saying they expect to work remotely at least part-time (According to the 2021 Content Marketing Review), considerations about how and where they go for information are important. Purchasing radio time is one example of where marketers may want to refine their strategy. While drive-time radio listenership may drop, listenership throughout the day has grown.
With more government employees working from home, barriers have been removed to accessing social media, especially on their personal devices (whether mobile, tablet or laptop), which may have not historically been allowed in their secure offices.
Vaccine mandates may open up some in-person events, but the size of event and event safety protocols — combined with the need to provide simultaneous virtual streaming — may prevent these events from being economically feasible for many marketers. Agencies likely will continue to have some level of travel restrictions and/or limit staff attending. Leadership may realize, from experience through the pandemic, that they can still access the information without the need to incur travel costs.
Get Insights to Refine your Federal Marketing Strategy
It's important to know your customers' preferences to review, edit or fine-tune your current marketing strategy to ensure ROI. With the shock to the equilibrium in 2020, a new environment is apparent in 2021. Federal marketers cannot just go back to how things were done before, nor can they just repeat 2020 efforts.
For over ten years, Market Connections has taken the pulse of the federal market's media and marketing preferences to support our government contracting community with data and insights that can inform those strategic decisions. From digital to print media, social media, television, radio and podcasts to event and webinar preference and attendance, it is important now, more than ever, to check your strategy against the data provided by the study.
Learn more and purchase: https://www.marketconnectionsinc.com/fmms2021event/