Managing the Ongoing Challenge of Insider Threats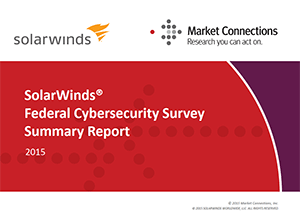 CLICK ON ICON TO SEE PROJECT COMPONENT
The constant focus on malicious attacks from outsiders has prompted increased investment in preventing breaches. However, federal cybersecurity managers know that the greatest threats are actually people on the inside; and this threat is the most difficult to manage.
Following up on a 2014 study, SolarWinds commissioned Market Connections to uncover challenges federal agencies face in addressing cybersecurity threats; gauge confidence in preventing those threats; and measure changes in concern and investment to combat different types of threats.
Fill out the form below to download the research report, white paper and infographics.
Managing the Ongoing Challenge of Insider Threats

YOU WILL LEARN:
The top sources of security threats at federal agencies
The sources of the most damaging internal and external breaches
Top tools for preventing accidental/ careless insider, malicious insider or malicious outsider cybersecurity threats