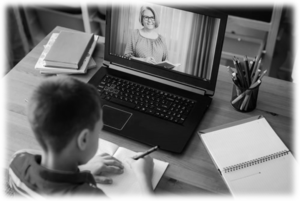 Distance learning involves so much more than making sure your child submits their homework on time. The role of technology in education has accelerated to a level many weren't expecting for another 3-5 years, leaving some behind. Millions of students are without sufficient access to the online tools they need (Read this article from edscoop) and even the largest and wealthiest school districts are struggling to roll out the tools teachers and students need for continuity (Check out this article from WUSA9).
There are significant opportunities for the technology community to step in and help.
The level of technical expertise of K-12 and higher-ed institution decision-makers can vary. Our research has shown that board members, administrators, teachers, IT specialists, parents and even students can be key influencers and play different roles when it comes to decision-making for school systems. Therefore, unlike marketing to state and local government audiences, SLED marketers must take note of this varying level of technical expertise when developing their marketing materials.
Are you considering each of these influencers in your communications and marketing to educational institutions? Are you considering your tone and messaging to reflect the range of their technical expertise, or lack thereof? Have you considered how your (and your competitors') messages might be resonating with this audience?
In a time when the education market needs a trusted industry partner for your expertise and technology to support their unmet needs, ensuring your messaging is heard, understood and impactful is necessary now, more than ever.
How can you ensure your messaging is making an impact?