By Susan Rose, Senior Director, Content & Insights, GovExec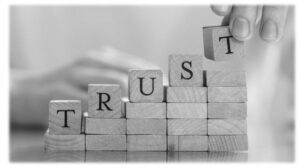 Trust. It's a word nearly everyone uses when talking about marketing and selling, especially in the federal market. For good reason: trust is everything. You can have the best product or service in the industry, but if federal prospects don't trust you, they won't buy it.
The best way to build trust is with face-to-face interactions. But to have those, you must get in the door and why would someone invite you in if they don't trust you yet?
What can you do? If you look at social media or do an internet search on any topic, you will find a plethora of research reports, webinars, blogs, case studies, articles, and podcasts — for good reason: these types of content build trust.
Trust and the Buyer's Journey
When customers have problems they need to solve, they start looking for answers. Sales and marketing functions exist to answer those questions. But when, where, and how we answer those questions depends on where prospects are in their buyer's journey. Someone who doesn't know what the problem is has different needs than someone who is ready to sign a contract. Trust at each stage is important, no doubt about it.
The challenge is when you need to build that trust with someone you've never met who is looking for answers quietly from their office.
These people may be at the top of the sales funnel, in the "awareness" stage. They're searching the internet to educate themselves, find relevant resources and insight, and examine research data. Or they may be in the "evaluation" stage, where they have an idea of what type of solution they need and are looking for those vendors they believe can provide it.
This is your chance to influence their decision and build trust by providing educational content full of relevant insights.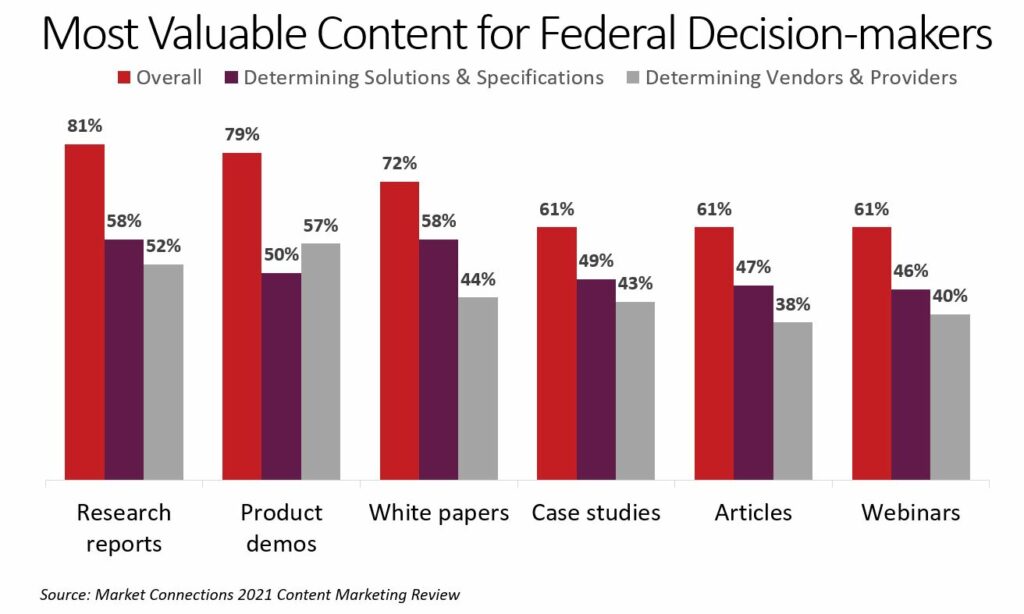 Content that Builds Trust
I'm a firm believer that delivering what the audience wants in the format they want it will always go far toward building trust. You can break down trust-building content into two parts: the information it contains and the format. I want to focus on the information.
The Market Connections 2021 Content Marketing Review surveyed public sector buyers about their content preferences. Overall, 81% of Federal buyers find research reports the most valuable content.
That's because research reports educate rather than sell. It's not about benefits and features of a specific product, it's about what is happening in the industry and the world, how that impacts the prospect's big goals, and what they need to consider going forward.
In fact, all the top valuable types of content center around education and sharing expertise. Federal buyers want to know that you know the industry inside and out and are willing to share that knowledge.
What You Can Do Now
To build trust with content, the information you are sharing needs to focus on value. That means it is truthful, authentic, and helpful.
It focuses on the problem, possibly from an angle the audience hasn't thought about. Or perhaps it educates them about a new way of approaching a problem.
Whatever you are sharing, keep the buyer's needs in mind. It's always about them.
Learn more: