Top 5 Reasons to Attend the M4PS Content Marketing Event
Exclusive Information Session and Networking Event Happening on 6/29
With the plethora of information sources available at our fingertips, sifting through and narrowing down the data required to map out effective marketing plans and strategies can take considerable time and effort. We want to help.
Formerly brought to you under a different title, Content Marketing Review, the spring iteration of our two part Marketing for the Public Sector (M4PS) study answers questions like when, where, and how the public sector prefers to receive information about products and services. For example:
One third of respondents use LinkedIn for news related to their job vertical.
The favorite format for job-related information and education is explainer videos.
Well prepared presenters make for memorable webinars.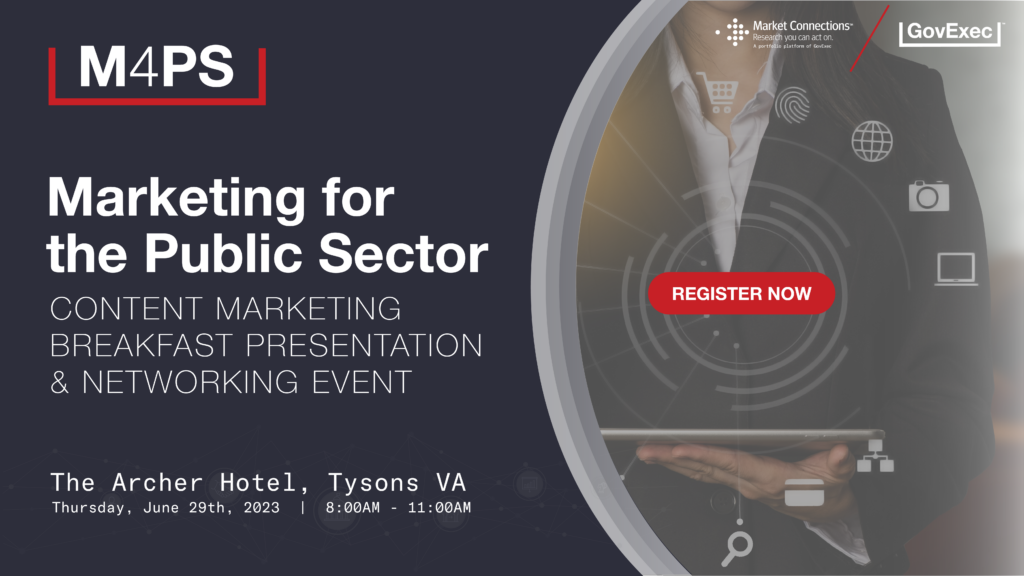 Launching on June 29th, 2023 at an exclusive networking event (happening in Tysons, VA), a panel of industry experts will dive into the current outlook regarding participation in in-person/virtual events and media/content format preferences.
Here are five reasons YOU should consider attending:
1) In-person networking opportunity.
2) Pertinent, actionable information for marketing plans/strategies.
3) Insights into public sector audience content preferences.
4) Types of content respondents prefer throughout the buying process.
5) High quality research you can act on.
Whether you are interested in a broad awareness campaign or a more focused agency-based marketing effort, this information session will help you measure the preferences of your public sector audiences.
Event details
The M4PS Content Marketing breakfast will be held on June 29th at The Archer Hotel in Tysons, VA from 8:00AM-11:00AM. Register today and join us for breakfast, in-person networking and an informational presentation by a group of industry experts.
Early bird pricing available until 6/12.