How Contractors Can Use Federal Personas for the Win: Part One
Marketing Teams
Our latest blog post "Beyond the C-level Suite" emphasized  the importance of marketing to both federal IT decision-makers and influencers at agencies in different ways. Detailed personas for each federal influencer, from senior executive to procurement staff to end user can crystalize your approach and give you guidance as to the unique personal and professional challenges that can influence how and why they make decisions. In part one of this series, we'll focus on how marketing teams can use federal personas to guide their strategy.
Originating in the consumer market, personas used for B2G will differ in their area of emphasis and approach. While B2C companies focus exclusively on their target customer, B2G marketers must blend the influences of the agency culture with the preferences and habits of the individual. To date, most B2G marketers have focused heavily on the unique aspects of agency culture and processes. We believe that on top of this marketing strategy, it is important to understand the personal motivators and opinions of specific decision-makers and influencers within the agency that is purchasing your product or service.
If you have already made the investment in creating unique federal customer personas, the journey has just begun. There are several next steps to get the best out of your efforts.
Share, Share, Share!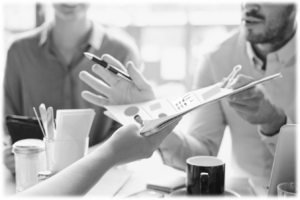 Federal personas are only effective if you are sharing them across your company, from leadership to marketing and communication teams to sales teams. Educate up and down your organization to consider how each persona plays a part in decision-making. To ensure all teams are considering personas in their sales and marketing efforts, post your personas in visible locations and discuss them frequently in cross-team meetings to incorporate the individual natures of each decision-maker into your company culture.
For Marketing Teams:
Plan your content to be rooted in the agency mission but tailored for specific individuals. This includes adjusting for topic, tone, depth and distribution. You would not market the same way to an executive as you would to an end-user. Their priorities, backgrounds and values may be different. Some may value being viewed as an expert in their jobs, while others value the security that their job provides them.
Furthermore, a tech-savvy end-user, may prefer to watch a video or webinar to learn more about new technologies while a program manager or senior executive may prefer to read about new trends and technologies in a white paper. What is their preference for learning mediums? How do they prefer to receive information?
In addition to the learning style differences, key influencers and decision-makers may prefer different ways to access information. Across the board, marketers understand the importance of SEO, but are you considering other channels for marketing to different federal personas? While one individual may prefer to directly go to a vendor website or video, others may prefer to get information from associations, industry publications or events.
In addition to preferences, use tools like the Federal Media & Marketing Study to understand what publications and websites they're going to already in order to focus your media and advertising efforts there.
Learn More About Federal Personas:
Purchase the overview report and corresponding video readout:
Federal IT (FIT) Personas Study: A Deeper Look into Your Government Customer
The FIT Personas bundles will be available for purchase soon and will be found on the same page as the overview report.