COVID-19 upended the way we do business, including in-person events.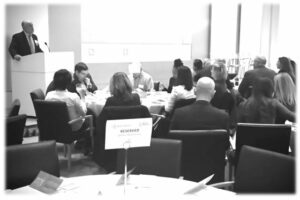 For over two years now, government contractors have wondered when and how federal events will get back to "normal"— shaking hands; networking; and seeing clients, vendors and colleagues face-to-face.
In the past year, attempts to have in-person events have happened in fits and starts. Surges in COVID cases and new variants partnered with government policies regarding event requirements all but pushed us completely back to virtual.
But federal employees are ready to get back to "normal." Market Connections teamed with Government Marketing University to survey federal employees on their feelings about attending events for the upcoming training Fusing Gov't & Industry: Event Go/No Go? Half of the respondents said they plan to attend in-person events this year. Of these, a majority, four out of five say they would attend one to three events in person, numbers that match what respondents said in 2019 before the pandemic.
For those focused on the defense market, the news is even better. Respondents across defense stated they were more likely to attend everything from micro- to large-scale events at higher percentages than their federal civilian counterparts. The success of the latest AFCEA West supports this finding. (Editorial recap of event success from fellow federal marketer Sheri Ascencio can be found here.)
Event Value Proposition
To host successful face-to-face events, we must change how we view them. A higher focus on the value proposition in attending is key. What will attendees gain from the event topic/content, speakers, opportunities for product demos and networking? These, along with logistics such as length, location, and requirements should all be considered.
When asked what drives event attendance in a 2019 event webinar survey, eight in ten respondents said the topic is the key driver. Nearly half mentioned networking opportunities and one-third mentioned the keynote speaker. One respondent said they attend events "(to) learn about technology, meet with vendors, meet other IT people, or (for an) interesting topic." Another respondent from Homeland Security had a similar response: "(To) expand my knowledge and understanding of the topic."
According to the 2021 Content Marketing Review, even in the midst of COVID, events (both virtual and in person) top the list (81% of federal respondents) as the most effective channel for disseminating content—  topping search engines, email, corporate sites and news sites. These numbers further confirm that content is a key factor for the event strategy.
New Factors to Consider: Remote Work and Hybrid Events
In addition, COVID not only changed the way we met, but how and where we work. Today, 86% of federal employees work remotely at least part-time and over half work remotely full-time. This reality begs the question of whether government employees will be willing to attend an in-person event on a day they work from home, or on one of the only days that they come into the office. In short, what would drive them to step away to attend in-person?
Some event organizers are responding to this question by considering a hybrid event format. Yet there is fear that hybrid events will cannibalize the opportunity to meet with customers in person, historically the best way to forge strong relationships.
The bottom line is event organizers want attendees to come in-person. What can you do to drive attendees to make that decision rather watching comfortably from their couch?
To answer this and other questions on event drivers, deterrents, and the future of federal face-to-face events, attend Government Marketing University's latest training, Fusing Gov't & Industry: Event Go/No Go? and set your 2022 events up for success.
Over the past year, Market Connections' signature studies, including the Federal Media & Marketing Study and the Content Marketing Review, have pointed to a rise in the role of professional associations with federal decision makers. These studies, along with additional surveys we have conducted in the federal market, have concluded that public sector marketers should strongly consider working with professional associations to reach federal, state and local decision makers. To further test our hypothesis, we created a PulsePoll™ specifically asking about the role of associations, with the hope that this data can not only support government contractors' membership and engagement strategies, but also identify opportunities B2G marketers should consider through professional association channels.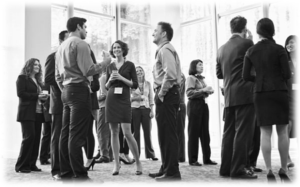 We saw the first hint of this trend in the 2018 Federal Media & Marketing Study's Most Trusted Sources of Information. Two of the top three sources listed among federal respondents for trustworthiness came from professional associations. With nearly half of respondents, professional association websites (46%) came in second place followed by white papers and case studies created by professional associations at number three (36%). Webinars hosted by professional associations also ranked among the top ten, with nearly one-third of respondents listing it as a top trusted source (31%).
We continued to see the importance of professional associations in the 2019 Content Marketing Review: Federal & Beyond. Over half (55%) of federal respondents said they frequently click on and/or download content from familiar professional associations. This is a sharp contrast to the less than one in ten (9%) respondents clicking on or downloading content of unfamiliar vendors.
Recent results from our 2019 Federal Events PulsePoll™ and webinar continued to illustrate our hypothesis of the important role of professional associations in federal marketing. Professional associations ranked second in how individuals learn about events (57%). In addition, among all events listed, those hosted by professional associations AFCEA and AUSA ranked in the top five among all respondents, and even higher among defense agencies.
Looking at these findings alone, one can't deny the value of working with professional associations to help reach federal audiences, especially for vendors who may not have an existing relationship with target clients.
However, some questions remained unanswered. For example, which professional associations are federal decision makers joining? Should contractors focus their membership and marketing efforts with federal- or IT-focused associations? Are there marked differences in membership by agency type or job role? What factors are important to feds when choosing to join an association? What are some barriers keeping them from joining? Most importantly, how are they engaging with associations that contractors can benefit from?
To help answer these questions, we surveyed federal decision makers about membership and engagement with professional associations. To hear results of our latest PulsePoll™, join our upcoming complimentary webinar: Marketing Through Professional Associations: Reaching Your Government Clients on Thursday, June 27 from 2-2:30 PM EDT.