Sales and BD Teams
In part one of our blog series "How Contractors Can Use Federal Personas for the Win," we shared the importance of getting internal team buy-in from leadership to marketing to sales. In addition to ways federal marketers can benefit from the use of personas, we noted the importance of collaboration between the marketing teams and the sales and BD teams to get the most out of federal personas.
Federal personas can, and should, be living documents that are tweaked by newly gathered information. Sales teams can add key insights from their day-to-day frontline experience, as part of persona building. It is important to note, however, that federal personas are not actual individuals, but archetypes of the players around the "decision-making table". While sales teams can contribute to confirming or challenging the notions of personas, it is important to do so based on facts, rather than assumptions. Exceptions to the persona will always exist.
How Can Federal Sales Teams Benefit from Persona Building?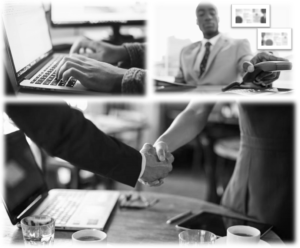 Sales teams should use federal personas to ensure customer-centric conversations. By focusing on more than just specific agency needs, federal sales professionals can better connect with individuals even before their first conversations. Well-constructed federal personas can provide personal backgrounds that make those first conversations easier and more familiar.
A federal persona can help guide you well before your first contact. Should you reach out to your contact via email, or are they more likely to prefer to meet you for a coffee and in-person discussion? Actual results may vary, but the predilections outlined in a well-constructed persona can give you a jump start and increase your odds.
When the conversation begins, seeding the discussion with known challenges and issues can speed up your due diligence and accelerate the process. Senior executives may have very different challenges than an end-user. Laying out those challenges before they have a chance to mention them builds a certain level of trust between you and the client. Now, as a trusted advisor, you can move the conversation forward to how you and your company can offer support and solutions to those challenges.
Sales team leaders should consider using federal personas when developing sales tools for their teams. Unique, segment specific playbooks and sales guides can allow those new to the market to hit the ground running as well as provide new insights for the long-timers on the team. Used as part of regular sales trainings, these shared tools can be enhanced with use cases from team members at regular sales meetings.
Ultimately, the use of federal personas may either challenge existing assumptions about your customer or confirm what you already see in your established relationships. Either way, the dialogue that comes about can make for a more dynamic discussion with the client, a good introduction to new sales members, and a reminder to those in the field that what has been considered true may not always be.
Learn More about Federal Personas:
Purchase the overview report and corresponding video readout:
Federal IT (FIT) Personas Study: A Deeper Look into Your Government Customer
FIT Personas will be available for purchase soon and will be found on the same page as the overview report.
In a recent blog post, we shared the top challenges faced by federal marketing and business development professionals as seen in the 2018 Federal Government Contractor Study.
While it is nice to know the challenges we all are facing, what you REALLY want to know is:
How are your competitors spending their marketing dollars?
Is their spending the same as yours?
What about next year?
You don't want to miss the next big thing, and you certainly want to know where your efforts are going, so that you can go head-to-head with your primary competitors.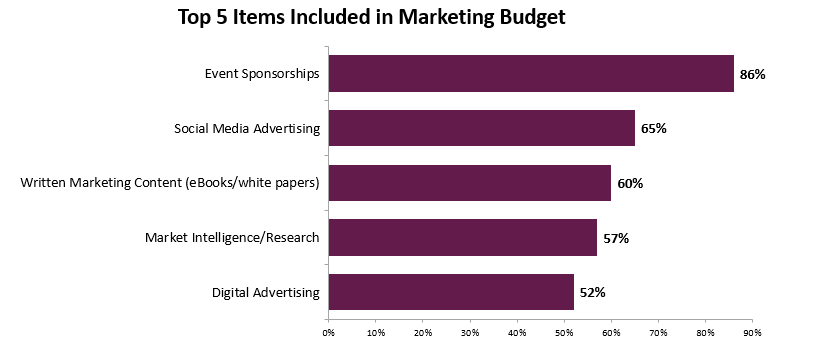 Being present is still a key to winning. Almost 9 out of 10 survey respondents stated that event sponsorships are included in their marketing budget. As we have seen in other studies (Federal Media & Marketing Study and Federal Content Marketing Review), event participation is on the rise among federal decision-makers. Contractors are seizing the opportunity to get in front of their audience by sponsoring and being present at events where they can have face-to-face transactions with potential clients and customers.
While event sponsorships outranked other items by a large margin (at least half or more of respondents also listed social media advertising, written marketing content, market intelligence and research and digital advertising), it has not peaked. One-third of respondents said they would increase their marketing budget spend on event sponsorships in the future.
What will be increasing even more? Where will the competition be greater in the upcoming years? The answer is: digital advertising. Atop the list with more than half of respondents stating they will be increasing their marketing spend, digital advertising will likely see big jumps (and increased competition for real estate) in the upcoming years. Market intelligence/research (yay!), podcasts, video marketing and radio/TV advertising are among those with the strongest growth looking ahead…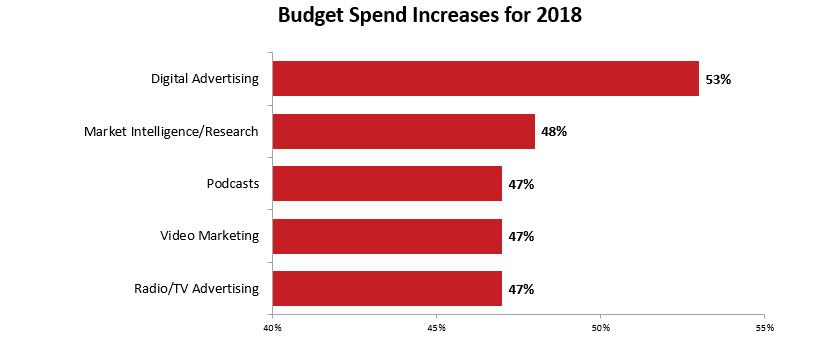 Upon further review, we saw some key differences in who specifically will be increasing their spending in certain areas. Those contractors with lower than average win rates on new opportunities are more likely to be increasing their market intelligence/research efforts. "It's not surprising. Few things hurt worse than NOT winning or bringing in a new client," says Aaron Heffron, president at Market Connections. "The one thing that hurts more is not really knowing why. Sometimes only an outside eye can see the reasons clearly."
How Can You Ensure Contract Wins?
Thinking about these findings even more, when it comes to ensuring contract wins, a few key questions contractors need to ask themselves are:
Was what you were promising in your bid credible to the audience?
Did you have a specific strategy to communicate your strengths that were specific to the agency, or were you using the same messages and methods you always have been?
In a crowded market, were you telling the prospect what they needed to hear, or what you thought they wanted to hear? Do you know the difference?
Was this customer most influenced by price, value, key personnel, past performance, or reputation (or something else)?
Did you even have a chance? How happy was the customer with the existing provider?
These, among others, are important questions to not only ask post mortem, but BEFORE you even start. More than 18 months before a contract is up for bid, the most successful contractors are building a plan customized to the customer, planning a marketing strategy that incorporates events, digital and other personalized means, and building a clear, concise value proposition. As you can see, competition for placement at events and digital visibility is going to be at a premium, so it's essential you start planning now.
The Federal Government Contractor Study conducted by Market Connections, in partnership with Professional Services Council and Merritt Group, surveyed BD and marketing professionals focused in the federal marketplace to understand their top challenges and best practices.
New pursuit and capture research
New pursuit and capture research helps anticipate and understand the needs and goals of a target market, providing contractors with fact-based insights to inform a more effective capture strategy. It can help identify which opportunities contractors are most likely to win, the win themes for their capture strategy and perceptions of their organization and the competition.
Customer satisfaction research
In addition to winning new business, in an environment with shrinking budgets, it is key to also win those contracts up for recompete. Customer satisfaction research has helped clients save key accounts that would have otherwise been lost due to unidentified customer issues and brewing dissatisfaction. Clients also use this research to ensure satisfaction on strategic government contracts, thereby increasing their chances of winning when the contract comes up for renewal.