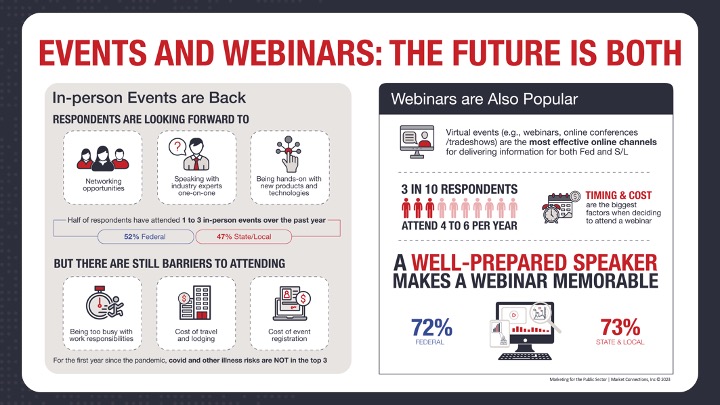 B2G marketers: this article is part 3 of a 4-part series recapping the June 2023 Content Marketing Review.
Public Sector events are traditionally a high-value tactic. Is that still true? Travis Wolfe, Director of Event Operations and Business Development at GovExec and Stephen Ellis, Director of Public Sector Marketing at Palo Alto Networks spoke about events and webinars. Travis coordinates GovExec events and has been a part of the resurrection of in-person events. Stephen has vast experience running and investing in different types of events.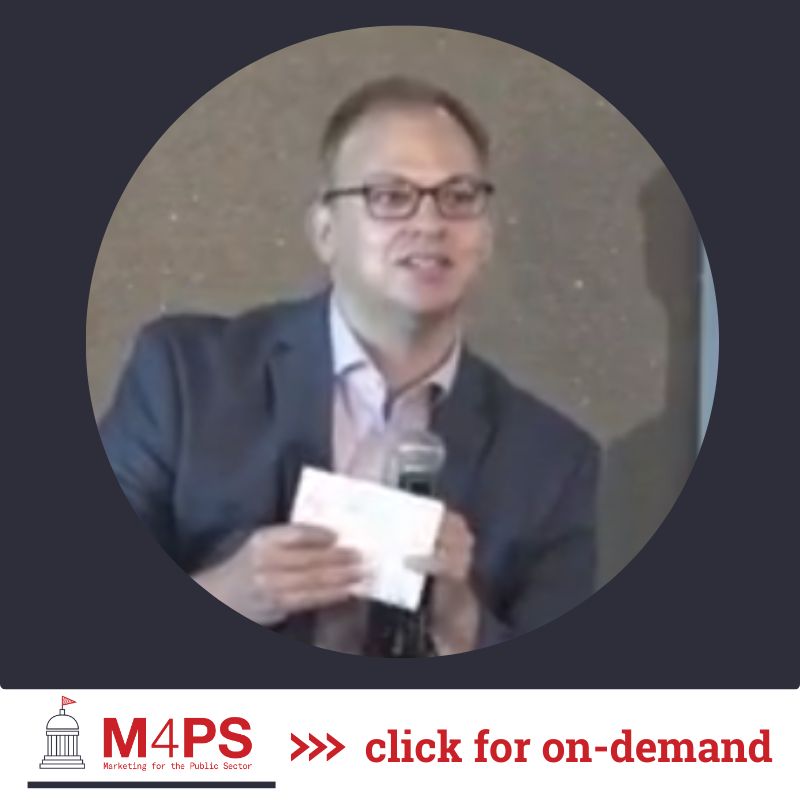 Both agree it is no secret B2G marketers have been rolling the dice a little bit when it comes to events, asking themselves:
Are we going to get the ROI on these events?
Are people actually going to show up?
Does making an event hybrid impact in-person attendance?
Travis noted many of us are in a weird gray zone from pre-COVID to post-COVID and are trying to decide where to go from here. This is what the research says…
In-Person Public Sector Events
The data shows that in-person events are coming back. Travis has personally witnessed this from the number of sponsors and vendors asking him to host live events.
However, only about 30-45% that register for your event will actually show up; therefore, finding creative ways to showcase your content is important to secure your audience. You want to make sure you are initially sharing engaging content, whether it be featured speakers or big conversational topics, to pique your audience's interest. You also want to ensure that there are interactions with experts. The expert one-on-ones and hands-on moments with products and technology are what motivates people to get out of their homes and to your events. Although we are seeing an increase in the amount of live events being held, there are still barriers to getting attendees to your events. A lot of employees are still working hybrid or remotely so you want to make sure that you are making it worthwhile for them to leave their homes, commute, and incur traveling/event ticket costs to attend your event. 
Public Sector Webinars
Webinars continue to be popular: approximately 75% of respondents attended four or more in the last year. Webinar attendees are typically interested in more technical information, fireside chats, and flashy presentations that don't necessarily work at an in-person event. Using compelling visuals can really make your webinar stand out amongst the sea of others.
Webinars eliminate many of the issues we're seeing with in-person events, particularly travel costs. There are often registration costs associated with webinars, but the biggest takeaway is that attendees like the fact they do not need to leave the office to attend an event.
Final Thoughts: Public Sector Events are Back
Both in-person events and webinars have their own set of challenges. Preparing, creating innovative processes, and maintaining creativity throughout the entire process is key. You initially need to know:
What is the ultimate goal?
Who is your intended audience?
What type of content would you like to resonate with your audience?
Once you know the basics, then you can choose the type of event that best aligns with your vision and begin targeting your audience. The most common channels through which to share event marketing details are social media and email blasts.
We have seen an uptick in the amount of people who are registering for events, not showing up, and then requesting the content that was shared at the event. It is important to keep in mind that if you share every detail that was discussed at an in-person event, people will never attend your event. You can share key takeaways and highlights but do not provide them with every piece of information unless you put it on demand and charge an extra fee.
At the end of the day, you want to increase the number of attendees, so being strategic in your approach of sharing information post event is vital.
Watch the replay
Want more? The Content Marketing Review is now available on demand. Click this link to learn more.
Related Posts
Marketing 4 the Public Sector (M4PS) Study Recap
Marketing The Funnel and Delivering the Right Content at the Right Time
Creating Impactful B2G Content
Events and Webinars: where we are, where we're going
Federal SLED and Marketing on a Budget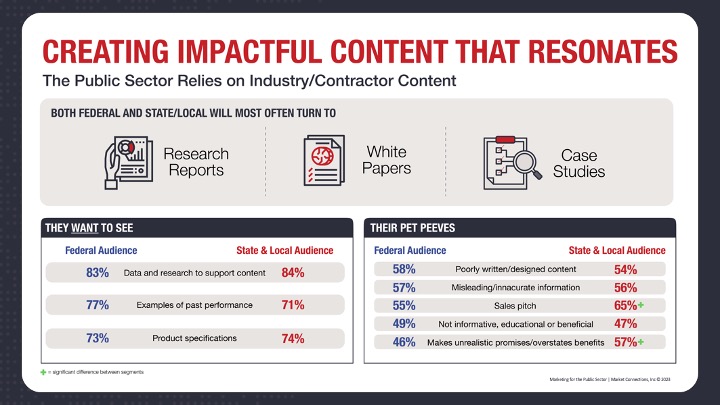 B2G content marketers: this article is part 2 of a 4-part series recapping the June 2023 Content Marketing Review.
Content is King. But it's only an effective ruler if it resonates with the audience. B2G content marketing experts Susan Rose, Senior Director of Insights and Content, GovExec and Camille Tuutti, CEO and Founder of Tuutti Frutti Strategies discussed what that looks like when marketing to the public sector.
The Exploring Phase of the Buyer's Journey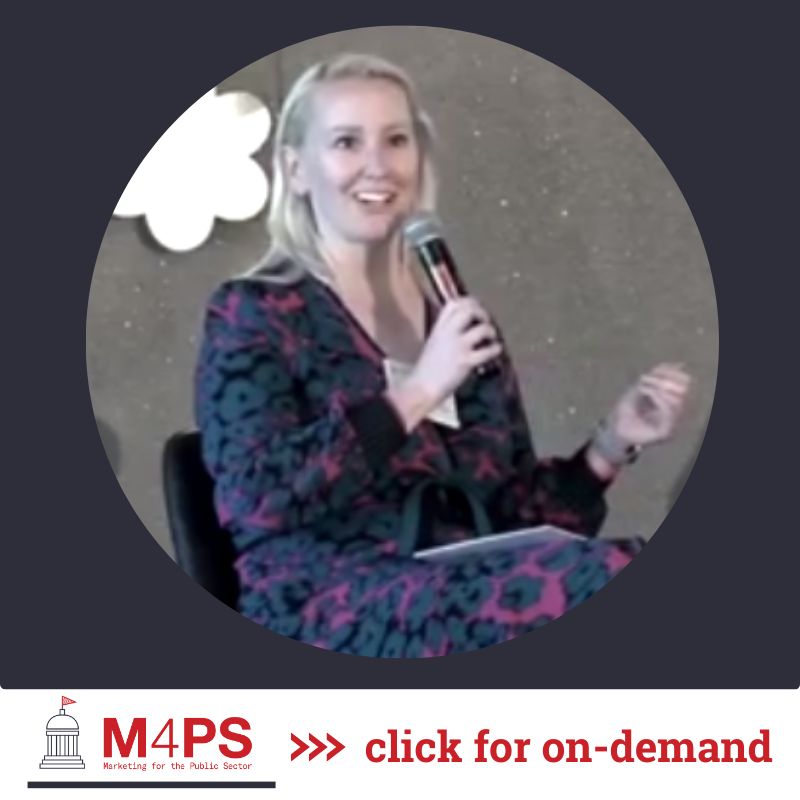 When the public sector is in the exploring phase, they are most interested in hearing from government sources. Specifically, they want to know how the government is innovating, what's working, and what successes have they seen.
That said, they are also interested in the industry perspective. The main content sources that resonate during this phase are research reports, white papers, and case studies because they are generally unbiased. At this stage, they are not ready for the sales pitch or product specifications. They prefer to find the content and educate themselves before they talk to you about what you can offer. They don't want any unsubstantiated claims: They want data and research that supports what you're saying. Therefore, it's important that you include data and research within white papers, research reports, etc.
That means keeping your B2G content honest and truthful to ensure it resonates and passes that first "sniff test." As you are creating your content, utilize storytelling. Camille made a great point about how success stories always sell, but you're not selling. You're not in their faces saying "Oh we are the leading provider and this is why you should buy our product." When creating content, it is also important to know your audience's pain points. By understanding their pain points, you can create relevant content and compelling messages. Relatable content and messages will attract people and ultimately result in a conversion of leads. 
Repurposing B2G Content
Creating impactful B2G content is an investment in time, but once done it can have a long shelf life. Invest in a great cornerstone piece of content that's targeted to a specific person, and then repurpose the piece for other audiences. You don't necessarily have to start from scratch, but you can adjust the original piece and turn it into different kinds of content depending on what the person is interested in. There are a plethora of ways that you can repurpose prior work and/or content. Say you had an interesting podcast where a lot of data insights were disclosed, you could use those stats and incorporate them into a blog post or share them on social media or create an infographic. The most important thing to know is where your audience finds their information and then pick a channel from there. 
ChatGPT?
ChatGPT had not yet exploded when this survey was fielded, but that didn't stop Susan and Camille from touching on it. They agree that ChatGPT is a good starting point when creating content, but do not rely on it 100%. There are many ways to use ChatGPT so the content resonates with your audience.
Translate Technical Language – Say you had a call with an SME who explained technicalities in a very dry language. You could use the tool to translate or explain what was said in a conversational tone.
Editor – If you do not have a good editor on your team, ChatGPT can fill that void by checking for errors, filler words, repeated words, etc.
Ideas – When creating content for multiple people at the same time, writer's block can set in. ChatGPT can assist with unblocking your mind by giving you a bunch of ideas, examples, and material to start with. The AI tool can be used to flush out some of your ideas or give you new ones.
Watch the replay
Want more? The Content Marketing Review is now available on demand. Click here to learn more.
Read More
Marketing 4 the Public Sector (M4PS) Study Recap
Marketing The Funnel and Delivering the Right Content at the Right Time
Creating Impactful B2G Content
Events and Webinars: where we are, where we're going