Revisiting the Leading Brands 2021 Panel Discussion
Jonathan Sanders, Director, Research, GovExec
In the B2G space, there are few things more important than understanding your brand — it is the story you tell without ever walking into a room. It is the reaction someone has when they see your company mentioned online. It is the feeling they have when they see your company's name on the sponsors and exhibitors page of an event.
Most importantly, it is what runs through the mind of agency leadership when they see your company has submitted a bid for a large-scale contract. Without a well defined brand, you don't own that narrative. Internally, your team may have a strong grasp of your company's positioning and offerings, but thousands of government decision makers, Service members, and the general public may have an entirely different view of your company.
My question for you today is: are you tracking that narrative?
The Leading Brands study offers a succinct view into the question of brand positioning and tracking. Now in its 8th year, Leading Brands is the largest government decision-makers study capturing the priorities and perceptions of buying teams across Civilian agencies, the Department of Defense (DoD), and state and local government (SLG) entities.
In short, Leading Brands allows your team to look under the hood of your brand. It provides a critical analysis of your customers and non-customers, how your company is perceived against its competitors, and market strengths and weaknesses. The goal: to accelerate sales, guide partnership development, and define go to market strategies.
Leading Brands is a great tool to measure your company's brand and perception over time from key public sector individuals. But it is just the starting point to unlock your company's overall potential. In May 2022, GovExec's Insights & Research Group released the 2022 Leading Brands study with help from some long-time colleagues and leaders in the public sector. The study release event included a star-studded panel discussion consisting of Tim Hartman (CEO, GovExec), Tricia Davis-Muffett (Director, Global Public Sector Marketing, Google Cloud), Pamela Merritt (Managing Director, Federal Marketing and Communications, Accenture Federal Services), and Oliver Nutt (Vice President of Marketing, GDIT).
The panel of public sector leaders highlighted the efforts to drive brand awareness in the market and guide overall brand evolution while navigating a turbulent, crowded market. With a dynamic market whose needs are constantly evolving, it is increasingly important to note not only where your brand is, but where your brand will ultimately go. In order to peel back some of the key takeaways from this discussion, the Insights & Research Group is pleased to walk you through what our experts had to say.
The Importance of Studying One's Brand
The importance of studying one's brand cannot be overstated. If you are committing to regularly measuring your brand and competitors in the marketplace, you already have a lot in common with the largest companies serving the public sector. If you are not, you run the risk of not knowing how you are perceived, which can impact the company's ability to win contracts.
When our panelists were asked how they went about measuring their brand, Leading Brands came first. Serving as a great benchmark, the study permits you to do research on incredibly specific market areas, whether it be how you are perceived across multiple public sector verticals, customer vs. non-customer information, or your brand's association with leading concepts such as Cyber, Digital Transformation, AI, and Cloud, and more. This informative tool allows your team to zero in on a full-spectrum viewpoint of how they are broadly viewed across the public sector — knowledge the panelists value.
While it is massively important to know how your customers feel and interact with your brand, it is equally important to have insight as to how those inside your company view the company, too.
Tim Hartman, GovExec's CEO said "Your brand only really exists in the hearts and minds of your employees and customers. People who are familiar with your brand, or have a relationship with your brand, really are what are driving the brand the most."
GDIT's Oliver Nutt noted that internal conversations with employees are a great tool for understanding the internal brand perception.
Accenture's Pamela Merritt had one of my favorite insights during this discussion. She said that to measure a dynamic market, you need a dynamic market measuring tool and strategy. Underpinned by constant change, the public sector market is one that needs to be frequently studied and measured, which is exactly what Google Cloud's Tricia Davis-Muffett and team are doing. "We're doing more rapid measurement on a regular basis." Studying and measuring one's brand is a critical first step in developing go-to-market strategies that resonate with the broader public sector, but it is the first of many.
Aligning to the Core Brand
Another critical topic in the B2G space the panel discussed is that of alignment to the core values. Identifying and maintaining a set of core brand values and ideals and intentionally adhering to them in every move within the market is a necessity—this is what brings the brand to life.
All of the public sector agencies have one thing in common: People run them; ordinary people who have their own perceived notion of your brand. When you continuously align the company to its core brand values, it will be easier to understand how the people may view you in the marketplace. If your core brand values are inconsistent, it becomes difficult for individuals to understand what you stand for.
One of the most ancient axioms, "You're only as good as your word," feels just right in this discussion. If your company is not being intentional with its core brand values in the moves you make across the marketplace, those paying attention will begin to have doubts about your brand. This is particularly true for the public sector market that faces a barrage of new trends and buzzwords daily. With an ever-increasing scope of new widgets and tech trends, being able to authentically harness the energy of a particular marketing moment in a way that translates positively for your brand, yet celebrates and rings true to your core branding, is no easy task.
Merritt said: "If you want to move the needle on something, you need the entire company to be all in." The closer you are able to align your company's core values with the brand, you don't only win from a brand performance perspective in the broader market, but you also win from an employee perspective. As Hartman noted, with a brand only existing in the hearts and minds of your employees and customers, who would be a better steward to go out to the market and share in the brand's alignment to its core values? This panel is steadfast that going to market without knowledge of, or alignment to, the core brand is a recipe for disaster.
Continuous Presence in the Market
Once your team has thoroughly studied your brand inside and out and has developed a strategy to move intentionally in the market that is aligned with your core brand values, a critical next step is to foster a continuous presence in the market overall.
When we say a continuing presence, we are not advocating for a response to each new trend or focus area, as there will be many. Rather, it's understanding that different sectors have varying needs. Davis Muffett noted how important story-telling in the SLG space is. She said the SLG market wants to see something that is repeatable—a prospect in Kings County wants to know how this piece of technology solved the exact same problem for Los Angeles County. This is an incredibly powerful way to resonate with that audience. Sure there may be some differing elements, but what worked for one large county may be repeatable at another.
Conversely, every Federal agency is different. Their technical sets, organization structure, buying capability is all different, making each sale custom. It's imperative to help them find their own vision rather than telling a story of how your brand helped a different agency through a similar solution.
Granted, these two small examples oversimplify the massive task vested with B2G marketers— each subsection in the public sector community has their own needs, their own challenges, their own opinion of your brand. That core brand has to be able to meet these unique needs in order to remain competitive.
Don't Chase the Shiny
Keeping an ear to the ground on what's going on in the market is a must for any marketing team in the B2G space, but that does not mean jumping on every new trend, tempting as that may be. The public sector space is rife with technologies, trends, and solutions that can be transformative for all levels of government. The ever popular trend of digital transformation lay dormant for much of the beginning of the 21st century, but springboarded off of the back of the Covid-19 pandemic, and is now the common lexicon for most large-scale modernization efforts.
But if your brand doesn't do digital transformation, it is disingenuous to use the term when it couldn't be further from what your brand does. Does familiarity with a certain trend make your company more viable, and more familiar to the customer?
Being intentional and transparent in the market is a powerful brand tool. Focusing on your brand promise and core values will pay dividends for you and your customer base. Not giving into the noise can ensure your brand's messaging isn't lost in today, or tomorrow's trend. Too often brands reach to be current with trends or offerings that are not aligned with their value proposition, and in those moments they run the risk of alienating their current customers and reducing favorability in the coming years. Listen to the markets, identify the relevant services you provide, understand how they coincide with the core values, how they fold into today's trends to solidify your offering.
When it comes to something new in the public sector, make sure your brand isn't chasing the shiny just to remain current because you may just lose what originally made you shine.
The Bottom Line…
The importance of brand measuring and tracking cannot be overstated. Our panel of experts agree that if you are unfamiliar with how your brand is perceived, you may be missing out on massive opportunities to sway perception, create positive outcomes, and most importantly, winning contracts.
GovExec's Insights & Research Group is your go to source for brand measuring and tracking. Whether Leading Brands, or a custom brand tracking tool, we are here to help guide all of your brand perception and tracking needs.
Questions? Find out more by contacting jsanders@govexec.com or research@govexec.com.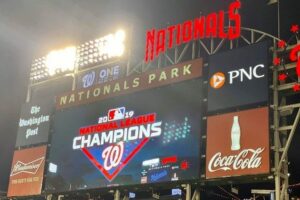 Congratulations to the Washington Nationals who recently won the National League Championship Series (NLCS) and are headed to the World Series! Both local and national audiences will be tuning in to see if the Nats can continue their streak and whether their good luck charm (the baby shark) can take them all the way!
During the post-season, not only are players like Scherzer, Turner or Rendon front and center on people's TV screens and in-person at games to thousands, but so is the venue they are playing in.
Which begs the question, should government contractors be sponsoring or advertising at these highly visible locations? Was this a missed opportunity for many contractors who want to broaden their brand awareness?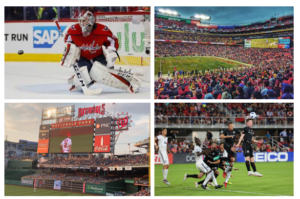 When sports teams are performing exceptionally, or are just exceptionally popular, venues such as FedEx Field for Redskins fans, Audi Field for DC United and Washington Spirit and finally Capital One Arena who hosts the 2018 Stanley Cup winning Washington Capitals, 2017 division winners Wizards, and recent 2019 WNBA Champions, Mystics, receive much higher visibility and can provide companies with strong brand exposure.
Companies such as SAP, Geico, Leidos, Boeing, PNC and others have taken advantage of brand exposure at some of these locations, but would this be a smart investment for other companies trying to get in front of federal audiences?
In 2014, Market Connections asked about federal employees viewing sporting events. Thirty percent stated they watched baseball on TV and 31% had attended a Nationals game in person. In 2015, attending Washington Nationals games in person exceeded any other live sports event, with over one-third (37%) of DC respondents stated they had gone to a game.
How did it fare among feds in the summer of 2019?
Among other questions gauging behaviors of federal employees, we asked feds working in the nation's capital about the venues they visit. This included a list of sports arenas, museums, theaters, music venues and other highly visited locations in and around the city. Marketers looking to increase their company's brand awareness in the DC metro area, a major hub of federal activity, can use these findings to help them gauge the value of advertising and sponsorship at these local venues.
Together with findings about their other media and marketing habits including where they go for print, TV, radio, digital and social media usage, federal marketers can take these findings to help them develop or refine their marketing strategy to this unique audience.
Join us on October 31 as we release the 2019 Federal Media & Marketing Study at our annual breakfast briefing at the Center for Education at Wolf Trap in Vienna, VA. Register here.
Can't make the breakfast? The overview report will be available for purchase for $199. (2018 data available now, 2019 data available mid-November). Learn more.
Need more details? Subscribe to the Federal Media & Marketing dashboard for the most comprehensive data about the habits of federal decision-makers both inside and outside the beltway, across multiple purchase categories, agencies and job roles. Learn more and subscribe.