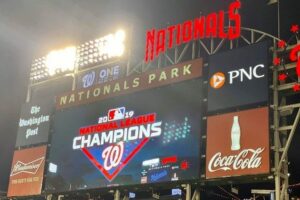 Congratulations to the Washington Nationals who recently won the National League Championship Series (NLCS) and are headed to the World Series! Both local and national audiences will be tuning in to see if the Nats can continue their streak and whether their good luck charm (the baby shark) can take them all the way!
During the post-season, not only are players like Scherzer, Turner or Rendon front and center on people's TV screens and in-person at games to thousands, but so is the venue they are playing in.
Which begs the question, should government contractors be sponsoring or advertising at these highly visible locations? Was this a missed opportunity for many contractors who want to broaden their brand awareness?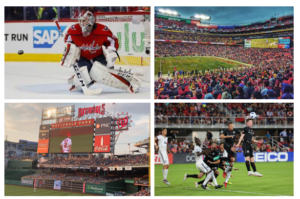 When sports teams are performing exceptionally, or are just exceptionally popular, venues such as FedEx Field for Redskins fans, Audi Field for DC United and Washington Spirit and finally Capital One Arena who hosts the 2018 Stanley Cup winning Washington Capitals, 2017 division winners Wizards, and recent 2019 WNBA Champions, Mystics, receive much higher visibility and can provide companies with strong brand exposure.
Companies such as SAP, Geico, Leidos, Boeing, PNC and others have taken advantage of brand exposure at some of these locations, but would this be a smart investment for other companies trying to get in front of federal audiences?
In 2014, Market Connections asked about federal employees viewing sporting events. Thirty percent stated they watched baseball on TV and 31% had attended a Nationals game in person. In 2015, attending Washington Nationals games in person exceeded any other live sports event, with over one-third (37%) of DC respondents stated they had gone to a game.
How did it fare among feds in the summer of 2019?
Among other questions gauging behaviors of federal employees, we asked feds working in the nation's capital about the venues they visit. This included a list of sports arenas, museums, theaters, music venues and other highly visited locations in and around the city. Marketers looking to increase their company's brand awareness in the DC metro area, a major hub of federal activity, can use these findings to help them gauge the value of advertising and sponsorship at these local venues.
Together with findings about their other media and marketing habits including where they go for print, TV, radio, digital and social media usage, federal marketers can take these findings to help them develop or refine their marketing strategy to this unique audience.
Join us on October 31 as we release the 2019 Federal Media & Marketing Study at our annual breakfast briefing at the Center for Education at Wolf Trap in Vienna, VA. Register here.
Can't make the breakfast? The overview report will be available for purchase for $199. (2018 data available now, 2019 data available mid-November). Learn more.
Need more details? Subscribe to the Federal Media & Marketing dashboard for the most comprehensive data about the habits of federal decision-makers both inside and outside the beltway, across multiple purchase categories, agencies and job roles. Learn more and subscribe.