Is Social Media a Viable Way to Reach Federal Workers?
While federal workers are not necessarily learning new dance moves on TikTok during the workday, they are seeing work-related ads on Facebook, connecting on LinkedIn and following current events on Twitter. Personal devices are present in the workplace and provide access to social media throughout the day. But as with any digital media, preferences can change, usage varies by age and the level of influence can differ by platform.
To understand federal decision-makers' media usage habits and trends, for over a decade, Market Connections conducts an annual Federal Media & Marketing Study (FMMS). In response to the uptick in the use of social media among the general public, within this study we also ask federal decision-makers about the top social media websites they are using.
Purchase the 2019 FMMS Overview Report
Do Feds Access Social Media at Work?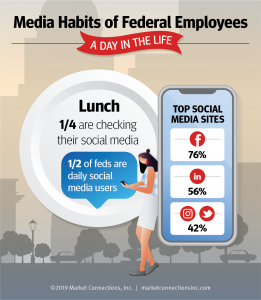 People often think that security measures may keep federal employees from checking social media at work, forcing employees to drop their phones at security or leave them in their cars. However, the study found three-quarters of employees can carry personal or work-provided mobile devices into their work environment, providing them a device on which they can possibly check social media. It also found one in ten check their accounts during the workday (in the office), and one in five check during their lunch break. Not surprising, peak usage happens in the evening when four in ten said they check their social media.
Download the 2019 FMMS Infographic: Media Habits of Federal Employees – A Day in the Life
What Social Media Sites Are Feds Visiting?
Facebook continues to top the list with three-quarters (76%) of respondents saying they visit the site. In addition, one-third of respondents (38%) noted being daily Facebook users. This is no surprise considering the majority demographic of survey respondents, half of which are 55 or over and one-quarter being 45-54 matches that of Facebook's fastest-growing audience. (According to AARP, a recent poll found that Facebook use had an 18 percentage point increase among those 50 to 64 years old and a 14 percentage point jump among people 65 and older.)
Second to Facebook, over half (56%) of the respondents listed visiting LinkedIn. However, interesting to note, while it was the second most-used social site, the frequency is much less, with only one in ten (11%) being daily users.
Instagram and Twitter have continued to experience some growth among federal workers, yet both tied for third with four out of ten federal employees sharing they use these sites.
Purchase a Subscription to the FMMS Dashboard for Detailed Results
Should We Consider Marketing to Feds on Social Media?
Social media is being used and is certainly a viable way to reach the federal audience, however, questions remain:
Who are they following on social media?
How are they using social media?
How would they react to work-related advertising on social media?
Are they concerned about privacy?
Are there other challenges and issues for those trying to market to feds via social media that should be considered?
The Federal Media & Marketing Study scratches the surface. To get a deeper understanding of social media usage among federal employees, in support of our federal marketing clients, we conducted a survey to answer these questions and more.
See results and insights from this study at our upcoming webinar: "How Are Federal Employees Using Social Media in the Workplace?" on December 12 from 2-3 PM ET.