2019 Content Marketing Review
Our last blog post "Increased Screen Time Equals More Time with Public Sector Decision-Makers" focused on taking advantage of increased screen time by providing your government customer with content that educates and informs. The next step is to place your content where your customer is already going.
Before placing content on other media channels, take stock of your own corporate site. Approximately 7 out of 10 public sector decision-makers believe that corporate websites are an effective online source for information. If your customer were to visit your corporate site, or preferably a federally focused microsite, is the content they are looking for available and easily accessible? Is your site easily navigable? How far would your customers have to dig to find information around resources they are looking for? Is your site and its contents search engine optimized?
What Online Channels Do They Go to for Content?
According to our recent Content Marketing Review, three-quarters of both federal and state and local decision-makers find government-focused online communities and government-related news websites (e.g., GovLoop, Governing, Government Executive or Federal News Network) effective for delivering content to educate and inform their work-related buying process.
We are also hearing from top government-focused publications that increased screen time has driven up the number of visitors to their sites and subscriptions to their e-newsletters. With this in mind, sponsored content or advertising across highly trafficked online sites should be part of your strategy, if budget allows. If it doesn't allow right now, work with your subject matter experts and other thought leaders in your organization to develop content attractive to these publications. Earned media can often be more effective than paid media.
To make data-based decisions on where to focus your media purchasing budgets, consider sources like the Federal Media & Marketing Study (FMMS) that allow you to strategically match your company's target audiences with the publications and sites they most frequent. Spending, matched with strategic market information, can maximize your impact.
Learn more about FMMS audience-based reports available for purchase
Now Is the Time to Educate Your Government Customer
In our last blog post, Webinars in Place of In-Person Events – A New Normal?, we shared insights about public sector webinar preferences to help marketers refocus their marketing dollars from live events and conferences to virtual events. However, webinars may only be the tip of the virtual iceberg.
With more public sector employees teleworking and with travel and in-person events on hold, marketers can expect a spike in online traffic. It's time to use this increased screen time to be a partner to your customer. Digital platforms allow for greater, self-directed education opportunities on ways to address new, or redirected, agency priorities and missions. Being a source of high-quality information has always been one of the best ways to build a strong, long-term relationship with your customer.
What Is Needed to Deepen Your Relationship with Your Customer
Over the years, our surveys have consistently noted that white papers, research reports and case studies are among the type of content most valued by federal and state and local decision-makers. The best designed of these assets, typically, have one thing in common: they educate the customer without feeling salesy.
It's not always easy to figure out what you should or should not include in these content pieces. Our Content Marketing Review revealed that public sector decision-makers want data and research to support the content, examples of past performance and product specifications. Fancy visual contents, insights from industry thought leaders and content tailored to their vertical were less critical to the success of good content.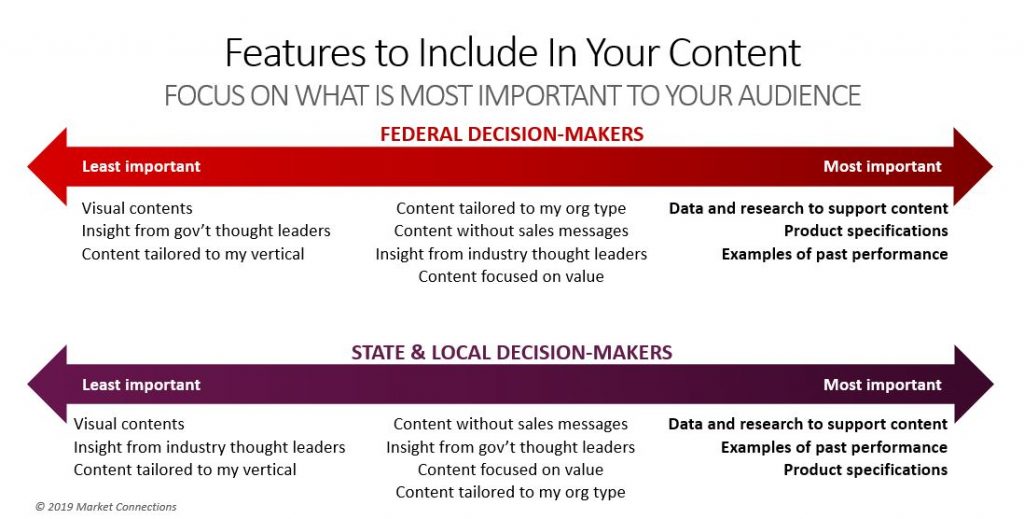 For detailed charts of top features across key marketing assets, download the presentation.
With the increased screen time your customers are experiencing, if you haven't already, now might be a great time to create or update your marketing content to educate your customer while they have less "out of office" distractions and more screen time.
Government technology influencers and buyers need content that will help them make informed decisions and often seek information from third-party experts such as professional associations and industry vendors to help educate them.
Market Connections' recent Content Marketing Review Study highlights the value of thought leadership content for government audiences in establishing your company as an expert and leader in the field. According to the study, public sector buyers of products, services and other emerging technologies prefer research reports, white papers and case studies to help them make informed decisions. To help them, this content should include detailed information such as data and research, examples of past performance and product specifications. If done right, one in five respondents indicated they incorporate vendor content into their RFI or RFP, the holy grail for companies competing for government contracts.
The savviest B2G marketing and sales teams commission primary research to help them better understand their target audience. Drilling down into the unique challenges and barriers buyers face, the goals they are trying to achieve, and how they define success helps shape messages, market strategy and RFP responses. The data and research gathered can also be a key component of marketing content, thereby educating their customer and becoming a perceived valued partner all at once.
When incorporated into a multi-faceted marketing campaign, B2G marketers can see a strong return on investment (ROI) from their research-based thought leadership content. From becoming known as the industry experts in one area (SolarWinds) to increasing sales (Iron Mountain), thought leadership has a real, measurable impact.
How can you create content that educates and resonates?
Best Practices for Developing and Leveraging Research-Based Thought Leadership Content:
Think about your unique services and solutions. Focus on the big picture, don't limit yourself to a single project, RFP or recompete.
Assemble an internal, cross-functional team (PR, sales, and subject matter experts) to create a research effort that meets your marketing, PR, lead generation and sales objectives.
Hone in on their needs and challenges (because those are what your offerings are going to address).
Think about dissemination. What is the best way to connect the valuable information to your target audience?
Don't limit your outreach to one platform. Leverage your content across marketing channels.
Want to learn more? Join our upcoming webinar, "Does Thought Leadership Still Matter to Government Audiences?" on Thursday, July 25 from 2-3 PM EDT. Register here.
When creating marketing content for a government buyer of products, services or emerging technologies, federal and state and local decision makers want to be educated and not sold to, according to the 2019 Content Marketing Review: Federal & Beyond. Content should help them make informed decisions and have minimal sales messages. Additionally, for state and local decision makers, consider including insight from government thought leaders to help support your message.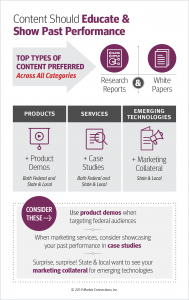 Regardless of what you are selling, whether they're simple products (including laptops, desktops, servers), standard IT services (cloud, cybersecurity) or complex emerging technologies (AI, automation, blockchain), respondents prefer research reports and white papers. Demonstrations are key to those buying products, while those making decisions about services want to hear the success stories through case studies. Finally, don't underestimate the importance of your marketing collateral, especially among state and local government decision makers. It is certainly a valued piece of content among this audience.
Education is best done through providing the detailed information and specifications needed by decision makers ranging from the highly technical process specialists to the more outcomes-based managers. Federal, state and local decision makers all wanted the content they consume to contain research and data to support the performance claims, examples of past performance by vendors, and the detailed specifications necessary to make the products or services work within their agencies.
A unique difference between state and local audiences versus federal audiences is their desire to see insights from thought leaders. State and local respondents cited wanting to see insight from government thought leaders, likely given the fact that they do not have the same type of infrastructure in place for information sharing that exists on the national level. In addition, many state and local technology buyers are part of very small staffs and departments and relish outside input. Federal decision makers, are more likely to want insights from industry thought leaders, perhaps looking for ideas and perspectives that are not deeply rooted in just a public sector world.
It is important to note and reinforce that at least one in five respondents mention they prefer content without sales messages. Federal respondents are more willing to accept sales messages within blogs, while state and local tolerated them more in videos and case studies.
Whether your focus is on the federal or the state and local market, as a marketer looking to reach and engage your target, you must create content that educates above all else. Across the board, make sure your content has the data and research needed to support your assertions, contains information about past performance (including customer testimonials and insight from your customer's peers) and specific details about your product or service that will help inform their decision or help them justify it to their stakeholders.
See full results from the 2019 Content Marketing Review: Federal & Beyond here.
Additional blogs on best public sector marketing practices based on this year's results: