2019 Content Marketing Review
Government technology influencers and buyers need content that will help them make informed decisions and often seek information from third-party experts such as professional associations and industry vendors to help educate them.
Market Connections' recent Content Marketing Review Study highlights the value of thought leadership content for government audiences in establishing your company as an expert and leader in the field. According to the study, public sector buyers of products, services and other emerging technologies prefer research reports, white papers and case studies to help them make informed decisions. To help them, this content should include detailed information such as data and research, examples of past performance and product specifications. If done right, one in five respondents indicated they incorporate vendor content into their RFI or RFP, the holy grail for companies competing for government contracts.
The savviest B2G marketing and sales teams commission primary research to help them better understand their target audience. Drilling down into the unique challenges and barriers buyers face, the goals they are trying to achieve, and how they define success helps shape messages, market strategy and RFP responses. The data and research gathered can also be a key component of marketing content, thereby educating their customer and becoming a perceived valued partner all at once.
When incorporated into a multi-faceted marketing campaign, B2G marketers can see a strong return on investment (ROI) from their research-based thought leadership content. From becoming known as the industry experts in one area (SolarWinds) to increasing sales (Iron Mountain), thought leadership has a real, measurable impact.
How can you create content that educates and resonates?
Best Practices for Developing and Leveraging Research-Based Thought Leadership Content:
Think about your unique services and solutions. Focus on the big picture, don't limit yourself to a single project, RFP or recompete.
Assemble an internal, cross-functional team (PR, sales, and subject matter experts) to create a research effort that meets your marketing, PR, lead generation and sales objectives.
Hone in on their needs and challenges (because those are what your offerings are going to address).
Think about dissemination. What is the best way to connect the valuable information to your target audience?
Don't limit your outreach to one platform. Leverage your content across marketing channels.
Want to learn more? Join our upcoming webinar, "Does Thought Leadership Still Matter to Government Audiences?" on Thursday, July 25 from 2-3 PM EDT. Register here.
When creating marketing content for a government buyer of products, services or emerging technologies, federal and state and local decision makers want to be educated and not sold to, according to the 2019 Content Marketing Review: Federal & Beyond. Content should help them make informed decisions and have minimal sales messages. Additionally, for state and local decision makers, consider including insight from government thought leaders to help support your message.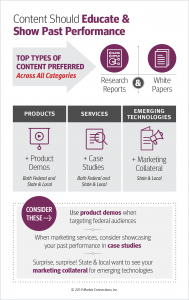 Regardless of what you are selling, whether they're simple products (including laptops, desktops, servers), standard IT services (cloud, cybersecurity) or complex emerging technologies (AI, automation, blockchain), respondents prefer research reports and white papers. Demonstrations are key to those buying products, while those making decisions about services want to hear the success stories through case studies. Finally, don't underestimate the importance of your marketing collateral, especially among state and local government decision makers. It is certainly a valued piece of content among this audience.
Education is best done through providing the detailed information and specifications needed by decision makers ranging from the highly technical process specialists to the more outcomes-based managers. Federal, state and local decision makers all wanted the content they consume to contain research and data to support the performance claims, examples of past performance by vendors, and the detailed specifications necessary to make the products or services work within their agencies.
A unique difference between state and local audiences versus federal audiences is their desire to see insights from thought leaders. State and local respondents cited wanting to see insight from government thought leaders, likely given the fact that they do not have the same type of infrastructure in place for information sharing that exists on the national level. In addition, many state and local technology buyers are part of very small staffs and departments and relish outside input. Federal decision makers, are more likely to want insights from industry thought leaders, perhaps looking for ideas and perspectives that are not deeply rooted in just a public sector world.
It is important to note and reinforce that at least one in five respondents mention they prefer content without sales messages. Federal respondents are more willing to accept sales messages within blogs, while state and local tolerated them more in videos and case studies.
Whether your focus is on the federal or the state and local market, as a marketer looking to reach and engage your target, you must create content that educates above all else. Across the board, make sure your content has the data and research needed to support your assertions, contains information about past performance (including customer testimonials and insight from your customer's peers) and specific details about your product or service that will help inform their decision or help them justify it to their stakeholders.
See full results from the 2019 Content Marketing Review: Federal & Beyond here.
Additional blogs on best public sector marketing practices based on this year's results: