Over the past year, Market Connections' signature studies, including the Federal Media & Marketing Study and the Content Marketing Review, have pointed to a rise in the role of professional associations with federal decision makers. These studies, along with additional surveys we have conducted in the federal market, have concluded that public sector marketers should strongly consider working with professional associations to reach federal, state and local decision makers. To further test our hypothesis, we created a PulsePoll™ specifically asking about the role of associations, with the hope that this data can not only support government contractors' membership and engagement strategies, but also identify opportunities B2G marketers should consider through professional association channels.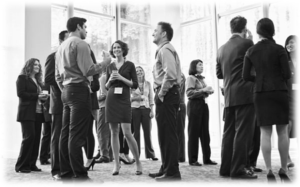 We saw the first hint of this trend in the 2018 Federal Media & Marketing Study's Most Trusted Sources of Information. Two of the top three sources listed among federal respondents for trustworthiness came from professional associations. With nearly half of respondents, professional association websites (46%) came in second place followed by white papers and case studies created by professional associations at number three (36%). Webinars hosted by professional associations also ranked among the top ten, with nearly one-third of respondents listing it as a top trusted source (31%).
We continued to see the importance of professional associations in the 2019 Content Marketing Review: Federal & Beyond. Over half (55%) of federal respondents said they frequently click on and/or download content from familiar professional associations. This is a sharp contrast to the less than one in ten (9%) respondents clicking on or downloading content of unfamiliar vendors.
Recent results from our 2019 Federal Events PulsePoll™ and webinar continued to illustrate our hypothesis of the important role of professional associations in federal marketing. Professional associations ranked second in how individuals learn about events (57%). In addition, among all events listed, those hosted by professional associations AFCEA and AUSA ranked in the top five among all respondents, and even higher among defense agencies.
Looking at these findings alone, one can't deny the value of working with professional associations to help reach federal audiences, especially for vendors who may not have an existing relationship with target clients.
However, some questions remained unanswered. For example, which professional associations are federal decision makers joining? Should contractors focus their membership and marketing efforts with federal- or IT-focused associations? Are there marked differences in membership by agency type or job role? What factors are important to feds when choosing to join an association? What are some barriers keeping them from joining? Most importantly, how are they engaging with associations that contractors can benefit from?
To help answer these questions, we surveyed federal decision makers about membership and engagement with professional associations. To hear results of our latest PulsePoll™, join our upcoming complimentary webinar: Marketing Through Professional Associations: Reaching Your Government Clients on Thursday, June 27 from 2-2:30 PM EDT.
When creating marketing content for a government buyer of products, services or emerging technologies, federal and state and local decision makers want to be educated and not sold to, according to the 2019 Content Marketing Review: Federal & Beyond. Content should help them make informed decisions and have minimal sales messages. Additionally, for state and local decision makers, consider including insight from government thought leaders to help support your message.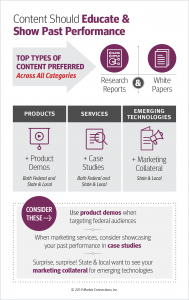 Regardless of what you are selling, whether they're simple products (including laptops, desktops, servers), standard IT services (cloud, cybersecurity) or complex emerging technologies (AI, automation, blockchain), respondents prefer research reports and white papers. Demonstrations are key to those buying products, while those making decisions about services want to hear the success stories through case studies. Finally, don't underestimate the importance of your marketing collateral, especially among state and local government decision makers. It is certainly a valued piece of content among this audience.
Education is best done through providing the detailed information and specifications needed by decision makers ranging from the highly technical process specialists to the more outcomes-based managers. Federal, state and local decision makers all wanted the content they consume to contain research and data to support the performance claims, examples of past performance by vendors, and the detailed specifications necessary to make the products or services work within their agencies.
A unique difference between state and local audiences versus federal audiences is their desire to see insights from thought leaders. State and local respondents cited wanting to see insight from government thought leaders, likely given the fact that they do not have the same type of infrastructure in place for information sharing that exists on the national level. In addition, many state and local technology buyers are part of very small staffs and departments and relish outside input. Federal decision makers, are more likely to want insights from industry thought leaders, perhaps looking for ideas and perspectives that are not deeply rooted in just a public sector world.
It is important to note and reinforce that at least one in five respondents mention they prefer content without sales messages. Federal respondents are more willing to accept sales messages within blogs, while state and local tolerated them more in videos and case studies.
Whether your focus is on the federal or the state and local market, as a marketer looking to reach and engage your target, you must create content that educates above all else. Across the board, make sure your content has the data and research needed to support your assertions, contains information about past performance (including customer testimonials and insight from your customer's peers) and specific details about your product or service that will help inform their decision or help them justify it to their stakeholders.
See full results from the 2019 Content Marketing Review: Federal & Beyond here.
Additional blogs on best public sector marketing practices based on this year's results:
"Content marketing is the only marketing left." – Seth Godin
In 2008, Seth Godin made this bold statement, and in the decade that followed, in both the corporate world and public sector market, we have watched this statement unfold with an explosion of white papers, infographics, podcasts, sponsored articles, and videos. However, with so much content in the market, it's hard to break through the noise. What marketers need now, more than ever, is content refinement and an understanding of WHAT the target audience wants, WHERE they are searching for it and HOW much time they want to spend with it.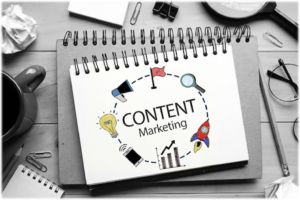 Looking ahead to the release of the findings from Market Connections' 2019 Content Marketing Review survey of the public sector marketplace in May, we decided to look at what other researchers focused on commercial B2B and B2C markets are reporting.
According to Content Marketing Institute in 2019, nearly two-thirds of marketers reported increased use of video and/or written digital content compared to the previous year. More than a third (37%) said they increased their use of podcasts and audio books.
With these three areas on the upswing, it's important to understand how and when to deliver content. According to Harvard Business Review, content marketers should take three things into consideration:
The amount of time you are asking your audience to invest. According to HBR, buyers' average viewing time is just under three minutes and within that time can make quick judgments including whether to move to the next step.
When to optimize content for mobile and when not to. Mobile content is leveraged most at the top of the sales funnel. But just as the type of content should evolve throughout the sales process, so should your content format. When a lead becomes a strong opportunity, the use of desktop to view content becomes more prevalent.
Traditional times to send content may no longer apply. Seasoned marketers have often delegated sending content on Tuesday morning through Thursday afternoon. However, according to HBR, visits have become more evenly distributed across all week days. In addition, they found that "[Even] if initially engaged [during the week], a prospect reading a piece on Wednesday often returns for a longer visit on the weekend."
All of these suggestions provide great food for thought for those working in the public sector market, and lead to the ultimate question: do these strategies work for the B2G market?
To answer this question, we invite you to join us for a breakfast briefing: Content Marketing Review: Federal & Beyond on May 9. We'll share how public sector decision-makers at the federal, state and local levels are responding to content: what types of content they prefer, how much time they want to spend with it, what they want to get out of it, and where they go to get it. After the results briefing, a panel of expert marketers will share best practices from their own experiences.
Market Connections tries to stay abreast of news and topics that can help our clients and make us better partners. We recently came across the 2018 results of The CMO Survey®, sponsored by the American Marketing Association, Deloitte and Duke University's Fuqua School of Business. This biennial study gathers opinions from top marketers at US B2B and B2C for-profit companies with the goal of predicting the future of markets, tracking marketing excellence and improving the value of marketing.
Among a myriad of interesting findings, one in particular caught our attention: digital marketing expenditures are expected to increase by more than 12% over the next year, increasing the proportion of marketing budgets allocated to digital by almost 25% in the next five years.
As always, we like to see how overall marketing trends align with those in the B2G community. Many times, overall marketing or corporate trends can be leading indicators of where the government marketplace is going. However, this time government contractors aren't following the lead of corporate America, but rather, they are in lock-step with their commercial counterparts.
Recent findings focused on the federal market from our 2018 Government Contractor Study (in partnership with Professional Services Council and Merritt Group) showed that among 200 government contractors, over half (52 percent) said digital marketing was part of their overall marketing budget and 53 percent said that they increased their digital marketing spend in 2018.
What does this show? Overall, marketers (whether B2B, B2C or B2G) are seeing the value of digital marketing. Yet, with what will likely be a glut of companies focusing on advertising in the digital space, where should you focus your marketing dollars? Where can you go for more information to make smart, strategic decisions to maximize ROI?
For those focused on the federal market, Market Connections' Federal Media & Marketing Study can help focus their efforts. In our 10th year, this study of the federal media marketplace provides a comprehensive review of the media and buying habits of federal decision-makers across the country. It details more than 20 different job functions and maps them to individual media usage spanning print, broadcast, social, mobile and digital.
Whether you are focusing your efforts with overall civilian agencies or specifically trying to reach IT decision-makers for Department of Defense, the tool can help you make better decisions on where to place advertising based on their habits.
Which publications are they reading most?
What social media are they using more often?
For those "Inside the Beltway," which radio stations are they listening to or tv programs are they watching?
Market Connections will be unveiling results from the 2018 study on November 8, 2018 at the Valo Park Conference Center in McLean, Virginia. To register, visit www.marketconnectionsinc.com/fmms2018event/.
The CMO Survey® collects and disseminates the opinions of top marketers to predict the future of markets, track market excellence, and improve the value of marketing to companies and to society since 2008.