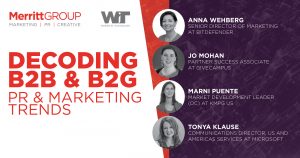 Earlier this summer Market Connections attended Women in Technology's (WIT) "Decoding B2B & B2G PR & Marketing Trends" in partnership with Merritt Group. This informative discussion brought together a panel of leading marketing and PR professionals from small to large companies including Bitdefender, Hybrent, KPMG US and Microsoft to discuss challenges they face and successes they've had in marketing to other businesses and the public sector.
In part two (read part one) of this blog post series we'll focus on a second challenge discussed by panelists: broken internal systems and processes.
How Can We Better Work Together: Broken Internal Systems & Processes
Market Connections often works with B2G clients to support their business strategies from brand awareness through business development. The internal structure of these companies often varies, affecting the business growth efficiency and success of the organization. This was echoed by the panelists. Whether it's interdepartmental communication, collaboration or even the simple inefficiencies in using marketing automation systems, the panelists shared their perspective on the good and bad of how their teams work together.
Sales & Marketing: A Contentious Relationship? Or Working Together?
How many times have we heard the following:
"The marketing leads don't give us what we need" or "the sales rep just cares about his or her individual sales"
While each group may have different short-term goals, both need to work together to achieve long-term success.
According to Marni Puente, Market Development Leader from KPMG every member of her team must focus on the organizational client interaction plan, understand where the strategic relationships are, and together support negotiations, decision-making and networking. In her perspective, "If you're responsible for marketing you're responsible for business growth too." She continues to say, "Whether it's…doing business development [yourself], or …. working closely with the business development team, (business growth) is something every marketer thinks about."
Are companies structured for this integration?
Market Connections conducted a study of government contractors in 2018 that revealed that over half (51 percent) of respondents stated their business development (BD/Sales) and marketing departments reported to different supervisors, nearly four in ten reporting to a single supervisor and the remaining listing either BD reporting to Marketing or vice-versa. While more than half may be reporting to different supervisors, this does not mean there isn't room for integration; meeting regularly can ensure communication and alignment of business goals.
According to our study, many successful companies, nearly two-thirds of respondents, said their sales and marketing teams meet at least once a month, and a quarter of which said they meet weekly. However, interestingly, nearly one in five said they meet maybe once a year, if at all. Anna Wehberg, Senior Director of Marketing at Bitdefender validated our results. "If sales and marketing are not aligned, business doesn't seem to flow right." According to Wehberg, her sales VP and her speak, text, or Skype every day.
According to the speakers, those departments that work together see better success. A strong relationship between these two departments is key. As one panelist put it, "When relationships are strained things are going to be bad… When things are good, they're really good."
The overall feeling is that there is a general trend moving towards the integration of sales and marketing, with a strong focus on relationship building between the two groups.
Marketing Supporting Business Development
How are marketers supporting their BD counterparts? At Microsoft, Tonya Klause, Communications Manager US and Americas Services, talked about reducing redundancies while maximizing the "story" of Microsoft. Marketing plays a key role in training their sales team to use tools such as LinkedIn, Navigator and Elevate. Skills and techniques to effectively reach customers include content sharing on Navigator and LinkedIn, helping executives develop their profile, unique voice, and blogging skills.
Marketing can also help support the BD/Sales teams through webinar trainings and follow-up. Wehberg explained that in addition to hosting training sessions, she records those sessions and saves them online for later access. She takes notes and pulls highlights from webinars and shares them along with links to the original webinar to team members via email as a follow-up. She even texts the sales teams to ensure they have the information. She tries to find different ways to give sales reps information in different formats and repeats the message several times, understanding that people may respond and learn differently.
In general, we are moving towards integration. In order to have success in the market, it is essential for marketing and sales to collaborate, communicate and have integrated strategies. Regardless of how departments are currently structured, these teams must work together toward their common business growth goals. Best practices include: keeping lines of communication open between executives, regular weekly or monthly team meetings for strategy and planning and providing training opportunities to ensure a unified external brand as well as a sharing of best marketing and sales practices.
Thanks again to WIT and Merritt Group for putting together a great event with insightful conversation around challenges and trends and many thanks to each panelist for thoughtful input that will be supportive to B2B and B2G marketers.
Read part one of our blog series providing an overview of the event and insights into top challenge: keeping content relevant.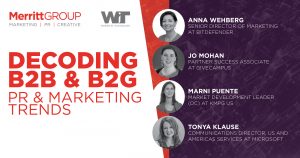 Earlier this summer Market Connections attended Women in Technology's (WIT) "Decoding B2B & B2G PR & Marketing Trends" in partnership with Merritt Group. This informative discussion brought together a panel of leading marketing and PR professionals from small to large companies including Bitdefender, Hybrent, KPMG US and Microsoft to discuss challenges they face and successes they've had in marketing to other businesses and the public sector.
According to the panelists, some of the biggest challenges include: keeping content relevant, internal broken systems (processes), speed of the industry and General Data Protection Regulation (GDPR) and email marketing.
With so many great panelist insights around key challenges they face, we decided to report on highlights and recommendations across two separate blog posts. In this first of these two, we'll focus on the first of the challenges identified: keeping content relevant.
Content Generation
Understanding the importance of content marketing in reaching federal audiences, Market Connections seeks to understand best marketing practices so we can share and educate our clients serving the public sector. This includes conducting regular surveys and hearing from marketing experts. We were eager to hear from panelists at WIT Connect on best practices for keeping content relevant. From personalization, to purpose, to length and finally distribution, they provided some keen insights.
When it came to actual content creation, Anna Wehberg, Bitdefender's Senior Director of Marketing, advised that content should be personalized, using the target audience's language while avoiding the use of jargon and acronyms. (Read more about Market Connections' similar findings of the most "annoying jargon" among federal decision-makers.) Marni Puente, Market Development Leader from KPMG agreed. Content should keep an end-user in mind. She went on to say, "Content should offer something of value, it's not just about the sales, but think about what is in it for them."
What does the public sector value in content? Looking at key features from our recent study in this market, content should always have the three following features: product specifications, examples of past performance and data and research to support content. Puente's comments echoed these results, "I'm a big fan of content having primary research… Being able to offer data nuggets…is a great way to reel people in and go into meetings with a CIO and say 'hey did you know, our survey shows this…"
In addition to personalization, Wehberg discussed the importance of having content for unique phases of the buying journey, including:
Awareness and education
Consideration (recognize I have a problem, now who are my players that can solve that problem)
Preference (making a purchase and taking next steps)
For each of these phases, she noted that content should be trackable and have a purpose. If it wasn't generating business on the other end, it should be reconsidered. Market Connections also found the importance of having unique content dependent on the stage of the buying process. Content across all three phases should be informative and educational. As you move further down the funnel, certain marketing assets like case studies and product demos become more and more important. (Learn more in our 2017 Federal Content Marketing Study.)
Puente also highlighted the shift over the past 5 years from the long narrative to more snackable/digestible content as a teaser to help reel them in. Tonya Klause, Communications Manager US and Americas Services at Microsoft agreed. "While there is a place for longer-form storytelling content… it has fallen out of favor." Technology is playing a role in how long content is holding our attention, or as Klause put it, "We are all trained to focus on something for a couple seconds before moving on."
Marketers should also consider their audience's demographics. What captures the attention of the incoming, younger workforce, and for how long? According to our recent study, younger audiences are willing to spend more time with content they can sit back and listen to or watch such as webinars, videos and podcasts.
(Learn more about how long federal audiences are willing to spend with content.)
Klause continued to say that for Microsoft, it's important to incorporate customer references in their storytelling; however, getting government references is one of their biggest challenges. According to our 2018 Federal Media & Marketing Study, over half of respondents listed recommendations from peers and colleagues as a most trusted source of information and over one-quarter cited customer testimonials. While it may be challenging to secure a government reference, there can be some workarounds. For example, anonymizing the referrer by using a case study (listing only the agency or agency type) could be one way of showcasing past experience. Citing a local or state agency (who may have less restrictions) or an industry reference could be another. According to our recent study, federal decision-makers looked to insights from industry thought-leaders even more so than their government counterparts.
Thanks to WIT and Merritt Group for putting together a great event with insightful conversation around challenges and trends and many thanks to each panelist for thoughtful input that will be supportive to B2B and B2G marketers.
Keep an eye out for a future blog post focused on the second key challenge identified: internal broken systems and processes, coming later this month.
Have you ever changed your mind? Not necessarily about something trivial like what you want for dinner, but truly changed your mind about a long-standing opinion of a person, company or issue due to a new experience, discussion or interaction? If you have, you are one of the few. However; as marketers, we ask our target audience to change deep-seated opinions with our marketing and PR efforts.
Why is it so hard to change an entrenched opinion or perception? It isn't so much about influencing that one person, but more about how much you can influence everyone around them.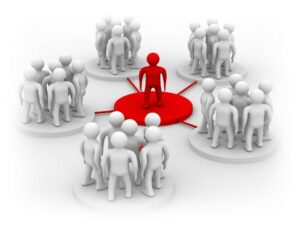 The Difficulty of Breaking Convention
A well-known saying can help us illustrate this thought process. "You don't get fired by hiring IBM." Substitute "IBM" with any long-standing, high profile vendor in the marketplace. Because the vendor is well-known and established, it benefits from the collective power of the group and the psychological barriers that prevent individuals from stepping out on their own if they disagree. Think about how bold and confident a person needs to be to speak up and present a counter view to an entire group! Even if the argument is well-reasoned and fact-supported, it can be an uphill battle based on the historical assumptions the group maintains (whether justified or not!).
It's easier to go the conventional path; the risk is spread among everyone in the group.
This sometimes happens when we sit across the table from clients or prospects. The first thing they tell us is they want to influence a specific person in an agency. They assume this ONE PERSON is the key to change, away from the conventional wisdom. They ask us to only interview a specific level of person (often c-suite) and get their opinion. They often forget the environment in which this individual works. Even the most empowered executive faces great organizational inertia to stick with the status quo, or the most well-known solution.
A Better Approach
Wouldn't it be easier for the executive if opinions were more varied across the organization? Wouldn't it be better if you knew that when an executive asked for the group's feedback on a vendor or proposal, there was greater familiarity and awareness of new vendors across all staff, from procurement to technical staff to the program team lead? To change the opinion of your customer, you can't focus on only the final decision-maker; you need to explore the differences in opinion among all influencers within an organization. We regularly discuss this approach with our clients to help them move the needle.
The influence of the collective is further seen historically across Market Connections' research. The Federal Media &Marketing Study revealed when making a decision, over half (51%) of federal respondents cite peers and colleagues as the most trusted source of information. What this tells us is public sector decision-makers are just like us. Their decision-making is not just influenced by their own thinking, but the thinking of those they surround themselves with every day.
As you plan your next efforts to understand and influence a specific agency or decision-maker, make sure you understand the thoughts and opinions of the whole ecosystem, and market accordingly.
Learn more about key services Market Connections offers to help you understand how you are perceived in the marketplace and throughout your customer base with brand awareness, customer satisfaction & contract evaluation, new pursuit and capture, and brand, product or message testing.
Over the past year, Market Connections' signature studies, including the Federal Media & Marketing Study and the Content Marketing Review, have pointed to a rise in the role of professional associations with federal decision makers. These studies, along with additional surveys we have conducted in the federal market, have concluded that public sector marketers should strongly consider working with professional associations to reach federal, state and local decision makers. To further test our hypothesis, we created a PulsePoll™ specifically asking about the role of associations, with the hope that this data can not only support government contractors' membership and engagement strategies, but also identify opportunities B2G marketers should consider through professional association channels.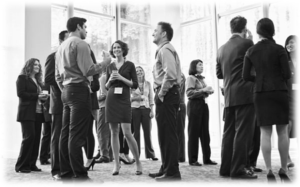 We saw the first hint of this trend in the 2018 Federal Media & Marketing Study's Most Trusted Sources of Information. Two of the top three sources listed among federal respondents for trustworthiness came from professional associations. With nearly half of respondents, professional association websites (46%) came in second place followed by white papers and case studies created by professional associations at number three (36%). Webinars hosted by professional associations also ranked among the top ten, with nearly one-third of respondents listing it as a top trusted source (31%).
We continued to see the importance of professional associations in the 2019 Content Marketing Review: Federal & Beyond. Over half (55%) of federal respondents said they frequently click on and/or download content from familiar professional associations. This is a sharp contrast to the less than one in ten (9%) respondents clicking on or downloading content of unfamiliar vendors.
Recent results from our 2019 Federal Events PulsePoll™ and webinar continued to illustrate our hypothesis of the important role of professional associations in federal marketing. Professional associations ranked second in how individuals learn about events (57%). In addition, among all events listed, those hosted by professional associations AFCEA and AUSA ranked in the top five among all respondents, and even higher among defense agencies.
Looking at these findings alone, one can't deny the value of working with professional associations to help reach federal audiences, especially for vendors who may not have an existing relationship with target clients.
However, some questions remained unanswered. For example, which professional associations are federal decision makers joining? Should contractors focus their membership and marketing efforts with federal- or IT-focused associations? Are there marked differences in membership by agency type or job role? What factors are important to feds when choosing to join an association? What are some barriers keeping them from joining? Most importantly, how are they engaging with associations that contractors can benefit from?
To help answer these questions, we surveyed federal decision makers about membership and engagement with professional associations. To hear results of our latest PulsePoll™, join our upcoming complimentary webinar: Marketing Through Professional Associations: Reaching Your Government Clients on Thursday, June 27 from 2-2:30 PM EDT.
When creating marketing content for a government buyer of products, services or emerging technologies, federal and state and local decision makers want to be educated and not sold to, according to the 2019 Content Marketing Review: Federal & Beyond. Content should help them make informed decisions and have minimal sales messages. Additionally, for state and local decision makers, consider including insight from government thought leaders to help support your message.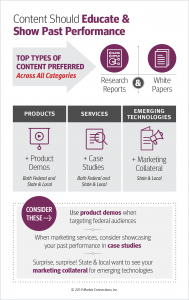 Regardless of what you are selling, whether they're simple products (including laptops, desktops, servers), standard IT services (cloud, cybersecurity) or complex emerging technologies (AI, automation, blockchain), respondents prefer research reports and white papers. Demonstrations are key to those buying products, while those making decisions about services want to hear the success stories through case studies. Finally, don't underestimate the importance of your marketing collateral, especially among state and local government decision makers. It is certainly a valued piece of content among this audience.
Education is best done through providing the detailed information and specifications needed by decision makers ranging from the highly technical process specialists to the more outcomes-based managers. Federal, state and local decision makers all wanted the content they consume to contain research and data to support the performance claims, examples of past performance by vendors, and the detailed specifications necessary to make the products or services work within their agencies.
A unique difference between state and local audiences versus federal audiences is their desire to see insights from thought leaders. State and local respondents cited wanting to see insight from government thought leaders, likely given the fact that they do not have the same type of infrastructure in place for information sharing that exists on the national level. In addition, many state and local technology buyers are part of very small staffs and departments and relish outside input. Federal decision makers, are more likely to want insights from industry thought leaders, perhaps looking for ideas and perspectives that are not deeply rooted in just a public sector world.
It is important to note and reinforce that at least one in five respondents mention they prefer content without sales messages. Federal respondents are more willing to accept sales messages within blogs, while state and local tolerated them more in videos and case studies.
Whether your focus is on the federal or the state and local market, as a marketer looking to reach and engage your target, you must create content that educates above all else. Across the board, make sure your content has the data and research needed to support your assertions, contains information about past performance (including customer testimonials and insight from your customer's peers) and specific details about your product or service that will help inform their decision or help them justify it to their stakeholders.
See full results from the 2019 Content Marketing Review: Federal & Beyond here.
Additional blogs on best public sector marketing practices based on this year's results: