Market Connections released the Federal IT (FIT) Buyer Journey at Government Marketing University's GAIN 2022 event last week. The main takeaway for federal marketers, sales and solutions teams looking to influence their customers throughout the journey is to inform, inform, inform.
While different stakeholders come in and out throughout the entire journey from beginning (or needs identification stage) through end (vendor selection), the need remains the same. From the CIO through the end-user, all major stakeholders in the federal buyer journey need information to help educate them about your products and solutions in order to build trust.
The question is, what information are they looking for, where are they looking for it, and when do they need it. Each stakeholder has a different level of understanding of the technology, the challenges, agency needs, and the benefits your products or services provide. They also have different priorities of what is important for vendor selection.
For example, a senior executive like a CIO who may come in and out of the process at different stages is likely looking for bigger picture information about how your product/service is relevant to the agency. Meanwhile a procurement manager who plays a key role throughout the journey may be more focused on the cost, value, and return on investment. An IT manager who also plays a key role throughout the process may be more focused on how your product or service can help them overcome hurdles, create efficiencies, or serve technological needs.
Understanding who to engage and what information to provide through each of the step of the federal buyer journey is key in earning their trust.
Understand what they want
The FIT Buyer Journey provides insights into the type of information buyers want and where they go for this information. But it isn't the complete picture.
The FIT Buyer Journey is a companion study to the FIT Persona Study we conducted in 2020. In that research, we dove deep into who government buyers are, regardless of their role. We looked at what motivates them and keeps them awake at night. That information combined with what we know about the buyer's journey will help you map out a strategy to give them the information they want.
The FIT Buyer Journey presentation from the GAIN conference is available for download. The FIT Persona study is available for purchase. You can find both when you click this link.
By Susan Rose, Senior Director, Insights & Content
I've been creating research-based thought leadership for the public sector for almost 20 years. Yet until fairly recently, it was unusual to connect each asset to the buyer's journey. Or rather, unusual to actively talk about the buyer's journey.
Over the years, nearly 100% of the assets I've created have been targeted to users who are just becoming aware of a problem. That makes sense because that is a sweet spot in the buyer's journey where businesses can have an impact on creating solutions.
Isn't that enough? The short answer is no.
I've seen my clients miss opportunities to engage with other influencers by focusing all their attention on one audience (users) in one stage of the journey (need).
While we can create valuable and interesting content focused on educating an audience about a specific topic, audiences have different needs depending on who they are and where they are in the journey when they interact with the content.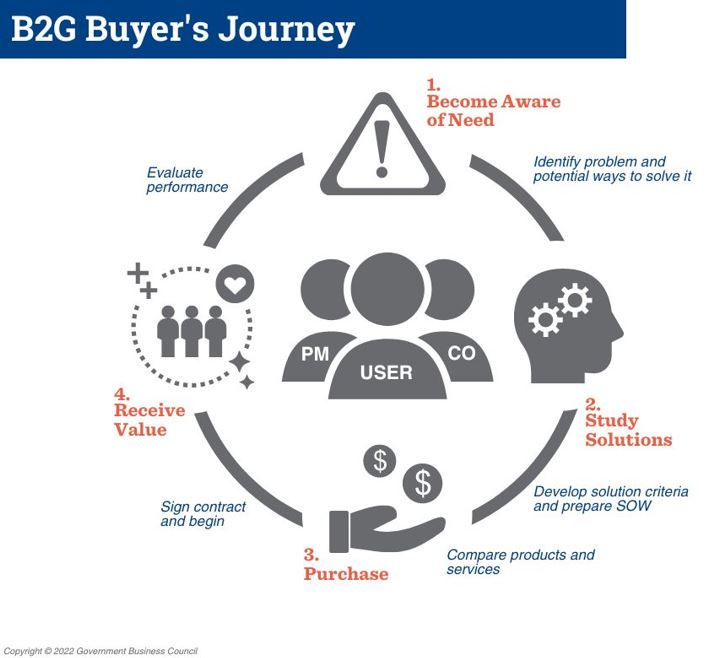 An end user who needs a piece of technology to work in order to support the mission has different interests than a contracting officer who is putting together an RFP. They do not need the same information.
The graphic shows a very simplified public sector buyer's journey and where you have the opportunity to impact the buying decision. There are three general types of buyers in the public sector: the person who will use the product/service, the program manager, and the contracting officer. Each of these buyers is critical to the process, and each has different questions about what they're buying.
What are those questions? Rather than guess, Market Connections decided to conduct a survey of federal buyers. We're going to the source to find out how they navigate the buyer's journey. We'll be sharing the results at Government Marketing University's GAIN conference on June 8th (click here for more information).
Until then, simply thinking about what stage of the buyer's journey the target audience is in at the moment they will interact with the asset will help you create content that has more impact… and leads to more sales.
B2G marketers often reach out to us for data and insights on how to strengthen their business proposition, get in front of their customers and help their sales team with lead generation. As a market research company, we conduct interviews, focus groups and surveys to help our government contracting customers refine their strategies for a stronger return on investment.
Who Are You Targeting?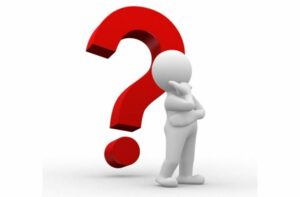 The first request we usually get is "I only want to hear from the C-suite," with the assumption that these individuals are THE key drivers of any procurement.
Our follow up question is, who sits around the boardroom table influencing those (C-suite) decisions? Who is writing the recommendation memo? Chief officers do not make decisions in a vacuum, but instead surround themselves with their staff to help understand the challenges of their work, gather feedback on their perceptions and experiences with vendors and provide recommendations and/shortlist prospective contractors. The Federal IT Personas Study focuses on those folks around the table with top execs who influence and advise throughout the procurement process.
Have you identified those trusted advisors and influencers and targeted them as well? Do you understand their motivations and preferences? A procurement officer's issues will differ vastly than a technical expert's or a program manager's. Understanding what is important in their decision-making, what motivates them at work, how they prefer to get information, etc., can help you develop the right strategy that educates, influences and creates trust with your targets.
What Information Are You Providing?
Once you have identified WHO you want to talk to, the next step is WHAT you want to provide them with. What works with corporate or B2C audiences does not necessarily translate in the public sector market.
First, your content needs to educate your audience. The Content Marketing Review revealed that across the public sector landscape, IT influencers and decision makers are hungry for content containing data and research, as well as examples of past experiences and case studies.  Whether federal, state and local, or education, research reports, white papers, case studies and product demos top the list of types of content. Regardless of whether they are starting to develop their requirements or finalizing their selection of vendor, understanding what your audience is looking for can help you become a trusted vendor.
Narrowing down the WHAT helps focus your resources and budget dollars. What content gives you the most bang for your buck? Where will you get the biggest ROI? Having those insights, your content creation strategy becomes easier to assemble and you can focus on the next question.
Where Is Your Audience Going for Information?
The final piece of the puzzle for public sector marketers once they've created great content is WHERE to place it. We remind our clients that creating great content is not a one and done scenario. One needs to share that content with their audiences where they already are, including speaking opportunities at events, webinars, in earned and sponsored media, social media, or other platforms.
Going where your customer already is, prompts the questions, "Where are they going for information, what sources do they trust, and how can you get and stay in front of them?"
Instead of throwing spaghetti on the wall and hoping it will stick, this information is already out there for you. The Federal Media & Marketing Study looks at the media consumption and marketing tactics preferred among federal audiences. It takes into consideration all types of media including print, online, television, radio, and other channels such as social media, podcasts, events and webinars. Based on a survey to thousands of federal respondents, the database provides findings that can be drilled down to detailed agency types, agencies, product categories, role at the agency, location or other demographics.
Final Thought
With answers to the questions "WHO, WHAT and WHERE," B2G marketers can create a strategy for understanding their target audiences and provide them the information they are looking for in the places they are looking for it.  Syndicated studies from Market Connections or further investments in custom research can provide those answers and insights for agency or target-based marketing, a small investment that can increase the ROI of everyone's marketing efforts.
Want to learn more about research in the public sector? Contact us.
For more information about the following studies: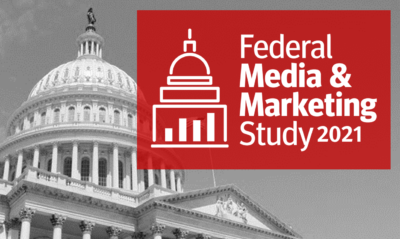 13th Annual Study: On-Demand Video and Presentation Followed by Small Group Discussions
UPDATE! The 2021 FMMS will now be On-demand
Release date: October 21, 2021
Due to concerns with COVID-19 variants, forthcoming mandates, and to protect the health and safety of our participants, we have made the executive decision to transition the 2021 Federal Media & Marketing Study release to on-demand video presentation and download report.
In its 13th year, the Federal Media & Marketing Study continues to empower marketers to hone and perfect their strategic marketing campaigns with valuable and reliable data directly from their federal customers. The survey provides key information about the federal audience's media usage across print, broadcast, social and digital sources. Combining this data with demographics including: job function, location, purchase area and more, marketers have the ability to slice and dice the data and map each to specific media habits, allowing them to target specific audiences.
The survey represents the views of thousands of federal workers in a variety of positions. Whether you are interested in a broad awareness campaign, or a more focused agency-based marketing effort, data from the study can provide you key insights about the media and marketing habits of this tough-to-reach federal market audience.
WHAT TO EXPECT
Job Function and Purchase Responsibility – More than 25 different job functions and areas of purchase, by product and service
Media Usage – 60+ publications, 100+ websites and mobile sites; 10+ social sites; differences inside vs. outside the Beltway
Trusted Content -To what extent do decision makers trust news and information from different media sources?
Time Spent Accessing Content – How much time do government employees spend accessing content online, watching TV, listening to the radio and reading e-newsletters?
TWO PANEL DISCUSSIONS
Federal Media Panel: Moderated by Aaron Heffron, Market Connections
Kevin Baron, Executive Editor, Defense One
Patti Nuttybombe Cochran, Federal Marketing Consultant, Government Matters Media
Jeffrey Wolinsky, Director of Federal Sales, WTOP/Federal News Network 
Federal Marketing Panel: Moderated by Stephanie Geiger, Government Marketing University
Matt Bechtel, Director of Corporate Marketing, Booz Allen Hamilton
Allison Mason, Senior Director, Public Sector Marketing, Red Hat
Darryl E. Peek II, Head of Federal Strategic Partnerships, Google
ON-DEMAND ACCESS and POST-FMMS ONLINE NETWORKING SESSIONS
ON-DEMAND VIDEO AND REPORT – Our 2021 report and video presentation will be available to download on October 21. Stay tuned for purchasing capabilities
SMALL GROUP ONLINE DISCUSSIONS – A series of online groups (no more than 20 per session) will be limited to FMMS on-demand purchasers to discuss results and network with like-minded peers following the FMMS release. Details on registration will be available in after purchase.
PURCHASE THE OVERVIEW & VIDEO!
Overview results from the 2021 Federal Media & Marketing Study highlights high-level results from our comprehensive study surveying thousands of federal respondents at defense and civilian agencies, inside and outside the Beltway about their use of digital, social, mobile, print and broadcast media. This PDF report provides high-level results of the top digital and print publications, social media sites, radio and TV within the DC metro area. A video readout and analysis of the results by President, Aaron Heffron, is included with purchase.
All government marketers understand the importance of including content in their marketing strategy, but winning government contractors make sure that their content contains the key features their audience is looking for.
According to Content Marketing Review: Federal and Beyond, this includes data and research to support their position, product specifications and examples of past performance. The trouble is – these specific pieces can often be the densest and most un-user-friendly bits of information you have!
Using Subject Matter Experts
How can you highlight these features in a way that is easily comprehensible and relatable to your target audience (and, frankly, a little more interesting)? Use your subject matter experts (SMEs). Your SMEs can not only focus your materials on a particular process, technology, niche within a technology, or a particular agency, they can help influence RFPs (request for proposals) or those shaping them.
Government marketing expert, Mark Amtower, agrees. In a video for his YouTube channel, Amtower Raw, Mark discusses the importance and value of using SMEs to win government business.
Watch the full video here:
"These companies are more likely to win business because in the RFPs, and while the contracting officers are looking to build the RFPs, they're looking for people out there who understand, write, and talk about this stuff. The more visible your SME is, the more they're sharing – particularly through your website, through LinkedIn and other social platforms, through speaking or doing articles for trade publications – the more visible they are that way, the more they're helping the contracting officer shape their RFP directly and indirectly." He continues on by saying, "so you don't have to be put it right in front of them, but you have to put it where they can find it. Building the platform that way and shaping it gives you consciously or unconsciously a preferred position. People like dealing with people who are thought leaders or subject matter experts."
Industry vs. Government Thought Leaders
Thought leaders can reside in industry or government. At least one in five respondents to the Market Connections' study expect their content to contain insights from thought leaders. Federal decision-makers look more towards industry thought leaders, while those in state and local indicated their preference for insights from either industry or government thought leaders (sometimes both).
The key lesson is this: when creating those valuable pieces of content, include the key features your audience is looking for. Subject matter experts can help provide key information around product specifications, data and research and even provide past performance examples in a friendly way by showcasing their expertise. Share that content across your website, social media, and trusted trade publications (including online, podcasts, video, print, and radio) to help educate your audience, highlight your position, and even shape an RFP.
Learn more:
Download the 2019 Content Marketing Review Study infographics and presentation.
Join us on Thursday, May 20 as we reveal results from the 2021 Content Marketing Review: Reaching the Public Sector which will highlight findings encompassing the full FED and SLED market.
Sales and BD Teams
In part one of our blog series "How Contractors Can Use Federal Personas for the Win," we shared the importance of getting internal team buy-in from leadership to marketing to sales. In addition to ways federal marketers can benefit from the use of personas, we noted the importance of collaboration between the marketing teams and the sales and BD teams to get the most out of federal personas.
Federal personas can, and should, be living documents that are tweaked by newly gathered information. Sales teams can add key insights from their day-to-day frontline experience, as part of persona building. It is important to note, however, that federal personas are not actual individuals, but archetypes of the players around the "decision-making table". While sales teams can contribute to confirming or challenging the notions of personas, it is important to do so based on facts, rather than assumptions. Exceptions to the persona will always exist.
How Can Federal Sales Teams Benefit from Persona Building?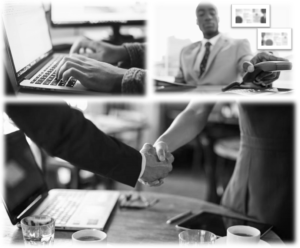 Sales teams should use federal personas to ensure customer-centric conversations. By focusing on more than just specific agency needs, federal sales professionals can better connect with individuals even before their first conversations. Well-constructed federal personas can provide personal backgrounds that make those first conversations easier and more familiar.
A federal persona can help guide you well before your first contact. Should you reach out to your contact via email, or are they more likely to prefer to meet you for a coffee and in-person discussion? Actual results may vary, but the predilections outlined in a well-constructed persona can give you a jump start and increase your odds.
When the conversation begins, seeding the discussion with known challenges and issues can speed up your due diligence and accelerate the process. Senior executives may have very different challenges than an end-user. Laying out those challenges before they have a chance to mention them builds a certain level of trust between you and the client. Now, as a trusted advisor, you can move the conversation forward to how you and your company can offer support and solutions to those challenges.
Sales team leaders should consider using federal personas when developing sales tools for their teams. Unique, segment specific playbooks and sales guides can allow those new to the market to hit the ground running as well as provide new insights for the long-timers on the team. Used as part of regular sales trainings, these shared tools can be enhanced with use cases from team members at regular sales meetings.
Ultimately, the use of federal personas may either challenge existing assumptions about your customer or confirm what you already see in your established relationships. Either way, the dialogue that comes about can make for a more dynamic discussion with the client, a good introduction to new sales members, and a reminder to those in the field that what has been considered true may not always be.
Learn More about Federal Personas:
Purchase the overview report and corresponding video readout:
Federal IT (FIT) Personas Study: A Deeper Look into Your Government Customer
FIT Personas will be available for purchase soon and will be found on the same page as the overview report.
Marketing Teams
Our latest blog post "Beyond the C-level Suite" emphasized  the importance of marketing to both federal IT decision-makers and influencers at agencies in different ways. Detailed personas for each federal influencer, from senior executive to procurement staff to end user can crystalize your approach and give you guidance as to the unique personal and professional challenges that can influence how and why they make decisions. In part one of this series, we'll focus on how marketing teams can use federal personas to guide their strategy.
Originating in the consumer market, personas used for B2G will differ in their area of emphasis and approach. While B2C companies focus exclusively on their target customer, B2G marketers must blend the influences of the agency culture with the preferences and habits of the individual. To date, most B2G marketers have focused heavily on the unique aspects of agency culture and processes. We believe that on top of this marketing strategy, it is important to understand the personal motivators and opinions of specific decision-makers and influencers within the agency that is purchasing your product or service.
If you have already made the investment in creating unique federal customer personas, the journey has just begun. There are several next steps to get the best out of your efforts.
Share, Share, Share!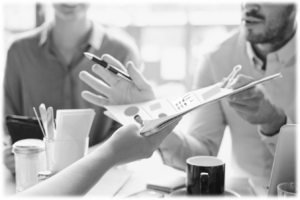 Federal personas are only effective if you are sharing them across your company, from leadership to marketing and communication teams to sales teams. Educate up and down your organization to consider how each persona plays a part in decision-making. To ensure all teams are considering personas in their sales and marketing efforts, post your personas in visible locations and discuss them frequently in cross-team meetings to incorporate the individual natures of each decision-maker into your company culture.
For Marketing Teams:
Plan your content to be rooted in the agency mission but tailored for specific individuals. This includes adjusting for topic, tone, depth and distribution. You would not market the same way to an executive as you would to an end-user. Their priorities, backgrounds and values may be different. Some may value being viewed as an expert in their jobs, while others value the security that their job provides them.
Furthermore, a tech-savvy end-user, may prefer to watch a video or webinar to learn more about new technologies while a program manager or senior executive may prefer to read about new trends and technologies in a white paper. What is their preference for learning mediums? How do they prefer to receive information?
In addition to the learning style differences, key influencers and decision-makers may prefer different ways to access information. Across the board, marketers understand the importance of SEO, but are you considering other channels for marketing to different federal personas? While one individual may prefer to directly go to a vendor website or video, others may prefer to get information from associations, industry publications or events.
In addition to preferences, use tools like the Federal Media & Marketing Study to understand what publications and websites they're going to already in order to focus your media and advertising efforts there.
Learn More About Federal Personas:
Purchase the overview report and corresponding video readout:
Federal IT (FIT) Personas Study: A Deeper Look into Your Government Customer
The FIT Personas bundles will be available for purchase soon and will be found on the same page as the overview report.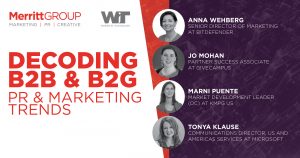 Earlier this summer Market Connections attended Women in Technology's (WIT) "Decoding B2B & B2G PR & Marketing Trends" in partnership with Merritt Group. This informative discussion brought together a panel of leading marketing and PR professionals from small to large companies including Bitdefender, Hybrent, KPMG US and Microsoft to discuss challenges they face and successes they've had in marketing to other businesses and the public sector.
In part two (read part one) of this blog post series we'll focus on a second challenge discussed by panelists: broken internal systems and processes.
How Can We Better Work Together: Broken Internal Systems & Processes
Market Connections often works with B2G clients to support their business strategies from brand awareness through business development. The internal structure of these companies often varies, affecting the business growth efficiency and success of the organization. This was echoed by the panelists. Whether it's interdepartmental communication, collaboration or even the simple inefficiencies in using marketing automation systems, the panelists shared their perspective on the good and bad of how their teams work together.
Sales & Marketing: A Contentious Relationship? Or Working Together?
How many times have we heard the following:
"The marketing leads don't give us what we need" or "the sales rep just cares about his or her individual sales"
While each group may have different short-term goals, both need to work together to achieve long-term success.
According to Marni Puente, Market Development Leader from KPMG every member of her team must focus on the organizational client interaction plan, understand where the strategic relationships are, and together support negotiations, decision-making and networking. In her perspective, "If you're responsible for marketing you're responsible for business growth too." She continues to say, "Whether it's…doing business development [yourself], or …. working closely with the business development team, (business growth) is something every marketer thinks about."
Are companies structured for this integration?
Market Connections conducted a study of government contractors in 2018 that revealed that over half (51 percent) of respondents stated their business development (BD/Sales) and marketing departments reported to different supervisors, nearly four in ten reporting to a single supervisor and the remaining listing either BD reporting to Marketing or vice-versa. While more than half may be reporting to different supervisors, this does not mean there isn't room for integration; meeting regularly can ensure communication and alignment of business goals.
According to our study, many successful companies, nearly two-thirds of respondents, said their sales and marketing teams meet at least once a month, and a quarter of which said they meet weekly. However, interestingly, nearly one in five said they meet maybe once a year, if at all. Anna Wehberg, Senior Director of Marketing at Bitdefender validated our results. "If sales and marketing are not aligned, business doesn't seem to flow right." According to Wehberg, her sales VP and her speak, text, or Skype every day.
According to the speakers, those departments that work together see better success. A strong relationship between these two departments is key. As one panelist put it, "When relationships are strained things are going to be bad… When things are good, they're really good."
The overall feeling is that there is a general trend moving towards the integration of sales and marketing, with a strong focus on relationship building between the two groups.
Marketing Supporting Business Development
How are marketers supporting their BD counterparts? At Microsoft, Tonya Klause, Communications Manager US and Americas Services, talked about reducing redundancies while maximizing the "story" of Microsoft. Marketing plays a key role in training their sales team to use tools such as LinkedIn, Navigator and Elevate. Skills and techniques to effectively reach customers include content sharing on Navigator and LinkedIn, helping executives develop their profile, unique voice, and blogging skills.
Marketing can also help support the BD/Sales teams through webinar trainings and follow-up. Wehberg explained that in addition to hosting training sessions, she records those sessions and saves them online for later access. She takes notes and pulls highlights from webinars and shares them along with links to the original webinar to team members via email as a follow-up. She even texts the sales teams to ensure they have the information. She tries to find different ways to give sales reps information in different formats and repeats the message several times, understanding that people may respond and learn differently.
In general, we are moving towards integration. In order to have success in the market, it is essential for marketing and sales to collaborate, communicate and have integrated strategies. Regardless of how departments are currently structured, these teams must work together toward their common business growth goals. Best practices include: keeping lines of communication open between executives, regular weekly or monthly team meetings for strategy and planning and providing training opportunities to ensure a unified external brand as well as a sharing of best marketing and sales practices.
Thanks again to WIT and Merritt Group for putting together a great event with insightful conversation around challenges and trends and many thanks to each panelist for thoughtful input that will be supportive to B2B and B2G marketers.
Read part one of our blog series providing an overview of the event and insights into top challenge: keeping content relevant.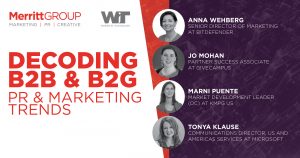 Earlier this summer Market Connections attended Women in Technology's (WIT) "Decoding B2B & B2G PR & Marketing Trends" in partnership with Merritt Group. This informative discussion brought together a panel of leading marketing and PR professionals from small to large companies including Bitdefender, Hybrent, KPMG US and Microsoft to discuss challenges they face and successes they've had in marketing to other businesses and the public sector.
According to the panelists, some of the biggest challenges include: keeping content relevant, internal broken systems (processes), speed of the industry and General Data Protection Regulation (GDPR) and email marketing.
With so many great panelist insights around key challenges they face, we decided to report on highlights and recommendations across two separate blog posts. In this first of these two, we'll focus on the first of the challenges identified: keeping content relevant.
Content Generation
Understanding the importance of content marketing in reaching federal audiences, Market Connections seeks to understand best marketing practices so we can share and educate our clients serving the public sector. This includes conducting regular surveys and hearing from marketing experts. We were eager to hear from panelists at WIT Connect on best practices for keeping content relevant. From personalization, to purpose, to length and finally distribution, they provided some keen insights.
When it came to actual content creation, Anna Wehberg, Bitdefender's Senior Director of Marketing, advised that content should be personalized, using the target audience's language while avoiding the use of jargon and acronyms. (Read more about Market Connections' similar findings of the most "annoying jargon" among federal decision-makers.) Marni Puente, Market Development Leader from KPMG agreed. Content should keep an end-user in mind. She went on to say, "Content should offer something of value, it's not just about the sales, but think about what is in it for them."
What does the public sector value in content? Looking at key features from our recent study in this market, content should always have the three following features: product specifications, examples of past performance and data and research to support content. Puente's comments echoed these results, "I'm a big fan of content having primary research… Being able to offer data nuggets…is a great way to reel people in and go into meetings with a CIO and say 'hey did you know, our survey shows this…"
In addition to personalization, Wehberg discussed the importance of having content for unique phases of the buying journey, including:
Awareness and education
Consideration (recognize I have a problem, now who are my players that can solve that problem)
Preference (making a purchase and taking next steps)
For each of these phases, she noted that content should be trackable and have a purpose. If it wasn't generating business on the other end, it should be reconsidered. Market Connections also found the importance of having unique content dependent on the stage of the buying process. Content across all three phases should be informative and educational. As you move further down the funnel, certain marketing assets like case studies and product demos become more and more important. (Learn more in our 2017 Federal Content Marketing Study.)
Puente also highlighted the shift over the past 5 years from the long narrative to more snackable/digestible content as a teaser to help reel them in. Tonya Klause, Communications Manager US and Americas Services at Microsoft agreed. "While there is a place for longer-form storytelling content… it has fallen out of favor." Technology is playing a role in how long content is holding our attention, or as Klause put it, "We are all trained to focus on something for a couple seconds before moving on."
Marketers should also consider their audience's demographics. What captures the attention of the incoming, younger workforce, and for how long? According to our recent study, younger audiences are willing to spend more time with content they can sit back and listen to or watch such as webinars, videos and podcasts.
(Learn more about how long federal audiences are willing to spend with content.)
Klause continued to say that for Microsoft, it's important to incorporate customer references in their storytelling; however, getting government references is one of their biggest challenges. According to our 2018 Federal Media & Marketing Study, over half of respondents listed recommendations from peers and colleagues as a most trusted source of information and over one-quarter cited customer testimonials. While it may be challenging to secure a government reference, there can be some workarounds. For example, anonymizing the referrer by using a case study (listing only the agency or agency type) could be one way of showcasing past experience. Citing a local or state agency (who may have less restrictions) or an industry reference could be another. According to our recent study, federal decision-makers looked to insights from industry thought-leaders even more so than their government counterparts.
Thanks to WIT and Merritt Group for putting together a great event with insightful conversation around challenges and trends and many thanks to each panelist for thoughtful input that will be supportive to B2B and B2G marketers.
Keep an eye out for a future blog post focused on the second key challenge identified: internal broken systems and processes, coming later this month.
Have you ever changed your mind? Not necessarily about something trivial like what you want for dinner, but truly changed your mind about a long-standing opinion of a person, company or issue due to a new experience, discussion or interaction? If you have, you are one of the few. However; as marketers, we ask our target audience to change deep-seated opinions with our marketing and PR efforts.
Why is it so hard to change an entrenched opinion or perception? It isn't so much about influencing that one person, but more about how much you can influence everyone around them.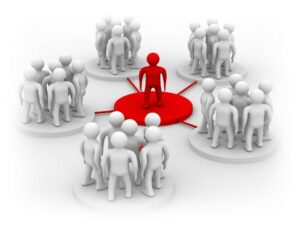 The Difficulty of Breaking Convention
A well-known saying can help us illustrate this thought process. "You don't get fired by hiring IBM." Substitute "IBM" with any long-standing, high profile vendor in the marketplace. Because the vendor is well-known and established, it benefits from the collective power of the group and the psychological barriers that prevent individuals from stepping out on their own if they disagree. Think about how bold and confident a person needs to be to speak up and present a counter view to an entire group! Even if the argument is well-reasoned and fact-supported, it can be an uphill battle based on the historical assumptions the group maintains (whether justified or not!).
It's easier to go the conventional path; the risk is spread among everyone in the group.
This sometimes happens when we sit across the table from clients or prospects. The first thing they tell us is they want to influence a specific person in an agency. They assume this ONE PERSON is the key to change, away from the conventional wisdom. They ask us to only interview a specific level of person (often c-suite) and get their opinion. They often forget the environment in which this individual works. Even the most empowered executive faces great organizational inertia to stick with the status quo, or the most well-known solution.
A Better Approach
Wouldn't it be easier for the executive if opinions were more varied across the organization? Wouldn't it be better if you knew that when an executive asked for the group's feedback on a vendor or proposal, there was greater familiarity and awareness of new vendors across all staff, from procurement to technical staff to the program team lead? To change the opinion of your customer, you can't focus on only the final decision-maker; you need to explore the differences in opinion among all influencers within an organization. We regularly discuss this approach with our clients to help them move the needle.
The influence of the collective is further seen historically across Market Connections' research. The Federal Media &Marketing Study revealed when making a decision, over half (51%) of federal respondents cite peers and colleagues as the most trusted source of information. What this tells us is public sector decision-makers are just like us. Their decision-making is not just influenced by their own thinking, but the thinking of those they surround themselves with every day.
As you plan your next efforts to understand and influence a specific agency or decision-maker, make sure you understand the thoughts and opinions of the whole ecosystem, and market accordingly.
Learn more about key services Market Connections offers to help you understand how you are perceived in the marketplace and throughout your customer base with brand awareness, customer satisfaction & contract evaluation, new pursuit and capture, and brand, product or message testing.