Government Marketing University
Market Connections CEO, Lisa Dezzutti received Government Marketing University's second annual Lifetime Achievement Award at the 2019 GAIN Conference on Tuesday, November 12. Unable to attend, President Aaron Heffron accepted the award on her behalf.
With over 30 years of experience in the government marketing community, Lisa was recognized for her contributions to the industry, including starting market research firm, Market Connections, serving as Board President for Women in Technology and years of service at GTSI.
In presenting the award on behalf of Government Marketing University, Mark Amtower, Managing Partner at Amtower & Company and first annual Lifetime Achievement Award winner shared a few words about Lisa, "The contributions of Lisa and her team at Market Connections has helped us produce some absolutely great marketing programs, not in glam and glitz, but in real results, things that actually work… I rely on Market Connections like no other source in this market for my education."
While she was unable to accept in person, Lisa did send a few notes of appreciation, "I am so deeply honored to receive it and terribly disappointed not to be here to receive it in person. It has been a great pleasure and privilege to be a part of the government contracting industry for the last 30 years." She continued by noting those in the audience, by saying, "I have had the opportunity to work with and get to know many talented people, many who I call friends, many who are in the audience today. My friends and colleagues are the real reward after 30 years in this industry."
To learn more about the GAIN Conference and see all 2019 GAINer awardees, visit www.theGAINconference.com.
Marketing IT Offerings: Ensure your messaging is on target with helping government improve performance, customer experience and operational costs.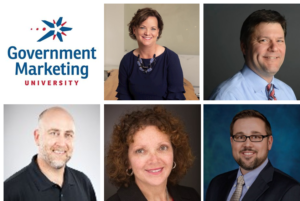 Traditional commercial tactics do not always translate seamlessly into the public sector market. Aligning your message to your customer's mission needs and outcomes, marketing to multiple agency stakeholders (from technologists to procurement professionals) and transitioning your position from vendor to partner/educator can significantly improve the strength of your marketing and messaging to this niche market.
Lou Anne Brossman and Steve Watkins from Government Marketing University interview marketing executives Liz Anthony (ViON Corporation), Aaron Heffron (Market Connections) and Milo Speranzo (Dell EMC) about effectively marketing IT service offerings in the public sector. This discussion provides fellow government marketers insights and best practices for the evolving government IT landscape.
Key highlights:
Your marketing collateral should showcase BOTH your services AND your product offerings.
Federal marketing is evolving from product to solution focus. Your marketing should focus on how you can help your customers meet their mission, not their bottom line.
Educating your customer is essential to solution marketing (and selling.) Help them understand all aspects of the solution to their current problems, and review solutions to the problems they haven't even realized they have yet.
Newer "As A Service" models require multiple messages. Multiple audiences play a role including technologists, compliance and procurement professionals.
Do not treat the government as its own vertical, but as a robust economy with its own verticals. Customize your marketing to different verticals within the public sector economy you are going for (state, local, federal, agency).
If you are new to government or vertical, leverage any name brand equity you may have in the commercial space, across other verticals or even other products to get a leg up in the market. It's not completely necessary to run away from your established commercial roots.
Consider the future buyers in the public sector audience and how they gather information – generational turnover in leadership positions requires a trusted partner to help guide them.
With so many events and media outlets in the public sector space, be strategic on where you spend valuable time, energy and resources. Triangulate where your customer and their mission aligns with your offerings and solutions and place your focus there.
Look at opportunities to partner with associations and volunteer opportunities in areas of focus for your government customers.
Utilize great free resources such as fbo.gov, performance.gov, fpds.gov and other government sites.
Listen to the full podcast. (Podcast length: 52 minutes)