When creating marketing content for a government buyer of products, services or emerging technologies, federal and state and local decision makers want to be educated and not sold to, according to the 2019 Content Marketing Review: Federal & Beyond. Content should help them make informed decisions and have minimal sales messages. Additionally, for state and local decision makers, consider including insight from government thought leaders to help support your message.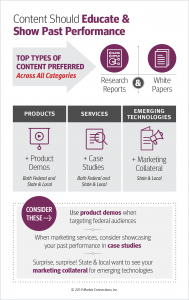 Regardless of what you are selling, whether they're simple products (including laptops, desktops, servers), standard IT services (cloud, cybersecurity) or complex emerging technologies (AI, automation, blockchain), respondents prefer research reports and white papers. Demonstrations are key to those buying products, while those making decisions about services want to hear the success stories through case studies. Finally, don't underestimate the importance of your marketing collateral, especially among state and local government decision makers. It is certainly a valued piece of content among this audience.
Education is best done through providing the detailed information and specifications needed by decision makers ranging from the highly technical process specialists to the more outcomes-based managers. Federal, state and local decision makers all wanted the content they consume to contain research and data to support the performance claims, examples of past performance by vendors, and the detailed specifications necessary to make the products or services work within their agencies.
A unique difference between state and local audiences versus federal audiences is their desire to see insights from thought leaders. State and local respondents cited wanting to see insight from government thought leaders, likely given the fact that they do not have the same type of infrastructure in place for information sharing that exists on the national level. In addition, many state and local technology buyers are part of very small staffs and departments and relish outside input. Federal decision makers, are more likely to want insights from industry thought leaders, perhaps looking for ideas and perspectives that are not deeply rooted in just a public sector world.
It is important to note and reinforce that at least one in five respondents mention they prefer content without sales messages. Federal respondents are more willing to accept sales messages within blogs, while state and local tolerated them more in videos and case studies.
Whether your focus is on the federal or the state and local market, as a marketer looking to reach and engage your target, you must create content that educates above all else. Across the board, make sure your content has the data and research needed to support your assertions, contains information about past performance (including customer testimonials and insight from your customer's peers) and specific details about your product or service that will help inform their decision or help them justify it to their stakeholders.
See full results from the 2019 Content Marketing Review: Federal & Beyond here.
Additional blogs on best public sector marketing practices based on this year's results:
"Our company provides innovative, cutting-edge services meant to disrupt the existing paradigm through best-in class products, agile, game-changing industry leaders and a one-stop, value added portal."
If "Buzzword Bingo" were a game, this sentence would have hit all the squares on the bingo card!
Writing a description of how your product, service or even your company, is different than your competitors can be difficult for B2G marketers. Commonly used words like innovative, cutting edge and next generation, have lost their impact and can ring hollow to customers. While marketers often get requests to use these words in their materials, can including these words in marketing content hurt a brand, rather than help it? According to the Market Connections' 2019 Content Marketing Review: Federal & Beyond study, certain words and phrases may annoy readers more than they explain what you do. In addition, as we have shown in our recent webinar, Differentiation in a Federal Market: How Do You Stand Out?, leaning heavily into these phrases does not necessarily aid in the overall differentiation of your company in a crowded, evolving marketplace. Our in-house database of digital marketing collateral from 100 top technology contractors contains millions of words and highlights the similarities between what is being promised from vendor to vendor.
Content aimed towards government IT customers, whether a white paper, marketing collateral, or a white board-style video, should be built upon three pillars: data and research; product specifications; and past performance. While it may be difficult to avoid all buzzwords, your content should focus on including these three pillars to ensure you keep your customer engaged. Federal, state and local technology decision makers want direct and informative content without the jargon to avoid the overt feeling they are being sold a bill of goods.
Finally, make sure your content includes clear statements focused on the value of your product or service to the organization, in non-technical terms customers can circulate. Three-quarters of federal respondents and over half of state and local respondents admitted to sharing content electronically with colleagues, teams and supervisors, many of whom may not have the same technical expertise as your initial target and may be even less tolerant of buzzwords.
Throughout our review of feedback from federal, state and local IT decision makers, we consistently came back to the theme that content should educate. Education is about presenting the right information at the right time using language that can be understood by the audience. By ensuring that you are meeting the expectations and needs of your audience and avoiding buzzwords and phrases, you are one step closer to creating content that meets your prospect's needs, and, in turn, advances your company throughout the sales process.
To get the full list of top "annoying buzzwords" for both federal and state and local audiences, contact us at maric@marketconnectionsinc.com.
Learn more about content preferences of federal, state and local IT decision makers by downloading the full report and infographics of the 2019 Content Marketing Review: Federal & Beyond.
Watch the recording and download slides for our webinar: Differentiation in a Federal Market: How Do You Stand Out?
Even the largest of states rarely serve a population one-tenth the size of the entire United States. Similarly, state budgets are a fraction the size and scope of the country as a whole. The overall budget for the U.S. Department of Health and Human Services, alone, rivals that of many mid-size cities. Therefore, it is not surprising that state and local decision-makers do not have the same resources as their federal counterparts when it comes to the procurement of IT products, services and emerging technologies.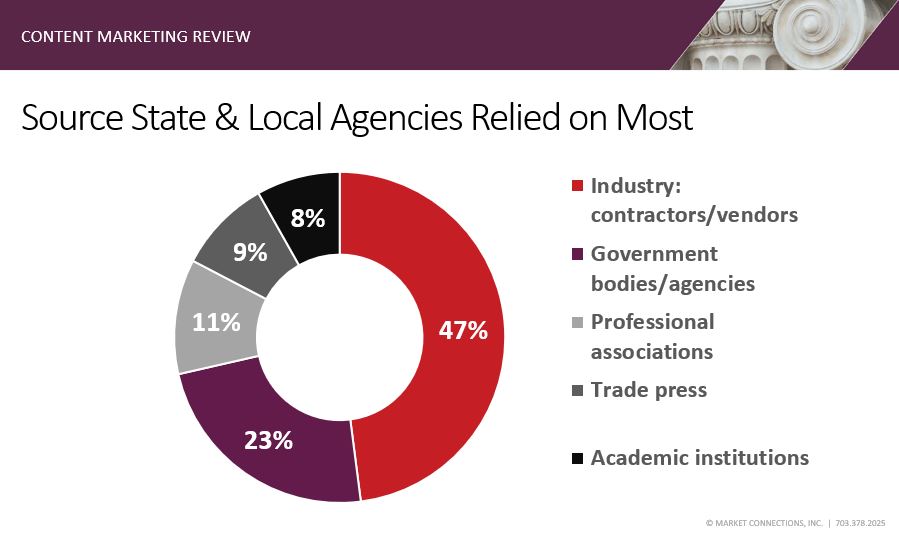 With fewer dollars to spend and fewer people to serve, state and local staffing levels are smaller with greater responsibilities and decisions, laying at the feet of a narrow group of individuals. With fewer colleagues to rely on for research and information, state and local IT decision-makers seek outside resources for education. According to the 2019 Content Marketing Review: Federal & Beyond, nearly half of state and local IT decision-makers admitted the source they relied on the most are industry contractors/vendors (47 percent). They look towards their vendors and suppliers to help them educate, validate and communicate with their stakeholders.
The quote, "with great power, comes great responsibility," sums up the importance of a vendor's role for state and local customers. As a vendor serving the state and local market, you have a responsibility to make your content as relevant as possible to these decision-makers. Market Connections' recent study compared state and local decision-makers with their counterparts at the federal level and identified some key elements that should be incorporated in your state and local government content marketing strategy:
Educate and Explain
State and local buyers are not only thirsty for information, they want it to help explain it in a way both they, and other non-technical colleagues, can understand. Research reports and white papers are the top two ways to get information delivered to state and local audiences whether it's describing new products, services or emerging technologies. However, over one-quarter also value case studies and marketing collateral, content often rich with descriptions of practical applications, that can explain in clear terms the specifications and benefits of certain products, services and technologies.
While they are thirsting for information, keep in mind how much time you expect them to dedicate to your collateral. While they value written content, the state and local audience is less willing to spend time with this type of content compared to videos and podcasts (only up to 15 minutes with white papers and case studies.) If you are describing something completely new, or very involved and complex, consider webinars, podcasts and videos as long-format content to educate, as the study shows they are willing to spend more time with these content formats (up to 30 minutes or more.)
Validate and Justify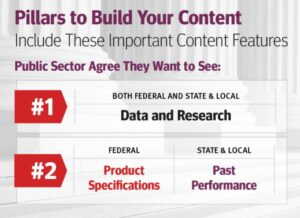 State and local decision-makers are often the sole primary technical consultant within a larger agency of program staff. They need to justify their decisions with materials that clearly explain a certain viewpoint and provide all the background necessary for a clear path forward. Past performance examples and product specifications should be embedded within the description of any service or technology. These informative stories help validate the decision to less technical individuals and justify the vendor selection.
Your content will have legs, so you must treat it as if it will speak to everyone, technical and non-technical. Over half of state and local respondents we surveyed admitted to sharing content electronically with colleagues, supervisors and teams, one-quarter printed it to share with colleagues and one-quarter shared it via LinkedIn or other social media. Among key reasons for sharing included that it confirms their opinion or viewpoint. Too much language that sounds "salesy" in nature is likely to reflect negatively on your customer and not give them the foundation they need.
Final Thoughts
Public sector marketers often need to create content that will serve multiple purposes for this unique audience. First and foremost, this audience is looking at you not only as a vendor, but as a partner helping them support their constituencies. Your content should be short, concise and easy to understand for non-technical audiences, since your target audience may look to use your content to help them educate their colleagues, supervisors and teams and provide validation for their decision to purchase your products and services.
This audience is also open to different ways of content delivery. State and local government customers are more willing than many customers to leverage video and podcasts to help understand the issues and tell their stories. An effective content marketing strategy on the state and local side includes larger doses of video and audio than many of the other traditional public sector verticals.
Learn more about the preferences of state and local audiences or to compare this audience with their federal counterparts, download the 2019 Content Marketing Review: Federal & Beyond full report and infographics.
"Content marketing is the only marketing left." – Seth Godin
In 2008, Seth Godin made this bold statement, and in the decade that followed, in both the corporate world and public sector market, we have watched this statement unfold with an explosion of white papers, infographics, podcasts, sponsored articles, and videos. However, with so much content in the market, it's hard to break through the noise. What marketers need now, more than ever, is content refinement and an understanding of WHAT the target audience wants, WHERE they are searching for it and HOW much time they want to spend with it.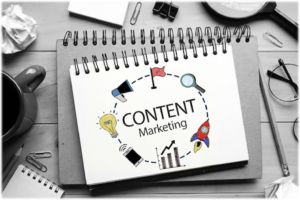 Looking ahead to the release of the findings from Market Connections' 2019 Content Marketing Review survey of the public sector marketplace in May, we decided to look at what other researchers focused on commercial B2B and B2C markets are reporting.
According to Content Marketing Institute in 2019, nearly two-thirds of marketers reported increased use of video and/or written digital content compared to the previous year. More than a third (37%) said they increased their use of podcasts and audio books.
With these three areas on the upswing, it's important to understand how and when to deliver content. According to Harvard Business Review, content marketers should take three things into consideration:
The amount of time you are asking your audience to invest. According to HBR, buyers' average viewing time is just under three minutes and within that time can make quick judgments including whether to move to the next step.
When to optimize content for mobile and when not to. Mobile content is leveraged most at the top of the sales funnel. But just as the type of content should evolve throughout the sales process, so should your content format. When a lead becomes a strong opportunity, the use of desktop to view content becomes more prevalent.
Traditional times to send content may no longer apply. Seasoned marketers have often delegated sending content on Tuesday morning through Thursday afternoon. However, according to HBR, visits have become more evenly distributed across all week days. In addition, they found that "[Even] if initially engaged [during the week], a prospect reading a piece on Wednesday often returns for a longer visit on the weekend."
All of these suggestions provide great food for thought for those working in the public sector market, and lead to the ultimate question: do these strategies work for the B2G market?
To answer this question, we invite you to join us for a breakfast briefing: Content Marketing Review: Federal & Beyond on May 9. We'll share how public sector decision-makers at the federal, state and local levels are responding to content: what types of content they prefer, how much time they want to spend with it, what they want to get out of it, and where they go to get it. After the results briefing, a panel of expert marketers will share best practices from their own experiences.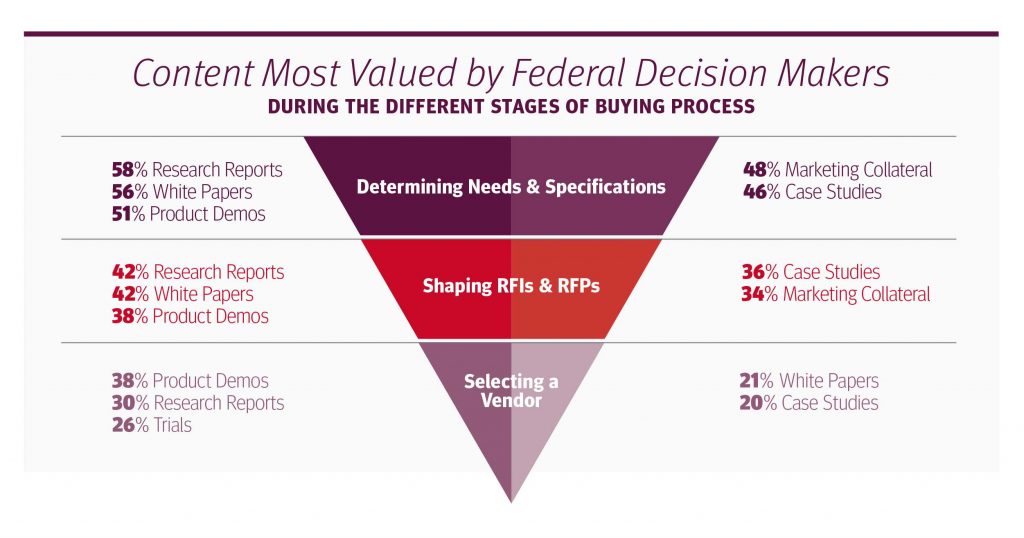 What type of content should you focus your attention on creating?
The 2017 Federal Content Marketing Review asked federal decision makers what content they found most valuable at different stages of the buying process. Regardless of where in the process stage, research reports, case studies, white papers, and product demos are in the top 5. Are you creating these content types? We'd love to hear how they're working for you.
We're also curious if you repurpose your content to match the buying stage.
Last week, Market Connections and Merritt Group released the results of the 2017 Federal Content Marketing Study. Along with the results presentation, a panel of content marketing experts shared their thoughts about what the study showed. The FCMR panelists were: Dan Horowitz from LinkedIn, Dante Ricci from SAP, Pamela Merritt from Accenture and Jessica Outer from IBM. Here are a few key takeaways from the panel. To sum up: study your data.
Key Takeaways from the panel:
The panelists agreed that what people say they do is not always aligned with what do. There are many reasons, but two possible scenarios are:
It may not feel professional to say they found a piece of content on Facebook, or that they clicked on a banner ad.
They may not remember they found their way to the product demo on your website via a blog, banner ad, or social media post.
Therefore, everyone advocates using a mix of channels, but monitor the data because that will tell you what your customers are doing.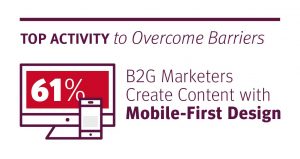 Dan: The study shows most federal decision makers are accessing content from mobile devices. Dan suggests posting the native content on a social platform that is designed to be mobile first, then cross post to your company blog/website. A platform like LinkedIn is good for written content and Spotify or Pandora are great for digital audio.
Pamela: Always monitor your data because it tells you quickly what your customers are doing and how they are interacting with your content. Experiment with different content types and channels, then let the data tell you if it's working.
Dante: While federal decision makers rate blogs lower, the fact is a high-quality blog will get views, and those blogs lead to other content your audience is interested in. For quality thought leadership, scale down on the volume and focus on the quality. And build in enough lead time into the content plan to do that.
Jessica: SEM strategies that include paid advertising are important, in part because they lead to data that tells you what your customers are consuming. The investment pays off because it quickly shows what people are interested in. And don't be afraid to use social channels you don't personally know well, like SnapChat. Find someone on your team who does know and put them on it. IBM has tapped into a whole new set of consumers by embracing different social channels.
What are federal decision makers looking for in content from you? Download your report today to find out.