From the Desk of Aaron Heffron, President Market Connections, Inc.
While many of us remember fondly as a kid hearing, "Yes, Virginia, there is a Santa Claus," we all need to remember, "yes, folks, there will be a federal market after COVID." Setting aside the debate of when the "after" is a reality, it is not too soon to start thinking about how to position your company to emerge from quarantine stronger and ready for action. You can do this by developing and implementing a marketing plan that accounts for the market realities while it hedges against market uncertainty.
Here are FOUR marketing areas affected by COVID-19 you should reevaluate:
FINAL THOUGHT:
Yes, there will be a federal market in the post-COVID world. What will it exactly look like? Your guess is as good as mine. What we do know now, however, is that with some careful planning and thoughtful actions you can have your organization positioned better than your competitors as new opportunities arise.
Over the past couple of weeks, we've shared how to take advantage of increased screen time among government audiences, as well as, how to effectively pivot your in-person meetings to virtual ones. Now we take a look at the pervasive online vehicle that only continues to grow in influence: social media. In addition to your own website and public sector media channels, social media is essential to reaching your target audiences.
According to our latest Federal Media & Marketing Study (FMMS), on average, nearly one-third of federal employees are spending 15 minutes or more on social media. It's no surprise the top two social sites among feds are Facebook and LinkedIn with 4 out of 10 alone visiting Facebook daily. As government employees are tethered more to their computer, we expect these numbers to climb and the lines of personal and professional social media usage to blur even further.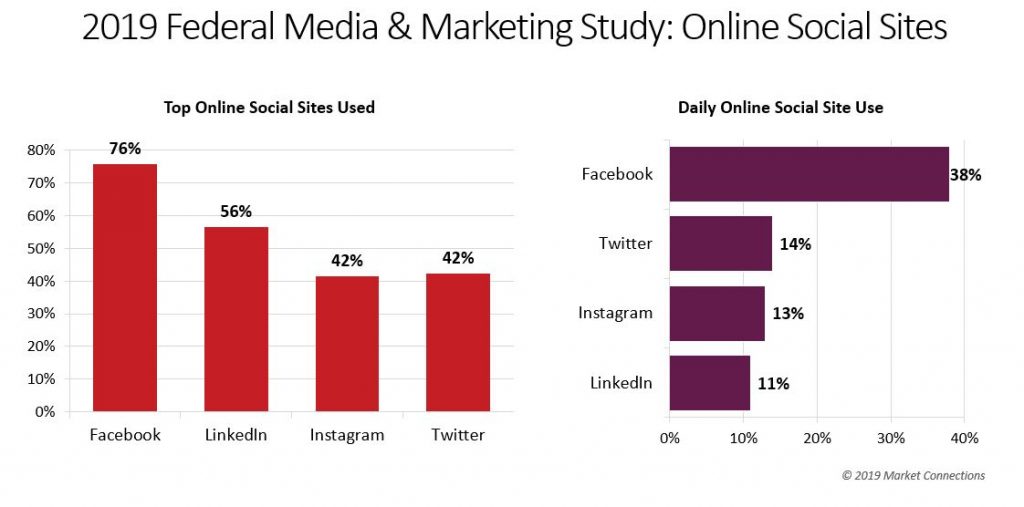 The old adage of not being able to reach the public sector through social media no longer holds water. Whether it's via professional social media channels (approximately 2.1 million federal employees are on LinkedIn), or the increased ability to view social media on personal devices, social media marketing should be a key part of your overall marketing mix.
Our Content Marketing Review highlights that the professional value of social media goes beyond just traditional awareness building. Nearly half of federal decision-makers and 7 out of 10 state and local decision-makers found professionally based LinkedIn and LinkedIn communities useful portals for accessing content for educational purposes. The efficacy of social media to deliver content even bled over to the traditionally personal social realm. One-quarter of federal and over half of state and local decision-makers felt Facebook and Twitter were also useful sources for work-related content.
Using social media can help you not only place you in front of your audiences, but also drive traffic to the content you've placed on other channels to help increase visibility and lead generation. It also allows others to help you drive traffic by making it shareable.
Learn more:
How can we help?
Our last blog post "Increased Screen Time Equals More Time with Public Sector Decision-Makers" focused on taking advantage of increased screen time by providing your government customer with content that educates and informs. The next step is to place your content where your customer is already going.
Before placing content on other media channels, take stock of your own corporate site. Approximately 7 out of 10 public sector decision-makers believe that corporate websites are an effective online source for information. If your customer were to visit your corporate site, or preferably a federally focused microsite, is the content they are looking for available and easily accessible? Is your site easily navigable? How far would your customers have to dig to find information around resources they are looking for? Is your site and its contents search engine optimized?
What Online Channels Do They Go to for Content?
According to our recent Content Marketing Review, three-quarters of both federal and state and local decision-makers find government-focused online communities and government-related news websites (e.g., GovLoop, Governing, Government Executive or Federal News Network) effective for delivering content to educate and inform their work-related buying process.
We are also hearing from top government-focused publications that increased screen time has driven up the number of visitors to their sites and subscriptions to their e-newsletters. With this in mind, sponsored content or advertising across highly trafficked online sites should be part of your strategy, if budget allows. If it doesn't allow right now, work with your subject matter experts and other thought leaders in your organization to develop content attractive to these publications. Earned media can often be more effective than paid media.
To make data-based decisions on where to focus your media purchasing budgets, consider sources like the Federal Media & Marketing Study (FMMS) that allow you to strategically match your company's target audiences with the publications and sites they most frequent. Spending, matched with strategic market information, can maximize your impact.
Learn more about FMMS audience-based reports available for purchase
Now Is the Time to Educate Your Government Customer
In our last blog post, Webinars in Place of In-Person Events – A New Normal?, we shared insights about public sector webinar preferences to help marketers refocus their marketing dollars from live events and conferences to virtual events. However, webinars may only be the tip of the virtual iceberg.
With more public sector employees teleworking and with travel and in-person events on hold, marketers can expect a spike in online traffic. It's time to use this increased screen time to be a partner to your customer. Digital platforms allow for greater, self-directed education opportunities on ways to address new, or redirected, agency priorities and missions. Being a source of high-quality information has always been one of the best ways to build a strong, long-term relationship with your customer.
What Is Needed to Deepen Your Relationship with Your Customer
Over the years, our surveys have consistently noted that white papers, research reports and case studies are among the type of content most valued by federal and state and local decision-makers. The best designed of these assets, typically, have one thing in common: they educate the customer without feeling salesy.
It's not always easy to figure out what you should or should not include in these content pieces. Our Content Marketing Review revealed that public sector decision-makers want data and research to support the content, examples of past performance and product specifications. Fancy visual contents, insights from industry thought leaders and content tailored to their vertical were less critical to the success of good content.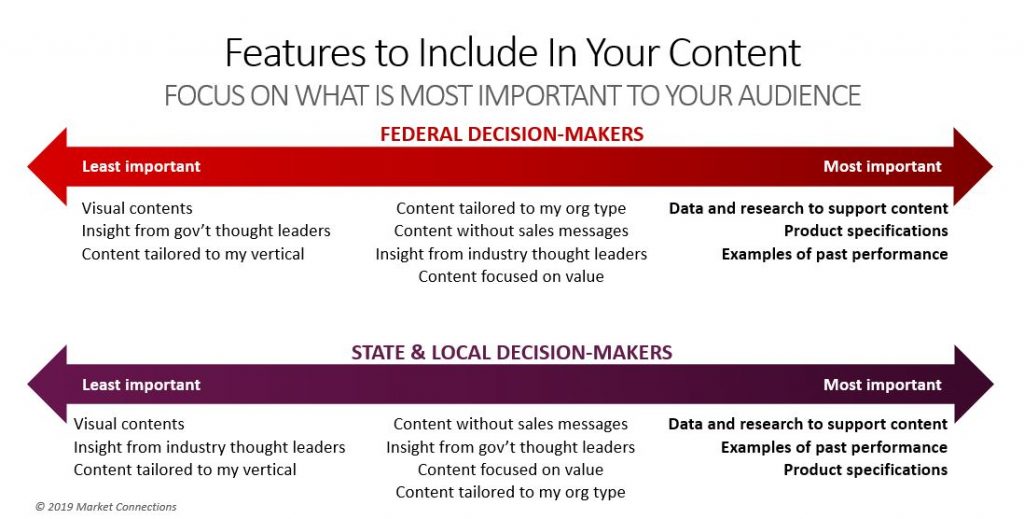 For detailed charts of top features across key marketing assets, download the presentation.
With the increased screen time your customers are experiencing, if you haven't already, now might be a great time to create or update your marketing content to educate your customer while they have less "out of office" distractions and more screen time.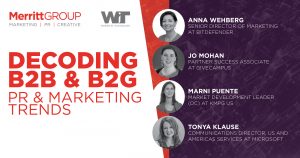 Earlier this summer Market Connections attended Women in Technology's (WIT) "Decoding B2B & B2G PR & Marketing Trends" in partnership with Merritt Group. This informative discussion brought together a panel of leading marketing and PR professionals from small to large companies including Bitdefender, Hybrent, KPMG US and Microsoft to discuss challenges they face and successes they've had in marketing to other businesses and the public sector.
According to the panelists, some of the biggest challenges include: keeping content relevant, internal broken systems (processes), speed of the industry and General Data Protection Regulation (GDPR) and email marketing.
With so many great panelist insights around key challenges they face, we decided to report on highlights and recommendations across two separate blog posts. In this first of these two, we'll focus on the first of the challenges identified: keeping content relevant.
Content Generation
Understanding the importance of content marketing in reaching federal audiences, Market Connections seeks to understand best marketing practices so we can share and educate our clients serving the public sector. This includes conducting regular surveys and hearing from marketing experts. We were eager to hear from panelists at WIT Connect on best practices for keeping content relevant. From personalization, to purpose, to length and finally distribution, they provided some keen insights.
When it came to actual content creation, Anna Wehberg, Bitdefender's Senior Director of Marketing, advised that content should be personalized, using the target audience's language while avoiding the use of jargon and acronyms. (Read more about Market Connections' similar findings of the most "annoying jargon" among federal decision-makers.) Marni Puente, Market Development Leader from KPMG agreed. Content should keep an end-user in mind. She went on to say, "Content should offer something of value, it's not just about the sales, but think about what is in it for them."
What does the public sector value in content? Looking at key features from our recent study in this market, content should always have the three following features: product specifications, examples of past performance and data and research to support content. Puente's comments echoed these results, "I'm a big fan of content having primary research… Being able to offer data nuggets…is a great way to reel people in and go into meetings with a CIO and say 'hey did you know, our survey shows this…"
In addition to personalization, Wehberg discussed the importance of having content for unique phases of the buying journey, including:
Awareness and education
Consideration (recognize I have a problem, now who are my players that can solve that problem)
Preference (making a purchase and taking next steps)
For each of these phases, she noted that content should be trackable and have a purpose. If it wasn't generating business on the other end, it should be reconsidered. Market Connections also found the importance of having unique content dependent on the stage of the buying process. Content across all three phases should be informative and educational. As you move further down the funnel, certain marketing assets like case studies and product demos become more and more important. (Learn more in our 2017 Federal Content Marketing Study.)
Puente also highlighted the shift over the past 5 years from the long narrative to more snackable/digestible content as a teaser to help reel them in. Tonya Klause, Communications Manager US and Americas Services at Microsoft agreed. "While there is a place for longer-form storytelling content… it has fallen out of favor." Technology is playing a role in how long content is holding our attention, or as Klause put it, "We are all trained to focus on something for a couple seconds before moving on."
Marketers should also consider their audience's demographics. What captures the attention of the incoming, younger workforce, and for how long? According to our recent study, younger audiences are willing to spend more time with content they can sit back and listen to or watch such as webinars, videos and podcasts.
(Learn more about how long federal audiences are willing to spend with content.)
Klause continued to say that for Microsoft, it's important to incorporate customer references in their storytelling; however, getting government references is one of their biggest challenges. According to our 2018 Federal Media & Marketing Study, over half of respondents listed recommendations from peers and colleagues as a most trusted source of information and over one-quarter cited customer testimonials. While it may be challenging to secure a government reference, there can be some workarounds. For example, anonymizing the referrer by using a case study (listing only the agency or agency type) could be one way of showcasing past experience. Citing a local or state agency (who may have less restrictions) or an industry reference could be another. According to our recent study, federal decision-makers looked to insights from industry thought-leaders even more so than their government counterparts.
Thanks to WIT and Merritt Group for putting together a great event with insightful conversation around challenges and trends and many thanks to each panelist for thoughtful input that will be supportive to B2B and B2G marketers.
Keep an eye out for a future blog post focused on the second key challenge identified: internal broken systems and processes, coming later this month.
Over the past year, Market Connections' signature studies, including the Federal Media & Marketing Study and the Content Marketing Review, have pointed to a rise in the role of professional associations with federal decision makers. These studies, along with additional surveys we have conducted in the federal market, have concluded that public sector marketers should strongly consider working with professional associations to reach federal, state and local decision makers. To further test our hypothesis, we created a PulsePoll™ specifically asking about the role of associations, with the hope that this data can not only support government contractors' membership and engagement strategies, but also identify opportunities B2G marketers should consider through professional association channels.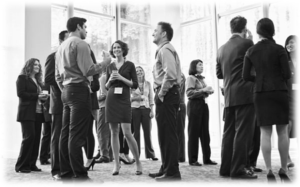 We saw the first hint of this trend in the 2018 Federal Media & Marketing Study's Most Trusted Sources of Information. Two of the top three sources listed among federal respondents for trustworthiness came from professional associations. With nearly half of respondents, professional association websites (46%) came in second place followed by white papers and case studies created by professional associations at number three (36%). Webinars hosted by professional associations also ranked among the top ten, with nearly one-third of respondents listing it as a top trusted source (31%).
We continued to see the importance of professional associations in the 2019 Content Marketing Review: Federal & Beyond. Over half (55%) of federal respondents said they frequently click on and/or download content from familiar professional associations. This is a sharp contrast to the less than one in ten (9%) respondents clicking on or downloading content of unfamiliar vendors.
Recent results from our 2019 Federal Events PulsePoll™ and webinar continued to illustrate our hypothesis of the important role of professional associations in federal marketing. Professional associations ranked second in how individuals learn about events (57%). In addition, among all events listed, those hosted by professional associations AFCEA and AUSA ranked in the top five among all respondents, and even higher among defense agencies.
Looking at these findings alone, one can't deny the value of working with professional associations to help reach federal audiences, especially for vendors who may not have an existing relationship with target clients.
However, some questions remained unanswered. For example, which professional associations are federal decision makers joining? Should contractors focus their membership and marketing efforts with federal- or IT-focused associations? Are there marked differences in membership by agency type or job role? What factors are important to feds when choosing to join an association? What are some barriers keeping them from joining? Most importantly, how are they engaging with associations that contractors can benefit from?
To help answer these questions, we surveyed federal decision makers about membership and engagement with professional associations. To hear results of our latest PulsePoll™, join our upcoming complimentary webinar: Marketing Through Professional Associations: Reaching Your Government Clients on Thursday, June 27 from 2-2:30 PM EDT.
When creating marketing content for a government buyer of products, services or emerging technologies, federal and state and local decision makers want to be educated and not sold to, according to the 2019 Content Marketing Review: Federal & Beyond. Content should help them make informed decisions and have minimal sales messages. Additionally, for state and local decision makers, consider including insight from government thought leaders to help support your message.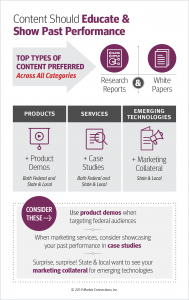 Regardless of what you are selling, whether they're simple products (including laptops, desktops, servers), standard IT services (cloud, cybersecurity) or complex emerging technologies (AI, automation, blockchain), respondents prefer research reports and white papers. Demonstrations are key to those buying products, while those making decisions about services want to hear the success stories through case studies. Finally, don't underestimate the importance of your marketing collateral, especially among state and local government decision makers. It is certainly a valued piece of content among this audience.
Education is best done through providing the detailed information and specifications needed by decision makers ranging from the highly technical process specialists to the more outcomes-based managers. Federal, state and local decision makers all wanted the content they consume to contain research and data to support the performance claims, examples of past performance by vendors, and the detailed specifications necessary to make the products or services work within their agencies.
A unique difference between state and local audiences versus federal audiences is their desire to see insights from thought leaders. State and local respondents cited wanting to see insight from government thought leaders, likely given the fact that they do not have the same type of infrastructure in place for information sharing that exists on the national level. In addition, many state and local technology buyers are part of very small staffs and departments and relish outside input. Federal decision makers, are more likely to want insights from industry thought leaders, perhaps looking for ideas and perspectives that are not deeply rooted in just a public sector world.
It is important to note and reinforce that at least one in five respondents mention they prefer content without sales messages. Federal respondents are more willing to accept sales messages within blogs, while state and local tolerated them more in videos and case studies.
Whether your focus is on the federal or the state and local market, as a marketer looking to reach and engage your target, you must create content that educates above all else. Across the board, make sure your content has the data and research needed to support your assertions, contains information about past performance (including customer testimonials and insight from your customer's peers) and specific details about your product or service that will help inform their decision or help them justify it to their stakeholders.
See full results from the 2019 Content Marketing Review: Federal & Beyond here.
Additional blogs on best public sector marketing practices based on this year's results:
"Our company provides innovative, cutting-edge services meant to disrupt the existing paradigm through best-in class products, agile, game-changing industry leaders and a one-stop, value added portal."
If "Buzzword Bingo" were a game, this sentence would have hit all the squares on the bingo card!
Writing a description of how your product, service or even your company, is different than your competitors can be difficult for B2G marketers. Commonly used words like innovative, cutting edge and next generation, have lost their impact and can ring hollow to customers. While marketers often get requests to use these words in their materials, can including these words in marketing content hurt a brand, rather than help it? According to the Market Connections' 2019 Content Marketing Review: Federal & Beyond study, certain words and phrases may annoy readers more than they explain what you do. In addition, as we have shown in our recent webinar, Differentiation in a Federal Market: How Do You Stand Out?, leaning heavily into these phrases does not necessarily aid in the overall differentiation of your company in a crowded, evolving marketplace. Our in-house database of digital marketing collateral from 100 top technology contractors contains millions of words and highlights the similarities between what is being promised from vendor to vendor.
Content aimed towards government IT customers, whether a white paper, marketing collateral, or a white board-style video, should be built upon three pillars: data and research; product specifications; and past performance. While it may be difficult to avoid all buzzwords, your content should focus on including these three pillars to ensure you keep your customer engaged. Federal, state and local technology decision makers want direct and informative content without the jargon to avoid the overt feeling they are being sold a bill of goods.
Finally, make sure your content includes clear statements focused on the value of your product or service to the organization, in non-technical terms customers can circulate. Three-quarters of federal respondents and over half of state and local respondents admitted to sharing content electronically with colleagues, teams and supervisors, many of whom may not have the same technical expertise as your initial target and may be even less tolerant of buzzwords.
Throughout our review of feedback from federal, state and local IT decision makers, we consistently came back to the theme that content should educate. Education is about presenting the right information at the right time using language that can be understood by the audience. By ensuring that you are meeting the expectations and needs of your audience and avoiding buzzwords and phrases, you are one step closer to creating content that meets your prospect's needs, and, in turn, advances your company throughout the sales process.
To get the full list of top "annoying buzzwords" for both federal and state and local audiences, contact us at mcanizales@govexec.com.
Learn more about content preferences of federal, state and local IT decision makers by downloading the full report and infographics of the 2019 Content Marketing Review: Federal & Beyond.
Watch the recording and download slides for our webinar: Differentiation in a Federal Market: How Do You Stand Out?
Even the largest of states rarely serve a population one-tenth the size of the entire United States. Similarly, state budgets are a fraction the size and scope of the country as a whole. The overall budget for the U.S. Department of Health and Human Services, alone, rivals that of many mid-size cities. Therefore, it is not surprising that state and local decision-makers do not have the same resources as their federal counterparts when it comes to the procurement of IT products, services and emerging technologies.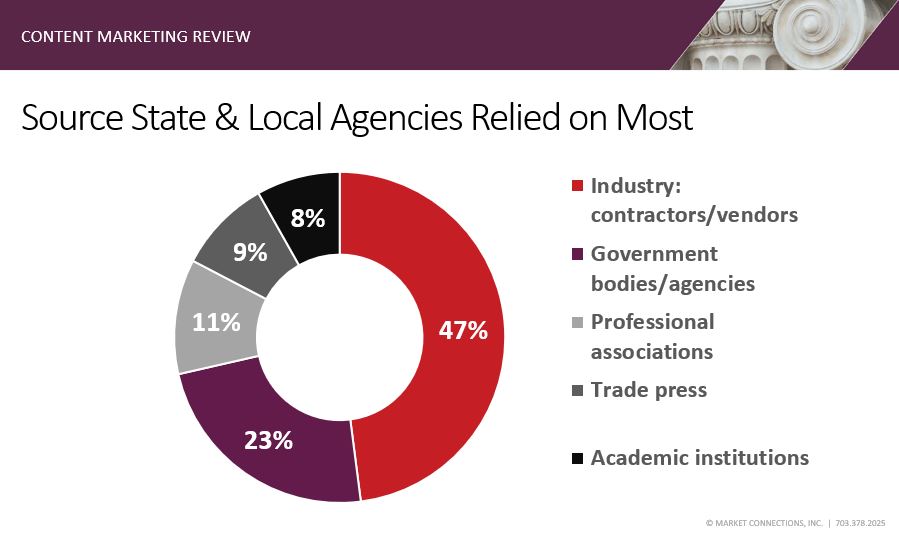 With fewer dollars to spend and fewer people to serve, state and local staffing levels are smaller with greater responsibilities and decisions, laying at the feet of a narrow group of individuals. With fewer colleagues to rely on for research and information, state and local IT decision-makers seek outside resources for education. According to the 2019 Content Marketing Review: Federal & Beyond, nearly half of state and local IT decision-makers admitted the source they relied on the most are industry contractors/vendors (47 percent). They look towards their vendors and suppliers to help them educate, validate and communicate with their stakeholders.
The quote, "with great power, comes great responsibility," sums up the importance of a vendor's role for state and local customers. As a vendor serving the state and local market, you have a responsibility to make your content as relevant as possible to these decision-makers. Market Connections' recent study compared state and local decision-makers with their counterparts at the federal level and identified some key elements that should be incorporated in your state and local government content marketing strategy:
Educate and Explain
State and local buyers are not only thirsty for information, they want it to help explain it in a way both they, and other non-technical colleagues, can understand. Research reports and white papers are the top two ways to get information delivered to state and local audiences whether it's describing new products, services or emerging technologies. However, over one-quarter also value case studies and marketing collateral, content often rich with descriptions of practical applications, that can explain in clear terms the specifications and benefits of certain products, services and technologies.
While they are thirsting for information, keep in mind how much time you expect them to dedicate to your collateral. While they value written content, the state and local audience is less willing to spend time with this type of content compared to videos and podcasts (only up to 15 minutes with white papers and case studies.) If you are describing something completely new, or very involved and complex, consider webinars, podcasts and videos as long-format content to educate, as the study shows they are willing to spend more time with these content formats (up to 30 minutes or more.)
Validate and Justify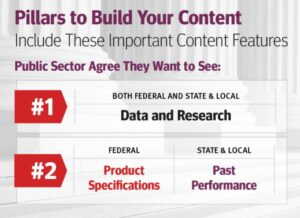 State and local decision-makers are often the sole primary technical consultant within a larger agency of program staff. They need to justify their decisions with materials that clearly explain a certain viewpoint and provide all the background necessary for a clear path forward. Past performance examples and product specifications should be embedded within the description of any service or technology. These informative stories help validate the decision to less technical individuals and justify the vendor selection.
Your content will have legs, so you must treat it as if it will speak to everyone, technical and non-technical. Over half of state and local respondents we surveyed admitted to sharing content electronically with colleagues, supervisors and teams, one-quarter printed it to share with colleagues and one-quarter shared it via LinkedIn or other social media. Among key reasons for sharing included that it confirms their opinion or viewpoint. Too much language that sounds "salesy" in nature is likely to reflect negatively on your customer and not give them the foundation they need.
Final Thoughts
Public sector marketers often need to create content that will serve multiple purposes for this unique audience. First and foremost, this audience is looking at you not only as a vendor, but as a partner helping them support their constituencies. Your content should be short, concise and easy to understand for non-technical audiences, since your target audience may look to use your content to help them educate their colleagues, supervisors and teams and provide validation for their decision to purchase your products and services.
This audience is also open to different ways of content delivery. State and local government customers are more willing than many customers to leverage video and podcasts to help understand the issues and tell their stories. An effective content marketing strategy on the state and local side includes larger doses of video and audio than many of the other traditional public sector verticals.
Learn more about the preferences of state and local audiences or to compare this audience with their federal counterparts, download the 2019 Content Marketing Review: Federal & Beyond full report and infographics.