Homepage Research Section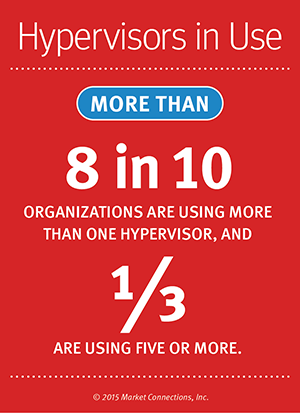 Federal agencies' virtualized infrastructure requires monitoring and automation to optimize and fine-tune systems. Maintaining multiple hypervisors can require multiple tools that only present a partial view of the environment.
Agencies tend to use more than one hypervisor because they all have different functions, strengths and costs. This may be efficient operationally, but is very expensive to manage, and comparing the data between the hypervisors is difficult, if not impossible.
Dell Software contracted Market Connections to assess agencies' virtual environment management practices and the challenges and concerns related virtual monitoring.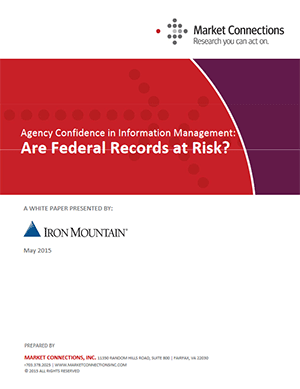 As government agencies handle increasing volumes of information, it falls to every person within an agency to manage and protect vital records. In addition to traditional paper documents, records can include everything from emails to photos to electronic files. With so much information to manage and so many people handling the information, are federal records at risk?
Strong records management policies and practices, coupled with formal training, internal controls and communication, will keep agency records safe and meet federal records management regulations. When agencies take these steps congruently, they can boost confidence in their information management processes, increase productivity and expand access to information, all while complying with federal mandates.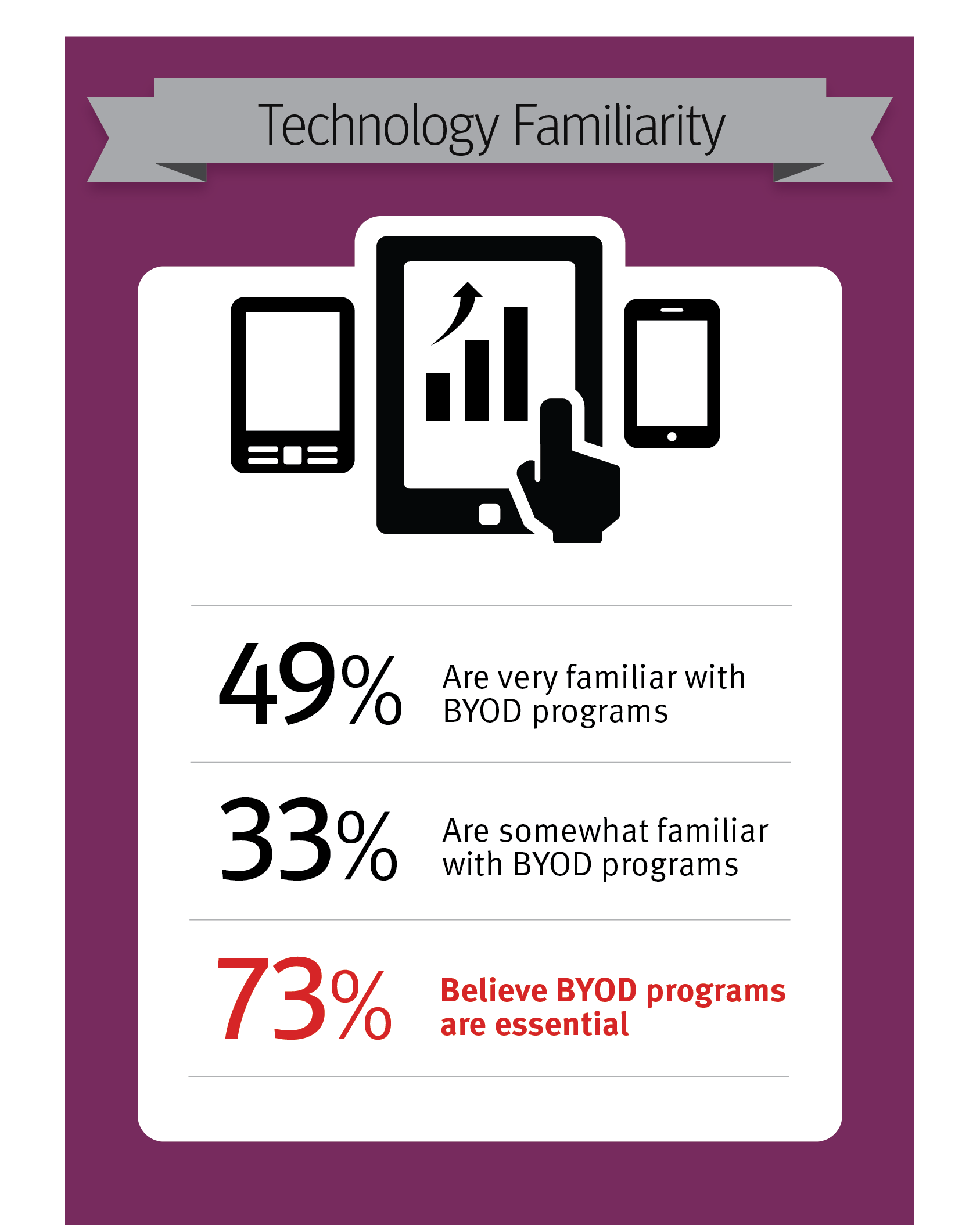 Adopting BYOD and VDI Programs
A new Market Connections study commissioned by NetApp shows that schools are realizing benefits as a result of Virtual Desktop Infrastructure (VDI) that supports BYOD, or students bringing their own devices such as laptops, smartphones and tablets into the classroom.
Market Connections on behalf of NetApp conducted a study of schools and districts across the country to understand to what extent schools are implementing BYOD and VDI programs, the outcomes they are seeing, and how other technology considerations fit into the overall challenges and solutions involved.
More than half of respondents including schools and districts (57%) have realized savings, reduced costs and enhanced learning, which are believed to be the greatest benefits of BYOD. At both the district and school level, BYOD is on decision- makers' minds; 73% believe BYOD implementation is essential to success.
With regard to VDI, research shows that for those implementing a VDI solution, nearly all (96%) report some level of technology budget savings and more than half of respondents have seen improved performance as a result of implementing virtual desktops. Interestingly with VDI, cost was cited as the top challenge for adoption despite nearly every single respondent indicating budget savings.
"In a K-12 environment where educators and administrators wear multiple hats, VDI offers an opportunity for schools to increase efficiency, decrease costs, and use fewer resources by making rapid changes across thousands of desktops. The benefits of VDI allow schools to focus on their core mission: education and learning anytime, any place," said Regina Kunkle, Vice President, State, Local, and Education, NetApp U.S. Public Sector.
ABOUT THE STUDY
The NetApp 2013 K-12 Education VDI & BYOD Online Survey explores the challenges, barriers, and concerns relative to VDI and BYOD for IT decision makers and influencers in the K-12 education marketplace. Schools represented 61% of respondents, school districts 36%, and those with a joint role 3%. Of the school districts represented, two out of three report an enrollment of 3,001-5,000 students. Most respondents describe their primary role as administrator, IT/MIS/IRM or teacher/instructor. Two out of three respondents anticipate their school/district will invest between$20K and $1M in technology over the next 12 to 18 months. For a full report and analysis of the study, download the white paper.
ABOUT NETAPP
NetApp's efficient, cost-effective data storage and management solutions meet education's IT infrastructure needs. NetApp's unified storage solutions, with superior storage efficiency, can help educational institutions manage data growth, comply with mandates, and meet Society for Laboratory Automation and Screening standards—all while lowering total cost of ownership. NetApp's dedication to principles of simplicity, innovation, and customer success has made them one of the fastest-growing storage and data management providers today. For more information and case studies about NetApp's BYOD and VDI solutions for schools, visit www.netapp.com/edu.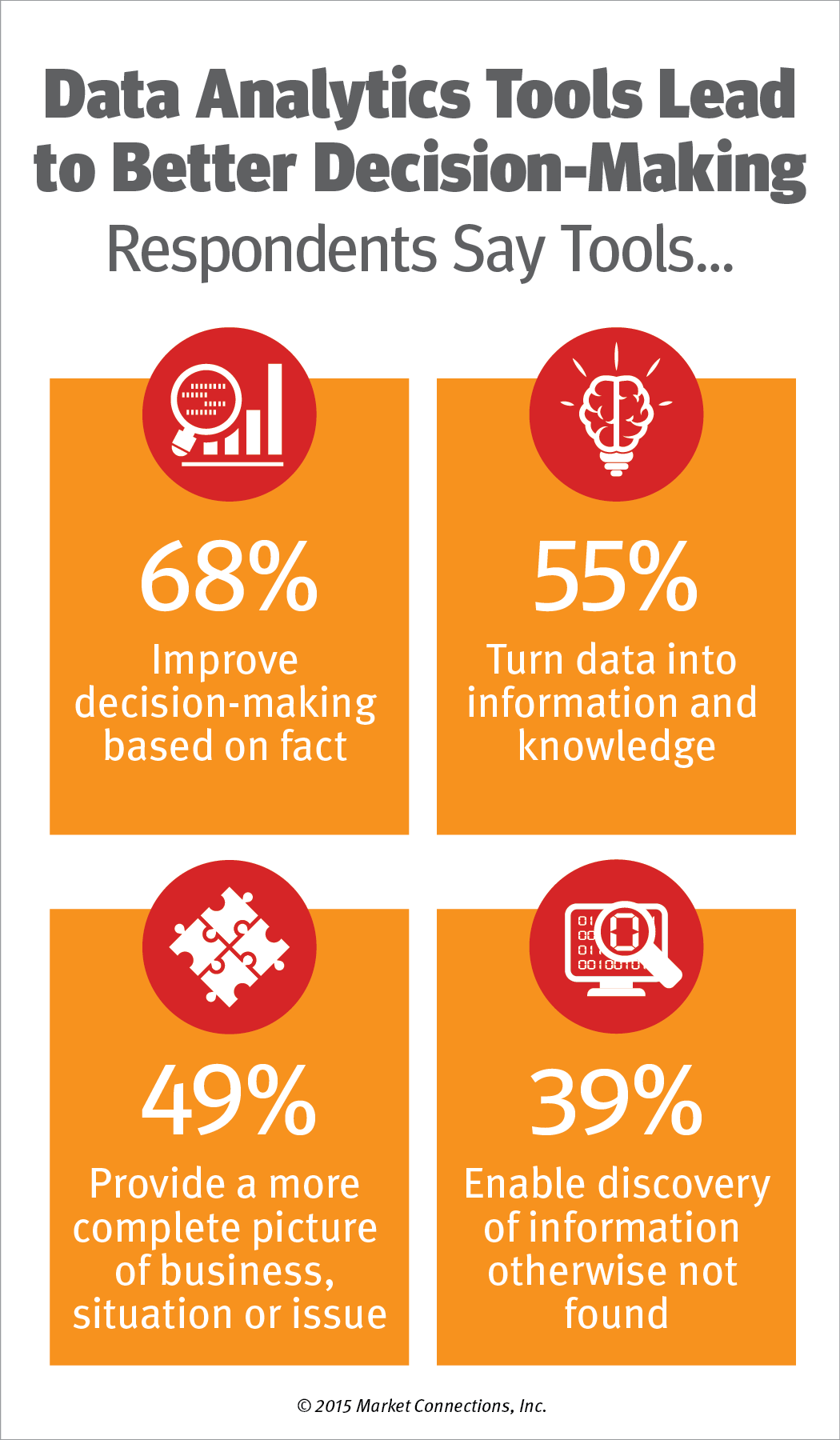 Studies predict there will be 40 exabytes of data by 2020. As the volume of data grows, data analytics will become increasingly important in shaping the future of federal agency policies and services.
To get the most from big data analytics—and to make these, and other far-reaching agency initiatives possible—federal agencies need better analytics. Collecting data means little if analytics are not in place, or the existing tools don't have the ability to extrapolate actionable insights. Many agency department managers don't realize how many staff hours go into managing this data, or how much information is not being used because the data is outdated by the time it is compiled or because the tools being used can't access all of the insights.
Given the importance of robust data analytics solutions, data analytics company Qlik commissioned government market research firm Market Connections, Inc. to assess how federal agencies are using analytics, and to what extent.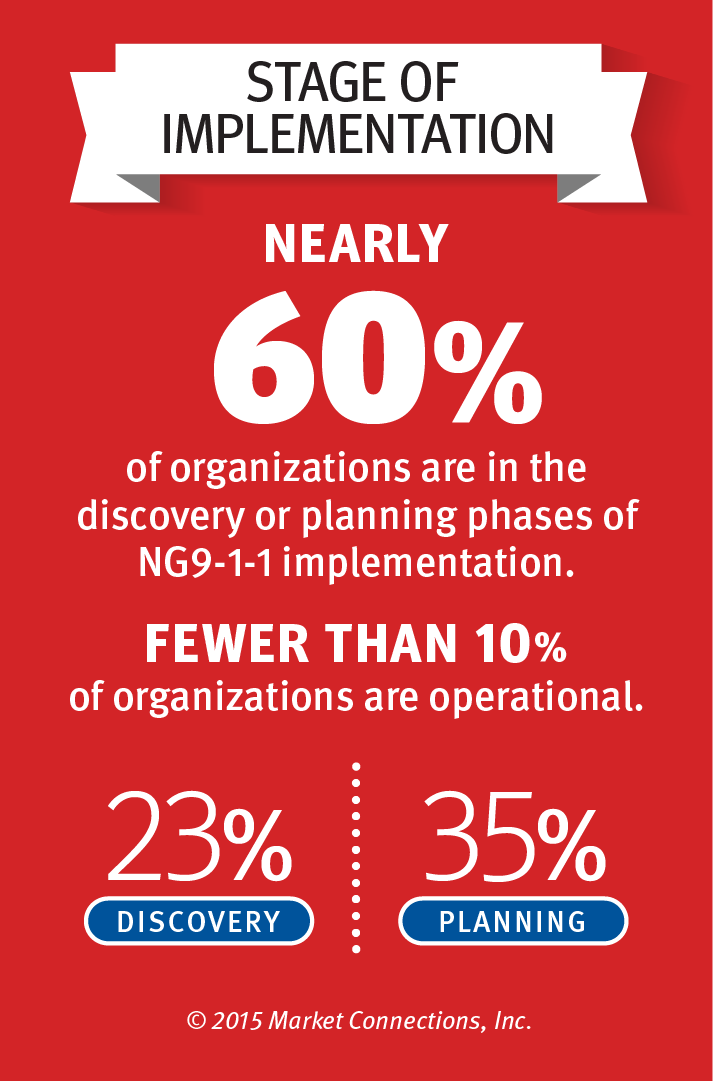 Nearly all Americans today are using cell phones, with a growing number of U.S. households relying solely on mobile devices for communication. Yet most citizens do not realize that existing 9-1-1 emergency systems do not handle mobile data accurately—location data from mobile phones can be inexact and text messages may not even reach traditional 9-1-1 call centers.
How quickly are local and state government entities adopting Next Generation 9-1-1 systems (NG9-1-1) to protect their citizenry? Are current updates enough?
To gauge government entities' understanding of the needs associated with the changing emergency response system, General Dynamics Information Technology (GDIT) commissioned Market Connections to determine how far along state and local governments are in planning and implementing NG9-1-1 systems, as well as the challenges they face.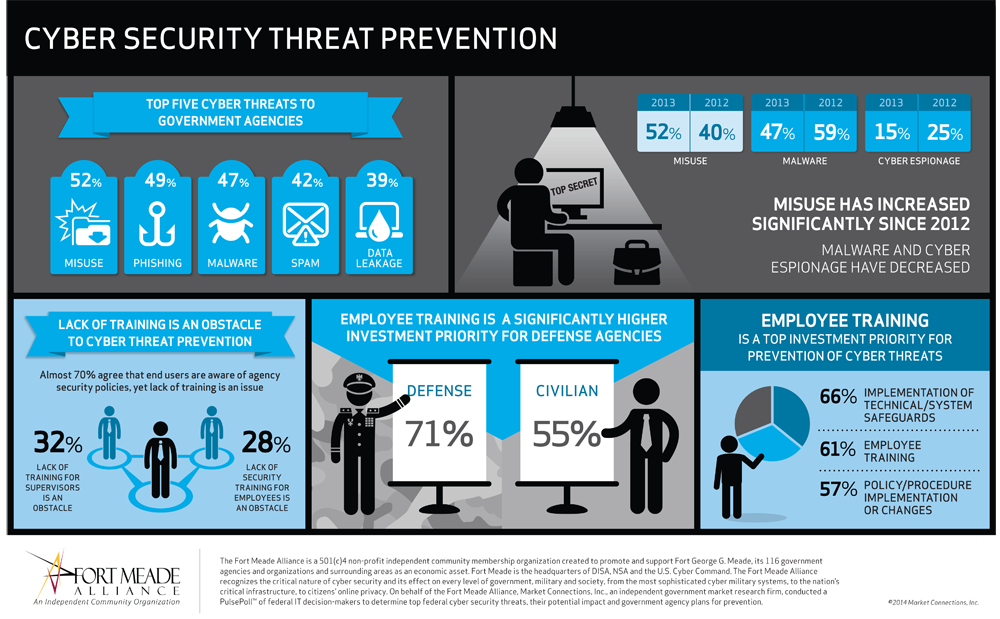 Cybersecurity PulsePoll™ Identifies Training as Top Priority for Government
A Market Connections PulsePoll™ of government IT professionals, conducted on behalf of Fort Meade Alliance, finds that training to prevent cyber security threats is an investment priority for more than 60 percent of federal civilian and defense/military organizations. The research found that:
Almost 70 percent of government IT decision-makers agree that end users are aware of agency security policies, yet lack of training is considered an obstacle to preventing cyber threats by about one-third of survey respondents.
Employee training is among the top investment priorities for prevention of insider threats
Employee training is a significantly higher investment priority for defense agencies, compared with their civilian counterparts
"Cyber security awareness training can help solve many of the challenges we face with protecting information technology assets, and our government's most sensitive information and mission-critical systems," said Deon Viergutz, president of Ft. Meade Alliance and director of cyber operations for Lockheed Martin Information Systems & Global Solutions.
"Through educational programs developed by our institutions of higher learning and through E.A.R.N., and other workforce training programs offered by the state of Maryland, current and future generations of cyber warriors are being prepared for careers in the industry," said Jeffrey Wells, executive director of cyber development in the Maryland Department of Business and Economic Development. "With input from the government, this survey reinforces the need for education and training to evolve to meet the ever-growing demand for qualified workers in the field."
The poll measured awareness and attitudes about a wide range of cyber security topics, including threats, challenges to insider threat prevention and investment priorities for prevention of insider threats. Survey results reflect respondents from federal civilian and defense/military agencies.
Research Reveals Nine Marketing and PR Myths
A new Market Connections study, commissioned by Vocus, busts marketing and public relations (PR) myths and reveals how marketing automation is delivering benefits in terms of efficiency, analytics and campaign management.
The study shows a changing world of haves and have-nots for marketing professionals and a movement toward digital and social media in public relations. Vocus, a leading provider of cloud-based PR and marketing software, released the study in early June 2014 at their Demand Success conference.
The study, based on an online national survey of 325 mid- and senior-level marketing and PR professionals in May 2014, supports many current trends in marketing and PR, but busts several generally accepted myths on the social Internet. The research exposes the changes in both marketing and PR professionals' worlds. In PR, it reveals a move towards digital and social media. In marketing, a struggle to grasp digital media technologies emerging in their space. Along with these notable shifts, it also shines light onto common myths upheld within the industries.
Accountability is the new mantra for higher education administrators, and it requires merging the institution's intellectual identity, constituents, and business systems and services. The ability to leverage these assets is directly related to success and results in this pressing need for accountability.
Dell Software commissioned Market Connections to poll higher education IT administrators on awareness of, and attitudes toward, the use of data replication and integration tools, especially the features they deem most critical when selecting a tool.
Download a PDF of the white paper and infographics, which detail top frustrations and the most critical features of managing data and the supporting suite of tools.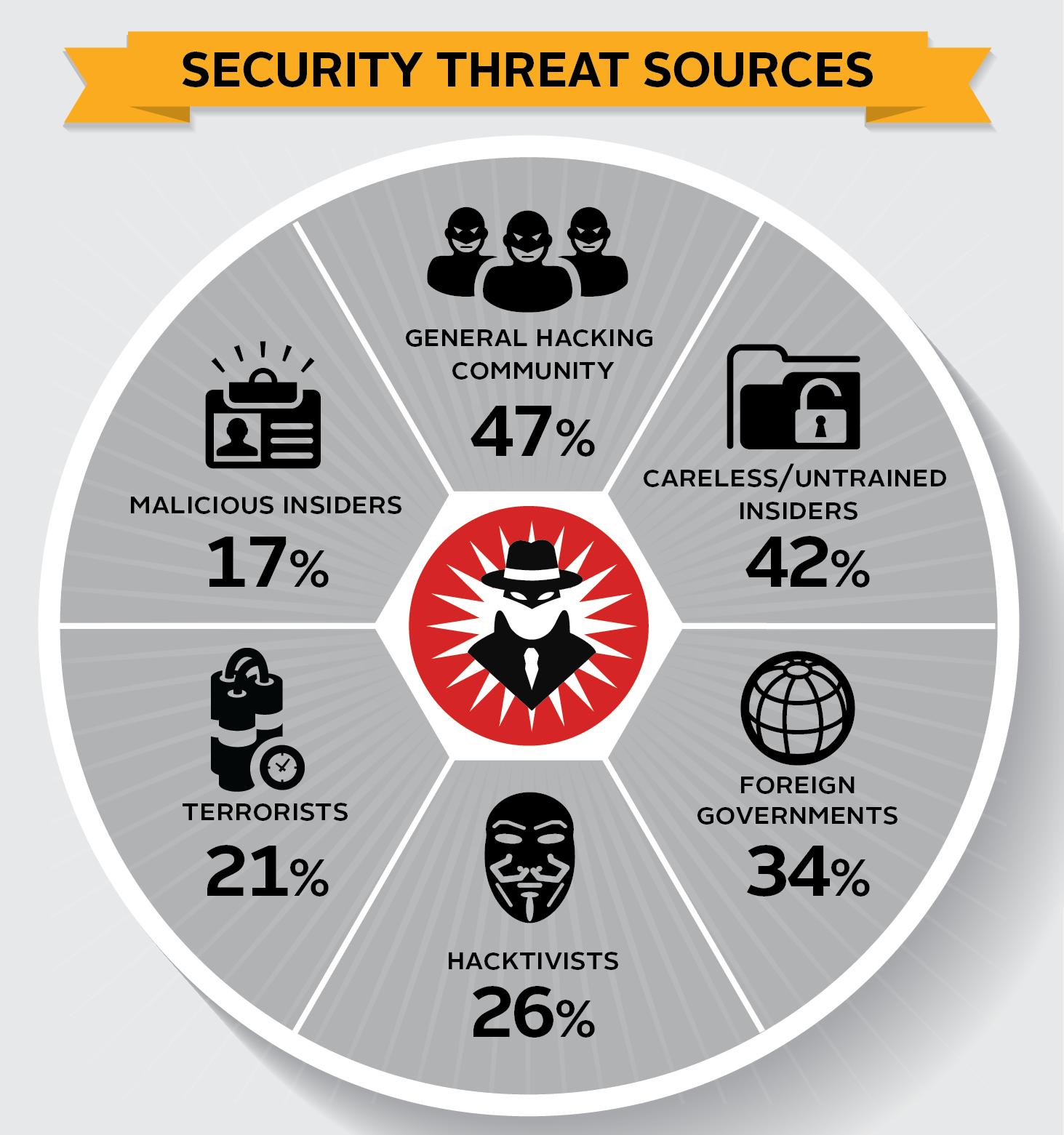 SolarWinds, a leading provider of powerful and affordable IT management software, commissioned Market Connections to conduct a cybersecurity study that revealed malicious insider and outsider threats affecting federal agencies, even though they feel cybersecurity-ready.
SolarWinds has used this research and associated report, white paper and infographics for some advanced thought leadership marketing strategies that include publicity, social media promotions, webinars, speaking engagements and demand generation.
The study found that many agencies are still confronted by threats from careless and untrained insiders, and are tasked with mastering IT security despite organizational and budget challenges.
SolarWinds generated significant exposure, more than 500 leads and an award for this strategic thought leadership promotion:
Press coverage – 21 articles in key online and print trade media
More than 1,250 views of the research report on Slideshare
More than 1,200 views of the infographics on Slideshare and LinkedIn
Overall Best in Show award at the June 2014 AFCEA Cyber Conference Solutions Trail for a presentation leveraging the research and insights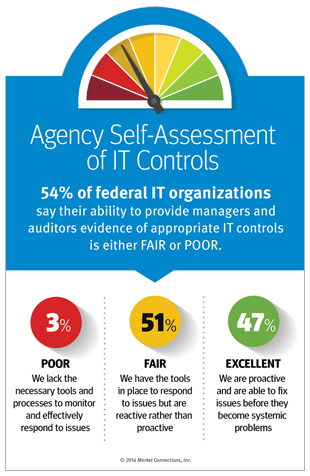 Consistency Keeps Agency Data Secure
POLL REVEALS HALF OF GOVERNMENT AGENCIES DO NOT ADDRESS NETWORK VULNERABILITIES PROACTIVELY
A new poll sponsored by Dell Software reveals half of government agencies do not address network vulnerabilities proactively, impacting security compliance and the ability to respond to threats.
With federal IT departments stretched thin, how many days has it been since you last verified meeting internal policies, backed up your data, or monitored your environment to see who has access to what and whether they've done anything with that access?
IF THE ANSWER IS MORE THAN ONE HOUR YOU MAY RUN THE RISK OF:
Failing an audit
Non-compliance with new mandates
Inability to provide evidence of data to satisfy legal requests
Inability to respond to a request from senior management, HR, or finance for a report
A data breach threat
Loss of critical data
When it comes to data security, it's not a matter of IF something will go wrong, but WHEN. Is your agency prepared?
Fill out the form below to download the study results white paper, which details top federal IT compliance and governance concerns, potential costs of non-compliance and key attributes of audit and compliance solutions.