Project Page
These are only project pages.
In 2013, Market Connections conducted a Federal Mobility PulsePoll™ to gauge how critical mobile devices were to federal employees and how it affected their productivity. To follow up on the original study, in 2016 Market Connections polled 200 federal decision-makers who use mobile devices for work-related tasks. The objectives in repeating the PulsePoll™ were to view trends in mobile use for work-related tasks; follow up on how mobile devices affect productivity; and to delve deeper into the type of work-related content and media federal decision-makers are viewing on their devices outside of traditional business hours.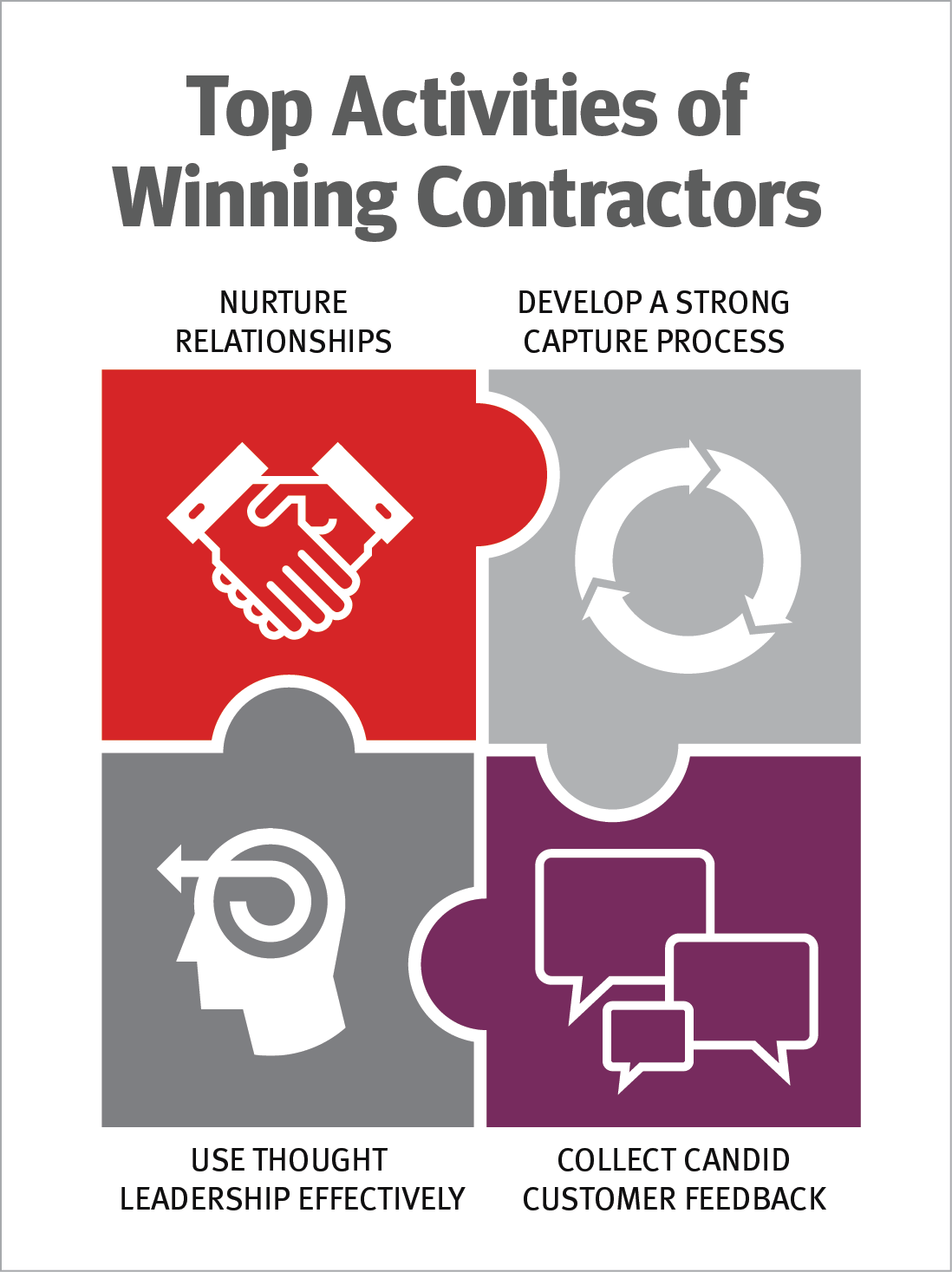 Today's winning contractors need to be highly nimble and creative with strategies to uncover, win and retain business.
Unique research by Market Connections, Inc. reveals several strategies that give government contractors a competitive edge to win and retain business. Those able to adapt and thrive in today's post-sequestration environment have the following commonalities:
96% of contractors use a variety of research to better understand the federal marketplace
83% of contractors use customer satisfaction research to increase competitiveness
65% of winning contractors report using more thought leadership marketing materials than those with lower win rates (44%)
Gain your competitive edge with the best practices of winning government contractors from an authority on preferences, perceptions and trends in the government marketplace.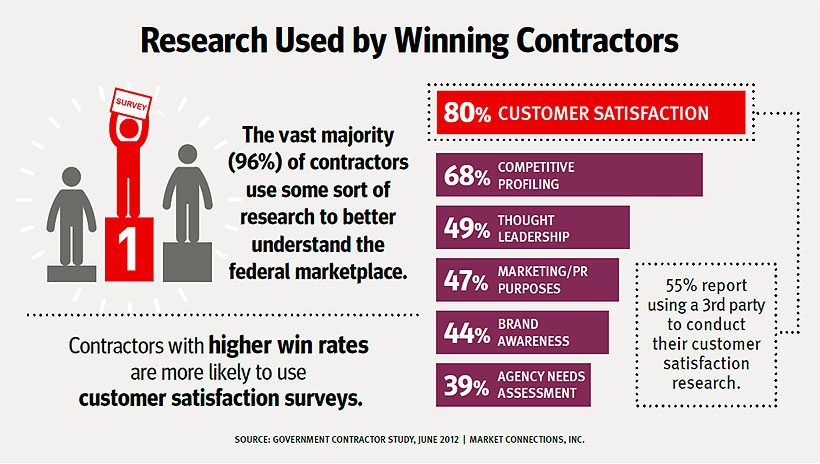 A Competitive Advantage for Winning More Government Contracts
Look closely at the techniques employed by the most successful government contractors and you'll find more companies acting on the intelligence gained through independent third-party contract evaluations and customer satisfaction research. It's a proven path to the vital insights that deliver the advantage you need to win more recompetes, increase competitiveness, and maintain steady growth in times of austerity and sequestration.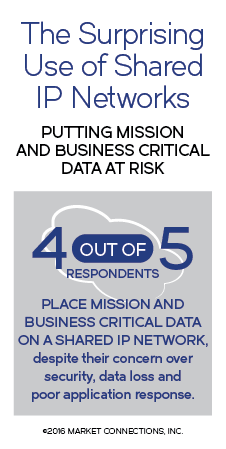 Trends, Risks and Benefits
The growth of global IT data center traffic is increasing pressure on the network to deliver data reliably and efficiently. How organizations transport, store, manage and protect their data is more critical than ever. In the past, organizations have used SAN storage for mission-critical data and IP storage for noncritical workloads. However, because IP storage solutions are perceived as less expensive and easy to implement and manage, many commercial companies are now using IP storage for all types of data.
Brocade commissioned Market Connections to see if the federal market mirrors this trend and to uncover the concerns and pain points of managing storage and storage networks.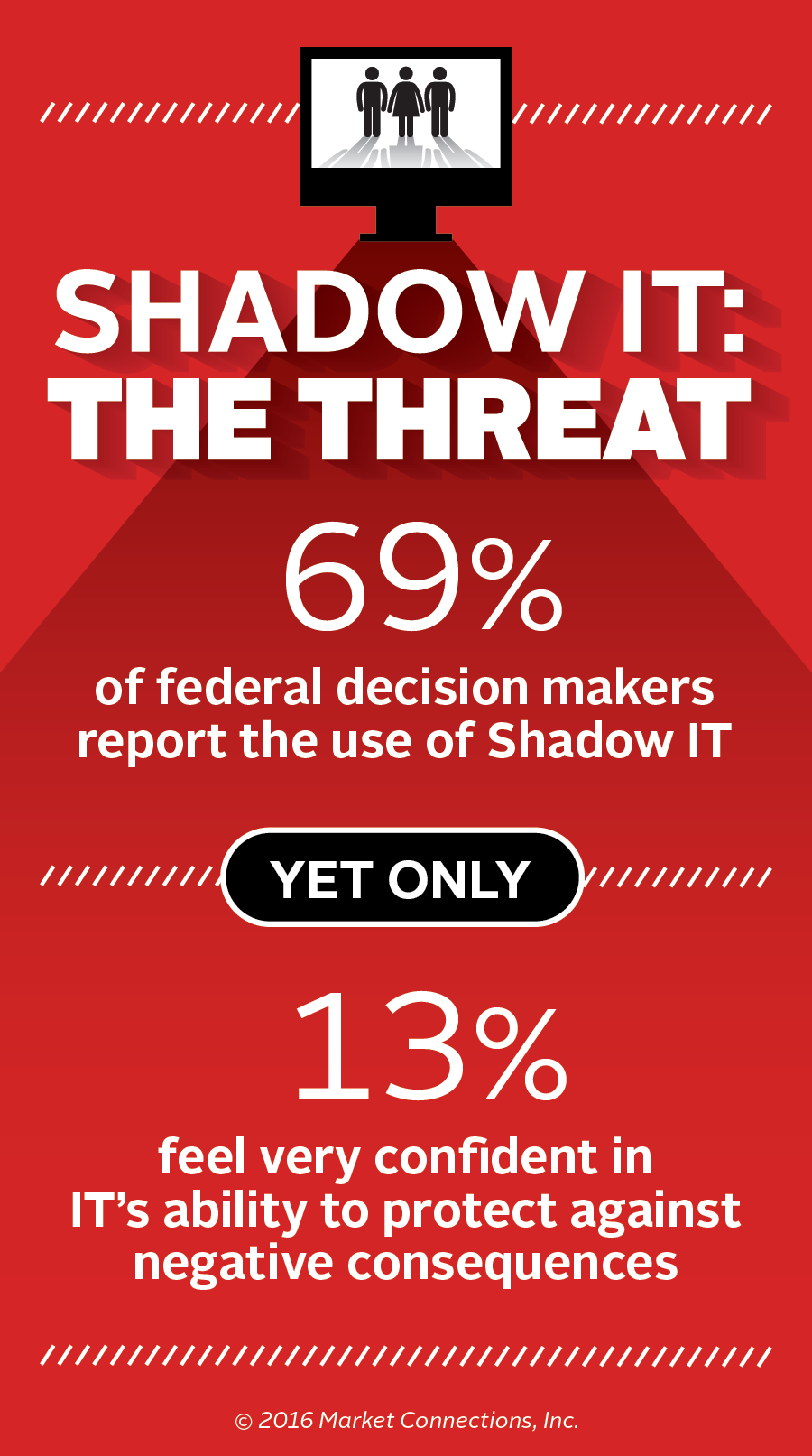 Shadow IT, Mobile, Shared Services
Take Control of your Agency's IT
To find more efficient ways to deliver IT services, many federal program offices are looking beyond what their internal IT department provides through Shadow IT and mobile technology. At the same time, IT departments are streamlining resources by using IT shared services. While each offers benefits, such as faster development times, easier access, and increased efficiency, adopting these technology trends presents challenges to agency IT departments.
IT professionals feel they have less control over how technology is being used due to Shadow IT and mobile technology use. It make them less confident in the security of the agency's data and ability of their network to run efficiently. SolarWinds commissioned Market Connections to learn to what extent these technologies are being used at federal agencies and the resulting challenges faced by their IT departments.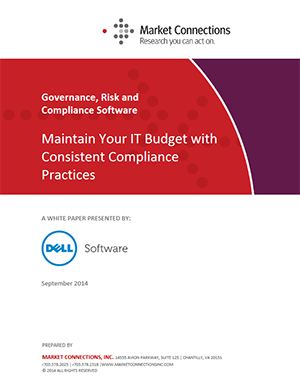 Maintain State & Local IT Budget with Consistent Compliance Practices
State and local agency IT departments are stretched thin even as they work diligently to address three key operational challenges: compliance requirements and federal mandates, increased cyber threats and increasingly shrinking budgets. Given these challenges, it's common for routine maintenance tasks to slip.
Dell Software commissioned Market Connections to poll state and local IT workers on awareness of, and attitudes toward, the use of GRC software in state and local government agencies, especially the features they deem most critical when selecting a tool.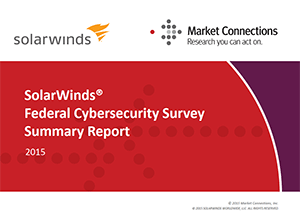 The constant focus on malicious attacks from outsiders has prompted increased investment in preventing breaches. However, federal cybersecurity managers know that the greatest threats are actually people on the inside; and this threat is the most difficult to manage.
Following up on a 2014 study, SolarWinds commissioned Market Connections to uncover challenges federal agencies face in addressing cybersecurity threats; gauge confidence in preventing those threats; and measure changes in concern and investment to combat different types of threats.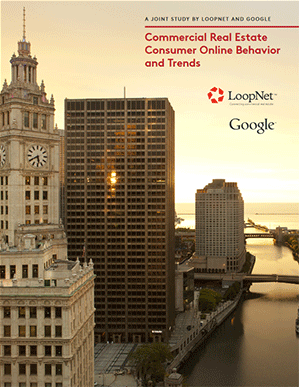 This study aims to help commercial real estate professionals understand the way tenants and investors are using the internet to search for property and make lease and purchase decisions.
Market Connections conducted a blind, online survey to examine the online search behavior and sentiments of commercial tenants and investors. Google supplemented the survey results with internal data on commercial real estate search behavior, engagement and trends to provide a 360-degree view of commercial real estate search habits.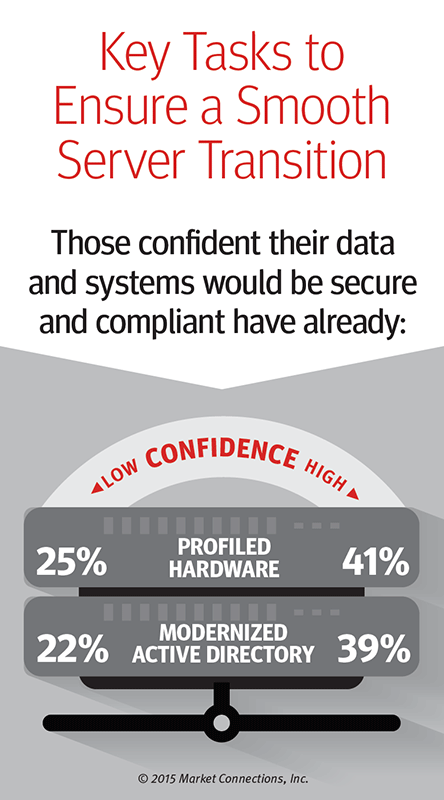 The end of service support of Windows Server 2003 prompted many agencies to migrate — or consider migrating—to Windows Server 2012. The decision to migrate creates apprehension about the impact on service and productivity. Tools are available to facilitate management and compliance, reduce risk and prevent service disruptions and productivity loss to ensure a migration has no impact on an agency's systems.
Dell Software commissioned Market Connections to find out the status of agency migrations and the migration barriers agencies face.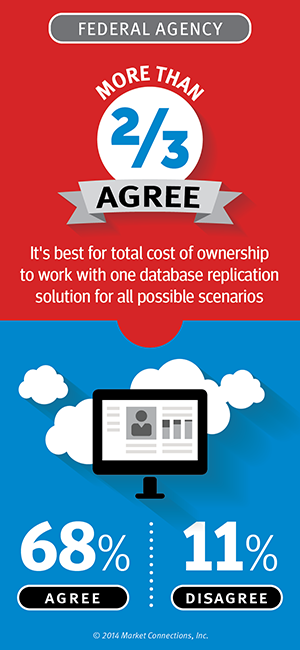 Reducing Risk & Improving Reliability for Federal Agencies
As the amount of data federal agencies manage and collect continues to grow, so does the opportunity for inaccuracies. These can impact the mission, data security and compliance requirements. Data replication and integration tools help manage this data, keeping it accurate and secure.
In agencies where data is often collected and stored on different systems located in different places, bringing it all together in a timely and efficient manner can be a challenge.
Dell Software commissioned a PulsePoll™ to uncover the biggest frustrations around managing data replication, and what agencies consider the most critical data replication features.