Federal Media & Marketing Study
Your contact in the Army lets you know that they will be retiring in the next month. What does this mean for any future work you were hoping to get? Do you have a strong relationship with their incumbent, and do they understand the benefits of what your company offers? What about your contact? Are they retiring for good, going into business for themselves or looking to continue their career in the private sector? If the latter, should you be concerned about them going to a competitor?
These are all valuable questions you should always ask yourself as you build relationships with your government clients to ensure you are prepared to ensure a stronghold regardless of what your specific contact does at the agency.
Retirement, Resignation and Other Impacts Affecting the Federal Workforce
While the retirement "tidal wave" never quite hit as hard as predicted, over the past couple of years we have started to see a strong tide of long-term government employees, decision-makers and influencers taking that step away from the government towards retirement, contract work or move to the private sector.
We first reported this drop in the 2019 Federal Media & Marketing Study. Those aged 55+ in the federal workforce dropped from 56% in 2017 to 49% in 2019. This trend continued into 2020 when it dropped again to 45% and 43% in 2021.
In 2021, with a continued pandemic, a change in administration, and amidst the Great Resignation, we asked about other challenges concerning federal employees in the workplace. Topping the list was employee morale at work (53%), followed by changes in government policies (38%) and retirement of current employees (38%).
For agency human resource professionals and agency leadership looking to keep their employees, fill positions and find ways to appeal to multiple generations entering the workforce in a competitive market, they must think of strategies of appealing to strong candidates into federal service while taking care of their current staff.
Impact on Government Contractors
Government contractors should also be paying close attention to these factors that can impact their business with client and prospect agencies. Changes in the federal workforce can impact everything from sales and marketing to HR and recruiting.
First and foremost, for those selling into federal agencies, relationships are key. Build relationships across the agency, both up and down the decision-making chain, to ensure you continue to have strong contacts in place when your initial POC or decision-maker retires, moves to another agency or gets hired away.
For those marketing to federal agencies, understand the importance of getting your message across multiple channels using different formats of content that appeal to multiple generations. An example of this can be seen in results from the Federal Media & Marketing Study dashboard with those aged 35-44 using Facebook more than those 55+ (81% and 74% respectively). The Content Marketing Review also provides some insight into the content they prefer and channels they go to by federal, state and local and education markets. Inferences can be made on generational preferences due to the average ages of those in each of those markets.
Finally, for those looking to recruit from agencies, whether federal decision-makers are retiring, looking for a new job (13%) or just "browsing" (37% are not actively looking, but open to a new position/job), there are opportunities to hire experienced government employees. Consider using multiple platforms to list your openings including traditional sites like Indeed, but more important social sites such as LinkedIn and Facebook to reach government employees with opportunities.
Final Thoughts
What's important to remember is that you must not assume that a federal employee or retiree is not open to moving on to new opportunities, or you may run the risk of losing a valuable contact to a competitor, or worse, if your relationship net is not wide enough, ultimately lose contact and business with your client agency.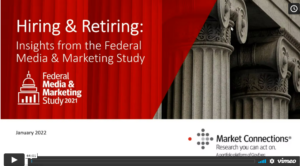 Want to learn more? Watch our complimentary webinar: Hiring & Retiring: Insights from the Federal Media & Marketing Study to see detailed results and key takeaways. In addition to results, a panel of experts from GovExec and LinkedIn share additional insights.
B2G marketers often reach out to us for data and insights on how to strengthen their business proposition, get in front of their customers and help their sales team with lead generation. As a market research company, we conduct interviews, focus groups and surveys to help our government contracting customers refine their strategies for a stronger return on investment.
Who Are You Targeting?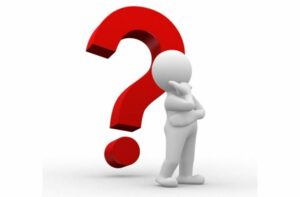 The first request we usually get is "I only want to hear from the C-suite," with the assumption that these individuals are THE key drivers of any procurement.
Our follow up question is, who sits around the boardroom table influencing those (C-suite) decisions? Who is writing the recommendation memo? Chief officers do not make decisions in a vacuum, but instead surround themselves with their staff to help understand the challenges of their work, gather feedback on their perceptions and experiences with vendors and provide recommendations and/shortlist prospective contractors. The Federal IT Personas Study focuses on those folks around the table with top execs who influence and advise throughout the procurement process.
Have you identified those trusted advisors and influencers and targeted them as well? Do you understand their motivations and preferences? A procurement officer's issues will differ vastly than a technical expert's or a program manager's. Understanding what is important in their decision-making, what motivates them at work, how they prefer to get information, etc., can help you develop the right strategy that educates, influences and creates trust with your targets.
What Information Are You Providing?
Once you have identified WHO you want to talk to, the next step is WHAT you want to provide them with. What works with corporate or B2C audiences does not necessarily translate in the public sector market.
First, your content needs to educate your audience. The Content Marketing Review revealed that across the public sector landscape, IT influencers and decision makers are hungry for content containing data and research, as well as examples of past experiences and case studies.  Whether federal, state and local, or education, research reports, white papers, case studies and product demos top the list of types of content. Regardless of whether they are starting to develop their requirements or finalizing their selection of vendor, understanding what your audience is looking for can help you become a trusted vendor.
Narrowing down the WHAT helps focus your resources and budget dollars. What content gives you the most bang for your buck? Where will you get the biggest ROI? Having those insights, your content creation strategy becomes easier to assemble and you can focus on the next question.
Where Is Your Audience Going for Information?
The final piece of the puzzle for public sector marketers once they've created great content is WHERE to place it. We remind our clients that creating great content is not a one and done scenario. One needs to share that content with their audiences where they already are, including speaking opportunities at events, webinars, in earned and sponsored media, social media, or other platforms.
Going where your customer already is, prompts the questions, "Where are they going for information, what sources do they trust, and how can you get and stay in front of them?"
Instead of throwing spaghetti on the wall and hoping it will stick, this information is already out there for you. The Federal Media & Marketing Study looks at the media consumption and marketing tactics preferred among federal audiences. It takes into consideration all types of media including print, online, television, radio, and other channels such as social media, podcasts, events and webinars. Based on a survey to thousands of federal respondents, the database provides findings that can be drilled down to detailed agency types, agencies, product categories, role at the agency, location or other demographics.
Final Thought
With answers to the questions "WHO, WHAT and WHERE," B2G marketers can create a strategy for understanding their target audiences and provide them the information they are looking for in the places they are looking for it.  Syndicated studies from Market Connections or further investments in custom research can provide those answers and insights for agency or target-based marketing, a small investment that can increase the ROI of everyone's marketing efforts.
Want to learn more about research in the public sector? Contact us.
For more information about the following studies:
FEDERAL MARKETERS MUST STAY ABREAST TO REACH TARGET AUDIENCES
It's no surprise to anyone that the way we are seeking and receiving news has been changing and evolving. Gone are the days of starting your morning off with a coffee and newspaper, listening to news radio on the way to work or waiting for the 6 or 11 PM evening news. Over the years, news media has evolved to include blended online/print publications, 24-hour news stations, online news, and more recently, online social media and cell phone notifications.
Recent events and changes to the workplace have only accelerated the change. Federal marketers, like many others, must respond and adapt to these changes or else get left behind.
Many External Factors Affect Federal News Consumption
In years past, we have focused our Federal Media & Marketing Study on media channel preferences and the level of trust and confidence in those media properties. In many areas, 2020 was an accelerator, with both the onset of COVID19 as well as historical elections. The impact of the year's events on the amount of news and the sources relied upon were reflected in the 2020 study results of federal respondents, including:
Dousing the firewalls. Federal respondents' ability to telework improved access to previously blocked sites on personal devices throughout the day.
Shrink in the ink (including industry print). Most print publications were delivered to workplaces and passed along to colleagues. With employees working remotely, many lost access to these resources.
Drive time crash. Remote work affected "morning drive" listenership negatively and likely will into the future; however, we heard anecdotally that listenership did spread and increased throughout the workday.
Say her name. Daily radio listenership showed increases, potentially attributed to news radio being available streaming and easily summoned via Alexa/Google.
Sourdough recipes and the news. Federal employees could access social media on personal devices throughout the day. LinkedIn, Instagram, Twitter and Reddit usage increased significantly in 2020. Pandemic updates and a historic election year, with candidates and campaigns communicating much more via social media channels, put social media front and center.
Skeptics abound. There was also a significant decline in confidence across media outlets in 2020. Political polarization and concern with media bias continued.
Feds, like the rest of us, are affected by extenuating factors. Marketers must not always rely on tried-and-true methods of the past but keep an eye on the horizon and make necessary pivots based on data available.
What Should Federal Marketers Pay Attention to in 2021?
We'll continue to look at trends and impacts on federal employees' media usage, preferences, new and upcoming channels, and NEW THIS YEAR, where feds go for their local and breaking news.
Where federal employees go for local news can prove to be useful in building a tailored media plan across the country. A better understanding of "go-to" news sources and trusted news channels can put your message where their mind is. This may be the place to concentrate both paid and unpaid media and marketing efforts.
Need data to help make informed media purchasing decisions? Our 2021 Federal Media & Marketing Study provides the information you need.
Need more custom research to learn about your customer's needs, challenges, barriers, perceptions and preferences, contact us to see how we can help.
On Using the Federal Media & Marketing Study Dashboard for Strategy Development
In order to understand how federal marketers are using data from the Federal Media & Marketing Study (FMMS) dashboard first-hand, Market Connections president, Aaron Heffron recently reached out to Sarah Kemple, Director of Brand at Booz Allen Hamilton, a long-time FMMS user, on how teams at Booz Allen are using the full set of data for their procurement, business development (BD) and marketing strategies.
Watch the interview video or read the Q&A below for more details.
AH: Sarah, you've been a long-time user of the FMMS data… that we've been doing for the past 10 years. You all use it on a regular basis within the brand area. Can you tell me how you use the data and how it's useful for you?
SK: Absolutely! One of my jobs as brand director is really helping the marketing leads understand their audience better, get better insights, and figure out where best to put their tactics and so… there's a number of ways that we use that.
In particular, what I'm really working on right now is developing our personas. We have a number of buyer personas that we have developed with federal government and really what's interesting is to understand behaviors and where they start to differ based on who they are and where they play in terms of the procurement process…
So what I like about the dashboard is you can really hone in and say, "Listen I want to look at somebody in defense who's role is really more about being a contracting officer in procurement," and you can look at their patterns of behavior versus maybe someone who's more senior level in the decision process like a senior executive… You do start seeing trends about who's more engaged on podcasts and who might be more engaged on conferences and webinars and you do start seeing certain differences about whom you're engaging…
We use that information then, to work with different teams. For example, we're working with our BD team and they're starting to figure out maybe there's a particular procurement and they're trying to figure out what tactics they need to take. It helps them determine where they want to go, what kinds of digital engagements might be right or what types of pubs they're interested in, based on the types of people they're looking to target… So, it does give us some great information on what content to do across that buyer journey and what are the more effective publications for a particular group.
AH: That's one of the main reasons we started this so many years ago is that, often people had a blanket approach in the federal space…you know, just kind of did it… the same thing across everyone. You kind of knew in your gut there were some differences in there, but you couldn't really point to it and make that kind of justified case that, "Hey I need to do things a little differently for one group versus the other."
Beyond brand, are there other areas or other groups within BAH that seem to be using this information or this data?
SK: Well, as I said before… so there's the BD team, we use the tool working with them, we collaborate with them to help them figure out different strategies. Our content team, also the same thing. They're going to look at different ways that they can engage, what kind of content they should be developing, and for whom.
We like to be focused with our budget, you know, nobody has money to waste. You want to make sure you're really choosing the right avenue and the right people. And so wherever anyone across the firm is looking to do certain kinds of engagement, we like to partner with them to really help them understand that market space and really hone in as much as they can on who they're trying to talk to, because there definitely are a lot of differences. Particularly when you start getting down to the civil level, there are so many different nuances there, so it really does help to have something help you target those nuances.
AH: Yea, certainly get the biggest bang for your buck. You know, everyone is dealing with limited resources, so you want to apply those in the best way you can.
SK: Absolutely, especially now with everything being a little different.
AH: Yeah, that is the understatement! And with that… I want to just thank you… for jumping on…I really appreciate your time.
SK: Anytime! Thank you and thank you for the dashboard.
AH: My pleasure.
About the Federal Media & Marketing Study:
For over 10 years, Market Connections has provided the federal marketing community with insights around the media and marketing habits of federal employees. The latest release of the Federal Media & Marketing Study on-demand overview is just the tip of the iceberg. We remind the federal marketing community that beyond the overview, lies a robust database filled with three year's worth of data that can be sliced and diced by specific target audiences such as agency type, agency, job role, product category and location.
Learn more about the study, purchase the overview or subscribe to the dashboard.
In our last blog post, Should You Reconsider Your 2021 Federal Media Strategy in Light of COVID?, we touched on how to use agency-based marketing (ABM) for media purchasing when space in general federal publications are limited.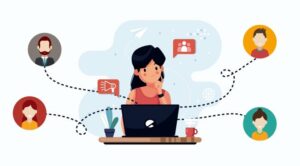 Federal marketers are oftentimes challenged with tight budgets and high expectations to produce strong ROIs. Simply, they are expected to do a lot with very little. Agency-based marketing when paired with investments in advertising and other broad marketing strategies can provide a boost to the expected return on investment.
What is one way to maximize a small budget? Effectively connect with the preferences of your TARGET audience with a strong understanding of what makes them tick day to day.
Using Personas to Connect
There are many ways of developing personas, depending on your needs and resources. A good place to start is your own Customer Relationship Management (CRM) tool and your client-facing teams. If you need deeper insights your tool cannot provide or have been surprised by conflicting comments from your teams, you may want to consider third-party research. Using personas helps you drill down on your customers' preferences and develop a focused strategy tailored specifically to them.
For federal marketers, that can mean a focus on agency type, agency-specific, geographical, or product/service categories. Understanding your customer on a deeper level can help you speak to their personal and professional goals and challenges. For example, if you are targeting an IT end-user, you may focus on educating about more technical features because of their desire to be an expert in their agency, whereas if you were marketing to a procurement specialist, you would want to focus on cost-savings because of their pride in being prompt and efficient. In the same vein, one may prefer to watch a webinar, while another prefers to read a white paper due to their personal learning preferences.
Learn more about Market Connections' Federal IT Personas.
Consider "Where" They Are Already Going
In addition to content creation, you may want to consider where and how you are advertising or sharing your content. Whether it's because space is at a premium in some of the more general federal publications, or you are focusing on more niche publications based on your particular audience, understanding where your audience is going for news and information can help get the right eyeballs on your content and drive agency decision-makers to your site.
Ad placement is only one lever you can use and is often most effective to build awareness. If you are having difficulty closing sales among those who know you, consider delivering information and messages through other popular channels among your target audience. They may have a preference for a certain social media platform. They may use certain streaming services to reach specific news programs or tune into radio stations throughout the day. Of those media channels, are there geo-locating advertising opportunities you may want to explore to reach your prospects?
Selecting correctly from your customer's media buffet of online publications, print publications, social media sites, TV, radio or streaming services can eliminate some of the "guesswork" and improve the ROI on your marketing investment.
Learn more using our annual Federal Media & Marketing Study.
Looking Deeper
Consider diving a little deeper and consider more targeted marketing as part of your overall federal marketing strategy. Beyond creating tailored content that is relevant to your specific audience, also consider the format and placement of that content. Federal marketers have many tools available that can pair nicely with internal intelligence to help make educated decisions about their company's federal marketing investments.
Insights Pulled from a Sneak Peek of the 2020 Federal Media & Marketing Study
From the desk of Laurie Morrow, Vice President of Research Strategy, Market Connections Inc.
Over the twelve years my team has conducted the Federal Media & Marketing Study, we have looked at how federal audiences are engaging with different media properties from print publications to online to newer social medias. In addition to analyzing readership, we also investigate habits, trends, levels of trust and confidence and time spent with media along with other marketing tactics year over year.
With all the changes and pivots the federal market and those marketing to them had to make this year, I was eager to see whether there would be changes in this year's results due to the pandemic, elections and other recent major events.
Taking a sneak peek into the findings, I found some interesting results around trust and confidence that while not tied to pandemic, may be a result of a charged political and social climate this year.
Confidence in News
The first is an overall decline in confidence in general news media. Like others, I was not necessarily surprised by this finding, as we started to see some drops in confidence in general news sources last year tied to political party affiliation.
What I did find surprising was seeing a decline in some federally focused media as well this year. Over the years, the level of confidence in federal news outlets has relatively remained unscathed but has distrust now seeped into federal media? Is this due to the charged climate, or do we expect to see this trend continue to grow in an era where "fake news" and general distrust in media grows along political and geographical lines?
Trust in Source
Similar to the level of confidence in news, this year's results indicate an overall decline in trust of ALL sources of information, from associations to industry pubs to government contractors. While the ranking of trust in sources is relatively the same as last year, the general decline across the board could possibly point to a growing skepticism within the federal audience. In coming years, we will continue to measure that level of trust to see if this continues to trend down or if this current dip in trust is due to the current climate.
Regardless of whether this is a trend or not, this begs an important question, "What can we do as an industry to regain our federal customers' trust?"
Other Results
In addition to details around the level of confidence in media properties and rank sources of information by trustworthiness, the 2020 Federal Media & Marketing Study most notably studies the readership of general and federal publications, social media site usage, and television viewership and radio listenership (for the DMV), among other marketing tactics. We highlight any differences found by agency type, location (inside the beltway vs. outside), party affiliation, and geography (urban, suburban, rural) among other characteristics, where statistically different.
Learn more about our study, purchase the on-demand overview and/or annual subscription to the dashboard.
https://www.marketconnectionsinc.com/fmms2020study/
Understand Public Sector Preferences & Consumption
Like many of you, recent events have caused us to cancel or postpone our in-person meetings, events and conferences based on government guidelines to create some social distance to protect ourselves and our community. Many of these events and meetings were crucial to our business from both an educational and business development perspective.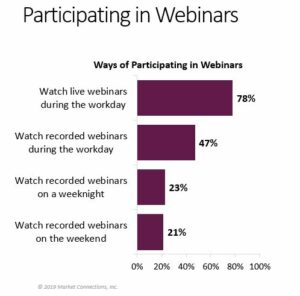 While it's a good thing for our nation, marketers will need to review and revisit their plans for reaching target audiences and could affect the way our business works not only over the next couple of months, but we may well feel the impact on our businesses for the next 18-24 months.
Social media, webinars and virtual events are critical activities in keeping your business rolling, making contacts, and educating your customers who may be self-quarantining. The good news is, many of those working in the public sector were already leveraging these tools on a regular basis, so we won't have to start from scratch.
According to our most recent Federal Media & Marketing Study (FMMS), three-quarters of federal workers reported watching live webinars during the workday, and at least one in five were watching recorded webinars on their own time (weeknights and weekends). We foresee this number growing over the coming months. In this new environment for engaging our audiences, it's important to maximize specific content and optimize the timing and length of these virtual events.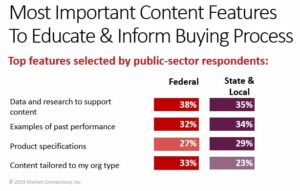 Market Connections' Content Marketing Review found both federal and state and local audiences most want webinars to include research and data supported content and highlight specific examples of past performances. In addition to these key elements, they also wanted to see content tailored to their organization type and product specifications.
CASE STUDY: Learn how client, Lockheed Martin, used thought leadership research to create a webinar and other marketing assets.
Market Connections has also found that over one-third of federal workers and nearly one-quarter of state and local workers were already spending 30+ minutes on webinars. Approximately 50% of feds preferred watching a webinar during the lunch hour (between 11 AM and 2 PM).
While nothing replaces great face-to-face opportunities to meet and connect with your public sector customers, webinars may be a great way to build on your relationships, provide them useful insights, educate them and provide a virtual social touch point; not only during times of isolation, but also as part of our regular marketing planning.
Learn more about webinars and the public sector:
Learn more about creating research-based thought leadership content for webinars.