Exclusive Information Session and Networking Event Happening on 6/29
With the plethora of information sources available at our fingertips, sifting through and narrowing down the data required to map out effective marketing plans and strategies can take considerable time and effort. We want to help.
Formerly brought to you under a different title, Content Marketing Review, the spring iteration of our two part Marketing for the Public Sector (M4PS) study answers questions like when, where, and how the public sector prefers to receive information about products and services. For example:
One third of respondents use LinkedIn for news related to their job vertical.
The favorite format for job-related information and education is explainer videos.
Well prepared presenters make for memorable webinars.
Launching on June 29th, 2023 at an exclusive networking event (happening in Tysons, VA), a panel of industry experts will dive into the current outlook regarding participation in in-person/virtual events and media/content format preferences. 
Here are five reasons YOU should consider attending:  
1) In-person networking opportunity.
2) Pertinent, actionable information for marketing plans/strategies.
3) Insights into public sector audience content preferences.
4) Types of content respondents prefer throughout the buying process.
5) High quality research you can act on.
Whether you are interested in a broad awareness campaign or a more focused agency-based marketing effort, this information session will help you measure the preferences of your public sector audiences.
Event details
The M4PS Content Marketing breakfast will be held on June 29th at The Archer Hotel in Tysons, VA from 8:00AM-11:00AM. Register today and join us for breakfast, in-person networking and an informational presentation by a group of industry experts. 
Early bird pricing available until 6/12.
Revisiting the Leading Brands 2021 Panel Discussion
Jonathan Sanders, Director, Research, GovExec
In the B2G space, there are few things more important than understanding your brand — it is the story you tell without ever walking into a room. It is the reaction someone has when they see your company mentioned online. It is the feeling they have when they see your company's name on the sponsors and exhibitors page of an event.
Most importantly, it is what runs through the mind of agency leadership when they see your company has submitted a bid for a large-scale contract. Without a well defined brand, you don't own that narrative. Internally, your team may have a strong grasp of your company's positioning and offerings, but thousands of government decision makers, Service members, and the general public may have an entirely different view of your company.
My question for you today is: are you tracking that narrative?
The Leading Brands study offers a succinct view into the question of brand positioning and tracking. Now in its 8th year, Leading Brands is the largest government decision-makers study capturing the priorities and perceptions of buying teams across Civilian agencies, the Department of Defense (DoD), and state and local government (SLG) entities.
In short, Leading Brands allows your team to look under the hood of your brand. It provides a critical analysis of your customers and non-customers, how your company is perceived against its competitors, and market strengths and weaknesses. The goal: to accelerate sales, guide partnership development, and define go to market strategies.
Leading Brands is a great tool to measure your company's brand and perception over time from key public sector individuals. But it is just the starting point to unlock your company's overall potential. In May 2022, GovExec's Insights & Research Group released the 2022 Leading Brands study with help from some long-time colleagues and leaders in the public sector. The study release event included a star-studded panel discussion consisting of Tim Hartman (CEO, GovExec), Tricia Davis-Muffett (Director, Global Public Sector Marketing, Google Cloud), Pamela Merritt (Managing Director, Federal Marketing and Communications, Accenture Federal Services), and Oliver Nutt (Vice President of Marketing, GDIT).
The panel of public sector leaders highlighted the efforts to drive brand awareness in the market and guide overall brand evolution while navigating a turbulent, crowded market. With a dynamic market whose needs are constantly evolving, it is increasingly important to note not only where your brand is, but where your brand will ultimately go. In order to peel back some of the key takeaways from this discussion, the Insights & Research Group is pleased to walk you through what our experts had to say.
The Importance of Studying One's Brand
The importance of studying one's brand cannot be overstated. If you are committing to regularly measuring your brand and competitors in the marketplace, you already have a lot in common with the largest companies serving the public sector. If you are not, you run the risk of not knowing how you are perceived, which can impact the company's ability to win contracts.
When our panelists were asked how they went about measuring their brand, Leading Brands came first. Serving as a great benchmark, the study permits you to do research on incredibly specific market areas, whether it be how you are perceived across multiple public sector verticals, customer vs. non-customer information, or your brand's association with leading concepts such as Cyber, Digital Transformation, AI, and Cloud, and more. This informative tool allows your team to zero in on a full-spectrum viewpoint of how they are broadly viewed across the public sector — knowledge the panelists value.
While it is massively important to know how your customers feel and interact with your brand, it is equally important to have insight as to how those inside your company view the company, too.
Tim Hartman, GovExec's CEO said "Your brand only really exists in the hearts and minds of your employees and customers. People who are familiar with your brand, or have a relationship with your brand, really are what are driving the brand the most."
GDIT's Oliver Nutt noted that internal conversations with employees are a great tool for understanding the internal brand perception.
Accenture's Pamela Merritt had one of my favorite insights during this discussion. She said that to measure a dynamic market, you need a dynamic market measuring tool and strategy. Underpinned by constant change, the public sector market is one that needs to be frequently studied and measured, which is exactly what Google Cloud's Tricia Davis-Muffett and team are doing. "We're doing more rapid measurement on a regular basis." Studying and measuring one's brand is a critical first step in developing go-to-market strategies that resonate with the broader public sector, but it is the first of many.
Aligning to the Core Brand
Another critical topic in the B2G space the panel discussed is that of alignment to the core values. Identifying and maintaining a set of core brand values and ideals and intentionally adhering to them in every move within the market is a necessity—this is what brings the brand to life.
All of the public sector agencies have one thing in common: People run them; ordinary people who have their own perceived notion of your brand. When you continuously align the company to its core brand values, it will be easier to understand how the people may view you in the marketplace. If your core brand values are inconsistent, it becomes difficult for individuals to understand what you stand for.
One of the most ancient axioms, "You're only as good as your word," feels just right in this discussion. If your company is not being intentional with its core brand values in the moves you make across the marketplace, those paying attention will begin to have doubts about your brand. This is particularly true for the public sector market that faces a barrage of new trends and buzzwords daily. With an ever-increasing scope of new widgets and tech trends, being able to authentically harness the energy of a particular marketing moment in a way that translates positively for your brand, yet celebrates and rings true to your core branding, is no easy task.
Merritt said: "If you want to move the needle on something, you need the entire company to be all in." The closer you are able to align your company's core values with the brand, you don't only win from a brand performance perspective in the broader market, but you also win from an employee perspective. As Hartman noted, with a brand only existing in the hearts and minds of your employees and customers, who would be a better steward to go out to the market and share in the brand's alignment to its core values? This panel is steadfast that going to market without knowledge of, or alignment to, the core brand is a recipe for disaster.
Continuous Presence in the Market
Once your team has thoroughly studied your brand inside and out and has developed a strategy to move intentionally in the market that is aligned with your core brand values, a critical next step is to foster a continuous presence in the market overall.
When we say a continuing presence, we are not advocating for a response to each new trend or focus area, as there will be many. Rather, it's understanding that different sectors have varying needs. Davis Muffett noted how important story-telling in the SLG space is. She said the SLG market wants to see something that is repeatable—a prospect in Kings County wants to know how this piece of technology solved the exact same problem for Los Angeles County. This is an incredibly powerful way to resonate with that audience. Sure there may be some differing elements, but what worked for one large county may be repeatable at another.
Conversely, every Federal agency is different. Their technical sets, organization structure, buying capability is all different, making each sale custom. It's imperative to help them find their own vision rather than telling a story of how your brand helped a different agency through a similar solution.
Granted, these two small examples oversimplify the massive task vested with B2G marketers— each subsection in the public sector community has their own needs, their own challenges, their own opinion of your brand. That core brand has to be able to meet these unique needs in order to remain competitive.
Don't Chase the Shiny
Keeping an ear to the ground on what's going on in the market is a must for any marketing team in the B2G space, but that does not mean jumping on every new trend, tempting as that may be. The public sector space is rife with technologies, trends, and solutions that can be transformative for all levels of government. The ever popular trend of digital transformation lay dormant for much of the beginning of the 21st century, but springboarded off of the back of the Covid-19 pandemic, and is now the common lexicon for most large-scale modernization efforts.
But if your brand doesn't do digital transformation, it is disingenuous to use the term when it couldn't be further from what your brand does. Does familiarity with a certain trend make your company more viable, and more familiar to the customer?
Being intentional and transparent in the market is a powerful brand tool. Focusing on your brand promise and core values will pay dividends for you and your customer base. Not giving into the noise can ensure your brand's messaging isn't lost in today, or tomorrow's trend. Too often brands reach to be current with trends or offerings that are not aligned with their value proposition, and in those moments they run the risk of alienating their current customers and reducing favorability in the coming years. Listen to the markets, identify the relevant services you provide, understand how they coincide with the core values, how they fold into today's trends to solidify your offering.
When it comes to something new in the public sector, make sure your brand isn't chasing the shiny just to remain current because you may just lose what originally made you shine.
The Bottom Line…
The importance of brand measuring and tracking cannot be overstated. Our panel of experts agree that if you are unfamiliar with how your brand is perceived, you may be missing out on massive opportunities to sway perception, create positive outcomes, and most importantly, winning contracts.
GovExec's Insights & Research Group is your go to source for brand measuring and tracking. Whether Leading Brands, or a custom brand tracking tool, we are here to help guide all of your brand perception and tracking needs.
Questions? Find out more by contacting jsanders@govexec.com or research@govexec.com.
By Susan Rose, Senior Director, Content & Insights, GovExec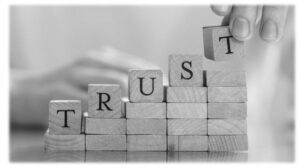 Trust. It's a word nearly everyone uses when talking about marketing and selling, especially in the federal market. For good reason: trust is everything. You can have the best product or service in the industry, but if federal prospects don't trust you, they won't buy it.
The best way to build trust is with face-to-face interactions. But to have those, you must get in the door and why would someone invite you in if they don't trust you yet?
What can you do? If you look at social media or do an internet search on any topic, you will find a plethora of research reports, webinars, blogs, case studies, articles, and podcasts — for good reason: these types of content build trust.
Trust and the Buyer's Journey
When customers have problems they need to solve, they start looking for answers. Sales and marketing functions exist to answer those questions. But when, where, and how we answer those questions depends on where prospects are in their buyer's journey. Someone who doesn't know what the problem is has different needs than someone who is ready to sign a contract. Trust at each stage is important, no doubt about it.
The challenge is when you need to build that trust with someone you've never met who is looking for answers quietly from their office.
These people may be at the top of the sales funnel, in the "awareness" stage. They're searching the internet to educate themselves, find relevant resources and insight, and examine research data. Or they may be in the "evaluation" stage, where they have an idea of what type of solution they need and are looking for those vendors they believe can provide it.
This is your chance to influence their decision and build trust by providing educational content full of relevant insights.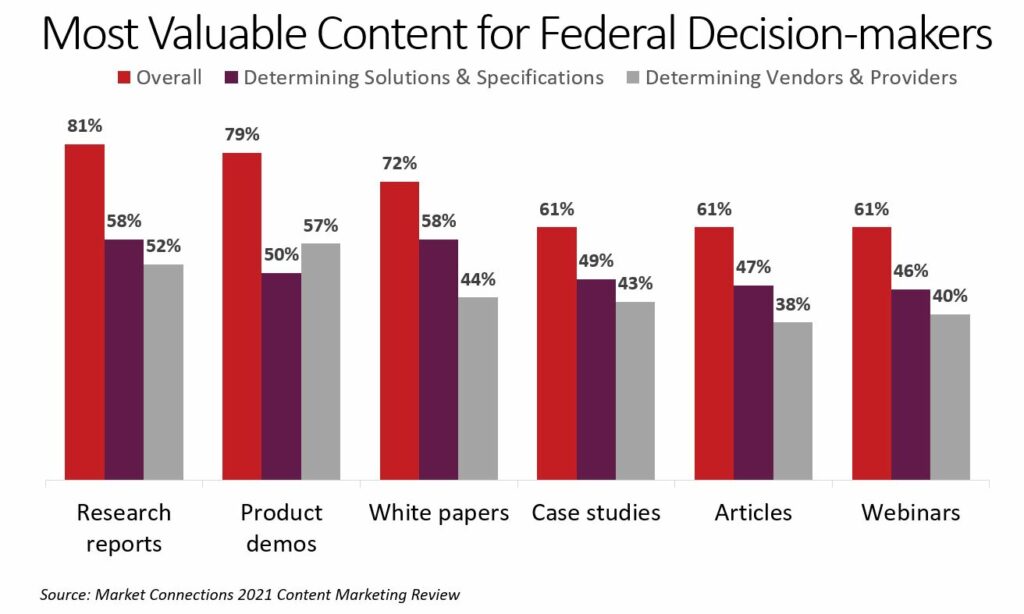 Content that Builds Trust
I'm a firm believer that delivering what the audience wants in the format they want it will always go far toward building trust. You can break down trust-building content into two parts: the information it contains and the format. I want to focus on the information.
The Market Connections 2021 Content Marketing Review surveyed public sector buyers about their content preferences. Overall, 81% of Federal buyers find research reports the most valuable content.
That's because research reports educate rather than sell. It's not about benefits and features of a specific product, it's about what is happening in the industry and the world, how that impacts the prospect's big goals, and what they need to consider going forward.
In fact, all the top valuable types of content center around education and sharing expertise. Federal buyers want to know that you know the industry inside and out and are willing to share that knowledge.
What You Can Do Now
To build trust with content, the information you are sharing needs to focus on value. That means it is truthful, authentic, and helpful.
It focuses on the problem, possibly from an angle the audience hasn't thought about. Or perhaps it educates them about a new way of approaching a problem.
Whatever you are sharing, keep the buyer's needs in mind. It's always about them.
Learn more:
Your contact in the Army lets you know that they will be retiring in the next month. What does this mean for any future work you were hoping to get? Do you have a strong relationship with their incumbent, and do they understand the benefits of what your company offers? What about your contact? Are they retiring for good, going into business for themselves or looking to continue their career in the private sector? If the latter, should you be concerned about them going to a competitor?
These are all valuable questions you should always ask yourself as you build relationships with your government clients to ensure you are prepared to ensure a stronghold regardless of what your specific contact does at the agency.
Retirement, Resignation and Other Impacts Affecting the Federal Workforce
While the retirement "tidal wave" never quite hit as hard as predicted, over the past couple of years we have started to see a strong tide of long-term government employees, decision-makers and influencers taking that step away from the government towards retirement, contract work or move to the private sector.
We first reported this drop in the 2019 Federal Media & Marketing Study. Those aged 55+ in the federal workforce dropped from 56% in 2017 to 49% in 2019. This trend continued into 2020 when it dropped again to 45% and 43% in 2021.
In 2021, with a continued pandemic, a change in administration, and amidst the Great Resignation, we asked about other challenges concerning federal employees in the workplace. Topping the list was employee morale at work (53%), followed by changes in government policies (38%) and retirement of current employees (38%).
For agency human resource professionals and agency leadership looking to keep their employees, fill positions and find ways to appeal to multiple generations entering the workforce in a competitive market, they must think of strategies of appealing to strong candidates into federal service while taking care of their current staff.
Impact on Government Contractors
Government contractors should also be paying close attention to these factors that can impact their business with client and prospect agencies. Changes in the federal workforce can impact everything from sales and marketing to HR and recruiting.
First and foremost, for those selling into federal agencies, relationships are key. Build relationships across the agency, both up and down the decision-making chain, to ensure you continue to have strong contacts in place when your initial POC or decision-maker retires, moves to another agency or gets hired away.
For those marketing to federal agencies, understand the importance of getting your message across multiple channels using different formats of content that appeal to multiple generations. An example of this can be seen in results from the Federal Media & Marketing Study dashboard with those aged 35-44 using Facebook more than those 55+ (81% and 74% respectively). The Content Marketing Review also provides some insight into the content they prefer and channels they go to by federal, state and local and education markets. Inferences can be made on generational preferences due to the average ages of those in each of those markets.
Finally, for those looking to recruit from agencies, whether federal decision-makers are retiring, looking for a new job (13%) or just "browsing" (37% are not actively looking, but open to a new position/job), there are opportunities to hire experienced government employees. Consider using multiple platforms to list your openings including traditional sites like Indeed, but more important social sites such as LinkedIn and Facebook to reach government employees with opportunities.
Final Thoughts
What's important to remember is that you must not assume that a federal employee or retiree is not open to moving on to new opportunities, or you may run the risk of losing a valuable contact to a competitor, or worse, if your relationship net is not wide enough, ultimately lose contact and business with your client agency.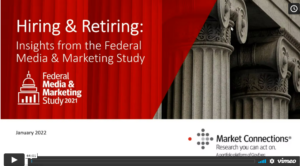 Want to learn more? Watch our complimentary webinar: Hiring & Retiring: Insights from the Federal Media & Marketing Study to see detailed results and key takeaways. In addition to results, a panel of experts from GovExec and LinkedIn share additional insights.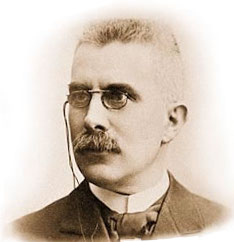 In the late 1800s French chemist Henry Louis Le Chatelier described a system of shocks and counter-shocks that eventually settles into an equilibrium at a level that is neither where it started nor where it might eventually go. This idea, that any stable system encountering external forces pushing back and forth to establish a new level of normal, can easily describe the world in which we all now have to make business decisions. While 2021 will not be like 2020, it won't be like the stable environment of 2019 either. It will likely be somewhere in between, but who really knows where?
As public sector marketers, we have had to reconsider some tried and true ways to reach and interact with our target audiences. Large tradeshows and meeting with your customers in-office or at lunch are unpredictable or uncertain, replaced, for now with virtual events and video conferencing.
Government customers are racing to make heavy investments into technology and supply chain as they wrestle with the need to respond to the crisis and create safe work environments that respond to the pushes and pulls of a variety of shocks to their systems. Vendors and suppliers have a unique opportunity to educate and support their customers in a broad variety of ways, challenging budgets, workflows and internal capabilities.
Revisiting Your Post-Quarantine Marketing Strategy
As Le Chatelier's principle dictates, as federal marketers we must continue to fine-tune strategies in a world that is not in as much upheaval as last year, but we must be wary of reverting to the way things were done before. New opportunities abound, but as we have learned from past sailors who began to sail off the maps of old, there may be dragons ahead!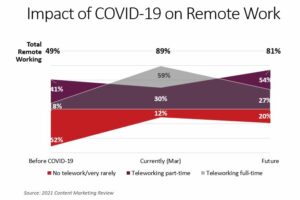 Federal employees will continue to work from home. With eight in ten federal employees saying they expect to work remotely at least part-time (According to the 2021 Content Marketing Review), considerations about how and where they go for information are important. Purchasing radio time is one example of where marketers may want to refine their strategy. While drive-time radio listenership may drop, listenership throughout the day has grown.
With more government employees working from home, barriers have been removed to accessing social media, especially on their personal devices (whether mobile, tablet or laptop), which may have not historically been allowed in their secure offices.
Vaccine mandates may open up some in-person events, but the size of event and event safety protocols — combined with the need to provide simultaneous virtual streaming — may prevent these events from being economically feasible for many marketers. Agencies likely will continue to have some level of travel restrictions and/or limit staff attending. Leadership may realize, from experience through the pandemic, that they can still access the information without the need to incur travel costs.
Get Insights to Refine your Federal Marketing Strategy
It's important to know your customers' preferences to review, edit or fine-tune your current marketing strategy to ensure ROI. With the shock to the equilibrium in 2020, a new environment is apparent in 2021. Federal marketers cannot just go back to how things were done before, nor can they just repeat 2020 efforts.
For over ten years, Market Connections has taken the pulse of the federal market's media and marketing preferences to support our government contracting community with data and insights that can inform those strategic decisions. From digital to print media, social media, television, radio and podcasts to event and webinar preference and attendance, it is important now, more than ever, to check your strategy against the data provided by the study.
Learn more and purchase: https://www.marketconnectionsinc.com/fmms2021event/
B2G marketers often reach out to us for data and insights on how to strengthen their business proposition, get in front of their customers and help their sales team with lead generation. As a market research company, we conduct interviews, focus groups and surveys to help our government contracting customers refine their strategies for a stronger return on investment.
Who Are You Targeting?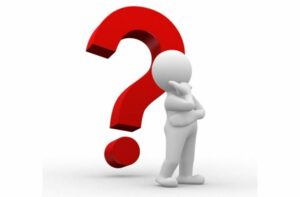 The first request we usually get is "I only want to hear from the C-suite," with the assumption that these individuals are THE key drivers of any procurement.
Our follow up question is, who sits around the boardroom table influencing those (C-suite) decisions? Who is writing the recommendation memo? Chief officers do not make decisions in a vacuum, but instead surround themselves with their staff to help understand the challenges of their work, gather feedback on their perceptions and experiences with vendors and provide recommendations and/shortlist prospective contractors. The Federal IT Personas Study focuses on those folks around the table with top execs who influence and advise throughout the procurement process.
Have you identified those trusted advisors and influencers and targeted them as well? Do you understand their motivations and preferences? A procurement officer's issues will differ vastly than a technical expert's or a program manager's. Understanding what is important in their decision-making, what motivates them at work, how they prefer to get information, etc., can help you develop the right strategy that educates, influences and creates trust with your targets.
What Information Are You Providing?
Once you have identified WHO you want to talk to, the next step is WHAT you want to provide them with. What works with corporate or B2C audiences does not necessarily translate in the public sector market.
First, your content needs to educate your audience. The Content Marketing Review revealed that across the public sector landscape, IT influencers and decision makers are hungry for content containing data and research, as well as examples of past experiences and case studies.  Whether federal, state and local, or education, research reports, white papers, case studies and product demos top the list of types of content. Regardless of whether they are starting to develop their requirements or finalizing their selection of vendor, understanding what your audience is looking for can help you become a trusted vendor.
Narrowing down the WHAT helps focus your resources and budget dollars. What content gives you the most bang for your buck? Where will you get the biggest ROI? Having those insights, your content creation strategy becomes easier to assemble and you can focus on the next question.
Where Is Your Audience Going for Information?
The final piece of the puzzle for public sector marketers once they've created great content is WHERE to place it. We remind our clients that creating great content is not a one and done scenario. One needs to share that content with their audiences where they already are, including speaking opportunities at events, webinars, in earned and sponsored media, social media, or other platforms.
Going where your customer already is, prompts the questions, "Where are they going for information, what sources do they trust, and how can you get and stay in front of them?"
Instead of throwing spaghetti on the wall and hoping it will stick, this information is already out there for you. The Federal Media & Marketing Study looks at the media consumption and marketing tactics preferred among federal audiences. It takes into consideration all types of media including print, online, television, radio, and other channels such as social media, podcasts, events and webinars. Based on a survey to thousands of federal respondents, the database provides findings that can be drilled down to detailed agency types, agencies, product categories, role at the agency, location or other demographics.
Final Thought
With answers to the questions "WHO, WHAT and WHERE," B2G marketers can create a strategy for understanding their target audiences and provide them the information they are looking for in the places they are looking for it.  Syndicated studies from Market Connections or further investments in custom research can provide those answers and insights for agency or target-based marketing, a small investment that can increase the ROI of everyone's marketing efforts.
Want to learn more about research in the public sector? Contact us.
For more information about the following studies:
Many of our federal contractor clients rely on a heavy push in the final quarter of the federal fiscal year to take advantage of the mad dash by agency procurement teams to allocate end-of-year budget dollars. While "use it or lose it" may not be what it once was, because of the pandemic, many contracting officers are rushing to complete smaller procurements, meet contracting goals, and get through the needs of their customers before the September 30 deadline.
As you develop your strategy for the rest of Q4, it is important to understand end-of-year procurement priorities, provide content that speaks specifically to their needs and ensure you have the right vehicles for easy acquisition.
Now is a great time to educate them on how you can address last minute issues, highlight your strengths and differentiators, and demonstrate how you can make the process as easy as possible. When agencies try to get the most out of end-of-year dollars, consider these tips to capture federal end-of-year spending that will give you the best chance to secure some last-minute commitments you (and they) thought weren't realistic until next year.
TIPS TO CONSIDER:
Put in the work. July/August is the time to work with your sales, BD and marketing teams to touch base with your current customers, prospect agencies or potential partners. We know you want to be at the beach, but if you are waiting until after Labor Day, it's too late.
Make sure your products/services are purchase-ready. Emphasize that your products/services are at the ready/easily attainable through contract vehicles already in place at the agency.
Highlight your business status. The larger, well-known government contractors may get the lion's share of the dollars, but they often do it in partnerships with small, woman-owned, 8a, etc. businesses to meet contract qualifications. In addition to contract vehicles, highlight your business status. This may be enticing to an agency or a prime contractor needing to fulfill requirements.
Be ready to answer questions quickly. Have your subject-matter experts (SMEs) at the ready to answer any questions your prospect may have about your product/service. Create readily accessible FAQs in both public facing and internal locations to answer immediate questions and keep the messaging consistent across your team.
Know what content your customer wants at this stage. For a quick turnaround purchase, focus on their needs at the end of the buying process. The Content Marketing Review tells us that now is not the time to educate your customers with lengthy white papers, but instead focus your efforts and resources on product demos and trials.
FINAL THOUGHTS ON FEDERAL END-OF-YEAR PLANNING:
In addition to these tips to capture federal end-of-year spending, it's also important for contractors to take time in this quarter to focus and plan on the next fiscal year.
If you haven't already, it may be a good time to gauge your customer satisfaction. Are there any hidden concerns you're not aware of that could impact a re-compete?
What contracts are coming up in the next 18-24 months? How can you gain an edge by understanding their challenges?
How do you stand against your competitors? Consider an analysis to gauge how your audience views you and where you can differentiate from the crowd.
Review where your customer focuses end of year spending this year. This may be a forecasting for the next fiscal year's spending and insight into how they prioritize spending with extra dollars.
If you need help, contact us. Good luck and we hope all have a productive end of 2021!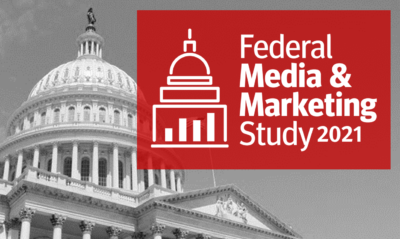 13th Annual Study: On-Demand Video and Presentation Followed by Small Group Discussions
UPDATE! The 2021 FMMS will now be On-demand
Release date: October 21, 2021
Due to concerns with COVID-19 variants, forthcoming mandates, and to protect the health and safety of our participants, we have made the executive decision to transition the 2021 Federal Media & Marketing Study release to on-demand video presentation and download report.
In its 13th year, the Federal Media & Marketing Study continues to empower marketers to hone and perfect their strategic marketing campaigns with valuable and reliable data directly from their federal customers. The survey provides key information about the federal audience's media usage across print, broadcast, social and digital sources. Combining this data with demographics including: job function, location, purchase area and more, marketers have the ability to slice and dice the data and map each to specific media habits, allowing them to target specific audiences.
The survey represents the views of thousands of federal workers in a variety of positions. Whether you are interested in a broad awareness campaign, or a more focused agency-based marketing effort, data from the study can provide you key insights about the media and marketing habits of this tough-to-reach federal market audience.
WHAT TO EXPECT
Job Function and Purchase Responsibility – More than 25 different job functions and areas of purchase, by product and service
Media Usage – 60+ publications, 100+ websites and mobile sites; 10+ social sites; differences inside vs. outside the Beltway
Trusted Content -To what extent do decision makers trust news and information from different media sources?
Time Spent Accessing Content – How much time do government employees spend accessing content online, watching TV, listening to the radio and reading e-newsletters?
TWO PANEL DISCUSSIONS
Federal Media Panel: Moderated by Aaron Heffron, Market Connections
Kevin Baron, Executive Editor, Defense One
Patti Nuttybombe Cochran, Federal Marketing Consultant, Government Matters Media
Jeffrey Wolinsky, Director of Federal Sales, WTOP/Federal News Network 
Federal Marketing Panel: Moderated by Stephanie Geiger, Government Marketing University
Matt Bechtel, Director of Corporate Marketing, Booz Allen Hamilton
Allison Mason, Senior Director, Public Sector Marketing, Red Hat
Darryl E. Peek II, Head of Federal Strategic Partnerships, Google
ON-DEMAND ACCESS and POST-FMMS ONLINE NETWORKING SESSIONS
ON-DEMAND VIDEO AND REPORT – Our 2021 report and video presentation will be available to download on October 21. Stay tuned for purchasing capabilities
SMALL GROUP ONLINE DISCUSSIONS – A series of online groups (no more than 20 per session) will be limited to FMMS on-demand purchasers to discuss results and network with like-minded peers following the FMMS release. Details on registration will be available in after purchase.
PURCHASE THE OVERVIEW & VIDEO!
Overview results from the 2021 Federal Media & Marketing Study highlights high-level results from our comprehensive study surveying thousands of federal respondents at defense and civilian agencies, inside and outside the Beltway about their use of digital, social, mobile, print and broadcast media. This PDF report provides high-level results of the top digital and print publications, social media sites, radio and TV within the DC metro area. A video readout and analysis of the results by President, Aaron Heffron, is included with purchase.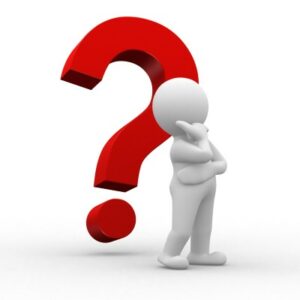 Increasingly over the past few years, federal marketers have been asked by senior management to prove a positive return on investment on their marketing dollars. In today's altered landscape, marketers are also faced with having to account for their target audience's changing work environment and agency priorities. With this in mind, what questions should federal marketers ask before their strategies are developed and investments made?
Who Are You Targeting?
Earlier this year, our President, Aaron Heffron wrote about the difference between expanding versus exploring when it comes to your customer base. Regardless of whether you are looking to expand your customer base to new agencies or looking to build deeper relationships with the agency you are currently working with, it's important to know your customer's preferences, learning styles, preferred communication styles and the challenges they are facing.
Agency-based marketing (and even people-based marketing) are terms we hear more and more. Sales and marketing need to work together to develop their buying personas to understand who and how to best approach the marketplace. Using data versus anecdotes will yield the best results. Whether you develop your own personas or look to the Federal IT (FIT) Persona Study, knowing your customer will increase the ROI on any marketing effort.
Will Your Message Resonate?
Before launching any new campaign (especially grand (read: expensive) ones), it's a good idea to include message testing research in the beginning to create a baseline and ultimately demonstrate the ROI from beginning to end. Pre-testing your messaging provides information on your prospects' awareness of your brand and a read on how well your message fits within that brand perception. Returning to a similar audience to test the change in awareness and perceptions allows for dynamic message refinements and adjustments to ensure resonance and relevance with your audience. Agency priorities can change swiftly, and contractors often need to be able to change with the tides.
How Should It Be Delivered?
Once you have an idea about what you want to say, how is it best delivered? Depending on whether you want to create awareness or influence buying decisions, your content may need to take different formats.
Public sector marketers know content is king, but you will need to consider your target audience's learning preferences. Do they tend to read, listen, or watch content to learn more about the services or products? Are they looking for past examples of how new ideas have worked or seeking knowledge (and reassurances) from industry or government thought leaders?
Over the years, we periodically dove into the world of content marketing. Our 2017 Federal Content Marketing Review highlighted what content federal audiences want during the different steps of the buying process. The 2019 Content Marketing Review introduced state and local audiences into the mix. In 2021, we will reprise the study and assess the K-12 and higher-ed markets and review how COVID-19 may have impacted preferences from years past. (Register for the 2021 Content Marketing Review: Reaching the Public Sector)
Where Should You Place It?
Whether earned or paid, you want to ensure the content created is reaching the right eyeballs. In times of tightening budgets, every marketing and advertising dollar spent needs to be well-thought out.  Targeting matters. Some media channels can be more effective for a general federal audience, while others can most efficiently reach an agency, agency-type, or professionals with a specific job function or within a purchase category. The Federal Media and Marketing Study provides you data about their media usage across print, broadcast, social and digital sources.
This is especially important in years where their habits may have changed. Various factors are challenging conventional wisdom. With more federal employees teleworking, things such as radio advertising, print advertising and social media use have been deeply affected. Having the data to back your advertising decision will help you decide where to invest your advertising and marketing dollars.
Final Thought
Data-enabled informed strategic decisions can help maximize ROI. Market Connections has spent the past 25 years gathering data and insights from public sector influencers and decision-makers to support our government contracting clients in informing their strategic planning, validating their marketing spend and ensuring the best ROI possible.
Want to learn more or develop a custom study for your audience, contact us at info@marketconnectionsinc.com.
In our last blog post, Should You Reconsider Your 2021 Federal Media Strategy in Light of COVID?, we touched on how to use agency-based marketing (ABM) for media purchasing when space in general federal publications are limited.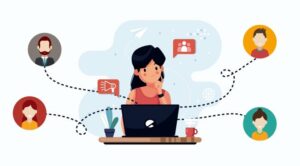 Federal marketers are oftentimes challenged with tight budgets and high expectations to produce strong ROIs. Simply, they are expected to do a lot with very little. Agency-based marketing when paired with investments in advertising and other broad marketing strategies can provide a boost to the expected return on investment.
What is one way to maximize a small budget? Effectively connect with the preferences of your TARGET audience with a strong understanding of what makes them tick day to day.
Using Personas to Connect
There are many ways of developing personas, depending on your needs and resources. A good place to start is your own Customer Relationship Management (CRM) tool and your client-facing teams. If you need deeper insights your tool cannot provide or have been surprised by conflicting comments from your teams, you may want to consider third-party research. Using personas helps you drill down on your customers' preferences and develop a focused strategy tailored specifically to them.
For federal marketers, that can mean a focus on agency type, agency-specific, geographical, or product/service categories. Understanding your customer on a deeper level can help you speak to their personal and professional goals and challenges. For example, if you are targeting an IT end-user, you may focus on educating about more technical features because of their desire to be an expert in their agency, whereas if you were marketing to a procurement specialist, you would want to focus on cost-savings because of their pride in being prompt and efficient. In the same vein, one may prefer to watch a webinar, while another prefers to read a white paper due to their personal learning preferences.
Learn more about Market Connections' Federal IT Personas.
Consider "Where" They Are Already Going
In addition to content creation, you may want to consider where and how you are advertising or sharing your content. Whether it's because space is at a premium in some of the more general federal publications, or you are focusing on more niche publications based on your particular audience, understanding where your audience is going for news and information can help get the right eyeballs on your content and drive agency decision-makers to your site.
Ad placement is only one lever you can use and is often most effective to build awareness. If you are having difficulty closing sales among those who know you, consider delivering information and messages through other popular channels among your target audience. They may have a preference for a certain social media platform. They may use certain streaming services to reach specific news programs or tune into radio stations throughout the day. Of those media channels, are there geo-locating advertising opportunities you may want to explore to reach your prospects?
Selecting correctly from your customer's media buffet of online publications, print publications, social media sites, TV, radio or streaming services can eliminate some of the "guesswork" and improve the ROI on your marketing investment.
Learn more using our annual Federal Media & Marketing Study.
Looking Deeper
Consider diving a little deeper and consider more targeted marketing as part of your overall federal marketing strategy. Beyond creating tailored content that is relevant to your specific audience, also consider the format and placement of that content. Federal marketers have many tools available that can pair nicely with internal intelligence to help make educated decisions about their company's federal marketing investments.