Understand Public Sector Preferences & Consumption
Like many of you, recent events have caused us to cancel or postpone our in-person meetings, events and conferences based on government guidelines to create some social distance to protect ourselves and our community. Many of these events and meetings were crucial to our business from both an educational and business development perspective.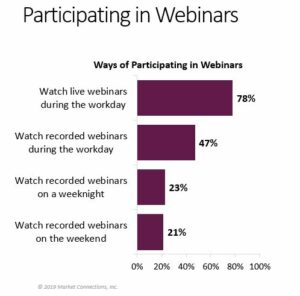 While it's a good thing for our nation, marketers will need to review and revisit their plans for reaching target audiences and could affect the way our business works not only over the next couple of months, but we may well feel the impact on our businesses for the next 18-24 months.
Social media, webinars and virtual events are critical activities in keeping your business rolling, making contacts, and educating your customers who may be self-quarantining. The good news is, many of those working in the public sector were already leveraging these tools on a regular basis, so we won't have to start from scratch.
According to our most recent Federal Media & Marketing Study (FMMS), three-quarters of federal workers reported watching live webinars during the workday, and at least one in five were watching recorded webinars on their own time (weeknights and weekends). We foresee this number growing over the coming months. In this new environment for engaging our audiences, it's important to maximize specific content and optimize the timing and length of these virtual events.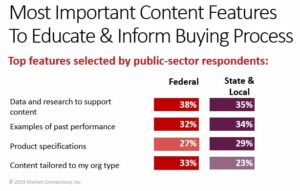 Market Connections' Content Marketing Review found both federal and state and local audiences most want webinars to include research and data supported content and highlight specific examples of past performances. In addition to these key elements, they also wanted to see content tailored to their organization type and product specifications.
CASE STUDY: Learn how client, Lockheed Martin, used thought leadership research to create a webinar and other marketing assets.
Market Connections has also found that over one-third of federal workers and nearly one-quarter of state and local workers were already spending 30+ minutes on webinars. Approximately 50% of feds preferred watching a webinar during the lunch hour (between 11 AM and 2 PM).
While nothing replaces great face-to-face opportunities to meet and connect with your public sector customers, webinars may be a great way to build on your relationships, provide them useful insights, educate them and provide a virtual social touch point; not only during times of isolation, but also as part of our regular marketing planning.
Learn more about webinars and the public sector:
Learn more about creating research-based thought leadership content for webinars.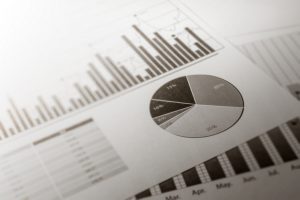 Do you have the information you need to create and justify your marketing strategy for the upcoming year? The "right" information can take many forms, including customer feedback, prospects' spending plans, agencies' strategic direction, and the important factors for key decision-makers and influencers. Limited budgets and tight timelines can often hamstring the most well-thought-out plans for information gathering. Market Connections has worked with dozens of public sector contractors over the years to get them the right information at the right time. Whether it's maximizing the use of free resources or commissioning custom research, here is what we have learned works best in different situations.
Free Resources
As many know, the BEST part of selling to a government customer is that their past spending history is often open for all to see. By way of publicly available data, one can see where agencies have historically spent their money and with whom. This is incredibly helpful in identifying partners, gauging the competitive landscape, or making a "go/no-go" decision on an upcoming opportunity.
With a little elbow grease and a working knowledge of the federal procurement process, government contractors who are looking to find information about upcoming contracts and opportunities can find information on https://beta.sam.gov/ (formerly FedBizOpps.org or fbo.org). This site, run by GSA, is a great starting point to find contract opportunities. You can search for opportunities by keyword, solicitation ID, or by the name of a federal organization. You can then use a wide variety of filters to narrow results.
For more historical information, such as past contract winners, number of contract actions and historical spending since FY2004, details can be found on Federal Procurement Data System (https://www.fpds.gov/). Market Connections works intimately with this data to help measure the size of the overall market, make determinations of go-to market strategies, and track the growth and viability of partners and competitors.
Syndicated or Multi-Client Studies
A wide variety of organizations and companies release overview data regarding the federal marketplace or specific agencies of product/service categories. Usually available for a small fee, these studies and reviews can provide a glimpse into strategic plans and the direction of buying, as well as offer insights into habits and behaviors of the market in general. Something to keep in mind, however, that while this information is available to you for a smaller fee, it is also available to your competitors.
Bloomberg Government and Government Executive Media Group offer overarching studies to understand how, at a high level, contractors are perceived in the federal marketplace. BGov200 and Leading Brands can provide a glimpse of the top contractors in the market, leveraging the knowledge within the specific companies and direct contacts with buyers and federal employees.
In addition, Professional Services Council (PSC) conducts a yearly assessment and estimate of federal spending every October based on an extensive network of interviews with government officials, congressional staff, private analysts and government contractors. PSC's Annual Vision Federal Market Forecast develops budget estimates for defense and civilian agencies overall, as well as, specific breakdowns for individual agencies ranging from the Department of Agriculture to NASA.
For best practices in federal marketing, Market Connections provides our own annual and biennial studies such as Federal Government Contractor Study which looks at the best practices of federal marketing and business development professionals; Federal Media & Marketing Study which focuses on the media habits of federal audiences; and the Content Marketing Review studies which content marketing methods are best received by federal IT decision-makers. Presented at in-person networking events, this data provides insights to help with contractors with federal market strategy development.
Custom Research
General information about your audience may not be enough. Your product or service may be in a niche-category or very specific, your target audience unique, or you have some thoughts and insights that you believe can set you apart from your competitors. If this is the case, it is worth the investment to commission some custom research specific to your needs.
Oftentimes our clients need more detailed information to help make smart business decisions, especially when new product launches or large advertising investments are on the line. Whether they are seeking to position themselves for a specific contract, ensure customer satisfaction, develop or test specific messages, or to gain a better understanding of how they are perceived against a specific set of competitors, our custom research can provide data and insights directly from the federal audience contractors are serving.
Market Connections has over 25 years of experience in reaching these specific audiences, gathering a strong database of federal decision-makers from all areas of the government. Whether seeking insights from the general audience, specific to an agency or purchase category, Market Connections third-party research is a trusted resource among federal professionals and the contractors who serve them.
Learn more about custom research Market Connections provides to aid government contractors with their business development and market planning.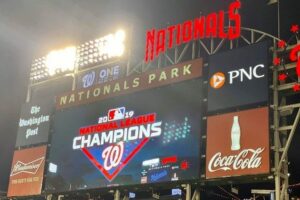 Congratulations to the Washington Nationals who recently won the National League Championship Series (NLCS) and are headed to the World Series! Both local and national audiences will be tuning in to see if the Nats can continue their streak and whether their good luck charm (the baby shark) can take them all the way!
During the post-season, not only are players like Scherzer, Turner or Rendon front and center on people's TV screens and in-person at games to thousands, but so is the venue they are playing in.
Which begs the question, should government contractors be sponsoring or advertising at these highly visible locations? Was this a missed opportunity for many contractors who want to broaden their brand awareness?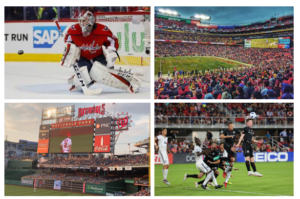 When sports teams are performing exceptionally, or are just exceptionally popular, venues such as FedEx Field for Redskins fans, Audi Field for DC United and Washington Spirit and finally Capital One Arena who hosts the 2018 Stanley Cup winning Washington Capitals, 2017 division winners Wizards, and recent 2019 WNBA Champions, Mystics, receive much higher visibility and can provide companies with strong brand exposure.
Companies such as SAP, Geico, Leidos, Boeing, PNC and others have taken advantage of brand exposure at some of these locations, but would this be a smart investment for other companies trying to get in front of federal audiences?
In 2014, Market Connections asked about federal employees viewing sporting events. Thirty percent stated they watched baseball on TV and 31% had attended a Nationals game in person. In 2015, attending Washington Nationals games in person exceeded any other live sports event, with over one-third (37%) of DC respondents stated they had gone to a game.
How did it fare among feds in the summer of 2019?
Among other questions gauging behaviors of federal employees, we asked feds working in the nation's capital about the venues they visit. This included a list of sports arenas, museums, theaters, music venues and other highly visited locations in and around the city. Marketers looking to increase their company's brand awareness in the DC metro area, a major hub of federal activity, can use these findings to help them gauge the value of advertising and sponsorship at these local venues.
Together with findings about their other media and marketing habits including where they go for print, TV, radio, digital and social media usage, federal marketers can take these findings to help them develop or refine their marketing strategy to this unique audience.
Join us on October 31 as we release the 2019 Federal Media & Marketing Study at our annual breakfast briefing at the Center for Education at Wolf Trap in Vienna, VA. Register here.
Can't make the breakfast? The overview report will be available for purchase for $199. (2018 data available now, 2019 data available mid-November). Learn more.
Need more details? Subscribe to the Federal Media & Marketing dashboard for the most comprehensive data about the habits of federal decision-makers both inside and outside the beltway, across multiple purchase categories, agencies and job roles. Learn more and subscribe.
Every year, Market Connections' Federal Media and Marketing Study helps companies meet their federal customer "where they are." Whether it's raining, snowing, sunny, hot or cold where they are, one thing we can forecast for sure, Weather.com and AccuWeather.com are among the most frequently visited digital sites by federal workers year after year.
New this year, we also found that weather apps are the most downloaded mobile applications with an average of one out of five federal workers having these apps on their mobile device.
These results cause us to joke internally that, "Weather is King!" Does this mean you should advertise on these sites or wrap yourself around these apps?
While we know all those federal eyeballs are staring at the skies, weather sites (and apps!) may not be the most effective marketing channels to reach your government audience. While they are among the most visited and downloaded, you need to consider the goals for your advertising before investing. If your goal is an introduction and top-of-mind awareness, maybe it is. If you are being measured on the depth of understanding that an agency has of your product, weather may not rule your advertising spend.
Websites like Weather.com and those who advertise there clearly understand their reach. The volume of advertising on these sites is unrivaled. If you decide to allocate your advertising dollars on these populated sites, you must ask yourselves, "How can I stand out from the other advertisers?" Differentiation is difficult in advertising and especially among federal contractors. (Watch our webinar: Differentiation in a Federal Market: How Do You Stand Out?) Don't waste broad-reaching dollars on something that will look like every other ad.
With federal marketing budgets often tight, it's important to prove ROI. Do you have data that can help you make intelligent decisions about where to advertise? Whether you're purchasing ad space to broaden awareness, or targeting media properties that attract a specific agency, location, or product type, expert marketers look to data to help them make these decisions.
Each year the Federal Media & Marketing Study provides information about the media habits of federal workers from an aggregate (overall) to granular (specific audiences) level. Understand what sites they're visiting, publications they're reading, radio stations they're listening to or news shows they're watching. Our study results help you weather through tough decisions and better forecast your ROI in the most effective way possible.
Join us on October 31 to hear this year's results and receive a complimentary overview (Register here). Need the data sooner? Consider a subscription to the 2019 dashboard, available at last year's price for a limited time and access data from 2016-2018 immediately, and the 2019 data as soon as it's available (subscribe today).
Government technology influencers and buyers need content that will help them make informed decisions and often seek information from third-party experts such as professional associations and industry vendors to help educate them.
Market Connections' recent Content Marketing Review Study highlights the value of thought leadership content for government audiences in establishing your company as an expert and leader in the field. According to the study, public sector buyers of products, services and other emerging technologies prefer research reports, white papers and case studies to help them make informed decisions. To help them, this content should include detailed information such as data and research, examples of past performance and product specifications. If done right, one in five respondents indicated they incorporate vendor content into their RFI or RFP, the holy grail for companies competing for government contracts.
The savviest B2G marketing and sales teams commission primary research to help them better understand their target audience. Drilling down into the unique challenges and barriers buyers face, the goals they are trying to achieve, and how they define success helps shape messages, market strategy and RFP responses. The data and research gathered can also be a key component of marketing content, thereby educating their customer and becoming a perceived valued partner all at once.
When incorporated into a multi-faceted marketing campaign, B2G marketers can see a strong return on investment (ROI) from their research-based thought leadership content. From becoming known as the industry experts in one area (SolarWinds) to increasing sales (Iron Mountain), thought leadership has a real, measurable impact.
How can you create content that educates and resonates?
Best Practices for Developing and Leveraging Research-Based Thought Leadership Content:
Think about your unique services and solutions. Focus on the big picture, don't limit yourself to a single project, RFP or recompete.
Assemble an internal, cross-functional team (PR, sales, and subject matter experts) to create a research effort that meets your marketing, PR, lead generation and sales objectives.
Hone in on their needs and challenges (because those are what your offerings are going to address).
Think about dissemination. What is the best way to connect the valuable information to your target audience?
Don't limit your outreach to one platform. Leverage your content across marketing channels.
Want to learn more? Join our upcoming webinar, "Does Thought Leadership Still Matter to Government Audiences?" on Thursday, July 25 from 2-3 PM EDT. Register here.
Have you ever changed your mind? Not necessarily about something trivial like what you want for dinner, but truly changed your mind about a long-standing opinion of a person, company or issue due to a new experience, discussion or interaction? If you have, you are one of the few. However; as marketers, we ask our target audience to change deep-seated opinions with our marketing and PR efforts.
Why is it so hard to change an entrenched opinion or perception? It isn't so much about influencing that one person, but more about how much you can influence everyone around them.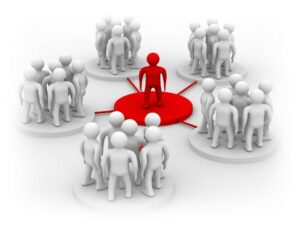 The Difficulty of Breaking Convention
A well-known saying can help us illustrate this thought process. "You don't get fired by hiring IBM." Substitute "IBM" with any long-standing, high profile vendor in the marketplace. Because the vendor is well-known and established, it benefits from the collective power of the group and the psychological barriers that prevent individuals from stepping out on their own if they disagree. Think about how bold and confident a person needs to be to speak up and present a counter view to an entire group! Even if the argument is well-reasoned and fact-supported, it can be an uphill battle based on the historical assumptions the group maintains (whether justified or not!).
It's easier to go the conventional path; the risk is spread among everyone in the group.
This sometimes happens when we sit across the table from clients or prospects. The first thing they tell us is they want to influence a specific person in an agency. They assume this ONE PERSON is the key to change, away from the conventional wisdom. They ask us to only interview a specific level of person (often c-suite) and get their opinion. They often forget the environment in which this individual works. Even the most empowered executive faces great organizational inertia to stick with the status quo, or the most well-known solution.
A Better Approach
Wouldn't it be easier for the executive if opinions were more varied across the organization? Wouldn't it be better if you knew that when an executive asked for the group's feedback on a vendor or proposal, there was greater familiarity and awareness of new vendors across all staff, from procurement to technical staff to the program team lead? To change the opinion of your customer, you can't focus on only the final decision-maker; you need to explore the differences in opinion among all influencers within an organization. We regularly discuss this approach with our clients to help them move the needle.
The influence of the collective is further seen historically across Market Connections' research. The Federal Media &Marketing Study revealed when making a decision, over half (51%) of federal respondents cite peers and colleagues as the most trusted source of information. What this tells us is public sector decision-makers are just like us. Their decision-making is not just influenced by their own thinking, but the thinking of those they surround themselves with every day.
As you plan your next efforts to understand and influence a specific agency or decision-maker, make sure you understand the thoughts and opinions of the whole ecosystem, and market accordingly.
Learn more about key services Market Connections offers to help you understand how you are perceived in the marketplace and throughout your customer base with brand awareness, customer satisfaction & contract evaluation, new pursuit and capture, and brand, product or message testing.
Over the past year, Market Connections' signature studies, including the Federal Media & Marketing Study and the Content Marketing Review, have pointed to a rise in the role of professional associations with federal decision makers. These studies, along with additional surveys we have conducted in the federal market, have concluded that public sector marketers should strongly consider working with professional associations to reach federal, state and local decision makers. To further test our hypothesis, we created a PulsePoll™ specifically asking about the role of associations, with the hope that this data can not only support government contractors' membership and engagement strategies, but also identify opportunities B2G marketers should consider through professional association channels.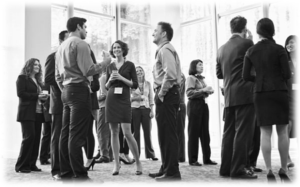 We saw the first hint of this trend in the 2018 Federal Media & Marketing Study's Most Trusted Sources of Information. Two of the top three sources listed among federal respondents for trustworthiness came from professional associations. With nearly half of respondents, professional association websites (46%) came in second place followed by white papers and case studies created by professional associations at number three (36%). Webinars hosted by professional associations also ranked among the top ten, with nearly one-third of respondents listing it as a top trusted source (31%).
We continued to see the importance of professional associations in the 2019 Content Marketing Review: Federal & Beyond. Over half (55%) of federal respondents said they frequently click on and/or download content from familiar professional associations. This is a sharp contrast to the less than one in ten (9%) respondents clicking on or downloading content of unfamiliar vendors.
Recent results from our 2019 Federal Events PulsePoll™ and webinar continued to illustrate our hypothesis of the important role of professional associations in federal marketing. Professional associations ranked second in how individuals learn about events (57%). In addition, among all events listed, those hosted by professional associations AFCEA and AUSA ranked in the top five among all respondents, and even higher among defense agencies.
Looking at these findings alone, one can't deny the value of working with professional associations to help reach federal audiences, especially for vendors who may not have an existing relationship with target clients.
However, some questions remained unanswered. For example, which professional associations are federal decision makers joining? Should contractors focus their membership and marketing efforts with federal- or IT-focused associations? Are there marked differences in membership by agency type or job role? What factors are important to feds when choosing to join an association? What are some barriers keeping them from joining? Most importantly, how are they engaging with associations that contractors can benefit from?
To help answer these questions, we surveyed federal decision makers about membership and engagement with professional associations. To hear results of our latest PulsePoll™, join our upcoming complimentary webinar: Marketing Through Professional Associations: Reaching Your Government Clients on Thursday, June 27 from 2-2:30 PM EDT.
When creating marketing content for a government buyer of products, services or emerging technologies, federal and state and local decision makers want to be educated and not sold to, according to the 2019 Content Marketing Review: Federal & Beyond. Content should help them make informed decisions and have minimal sales messages. Additionally, for state and local decision makers, consider including insight from government thought leaders to help support your message.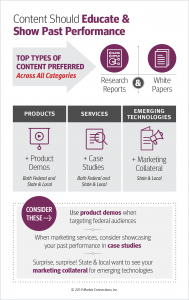 Regardless of what you are selling, whether they're simple products (including laptops, desktops, servers), standard IT services (cloud, cybersecurity) or complex emerging technologies (AI, automation, blockchain), respondents prefer research reports and white papers. Demonstrations are key to those buying products, while those making decisions about services want to hear the success stories through case studies. Finally, don't underestimate the importance of your marketing collateral, especially among state and local government decision makers. It is certainly a valued piece of content among this audience.
Education is best done through providing the detailed information and specifications needed by decision makers ranging from the highly technical process specialists to the more outcomes-based managers. Federal, state and local decision makers all wanted the content they consume to contain research and data to support the performance claims, examples of past performance by vendors, and the detailed specifications necessary to make the products or services work within their agencies.
A unique difference between state and local audiences versus federal audiences is their desire to see insights from thought leaders. State and local respondents cited wanting to see insight from government thought leaders, likely given the fact that they do not have the same type of infrastructure in place for information sharing that exists on the national level. In addition, many state and local technology buyers are part of very small staffs and departments and relish outside input. Federal decision makers, are more likely to want insights from industry thought leaders, perhaps looking for ideas and perspectives that are not deeply rooted in just a public sector world.
It is important to note and reinforce that at least one in five respondents mention they prefer content without sales messages. Federal respondents are more willing to accept sales messages within blogs, while state and local tolerated them more in videos and case studies.
Whether your focus is on the federal or the state and local market, as a marketer looking to reach and engage your target, you must create content that educates above all else. Across the board, make sure your content has the data and research needed to support your assertions, contains information about past performance (including customer testimonials and insight from your customer's peers) and specific details about your product or service that will help inform their decision or help them justify it to their stakeholders.
See full results from the 2019 Content Marketing Review: Federal & Beyond here.
Additional blogs on best public sector marketing practices based on this year's results:
"Our company provides innovative, cutting-edge services meant to disrupt the existing paradigm through best-in class products, agile, game-changing industry leaders and a one-stop, value added portal."
If "Buzzword Bingo" were a game, this sentence would have hit all the squares on the bingo card!
Writing a description of how your product, service or even your company, is different than your competitors can be difficult for B2G marketers. Commonly used words like innovative, cutting edge and next generation, have lost their impact and can ring hollow to customers. While marketers often get requests to use these words in their materials, can including these words in marketing content hurt a brand, rather than help it? According to the Market Connections' 2019 Content Marketing Review: Federal & Beyond study, certain words and phrases may annoy readers more than they explain what you do. In addition, as we have shown in our recent webinar, Differentiation in a Federal Market: How Do You Stand Out?, leaning heavily into these phrases does not necessarily aid in the overall differentiation of your company in a crowded, evolving marketplace. Our in-house database of digital marketing collateral from 100 top technology contractors contains millions of words and highlights the similarities between what is being promised from vendor to vendor.
Content aimed towards government IT customers, whether a white paper, marketing collateral, or a white board-style video, should be built upon three pillars: data and research; product specifications; and past performance. While it may be difficult to avoid all buzzwords, your content should focus on including these three pillars to ensure you keep your customer engaged. Federal, state and local technology decision makers want direct and informative content without the jargon to avoid the overt feeling they are being sold a bill of goods.
Finally, make sure your content includes clear statements focused on the value of your product or service to the organization, in non-technical terms customers can circulate. Three-quarters of federal respondents and over half of state and local respondents admitted to sharing content electronically with colleagues, teams and supervisors, many of whom may not have the same technical expertise as your initial target and may be even less tolerant of buzzwords.
Throughout our review of feedback from federal, state and local IT decision makers, we consistently came back to the theme that content should educate. Education is about presenting the right information at the right time using language that can be understood by the audience. By ensuring that you are meeting the expectations and needs of your audience and avoiding buzzwords and phrases, you are one step closer to creating content that meets your prospect's needs, and, in turn, advances your company throughout the sales process.
To get the full list of top "annoying buzzwords" for both federal and state and local audiences, contact us at maric@marketconnectionsinc.com.
Learn more about content preferences of federal, state and local IT decision makers by downloading the full report and infographics of the 2019 Content Marketing Review: Federal & Beyond.
Watch the recording and download slides for our webinar: Differentiation in a Federal Market: How Do You Stand Out?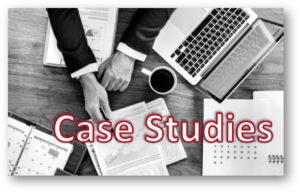 For public sector marketers, case studies provide you the opportunity to demonstrate your past performance while highlighting your expertise and product or service's unique features. In an arsenal of marketing materials, should you put an emphasis on creating case studies to highlight your products and services to public sector markets? The resounding answer is yes!
Results from Market Connections' most recent study, 2019 Content Marketing Review: Federal & Beyond, demonstrated the value and importance of case studies across federal, state and local decision-makers in informing and educating them about products, technical services and emerging technologies.
Ninety-five percent of respondents across both federal and state and local sectors admitted to using case studies to inform and educate them during their work-related buying process and nearly one-third across both public sector groups agreed case studies from contractors and vendors were among the most valuable types of content, placing it in the top three of all content types.
What should your case studies include?
There's no surprise when it comes to the top three features government decision-makers on both sides seek in case studies. With at least four out of ten, federal, state and local decision-makers listed "data and research to support content" as the top feature sought in case studies. This was followed by "examples of past performance" and "product specifications." Much lower on the list was "insights from industry thought leaders" and "visual contents (including imagery and infographics)," although the latter ranked slightly higher among state and local decision-makers (21% vs 13% of their federal counterparts).
Learn more about what content works for your government audience
What other marketing content do decision-makers across federal, state and local find valuable in helping them make important decisions about procurement of technical products and services or new and emerging technologies? Where are they going to access this content? How much time are the spending with it and what actions are they taking with it? Where should you focus your content marketing efforts?
Join us to get full study results and hear from an expert panel of public sector marketers at the Content Marketing Review: Federal & Beyond Breakfast Briefing on May 9 in Vienna, Virginia.